Just like the people that are part of our community, UMBC experienced a year of change, growth, and opportunity in 2022. Exciting achievements, transformative leadership, and groundbreaking research made this another year for the record books. Looking back at 2022, we're reminded of all the reasons we're proud to call UMBC home.
1. University milestones
UMBC welcomed Valerie Sheares Ashby as the president, following the retirement of Freeman A. Hrabowski III, who served as UMBC's leader for a remarkable 30 years. President Sheares Ashby joined UMBC from Duke University's Trinity College of Arts & Sciences, where she had served as dean. Since starting her tenure, Sheares Ashby has made herself accessible to students through weekly office hours. She's also enjoyed taking part in some time-honored UMBC traditions, like rubbing True Grit's nose for luck and taking in all that Homecoming has to offer.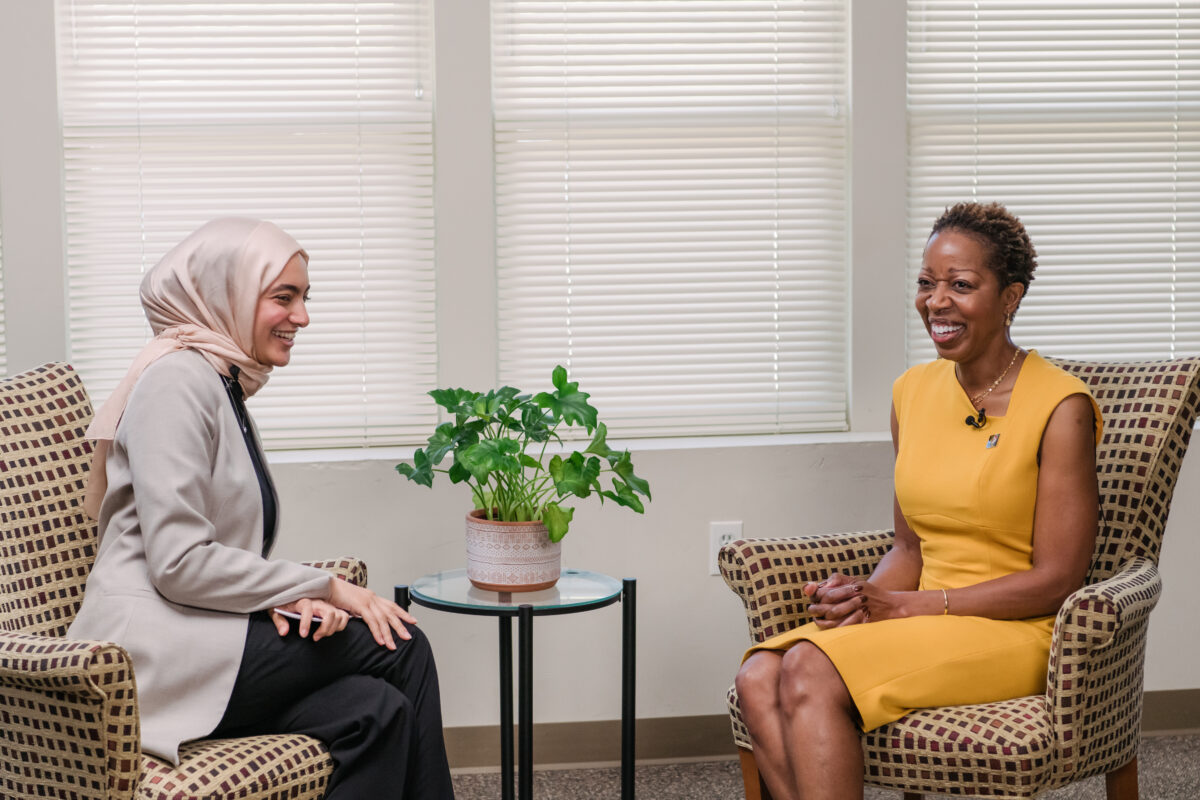 The 2022 – 23 U.S. News and World Report Best Colleges undergraduate rankings show UMBC jumping an impressive 25 spots on the list of Best National Universities, in addition to ranking #9 nationally for undergraduate teaching and #10 most innovative, tied with Johns Hopkins. U.S. News also announced its 2023 Best Graduate School rankings, including outstanding UMBC graduate programs across all three colleges.
2. Student and alumni experiences
Fearless, a company founded by Delali Dzirasa '04, computer engineering, led the development of the Searchable Museum to complement the National Museum of African American History and Culture's (NMAAHC) "Slavery and Freedom" exhibition. The team included visual arts, computer science, and computer engineering alumni.


Jok Abraham Thon, UMBC's first Peaceworker Global Fellow and the first Retriever from South Sudan, shared his story of leadership and social impact at UMBC's Fall Opening Meeting and his experience as an international student in the Baltimore Sun.
Marcie and David Zisow marked the 53rd anniversary of their first conversation at a shared table at True Grit's. The Zisows' youngest child was inspired by their love story to create a surprise celebration for her parents, recreating their 1969 meet-cute. UMBC Dining offered up their services, including baking an anniversary cake, playing music from the '60s and '70s, and creating a photo slideshow of Marcie ('72, M.A. '84) and David ('71) to show on the screens of the dining hall.
3. Student leadership and achievement
Haleemat Adekoya '23, political science, was named one of just 58 new Truman Scholars nationwide. Adekoya is the fifth UMBC student to receive this honor, focused on public service. Truman Scholarship finalist Rehman Liaqat '22, political science, received the inaugural Campus Compact Mid-Atlantic Civic Fellowship, for student leaders who are "engaged global citizens, actively contributing to the creation of equitable, healthy, sustainable, and socially just communities."
4. Achievements in athletics and intellectual sports
Three was the magic number for UMBC Athletics this past year. Both UMBC volleyball and softball captured their third consecutive America East titles to continue on at NCAA tournament play.

Softball star Courtney Coppersmith '22, biochemistry and molecular biology, was named America East Woman of the Year. Coppersmith was the first Retriever in university history to achieve this honor.


UMBC men's swimming and diving reclaimed the 2022 America East Championship title to win their 13th championship out of 15 appearances.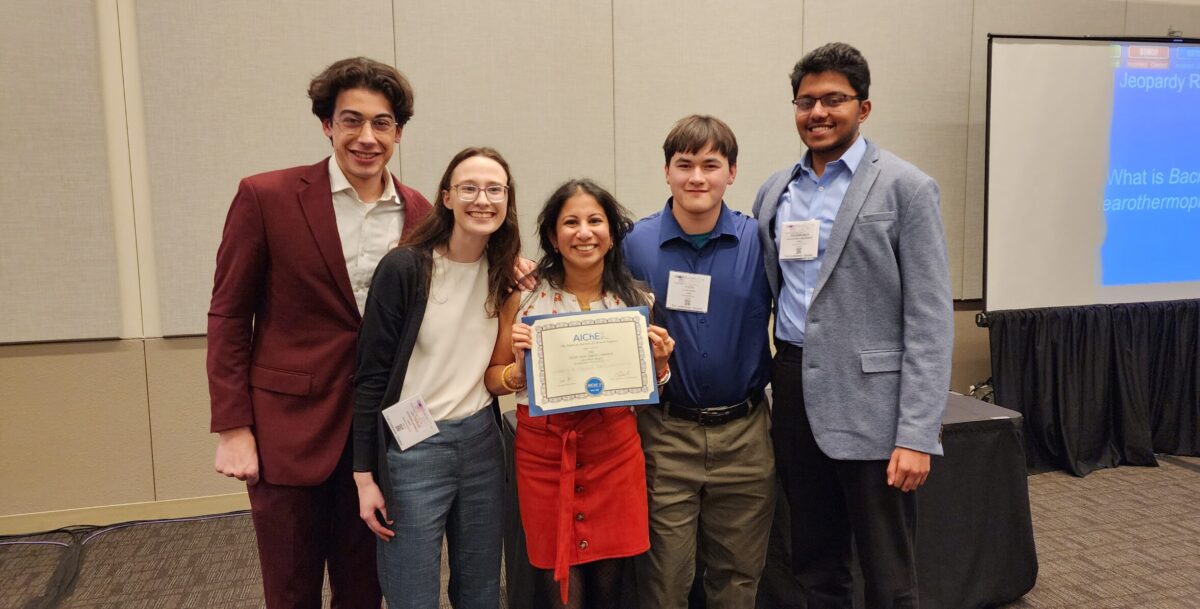 UMBC is again a national champion, now in ChemE Jeopardy. A UMBC student team of chemical engineering majors emerged victorious at the national competition hosted by the American Institute of Chemical Engineers.
5. Public research for the public good
GRIT-X returned to UMBC for its sixth year, delivering a wide-ranging lineup of Retriever excellence in action—highlighting research and creative achievement from different fields. One presenter, Airi Yoshioka, professor of music, illuminated how the cultural background of a composer manifests in the music they create.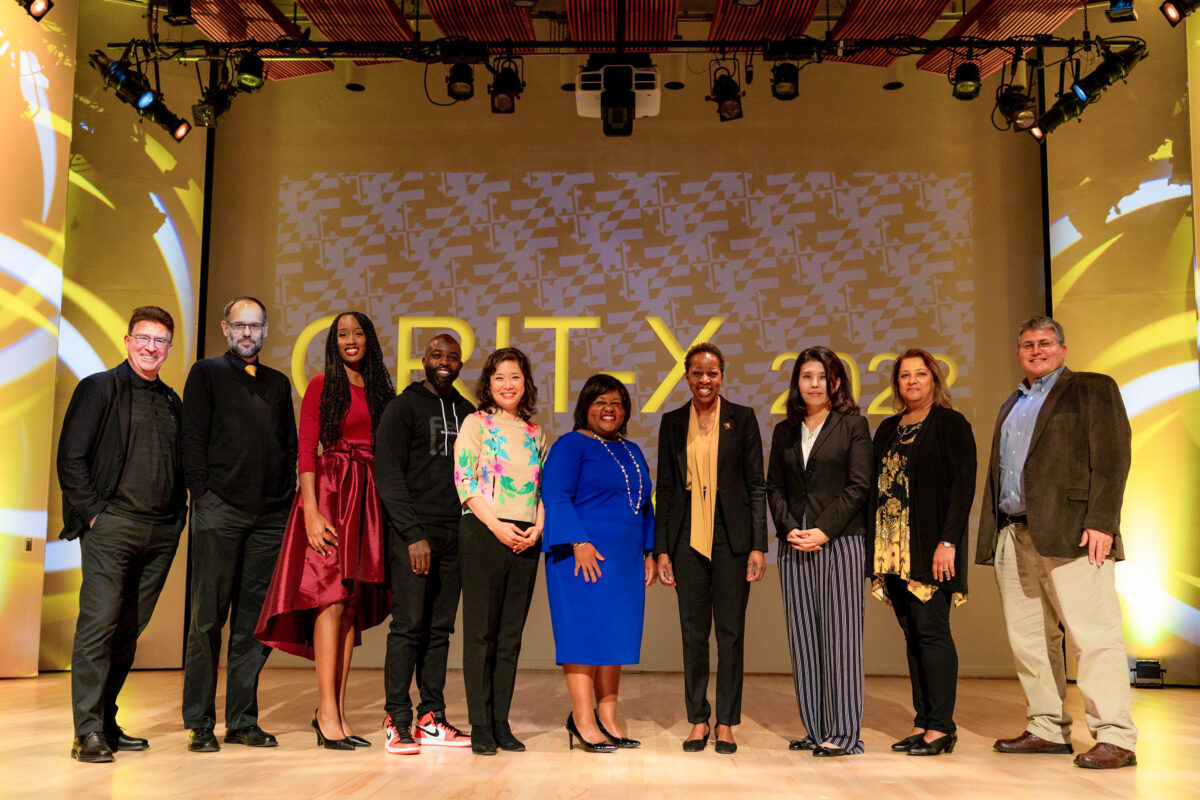 Katherine Seley-Radtke, professor of chemistry and biochemistry, is part of a consortium that will receive $65 million over five years from the National Institute of Allergy and Infectious Diseases to develop virus-fighting fleximer compounds. At the same time, Phyllis Robinson, professor of biological sciences, has received a $2.5 million grant from NIH to advance study of critical eye protein.
Vandana Janeja, professor and chair of information systems, is the principal investigator on a five-year, $13 million National Science Foundation (NSF) grant from the Harnessing the Data Revolution (HDR) Big Idea program to analyze enormous volumes of climate data and Arctic and Antarctic observations in ways that could help populations prepare for and respond to sea level rise and other risks.


Numerous humanities and social science faculty received prominent fellowships to support innovative research. The Henry Luce Foundation and American Council of Learned Societies awarded Christopher K. Tong, assistant professor of modern languages, linguistics, and intercultural communication, a fellowship to examine ecological consciousness and political representation in modern China. Yolanda Valencia, assistant professor of geography and environmental studies, and María Célleri, assistant professor of gender, women's, and sexuality studies, received Mellon Fellowships for research on an immigrant community in Washington and postcolonial transformation of Quito, Ecuador, respectively. Elizabeth Patton, associate professor of media and communication studies; Mirjam Voerkelius, assistant professor of history; and Amy Froide, professor and chair of history, received fellowships to explore unique historical events in the United States, Soviet Union, and United Kingdom.
UMBC faculty earned prestigious NSF CAREER Awards. Cynthia Matuszek, computer science and electrical engineering, will use her award to study how robots learn about the physical world from spoken language to improve how they work with people. Lauren Clay, associate professor and chair of emergency health services, will develop a sociocultural model called Food Environment in Disasters (FED) to improve the understanding and monitoring of food availability, acceptability, and accessibility during disasters. Stay tuned for news of 2023 CAREER Award recipients, coming soon.
6. Investments in high-impact UMBC programs
The largest gift in the history of UMBC—a $21 million donation from the Sherman Family Foundation—will dramatically expand the reach and impact of the university's K-12 and early childhood education work.

UMBC will expand its work boosting diversity in academia from Maryland to the national level through a new NSF INCLUDES Alliance: Re-Imagining STEM Equity Utilizing Postdoc Pathways (RISE UPP). RISE UPP seeks to help R1, R2, and teaching-intensive institutions recruit and train postdoctoral scholars from underrepresented backgrounds in STEM.

UMBC's College of Natural and Mathematical Sciences is receiving $5.6 million over five years from the National Institutes of Health to fund the Graduate Research Training Initiative for Student Enhancement (G-RISE). This program supports graduate students from underrepresented groups in STEM with funding for up to three years and a broad range of training opportunities.
Contributing authors: Catalina Sofia Dansberger Duque; Adriana Fraser; Sarah Hansen, M.S. '15; Randianne Leyshon '09; Megan Hanks Mastrola; Kait McCaffrey; Jenny O'Grady; and Dinah Winnick.