It's only been a few months since she took the helm, but it feels like President Valerie Sheares Ashby has been at UMBC for years. She can often be seen engaged in lively conversation as she makes her way across campus, treating each new face not as a stranger, but simply as a friend she hasn't met yet. She's already a familiar face at sporting events, cheering on #RetrieverNation as a fan in the stands. And her first Homecoming felt just like that–coming home. You already know she's a chemist, a former dean, and now a president, but we're going to tell you how she's so much more.
Finding a New Home
From the moment Valerie Sheares Ashby started her tenure as the new president of UMBC, we wanted to make sure she knew what a special community she was joining. At the opening of the semester, we asked community members to share some advice for our new president, and the answers didn't disappoint.
These words of wisdom from Constance A. Pierson '90, M.A . '92, associate vice provost for institutional research, analysis, and decision support, sum up who we are as a campus best: "Take the time to get to know the people. You will likely meet some of the most extraordinary individuals who will change your world. And be sure to find the joy in every moment that you can. Laugh a lot—it's contagious." It looks like President Sheares Ashby has that one down already.
Ear to Ear
Flipping through photos of Sheares Ashby's first Homecoming, it's almost impossible to find a photo of her without a grin on her face. Though she met numerous members of #RetrieverNation during the festivities, each interaction held something special.
Dancing in the Streets
On one of her first days in the office, President Sheares Ashby found this group of students dancing together in the walkway outside of the Admin building. They couldn't resist snapping a pic!
Fast Friends
The real GOAT of UMBC gave Sheares Ashby his paw of approval as soon as he met her. As any Retriever knows, True Grit is the real one you have to win over around here.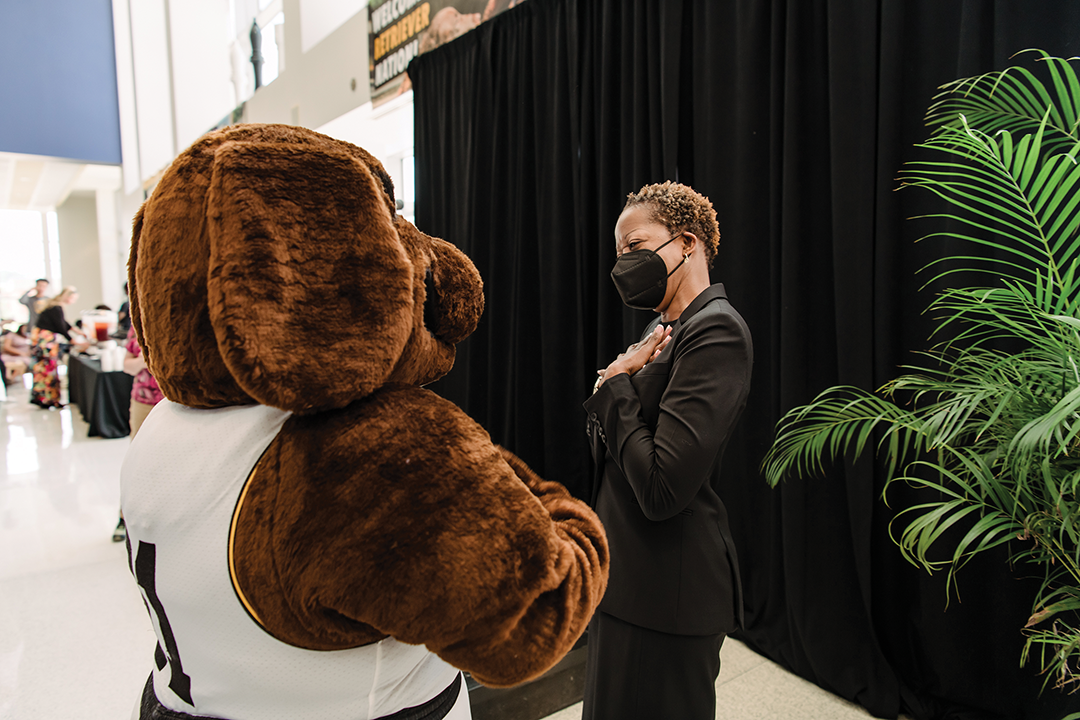 Photo Op
Talk about a family affair! Sheares Ashby's whole family decked themselves out in black and gold to celebrate her appointment as UMBC president.
Learning from the Community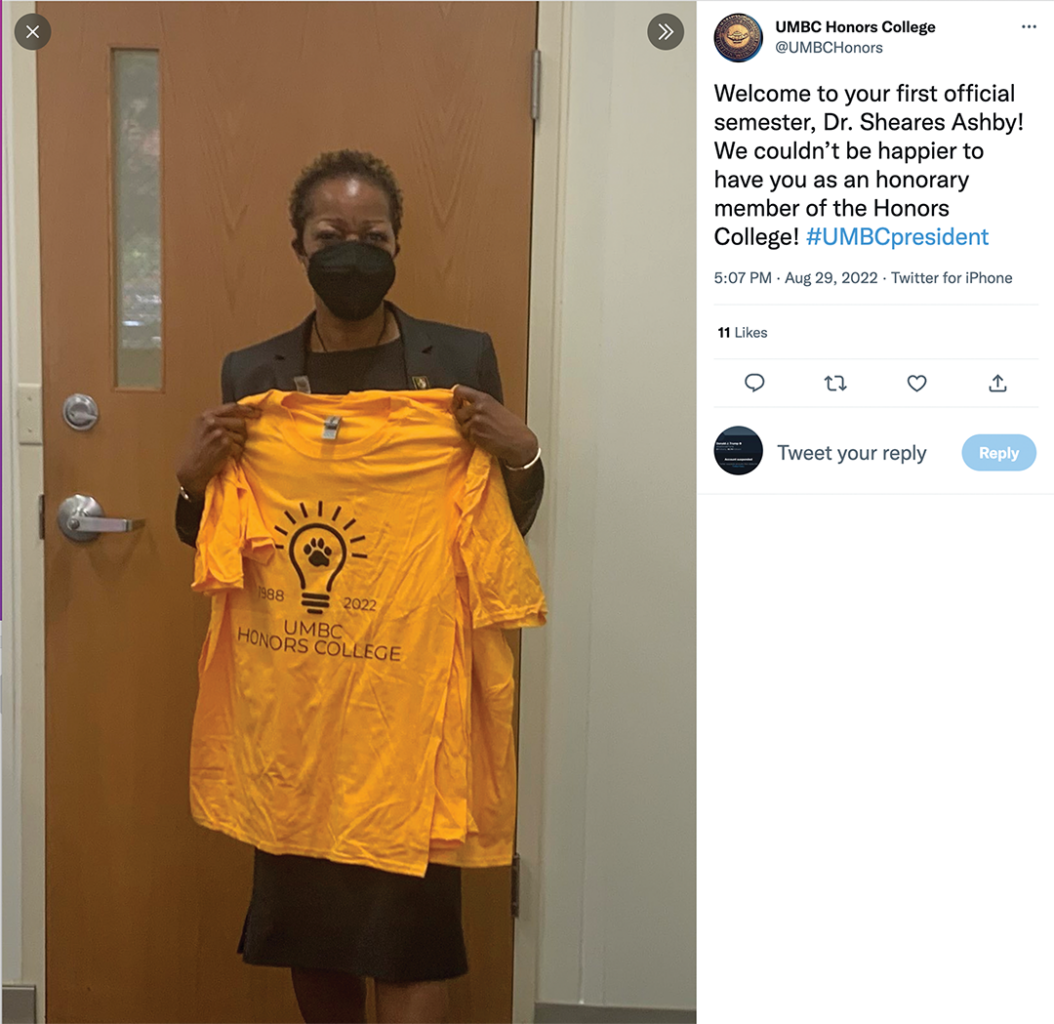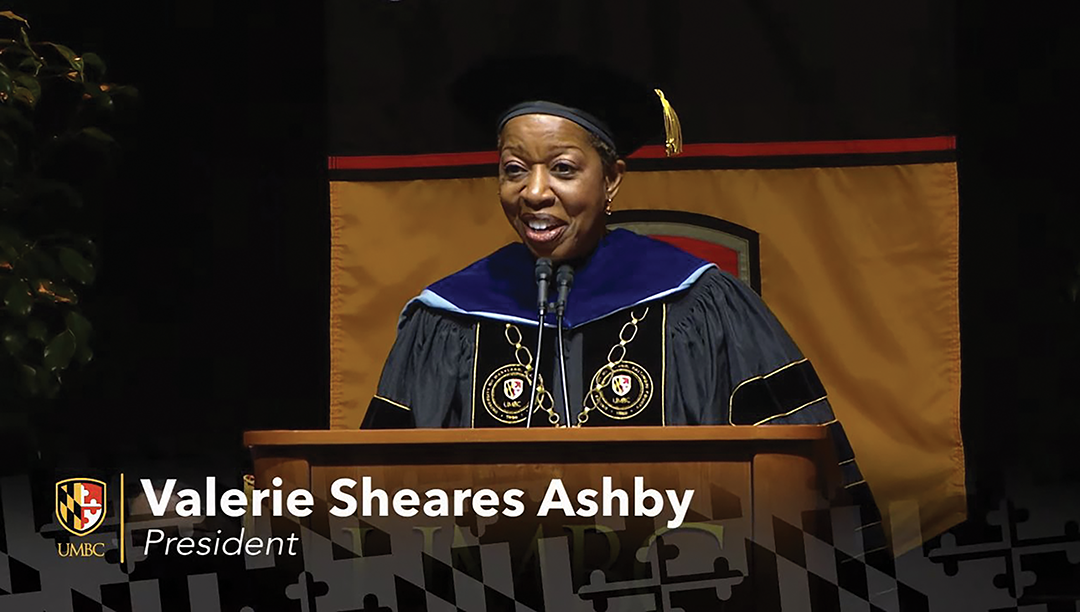 For Sheares Ashby, the best way to learn about our community is to immerse herself in it. In her first few weeks and months, she's made it a point to attend meetings, get to know constituents, and turn a simple walk down Academic Row into an informal meet and greet. Each of these interactions serves as another piece of the puzzle that makes up UMBC . At a welcome reception with University System of Maryland (USM) Chancellor Perman, Sheares Ashby addressed the audience and said, "People keep thanking me for coming to UMBC, and I don't understand that because the gift is all mine."
Joining the USM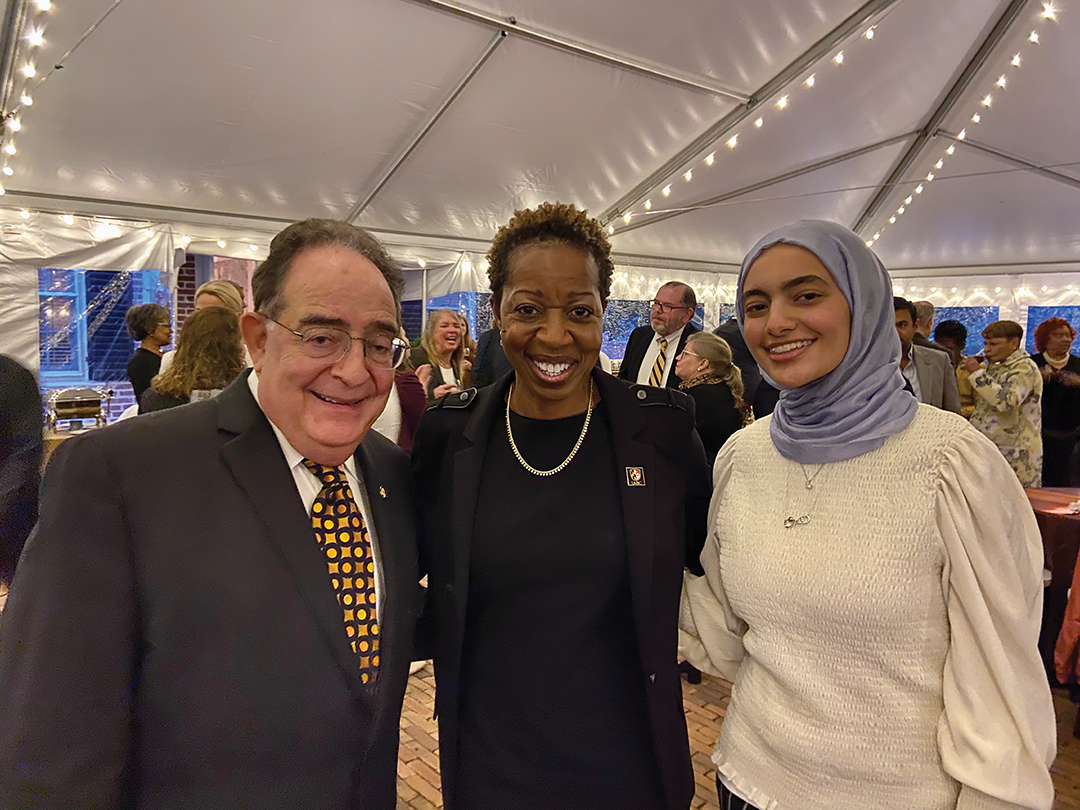 "It has been a pleasure getting to know President Sheares Ashby. She fits right into the UMBC community and readily meets with students, faculty, and staff. Her commitment to developing UMBC's culture of inclusive and academic excellence is evident in her priorities and appreciated by everyone," says Farah Helal '24, global studies and political science, USM student regent. She joined Chancellor Perman in welcoming Sheares Ashby.
Addressing the Crowd
One of the hallmarks of Sheares Ashby's conversations is the reminder to "take care of yourself." At this year's new-faculty meeting, she assured the audience, "You are a human being and what you bring to us is more than enough."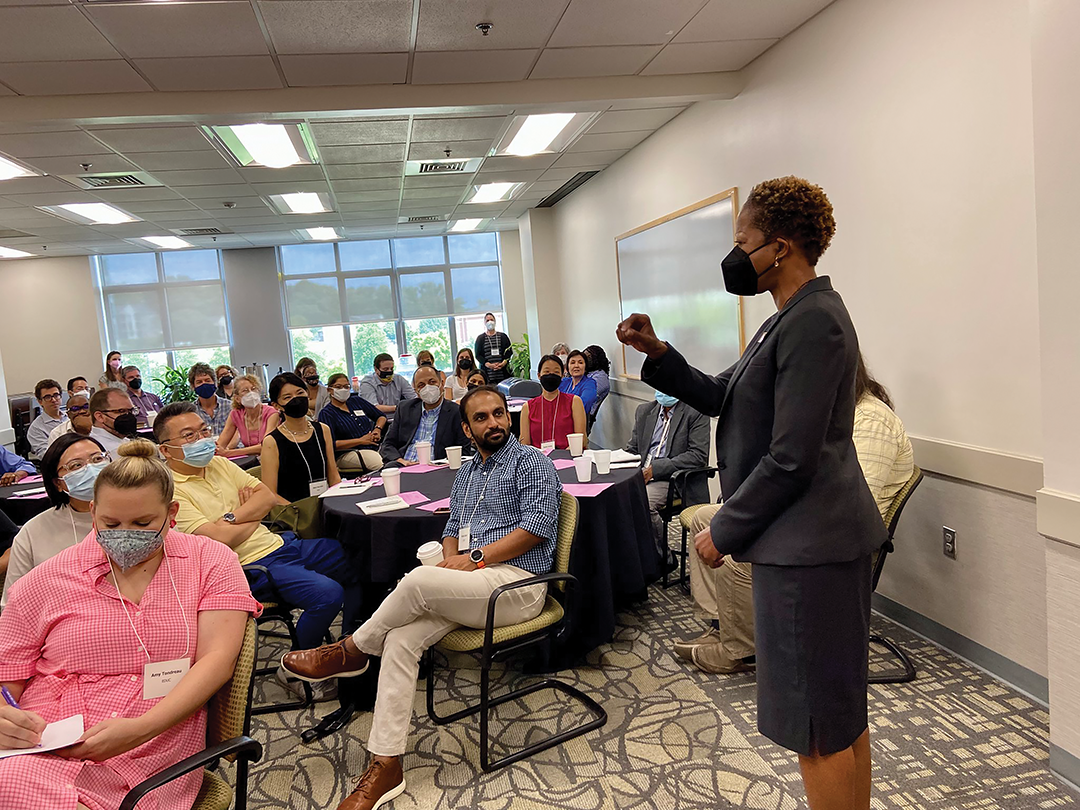 Golden Girls
Making her rounds on the first day of classes, Sheares Ashby encountered the UMBC inevitable—unintentional matching outfits. Jasmine Lee (center), director of inclusive excellence, and Samantha Smith (right), director of health promotion, joined Sheares Ashby for a photo op we couldn't have planned better!
Family Ties
When you think about a university, you think about students, faculty, staff, and alumni. But families are the support system that keep UMBC going. Sheares Ashby stopped by the Family Breakfast during this year's Homecoming to meet some of these integral members of our community.
Getting to Know You, Getting to Know All About You
We know that Sheares Ashby loves getting to know our community, but if possible, we love getting to know her even more—as evidenced by the fact she is the most flagged-down person on campus for a selfie (we have to accept campus comfort dog Chip is still #1 overall). To further your presidential education, here are five fast facts straight from the source.
What has been your favorite spot to do work on campus?
I've really only had the chance to work in the Administration Building, but what I consider my job and what people call work are interesting. Sitting in my office and having meetings, that's work. But it's also my job and my joy to be out amongst people.
Do you have a favorite theatre production?
My mother instilled in me The Sound of Music. My whole family can sing and quote almost every word.
What's your go-to coffee order?
I haven't had coffee in years because, I don't know if you could tell, I have a little energy so I don't need caffeine. Occasionally I'll drink tea, chamomile or Earl Grey. I love a good Earl Grey.
When given 15 minutes for self-care, what do you reach for?
If you gave me three hours, I would take a nap. But for 15 minutes, I'm probably going to call my friends and just laugh. I love talking to my friends. They keep me grounded.
What advice would you give someone getting ready to start their first year of college?
It doesn't matter if you don't know the whole plan. Don't worry about it. You're going to be fine.