Every year, Retrievers of all ages (including some actual Retriever pups) and community members gather together for UMBC's Homecoming—and as always, this year had something for everyone. For those who wanted to get an early start on the festivities, Retrievers enjoyed the morning's 5k Dawg Chase and Fun Run. From there, alumni and friends could sit down for Family Breakfast, cheer on the Puppy Parade, gather for an ice cream social, and take in all the rides.
"For a lot of folks at UMBC, it's coming back to a department, coming back to a social group, coming back to a physical space, coming back to an experience," Jess Wyatt, associate director of Alumni Engagement and one of the event organizers.
Bringing the Homecoming spirit… competitively
Alexis Nobleman '16, psychology and biological sciences and Alex Nobleman '17, psychology, came for the Dawg Chase and stayed for the ice cream and the rides. "It's always a blast to come back," shared the married couple, "but we really wanted to race the 5k."
As usual, Erickson Field was transformed into a carnival ground—families and friends played games, took a spin on a ride, enjoyed the petting zoo, food trucks, and more. But most people paused their activities for the midday marquee event—the Puppy Parade. All good dogs were welcome to join, and some well-dressed pups participated in a special costume contest.
Roland Brooks, father to sophomore Olivia Brooks, a Meyerhoff Scholar, came to campus for the day. "We're excited to support the university," he said. "And with the change of guard with a new president, we wanted to be on campus, participate, and show our support. But we're most excited about participating in the Puppy Parade."
Welcoming back alumni
Alumni are always welcome back on UMBC's campus, and Homecoming is a great opportunity to revisit your Retriever roots. If you ask Ron Pettie '82, English, and his wife Christine, it's all about reconnecting. "It's a chance to come back and see what the school is doing now," they'll tell you. Through the years, Ron and Christine have made a point to return to UMBC each October and are enthusiastic to talk about the close soccer wins, sharing a corndog, and trying to keep up on the rides with their two little nieces.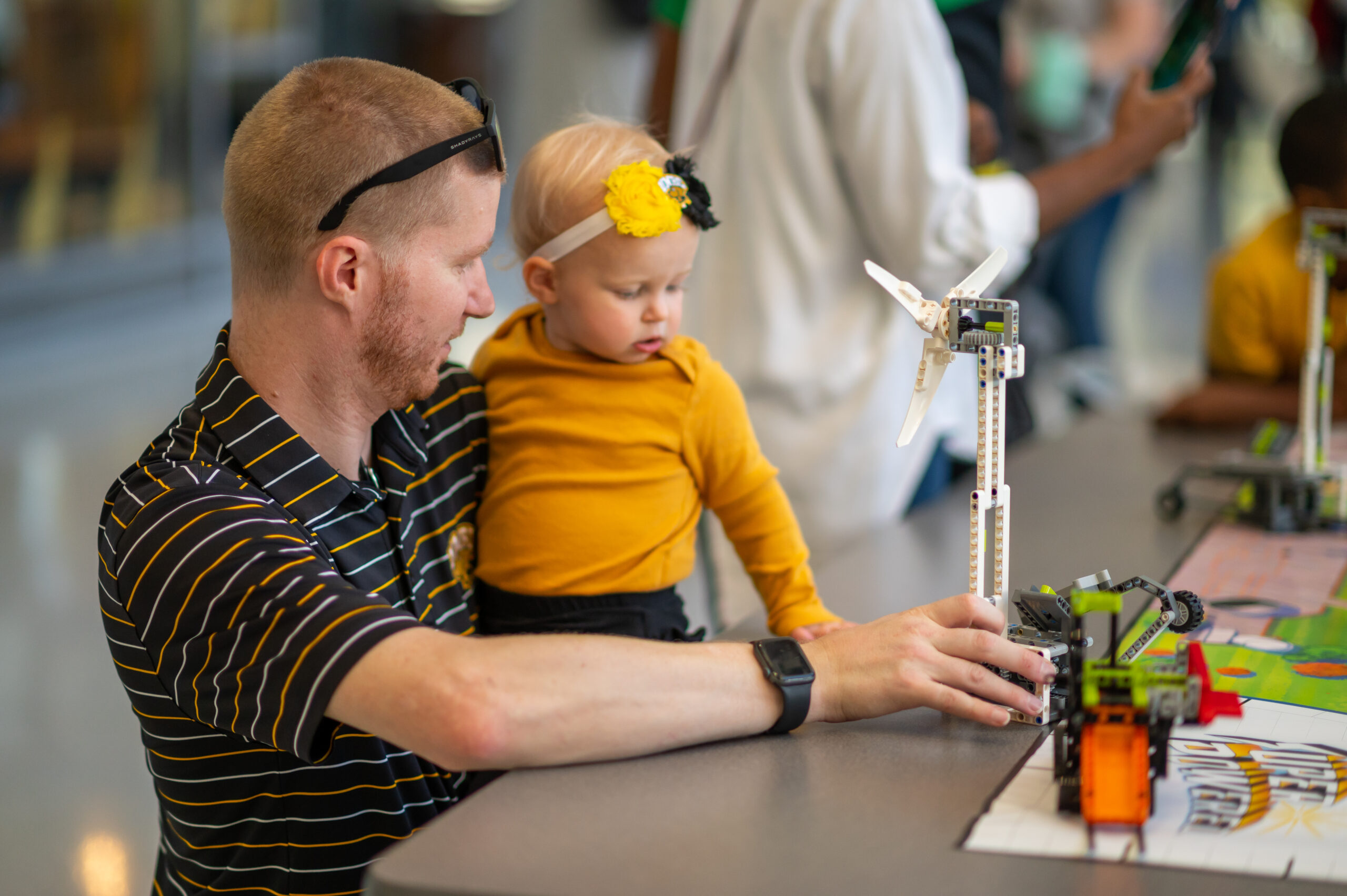 This year, Retrievers of all backgrounds could find a variety of events geared specifically toward them. Alumni enjoyed reunions, socials after sports games (catch the Athletics recap here), compelling talks at GRIT-X, relaxation at the beer garden, and so much more. A new addition this year was a Homecoming get-together at UMBC at the Universities at Shady Grove. Alumni Engagement is continually looking for ways to connect with more cohorts of Retrievers.
Spending time with family
Homecoming at UMBC is an event for Retrievers to enjoy with their families, and the Family Breakfast gave folks a time to celebrate where they come from, the people they love, and how UMBC nurtures those connections.
"We have a lot of non-traditional age students, students who are parents, [and] students who live in a multi-generational household," says Wyatt. As such, Homecoming was been planned with students, alumni, and families of all types in mind.
"Homecoming isn't just a work project for a lot of us, it's the thing that we bring our families to every year," says Wyatt. "It's really just seeing the best of everything that UMBC has to offer."
By Levi Lewis '23