Eight recent UMBC graduates and alumni will soon travel to countries across three continents as 2022 Fulbright U.S. Student scholars. They include emerging leaders in education, astrophysics, cybersecurity, human rights, and more, and they are excited to explore difficult questions through fresh perspectives.
The Fulbright Program is the U.S. government's flagship international exchange program. UMBC was named a Fulbright Top Producing Institution in 2019 – 2020. In the last decade, UMBC has received over 60 Fulbright U.S. Student Program awards for research and teaching placements in Africa, Asia and the Pacific, the Middle East, South America, and Europe.
Creating new paths
This year marks UMBC's first Fulbright awards to El Salvador and to the UK. Caleb Jacobson '21, global studies, and M.A. '23, sociology, will research human rights and the transition to peace in post-conflict El Salvador. Kaitlyn Keaton '22, computer engineering, a Cyber Scholar in the Center for Women In Technology, will head to Newcastle University (NU) in North East England to complete a master's in cybersecurity. NU is recognized jointly by the UK's National Cyber Security Center and the Engineering and Physical Sciences Research Council as an Academic Centre of Excellence in cyber security research.
Keaton has focused on making the most of her college education by pursuing a wide range of learning experiences. She has held competitive software engineering internships at General Dynamics Mission and Systems and Northrop Grumman Mission Systems, and has participated in Capture the Flags cybersecurity competitions, but this will be her first learning experience abroad.
As a Cyber Scholar and Tau Beta Pi Engineering Honors Society member, Keaton is determined to further develop the skills necessary to be on the cutting edge of cybersecurity research. She is also committed to creating new pathways for more women and girls to be leaders in engineering.
"I want to inspire and encourage even more girls and young women to join the cybersecurity world," says Keaton. "There is a critical need to get girls interested at younger ages to show them they can do it too."
Intercultural understanding in medicine
Maryam Elhabashy '21, anthropology, developed an interest in the process of healing early in her life while surrounded by a family of physicians. In high school, she shadowed a physician at a hospital and saw instances where patients' cultural backgrounds sometimes conflicted with the physician's concerns. She wondered if a lack of intercultural understanding in medicine can get in the way of good medical care, leading to health disparities.
Elhabashy found an answer in listening to culturally diverse perspectives. As a student of anthropology with a focus on medical anthropology, she found that listening to people's stories can help physicians develop empathy. This is one way to ensure patients feel heard, understood, and are able to navigate medical processes that can give them access to the best care possible.
While at UMBC, Elhabashy received an Undergraduate Research Award to research "Cupping and Wellness Among Muslims In the Baltimore-Washington Area." She also served as a research assistant in sociology, anthropology, and public health (SAPH), studying physical activity among older African Americans in Baltimore.
After graduating, Elhabashy worked at Rutgers University as a research assistant studying tobacco and e-cigarette use among minority populations. In the past year, she interned at the Amgen Scholar Program at the National Institute of Health, working with leading biomedical scientists to identify and address health disparities as a potential result of societal, cultural, and environmental influences.
During her Fulbright year, Elhabashy will live in Kuwait City to work on her research project at Kuwait University titled, "Faith, Family, Food, and Fitness: Exploring Trends of Obesity Amongst Kuwaiti Women."
"I hope to one day be at the forefront of a movement towards truly personalized medicine that embraces individuality and intercultural communication as a foundational tenet of the field," she notes. "I hope my experience in Kuwait will serve as a strong foundation for this work."
Latine teachers needed
Adrianna-Marie Urbina-Ruiz '21, mathematics, and M.A.T., secondary education, was raised in Montgomery County, Maryland, but her roots are in Venezuela. She remembers only having four Hispanic teachers growing up. All were Spanish language teachers and supported her academic and personal growth. However, Urbina-Ruiz felt some of her other teachers had lower expectations of her, limiting her opportunities, and she saw other Hispanic students struggle with this same experience.
"Many Hispanic students learning English and those who are bilingual have been seen as having limited academic knowledge, limited potential," says Urbina-Ruiz. "I want to stop that narrative."
At UMBC, Urbina-Ruiz met Bonny Tighe, a senior lecturer of mathematics, who encouraged her to become a math major and a math teacher through the Sherman STEM Teacher Scholars Program.
"I will never forget walking into her office hours for the first time. She recognized me as having one of the highest grades in her Calculus I class," says Urbina-Ruiz. "She and the Sherman staff had confidence that I would rise to any challenge. They built a strong foundation for my success."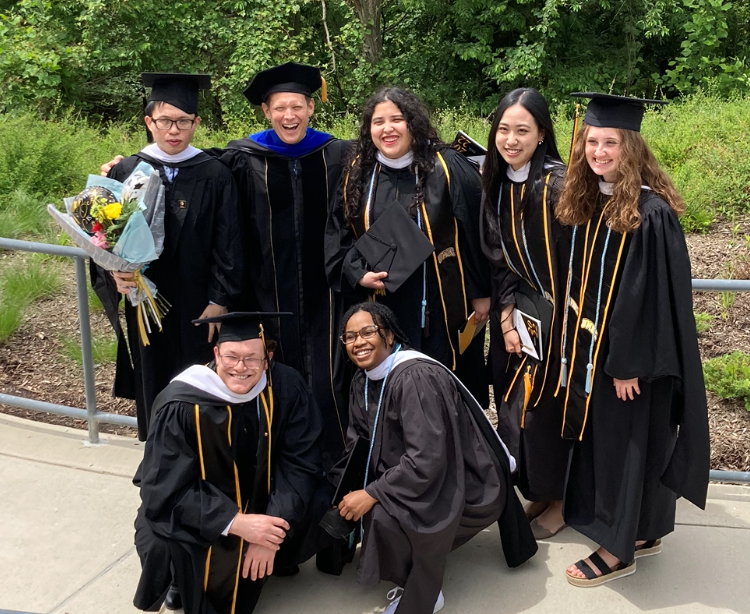 Urbina-Ruiz also completed a master's in teaching and earned a certificate in teaching English to Speakers of Other Languages while student-teaching at Lakeland Elementary/Middle School in Baltimore City, which serves many Hispanic families. "I want to have as many tools at my disposal to make my classroom as accessible as possible," says Urbina-Ruiz. "I want to be the Latine STEM teacher I never had."
Urbina-Ruiz will work towards creating her first Collaborative Online International Learning program during her Fulbright year. She will connect college students at the Universidad Industrial de Santander in Colombia with students in Maryland while teaching English. "Latine teachers are needed around the world," says Urbina-Ruiz.
Urbina-Ruiz plans to return to teach in Baltimore City Public Schools where there is a high demand for bilingual Hispanic teachers.
Representation in science
Similar to Elhabashy, Maithily Diana Díaz '21, biology and modern languages, linguistics, and intercultural communication, is pursuing a career focused on health equity. As a first-generation student, Díaz encourages other Latinos to go to college and to be ambitious even if it means they are in spaces where they are the only Latino, something she has experienced as a Latina in STEM.
"I'm usually the only Latina, but now it means something more," says Díaz. "Now, it's just the jump of saying Latinos can be scientists, researchers, physicians. If we believe in ourselves then someone else will too. And once that door is opened, then who knows how far we can go."
Díaz recently moved to Tijuana, Mexico to work at a non-profit health clinic serving a largely refugee and migrant population. For the past school year she has been teaching science and medicine to predominantly Hispanic and African American K-12 students for Refugee Health Alliance in Harlem, while completing remote research in mental health at the Johns Hopkins School of Public Health.
During her Fulbright year, Díaz will complete a master's in immunology and work on cancer research at the French National Institute of Health while mentoring undergraduate students at Sorbonne University. .
"It's a dream come true that someone like me received a Fulbright at such prestigious institutions. My students were shocked," says Díaz. "I want more and I intend to achieve it. But at the end of the day, this is for my community."
While in France, Díaz will work with researchers seeking to identify more effective means of treating soft tissue sarcomas. The findings may reveal potentially novel immunotherapy targets for a variety of cancers.
As a linguist with proficiency in English, Spanish, French, Portuguese, and Russian, Díaz knows her ability to successfully communicate across multiple cultures and languages can lead to greater opportunities. She wants to show Latinos what can happen when they value their multicultural and multilingual lives as assets.
Following her Fulbright, Díaz plans to pursue an M.D., promoting equity in both research and healthcare.
Global education and disability
Mimi Yaldram '20, history, is very familiar with the process of acclimating to a new culture and country. When she was seven years old, her family left their home in Karachi, Pakistan for the United States to seek better mental health services.
"We came in 1999 right before 9/11," says Yaldram. "It was a lot to manage the racism towards my Muslim family while learning how to live, study, access services, and work in the U.S."
This experience inspired Yaldram's passion for living and learning within multiple cultures, religions, and languages, which she began to explore at Montgomery College. There she held numerous executive student leadership roles and traveled abroad to Ethiopia, where she researched the influence of India on ancient trade routes and currency.
In 2017, Yaldram joined UMBC's Shady Grove campus, embarking on new student leadership opportunities, including serving as president of the Student History Association and studying abroad in Denmark. She learned about Viking history and participated in a dance project focusing on Danish pop dances and Pakistani Bollywood dances.
Yaldram identifies as a student with a mental health disability, and she is passionate about advocating for and teaching other students with disabilities and neurological differences. For the past two years, she has tutored students with autism spectrum disorder on strengthening their writing, communication, and social skills.
Now that she has earned her both her Teaching English as a Second Language and mental health first-aid certifications, she is ready to spend her Fulbright year teaching English in Taiwan. She is excited to be part of Taiwan's goal to become a bilingual nation by 2030 by raising English proficiency. She also looks forward to sharing her skills in disability education and services while teaching.
"My dream is to make a positive impact on immigrant communities by utilizing my own experiences and education," says Yaldram. "I hope to make a difference and bring that to the Fulbright program in Taiwan."
Yaldram plans on a career at the intersection of global education, social justice, and disability beginning with humanitarian work in Pakistan after her Fulbright experience.
Korean world influence
Chemutai Wangui Nganga '21, global studies, comes from a Kenyan family in the United States. During elementary school, she lived in Kenya for four years where she improved her Swahili skills and learned more about her Kenyan culture. When she moved back to the U.S., her family settled in Howard County, Maryland, home to numerous international communities, especially a thriving Korean community. Nganga learned about the influence the Korean economy, cuisine, music, art, and technology have had on the world.
Living in a diverse community, led Nganga to major in global studies at UMBC. She gained a greater understanding of the opportunities and conflicts of globalization and decided to focus on international politics and French. Her Asian studies courses increased her interest in Korean culture, which led her to pursue a Fulbright year in South Korea.
"For me, Korea is a full step into a new world," says Nganga, who will be teaching English. "It is another chance to push the boundaries of my worldview as well as serve others." She plans to explore a career path in foreign service on her return to the U.S.
Stellar research
As a burgeoning astrophysicist, Kaitlyn Szekerczes '22, physics, lives and breathes for exploring the infinite universe. She didn't know that all those nights stargazing on her deck with her dad and discussing the plausibility of science fiction shows would lead her to pursue a career in space science research.
"I was always fascinated by the questions we were not able to answer. We are not even close to knowing nearly everything when it comes to astronomy," says Szekerczes. "My goal is to contribute to answering lesser-known big and challenging research questions."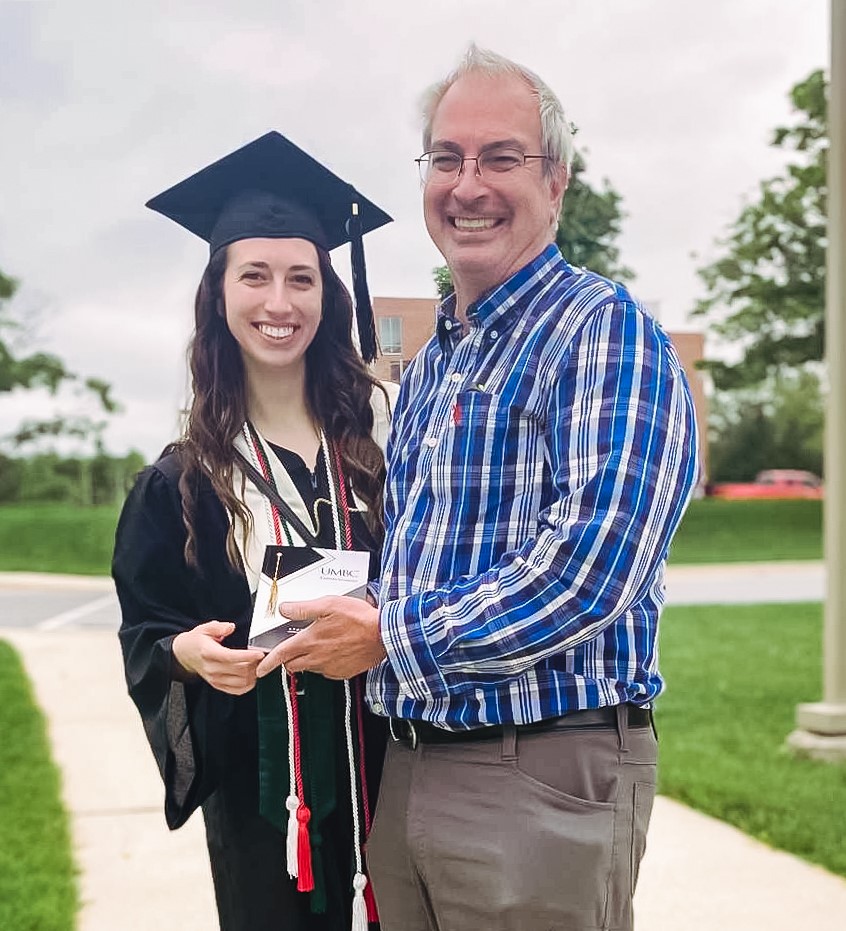 Szekerczes will lead a project on gravitational lensing of tidal disruption events at the Max-Planck Institute for Astrophysics in Garching, Germany. It will be the first study to apply the technique of gravitational lensing—the bending of light by gravity—to researching tidal disruption events, which are events that happen when a supermassive black hole tidally disrupts a star.
"My dream job is to work as an astrophysicist for NASA," says Szekerczes. "UMBC was the perfect fit for me because I was encouraged to pursue my passion for tackling challenging unanswered questions. I was also given the resources and support to piece together the puzzle of how to work towards my goals."
After returning from Germany, Szekerczes will begin a Ph.D. program in astrophysics at Penn State University in fall 2023.
Tags: anthropology, Biology, CAHSS, cahssresearch, CNMS, COEIT, computer engineering, CWIT, Education, GlobalStudies, History, International Stories, Mathematics, MLLI, Physics, Research, SAPH, ShermanScholars