The largest gift in the history of UMBC—a $21 million donation from the Sherman Family Foundation—will dramatically expand the reach and impact of the university's K-12 and early childhood education work. The transformational gift will provide funding to launch the Betsy & George Sherman Center as a national model to advance excellence in urban schools. This new center will expand and integrate UMBC's work in teacher preparation, school partnerships, and applied research focused on early childhood education and improving learning outcomes for Baltimore's students.
"If universities are to be major contributors to the development of society, they have to be involved with the schools and with neighborhoods and with communities," says UMBC President Freeman Hrabowski. "Betsy and the Sherman Family Foundation have provided us with invaluable resources to make this collaborative work possible."
"This gift represents a clear and bold commitment to developing teachers that can better support future generations of students in Baltimore City, especially in early learning and STEM," said Sonja Brookins Santelises, chief executive officer of Baltimore City Public Schools. "It also expands the research partnership between City Schools and the university in ways that will further enhance teaching and learning in our community. We are excited about this next great step."
Investing in education
Prior gifts from the Sherman Family Foundation supported the launch of UMBC's Sherman Center for Early Learning in Urban Communities as well as the Sherman STEM Teacher Scholars program, which prepares UMBC students as culturally responsive and compassionate STEM educators. The Betsy & George Sherman Center will include these programs and more.
Betsy and George Sherman's philanthropy in STEM education has been inspired by Mrs. Sherman's career in early childhood education and the late Mr. Sherman's experience as an engineer and business leader. Their family foundation has now invested more than $38 million in UMBC's education initiatives.
The Shermans have shared with UMBC a deep commitment to children's equal access to high-quality education and a supportive community. "It is our job as the adults in the community to offer them an opportunity to grow in a way that will support them," says Mrs. Sherman. "When a university is connected to a city, children thrive, families thrive."
Meeting STEM needs
The Sherman STEM Teacher Scholars program, founded with the support of the Shermans in 2006, prepares UMBC undergraduate and graduate students from all majors to become highly qualified PreK-12 teachers with a focus on STEM education.
Lakeland Elementary/Middle School, in south Baltimore, was the first school to partner with UMBC through this program. Over the past decade, it has become a model of a full-service community school in Baltimore City. Among other exciting results, Lakeland now has a Community and STEAM Center, and the school has seen notable increases in students' math test scores.
The Sherman Scholars program now partners with ten schools to promote academic achievement through professional development for teachers and intensive tutoring for students. For example, more than 90 UMBC students, including Sherman Scholars and others, provide evidence-based math tutoring for over 350 elementary and middle school students in several schools across Baltimore. Early data show this approach is working.
Moving the needle
Rehana Shafi, director of the Sherman Scholars program, remembers the program's first steps with fondness. "It started off with an investment that we wanted to use to figure out, with the right sorts of support in place—teacher professional development, after school activities for kids, and community engagement—how could we really move the needle for Lakeland's students and their families," explains Shafi.
In 2021, the program graduated 22 scholars, 19 of whom are teaching in Baltimore City. Over the past 15 years (since 2007), the program has yielded 170 educators who are now teaching across the Baltimore region, the state of Maryland, and beyond, often in the most vulnerable school communities. An additional 20 conditionally certified teachers have been supported since 2020–educators meeting critical classroom needs while working to complete M.A.T. degrees.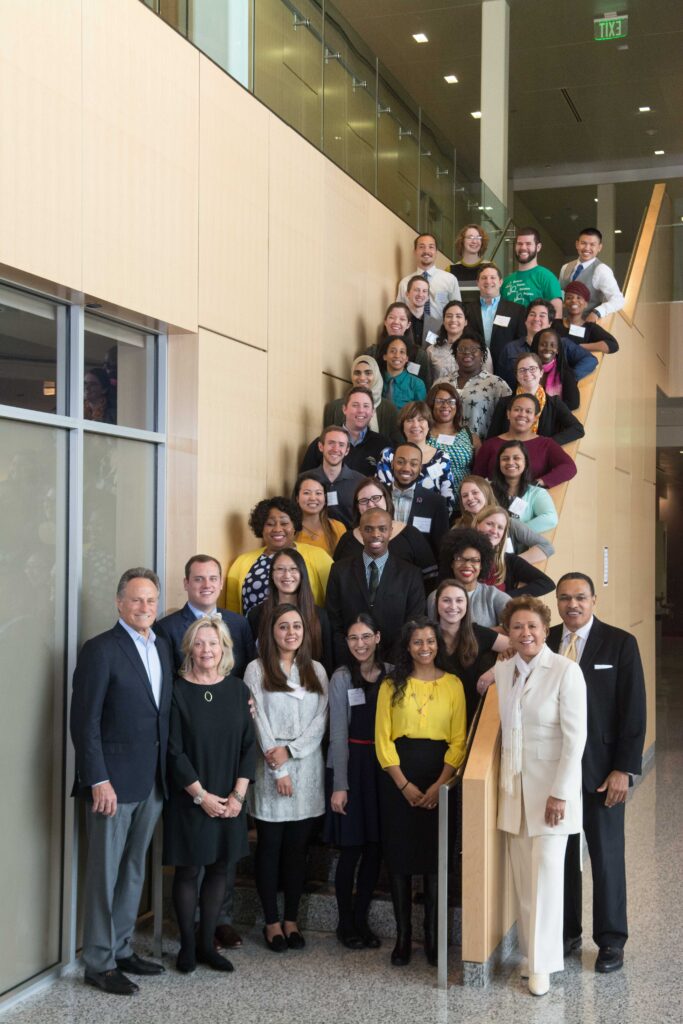 More than a decade into the work, Shafi is proud of the strong collaborations that have developed. "Partnering with schools and with communities to walk together through the process of growth and dreaming and achieving…it's what the work really is about," she says.
Reflecting on this successful partnership model, she notes, "The work that we're doing is ready to grow and expand, preparing even more teachers for classrooms across Maryland."
Focus on early childhood
This new gift will also enable the expansion of UMBC's early childhood programs. "I am excited to continue to grow our programming and further extend the impact and support for early childhood education," shares Jennifer Mata-McMahon, director of the Sherman Center for Early Learning in Urban Communities and associate professor of early childhood education.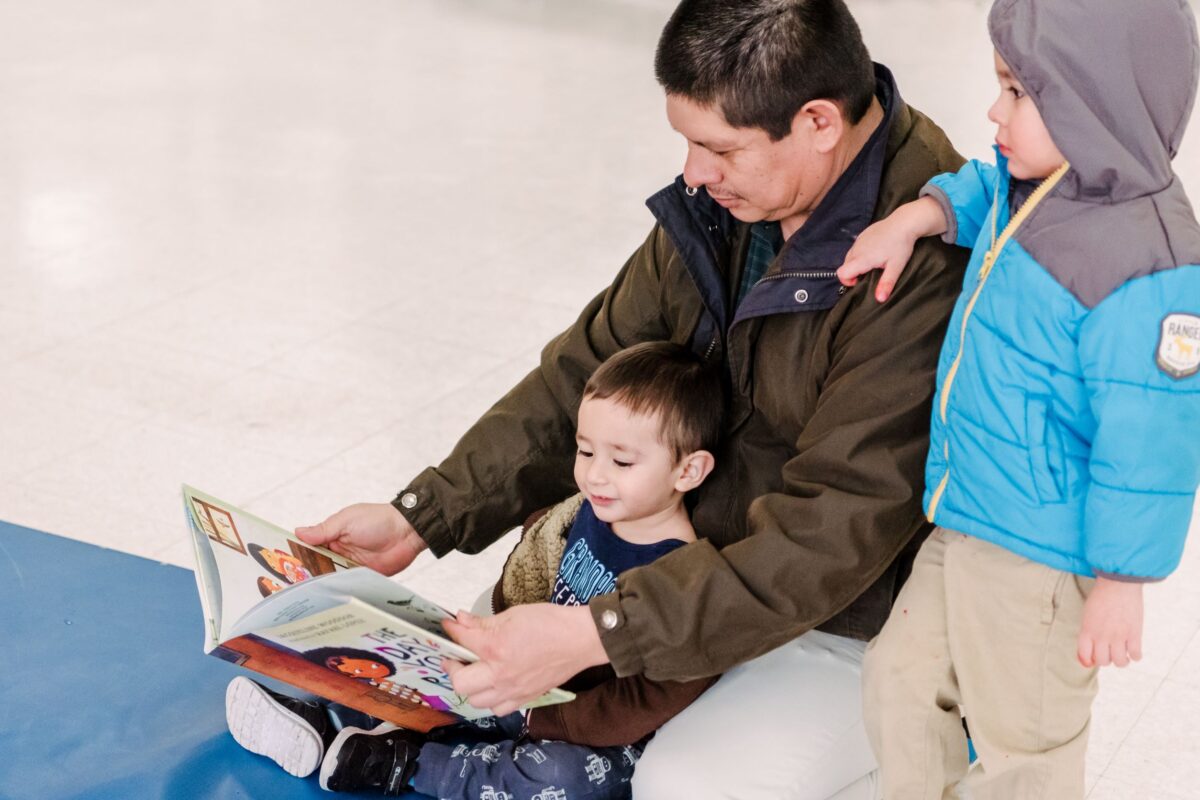 In the last four years, the center has implemented four highly successful programs developed with and for teachers and families across five Baltimore City Schools: the Literacy Fellows Program in collaboration with UMBC's Shriver Center, the Diverse Books Project, the Teacher Summer Institute, and the Families, Libraries, and Early Literacy Project. Hundreds of families have benefited from these programs.
UMBC's students volunteer over 400 hundred hours a year in partner schools. Participating teachers receive research-based skill development and funding for teaching materials.
The center also invests in community-engaged early childhood research to evaluate learning interventions, academic growth, social-emotional wellbeing, behavioral outcomes, and education policy with faculty across the College of Arts, Humanities, and Social Sciences (CAHSS).
Through its annual Faculty Research Award program, the center provides funding for new research projects. Past recipients have studied topics like Judy Centers in Baltimore, reading interventions, and culture-based computational thinking in urban preschools. Prior awardees have shared with the public their high-impact community-engaged scholarship on different ways to teach kids to read and math skills to prepare children for kindergarten.
"The College remains inspired by the enduring commitment of the Sherman family to urban education. This gift affords CAHSS faculty with the resources needed to further education research and practice," shares Kimberly Moffitt, interim dean of CAHSS and professor of language, literacy, and culture. She is thrilled that UMBC students will have even more opportunities to work with PreK-12 students throughout Baltimore who are "deserving of dedicated teachers who believe in their abilities and their aspirations for the future."
"This gift lays out the charge and we stand ready to fulfill it," says Moffitt.
Scaling and expanding programs
In addition to supporting research and classrooms directly, the center also advances the field by providing leadership development to early childhood educators across the state through the Maryland Early Childhood Leadership Program, which started its third cohort in 2021.
"The new funding will not only ensure the scaling of these programs, but also support new initiatives like Breathe2Think and the Sherman Center Research Conference," says Mata-McMahon. She is leading the implementation of both programs to further support teachers' well-being and develop teachers' skills as action researchers.
"This is about sustainability over time and long-lasting impact in urban communities," she says.
Full circle
The ripple effect of the Sherman family's investment is beginning to come full circle. UMBC's Sherman Scholar alumni are now teaching in Baltimore City classrooms and beyond, preparing the next generation of change-makers. And one scholar has returned to UMBC to share his on-the-ground experience with UMBC students just beginning their journey as future teachers.
Sherman Scholar alum Corey Carter '08, biological sciences, '10 M.A.T., taught in both Baltimore City and Baltimore County Public Schools after graduating from UMBC. In 2016, Baltimore County Public Schools honored him as Teacher of the Year. Seeking to expand his impact as an educator in a new way, he returned to UMBC to serve as assistant director of the Sherman Scholars program.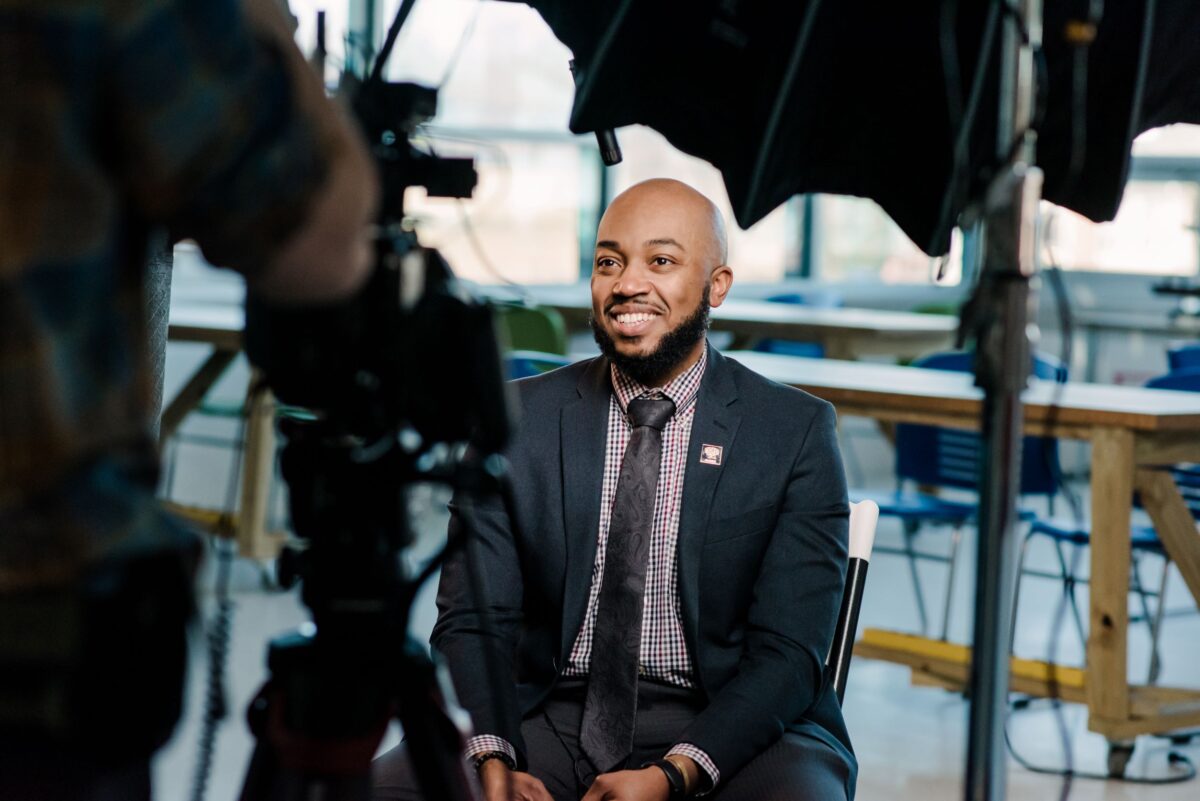 "I didn't see myself in the classroom immediately when I came to UMBC," says Carter. Without the Sherman STEM Teacher Scholars program, and the opportunities and guidance it provided, he isn't sure that he would have found his way to the classroom. Now he sees the power of collaboration between universities and schools, fueled by philanthropy, to advance an education system truly centered around students and families.
As Carter supports the work of the new Betsy & George Sherman Center, he's excited to see it expand even further. "The impact that we all can bring when we come together to the table—with community, university, and school staff—is a really powerful example," he says. "I look forward to building our vision together and seeing this energy and momentum spread throughout Baltimore."
---
Banner image: Betsy Sherman at Lakeland Elementary/Middle School. All photos by Marlayna Demond '11 for UMBC.
Video by Corey Jennings '10 for UMBC.
Tags: AmericanStudies, Biology, CAHSS, Education, INDS, Research, ShermanCenter, ShermanScholars