The 2022–23 U.S. News and World Report Best Colleges undergraduate rankings released this week illustrate why a record number of students chose to call UMBC home this fall. This year's rankings show UMBC jumping an impressive 25 spots on the list of Best National Universities and appearing on several other prestigious lists, distinguishing the university's achievements on a national stage.
"Notable increases in UMBC's six-year graduation rate, at a time when UMBC was also recognized as an Research 1 university, likely supported this jump," says Constance A. Pierson '90, M.A. '92, associate vice provost for Institutional Research, Analysis and Decision Support. "We are particularly proud that the graduation rate trend is consistent for students of different economic backgrounds."
This year UMBC ranks at #9 nationally for undergraduate teaching, joined in the top ten by such institutions as Brown, Princeton, and Dartmouth, and tied with the University of Notre Dame. UMBC also maintains its longstanding position on the list of the nation's most innovative universities, tied at #10 with Johns Hopkins University. UMBC ranks #64 on the Top Public Universities list, #137 on the overall Top National Universities list, and #46 for undergraduate research and creative projects.
Student-centered education
At the core of this year's rankings are students who already distinguish themselves as budding entrepreneurs, global citizens, advocates, and leaders. Farah Helal '24, global studies and political science, began her term as University System of Maryland (USM) student regent on July 1, 2022. UMBC's U.S. News ranking as one of the country's Best Value Schools and universities with the least student debt speaks directly to the work Helal will be doing as part of her tenure: weighing in on topics like setting tuition and fee rates, approving new degree programs, and approving capital and operating budgets.
"UMBC is a meeting ground for students, faculty, and staff who want to be engaged in our communities every day, doing deep and creative work to solve problems and promote justice and inclusion," says David Hoffman, director of the Center for Democracy and Civic Life.
In addition to the latest U.S. News rankings, Hoffman highlights that the 2022 College Rankings issue of The Washington Monthly names UMBC one of America's Best Colleges for Student Voting. "I love that we have been recognized by Washington Monthly for our efforts in connection with voting, and I love knowing that voting is just the tip of the iceberg for us when it comes to our students' engagement and impact."
Both teaching and research
The latest U.S. News rankings are primarily university-wide, but they also include recognition for a few specific undergraduate programs. UMBC is listed as a top-100 university this year for both computer science and engineering. Coming in at #86 for computer science, UMBC shares the rank with George Mason University, Texas Tech University, and Howard University. Ascending to #94 for engineering this year, UMBC is joined by Clemson University, George Washington University, and University of Delaware.
It's essential to understand these rankings in the context of another important milestone, notes Keith J Bowman, dean of the College of Engineering and Information Technology (COEIT): UMBC's recent Carnegie Classification as a doctoral university with very high research activity, popularly known as Research 1 (or R1). UMBC is now ranked as one of only 146 R1 institutions nationally, including 107 public and 39 private universities.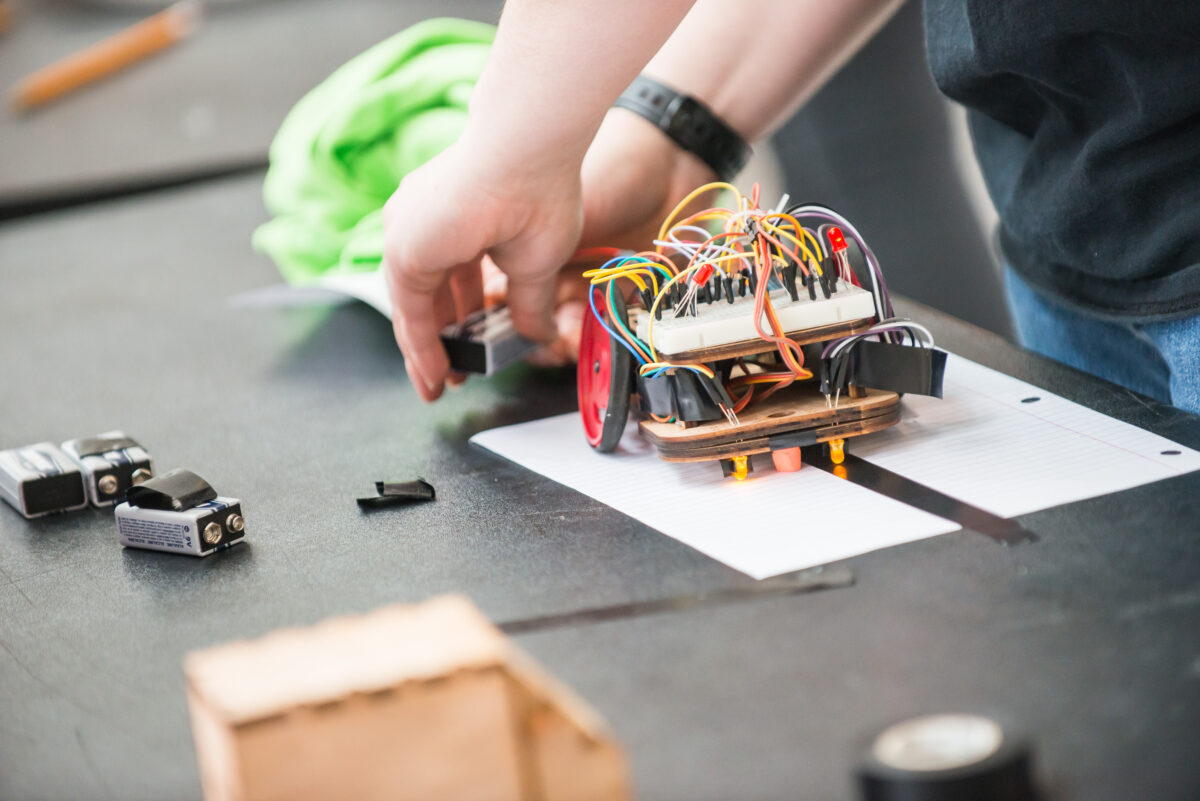 "UMBC's designation as an R1 institution combined with increasing recognition for our engineering, computing and information systems programs has enabled us to recruit incredible faculty talent," says Bowman. "Those faculty are attracted to UMBC for our potential to both advance their success as researchers and educators and our emphasis on inclusion as essential to excellence."
Promoting diversity and innovation
UMBC's recognition as one of the nation's most innovative universities, alongside Johns Hopkins, goes hand-in-hand with recognition as a top university for ethnic diversity. The National Institute of Health (NIH) and National Science Foundation (NSF) have recently awarded UMBC over $15 million for programs specifically to support underrepresented STEM students—an area where UMBC is known as an innovative national model.
The College of Natural and Mathematical Sciences (CNMS) will receive $5.6 million over five years from the NIH to fund the Graduate Research Training Initiative for Student Enhancement (G-RISE). This program will support graduate students from underrepresented groups in STEM with up to three years of funding and an array of training opportunities. The goal is to help participants select and prepare for a range of career paths in academia, industry, government, entrepreneurship, or beyond.
UMBC will expand its work boosting diversity in academia from Maryland to the national level through a new NSF INCLUDES Alliance: Re-Imagining STEM Equity Utilizing Postdoc Pathways (RISE UPP). The RISE UPP Alliance, anticipated to officially launch in fall 2022, is modeled after the AGEP PROMISE Academy, a high-impact initiative co-led by UMBC that supports faculty diversification in the biomedical sciences across USM institutions.
The university has also received support from a broad range of other groups and agencies to expand and replicate UMBC's student success models. This includes $2.5 million from the Simons Foundation to create a Meyerhoff Scholars-like program within the public university system in New York, among other initiatives.
Vision of leadership
This commitment to diversity and inclusion can also be seen at the faculty and administrative leadership levels. Kimberly R. Moffitt, dean of UMBC's College of Arts, Humanities, and Social Sciences (CAHSS) and professor of language, literacy, and culture, serves as the lead principal investigator for Breaking the M.O.L.D. UMBC, Morgan State University, and the University of Maryland, College Park are partnering in this $3 million initiative funded by the Andrew W. Mellon Foundation to develop a pipeline to higher ed leadership for diverse scholars in the arts and humanities.
Following through on "redefin[ing] excellence in higher education through an inclusive culture" is an essential part of what makes UMBC such a special and distinctive place, says UMBC President Valerie Sheares Ashby. "This is an extraordinary institution," she recently told WYPR's Tom Hall. She shares, "The university is true to the values and vision that it states."
Tags: CAHSS, Civic, CNMS, COEIT, diversityandinclusion, GlobalStudies, LLC, MLLI, PoliticalScience, Rankings