Rehman Liaqat '22, political science, has received the inaugural Campus Compact Mid-Atlantic (CCMA) Civic Fellowship. He is one of 13 students chosen from institutions across Maryland, Delaware, and Washington D.C. This honor follows Liaqat's recent recognition as a 2022 finalist for the prestigious Truman Scholarship.
The CCMA Civic Fellows program develops student leaders who are "engaged global citizens, actively contributing to the creation of equitable, healthy, sustainable, and socially just communities." CCMA will provide Liaqat with learning and networking opportunities that emphasize personal, professional, and civic growth. This includes conversations with regional and national experts focused on leadership development and advancing equity through civic and community engagement in the Mid-Atlantic region.
Crossing bridges
Liaqat came to the United States from Pakistan when he was eleven. He spent his teen years in Wicomico County Public Schools in Salisbury on Maryland's Eastern Shore. His time was split between school and working at OC Quickstop, one of three family-owned gas stations. In a predominantly white public high school, Liquat felt like he didn't quite fit.
In retrospect, not fitting in gave him insight into managing two cultures, two countries, and many different social worlds. So when a group of Pakistani women moved into his apartment complex, Liaqat's mother encouraged him to serve as a cultural tutor of sorts. Two times a week he would review how to fill out school forms for their children, apply for other resources, and access services.
"I found value in the knowledge I had acquired transitioning into living and working in Salisbury," says Liaqat. These skills became a tool to help the Pakistani women feel empowered as members of the community.
This project caught the attention of Liaqat's English teacher, who nominated him for a Light of Literacy Youth Luminary award hosted by the Friends of the Wicomico County Public Libraries. At the award ceremony, he connected with local leaders who invited him to volunteer on political campaigns. He didn't know at the time how all of these experiences would shape his path.
Transformative mediation
When Liaqat began researching colleges he wasn't sure what his future would look like, but he did have a clear example of the impact he wanted to have from his grandfather. His grandfather leads community-oriented mediation sessions through restorative practices among local villagers in Chak Pindi, Punjab, Pakistan. The villagers depend on his grandfather's mediation skills, Liaqat explains, because often they cannot depend on the legal system, due to cost and corruption.
"When I was eight I began to sit next to him as he mediated. It showed me, at an early age, the dire need in our community for advocacy and well-being, especially when the systems in place become undependable," says Liaqat. "Reflecting back, sitting next to him and observing his mediation depicts, to me, the power of meaningful public service. This work can completely transform the lives of people left vulnerable by the system and by society."
His experiences in Maryland and in Pakistan revealed to him the importance of representation and community action. He ardently worked to convince his parents that attending UMBC—a diverse community rich with new opportunities for his future—was the best decision for him. He would be the first-ever member of his family, across generations, to move out of the family home to go to college.
It wasn't just moving out, but moving away across the Chesapeake Bay Bridge, 2.5 hours from Salisbury. Over the past four years, Liaqat has driven back home every weekend to work at his family's gas station. He's also remained involved with his communities, all while maintaining a 4.0 GPA.
Beyond my comfort zone
"My family is very traditional," says Liaqat. "They are very proud of me and what I have accomplished." At the same time, he says he is very proud of himself for "going out of my comfort zone to become the person I want to be."
Liaqat, who will be entering Georgetown University in the fall, thanks his mentors for guiding him toward increasingly challenging growth opportunities throughout his four years. During his first week on campus, he reached out to four faculty and staff members for guidance and resources. He was surprised by the immediate and heartfelt responses he received from them all, and their willingness to answer all of his questions without hesitation.
Lori Hardesty, associate director of applied learning and community engagement at UMBC's Shriver Center, connected Liaqat with an applied learning experience. "She was the first person to 'see me' at UMBC," shares Liaqat. "I still remember sitting in her office four years ago when she said, "What matters is that you are here now and you have the opportunity to make a difference every day.''
Liaqat also remembers being inspired by the words of Sargent Shriver, the center's namesake, who said, "Serve, serve, serve… because, in the end, it will be the servants who save us all." Shriver's meaningful contributions to society have become an inspiration for a journey of lifelong service, says Liaqat.
Over the years, Liaqat has served as a peer mentor and peer facilitator for the Shriver First-Year Experience course and as a workshop facilitator for UMBC's Community Read program. Through the Shriver Center, he has also helped support Baltimore City students by participating in the Choice Program's annual Jam and Slam event and College Night program.
"As a son of Pakistani immigrants who was the first to pursue higher education in the U.S., I was expected to pursue a path that was determined for me," says Liaqat. "However, as I became a member of UMBC's Shriver Living Learning Community, I felt more confident embracing a path of my own design."
Broader perspective
With the support of the Shriver Center, Liaqat felt more comfortable seeking out mentors and exploring UMBC's social change resources. He remembers fondly walking into the Center for Democracy and Civic Life intent on creating a UMBC football team.
There he met Center Director David Hoffman, Ph.D. '13, language, literacy, and culture (LLC), and Assistant Director Romy Hübler '09, modern languages and linguistics, M.A. '11, intercultural communication, Ph.D. '15, LLC. "They didn't know who I was and I had no idea if the center would listen to all of my ideas," says Liaqat.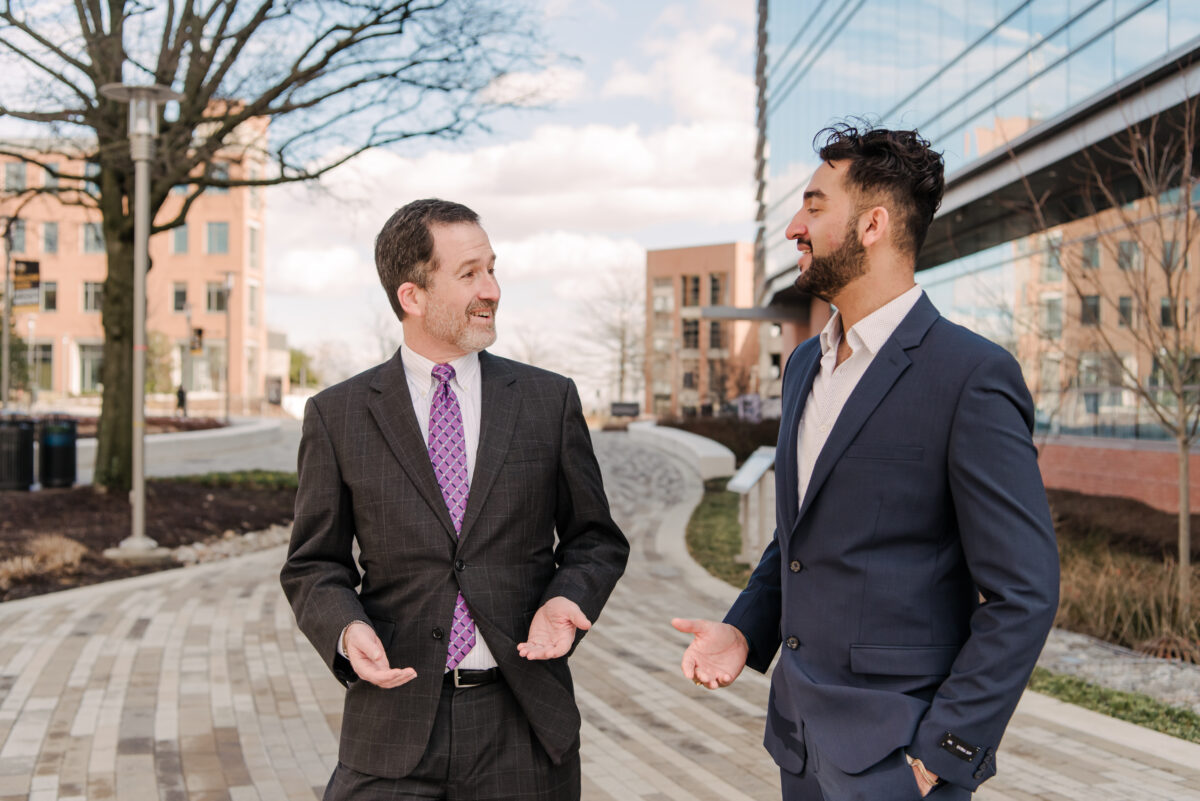 For weeks Hoffman and Hübler sat with him as he shared his passionate ideas. "They never deterred me," says Liaqat. Instead, they walked him through the process of seeing different points of view and the intentionality of the decision of university leadership to invest in a broad range of sports rather than putting significant funds toward a football team. This process informed his work in student and community organizations for the rest of his time at UMBC.
"Rehman arrived at UMBC with a thirst for learning, a desire to make a difference, and big ideas," says Hübler. "Over the past four years, we have spent many hours talking about his commitment to addressing social issues and approaches he could take to doing so. It has been a wonderful experience seeing him build relationships, empower his peers, and strengthen our community."
Beyond theory
In a political science course, William Blake, associate professor and associate chair of political science, brought to life constitutional law for Liaqat. He enrolled in all of Blakes's human and civil rights classes, discovering a passion for understanding the power of a constitution to impact lives. He joined UMBC's Moot Court team and eventually became its president, with Blake as the organization's faculty advisor.
"Rehman is one of those rare students whose passion, curiosity, and analytical skills make him a force to be reckoned with," says Blake. "He is an impressive student leader, and it has been a pleasure to have a chance to teach him and work with him on the UMBC Moot Court team."
Liaqat also worked closely with Carolyn Forestiere, professor of political science, as executive president of the department's council of majors. "Rehman has been a guiding force in our Council of Majors over the past several years," Forestiere says. She notes that Liaqat has been instrumental in very important ways, including co-leading an effort to develop a diversity, inclusion, and equity initiative that would impact the department's syllabi and curricula.
"His professionalism and passion for promoting positive change are fundamental elements of his character," says Forestiere. "He leaves a legacy of sincere compassion and engaged activism that I hope students emulate for years to come."
Growing confidence, growing impact
Through mentorship and new experiences, Liaqat's confidence grew. He learned to navigate diverse political environments as a legal intern at the Maryland Office of the Public Defender, Maryland's State's Attorney's Office, and at Pakistan's Supreme Court and Ministry of Human Rights. He is now the co-founder of a human rights legal aid organization in Pakistan, which has been asked to expand its reach by local leaders. And he has pursued an accelerated master's degree in public policy at UMBC alongside his undergraduate degree.
Liaqat arrived at UMBC in 2018 full of excitement, but also uncertainty. "Coming to UMBC meant my family would be far away. I was a college kid who had a lot of ambitions to do more, but had never gone beyond my home environment," says Liaqat. He says his mentors gave him the self-assurance to grow in new directions while still remaining part of his family's life and culture.
Now, Liaqat is graduating as a CCMA Civic Fellow who will soon begin a joint master's of public policy and juris doctor program at the McCourt School of Public Policy and the Georgetown University Law Center.
Liaqat says he was told "UMBC is a magical place" during orientation, and this proved to be true. He has had meaningful, enriching civic engagement experiences throughout his undergraduate years. "UMBC's magic is real, genuine, and more alive than ever," he says, "because of the commitment and devoted service by every member of its community."
He hopes to take a piece of this magic with him well after graduation. The first step will be living out his Civic Fellowship's driving mission: to create equitable, healthy, sustainable, and socially just communities. He says, "I want to show future generations of Pakistani students all that is possible."
Tags: CAHSS, cahssresearch, Center for Democracy and Civic Life, ChoiceProgram, PoliticalScience, Research, ShriverCenter