UMBC volleyball continued their hot streak, capturing their third-consecutive America East championship title over the weekend. The second-seeded Retrievers defeated Bryant in four sets before sweeping fourth-seeded University of New Hampshire in three sets on the road for the Championship, cementing UMBC's fifth NCAA appearance in program history.
In his first year at the helm as head coach, Kasey Crider picked up seamlessly where the legacy left off last season.
"It was all new to me and I found myself relying on the people who had been there before to lead the way a little bit," says Crider. "The players in particular were so steady. More than anything, it felt like I had great seats to watch a really good team do something special."
Key players
Middle blocker Mila Ilieva '25, biochemistry, set the bar high in her first year of collegiate play last season, earning a spot on the America East All-Rookie Team after appearing in all 31 matches and starting in 30. This year, the sophomore from Bulgaria was named the championship's Most Outstanding Player and was named to the America East All-Conference Second Team.
"Throughout the season, we had to get better on the fly, and even as things got tough, we didn't flinch. But no one embodied that more than Mila. You always want to be playing your best at the end, and she did," says Crider.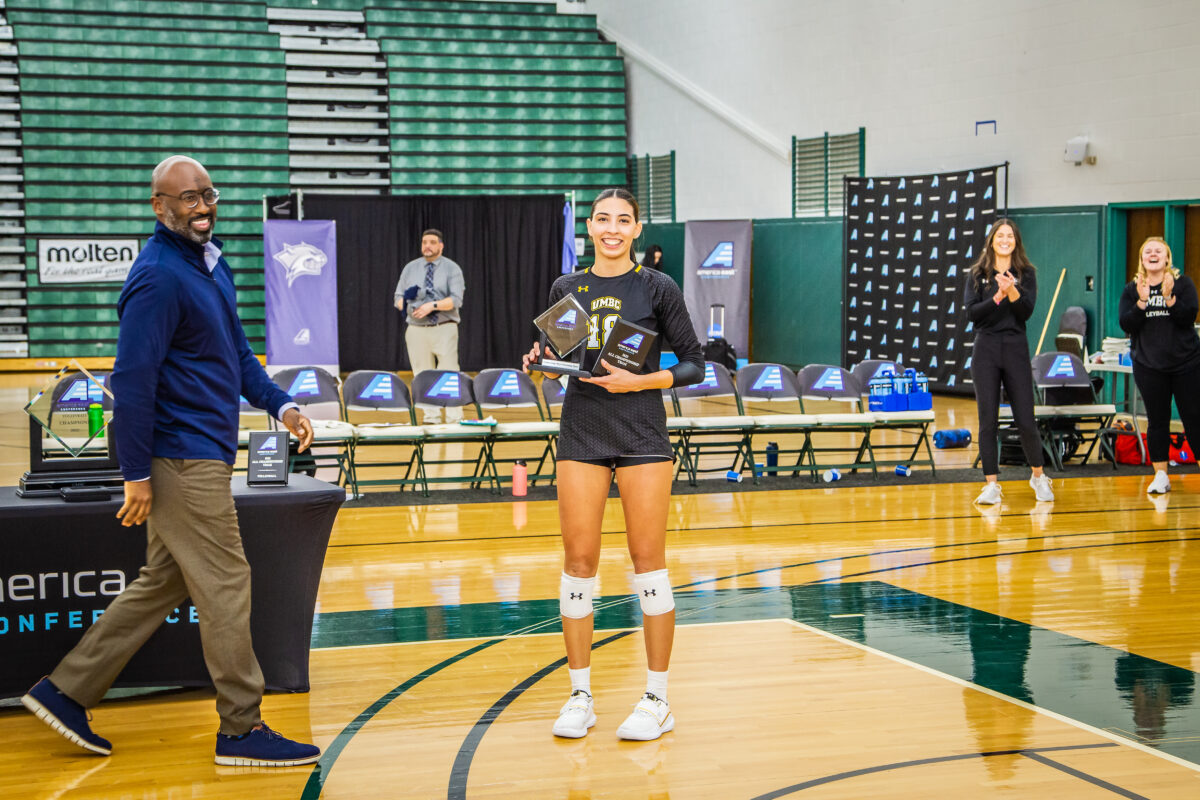 Junior libero Aysia Miller, biological sciences, earned Defensive Specialist of the Year honors, and was named to the league's All-Conference Second Team for regular season play. She is only the second player in America East history to win both a Setter of the Year and a Defensive Specialist of the Year in a career.
After receiving America East Rookie of the Year honors in 2021, sophomore outside hitter Mia Bilusic, biochemistry, earned her second-consecutive All-Conference First Team honor for regular season play, and was joined on the First Team by outside hitter Kamani Conteh '23, media and communication studies. First-year setter Serin Maden was named to the league's All-Rookie Team. Miller, Bilusic, and Conteh were all named to the All-Championship team for their performance during playoffs.
From America East championship to NCAA tournament
"Winning the championship was not easy at all, but the last two games showed what we are capable of," says Ilieva. "This team is like my family, so winning with them makes the experience even better."
The Retrievers will learn their first NCAA tournament opponent during the NCAA Selection Show on Sunday, November 27, at 7:30 p.m. Fans can tune in on ESPNU and can follow all the action on Twitter.
Story by Kait McCaffrey and Zach Seidel '12, media and communication studies, director of digital media for UMBC athletics.