An honor so nice, they had to do it twice. This weekend, UMBC women's volleyball defended their America East title. Now, they will advance to the NCAA Championship for the fourth time in program history.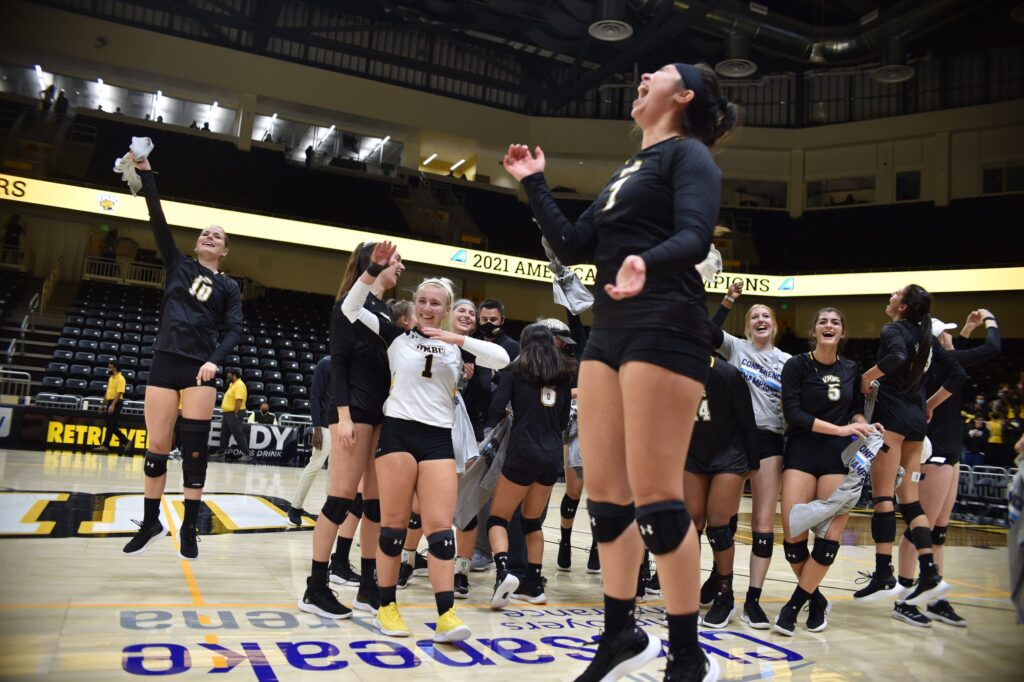 In a hard-fought battle against fourth-seeded Stony Brook on Friday night, the Retrievers rallied in five sets and took the semi-final round of the America East Championship. Returning to Chesapeake Employers Insurance Arena on Saturday, fans were on their feet as UMBC rebounded from a 2-0 deficit to win the final three sets against No. 2 seed University at Albany, and again capture the America East Championship.
This match-up may have felt familiar for supporters. Due to competition schedules impacted by COVID, it was only seven months ago that UMBC traveled to UAlbany to take on the Great Danes and win their first America East title.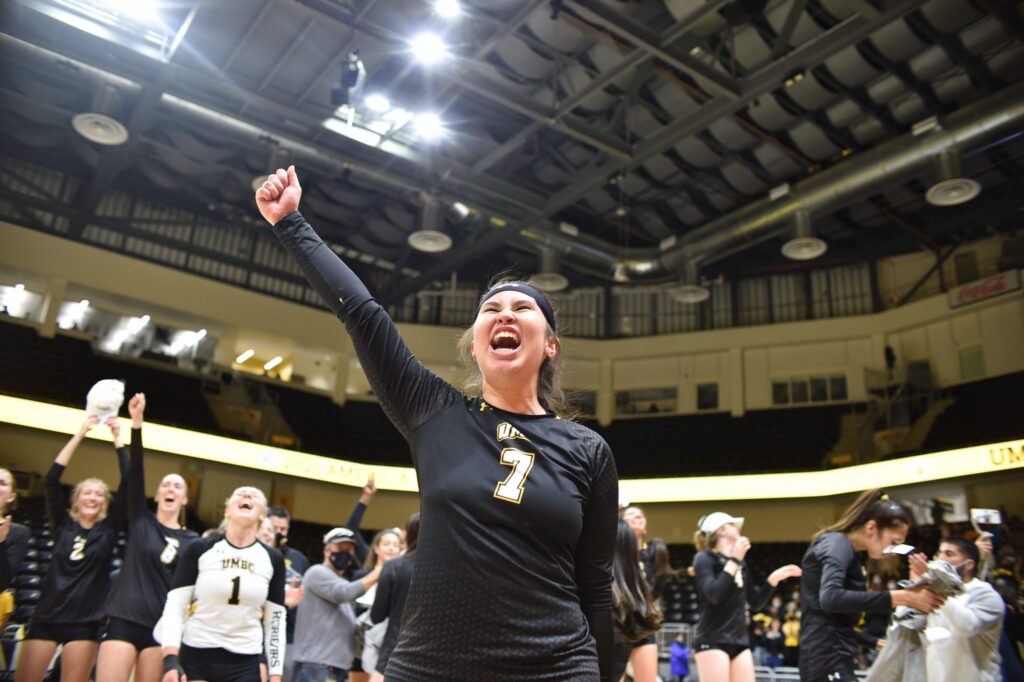 "I couldn't be more proud of this group. The leadership, work ethic, love for one another and pride for UMBC has shown throughout the whole season," says head coach Cristina Robertson.
Not only did UMBC defend their title, they also earned their place in the record books. When the regular season came to a close in mid-November, the Retrievers officially became the sixth team in program history to have a perfect, undefeated season.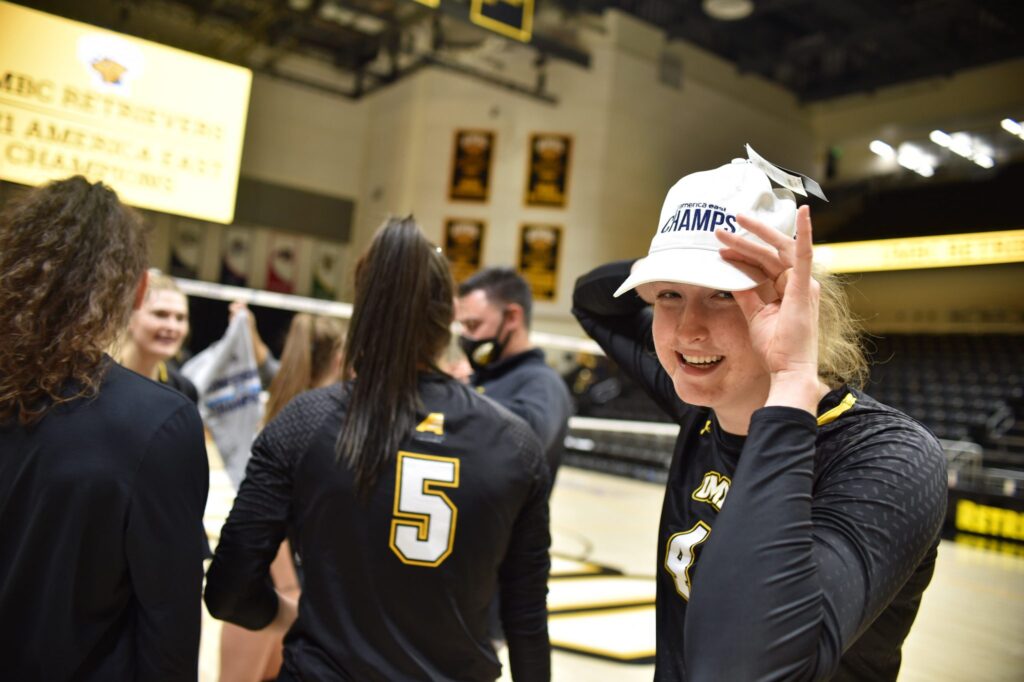 In addition to this honor, UMBC also posted the fourth undefeated record in NCAA Division I conference play and became the third team in the conference to finish 12-0 or better in 20 years.
Key players
Andjelija Draskovic '23, psychology, made an impressive showing this season, capturing America East Setter of the Week a league-best tying five times. The Serbian setter earned America East Tournament Most Outstanding Player honors and was joined on the All-Tournament team by Beste Ayhan '24 and Aysia Miller '24, biological sciences.
First-year student Mia Bilusic, biochemistry, is already making her mark on the team, earning America East Rookie of the Year honors and All-Conference First Team honors. She saved her best for the playoffs, recording a career-high 29 kills and 16 digs in the semifinals, and then adding 23 kills on .300 hitting in the championship.
Emily Ferketic '23, physics, was awarded the America East Elite 18 Award as the top performing student athlete in the championships.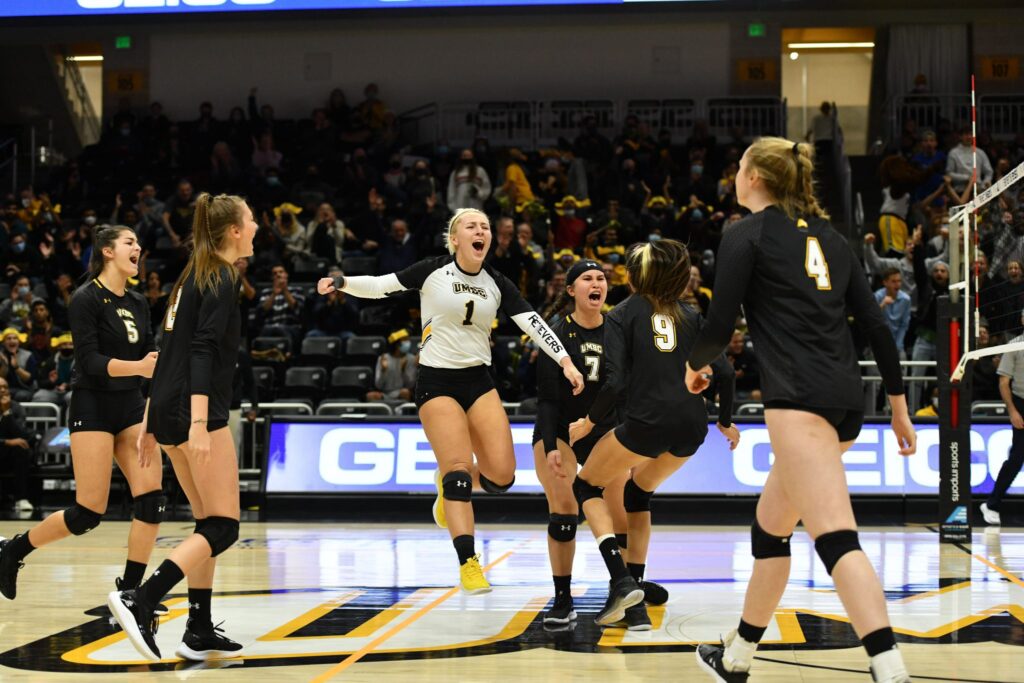 Graduate student libero Loren Teter, entrepreneurship, innovation, and leadership, continues to make strong contributions on the court. Teter's 511 digs are currently the fourth-most in a single season in school history and she's only the second Retriever in program history to be named America East Defensive Specialist of the Year.
"Between sets two and three of that championship game, there was a shift in our team's demeanor," says Teter. "We weren't going to come this far, to only come this far. It was the perfect ending to a perfect regular season."
For the second season in a row, Robertson and her staff were named America East Coaching Staff of the Year.
"Many thanks to Retriever Nation who showed up in full force and cheered us into winning another conference title," says Robertson. "UMBC is a special place with special people and we are privileged to be a part of it."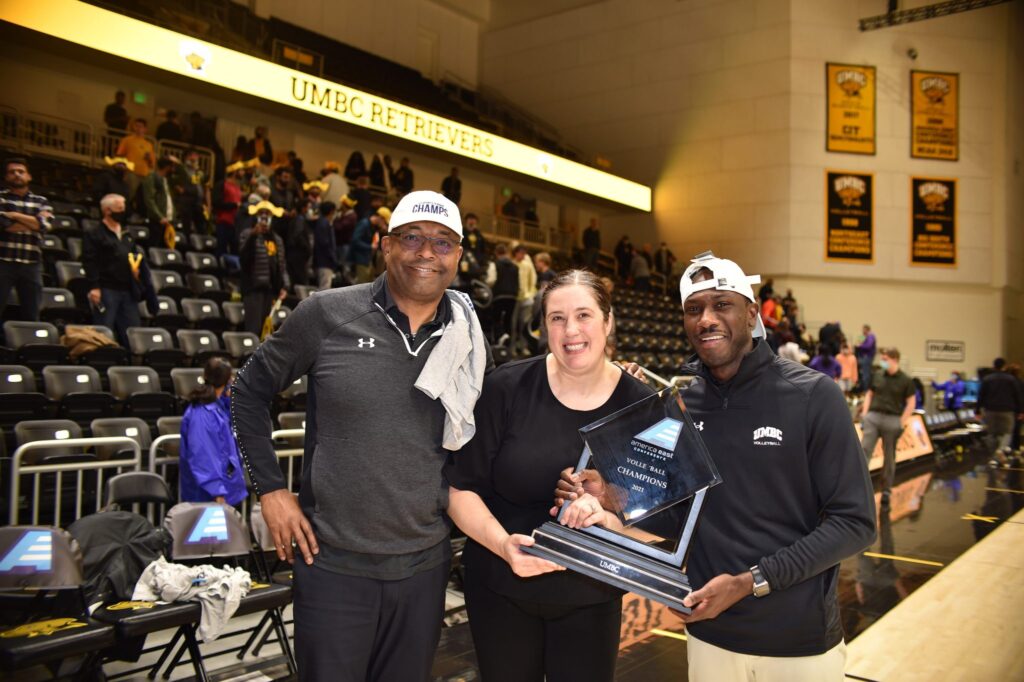 UMBC will battle Pittsburgh on Friday, December 3 at 7 p.m. EST for the first round of NCAA tournament play. Follow all the action on Twitter.
Banner image: UMBC women's volleyball with America East trophy. All photos courtesy of Ian Feldmann '21.
Tags: Athletics