Robots are becoming increasingly capable of complex tasks and are moving into roles that previously could only be done by people, in sectors like healthcare, education, and elder care. UMBC's Cynthia Matuszek has received a National Science Foundation (NSF) CAREER Award to study how robots learn about the physical world from spoken language to improve how they work with people. The grant totals nearly $550,000 over five years.
There are robots that can do household chores, distribute medications, and even tutor students in various subjects. Matuszek, assistant professor of computer science and electrical engineering, explains that as robots become more ubiquitous, it is important that they are trained to interact naturally and equitably with the people around them.
Training robots to respond to the real world
Scientists train robots in a range of ways, including developing algorithms that allow them to respond to real-world interactions and to learn through experience. But there are challenges. As machine learning algorithms are made by people, they replicate human biases, which can lead to unfair outcomes.
An overarching goal of Matuszek's Interactive Robotics and Language Lab is to increase the usability and fairness of robots. Through the CAREER Award, Matuszek and her students will focus on creating training algorithms for robots that enable them to interact with humans in equitable, accessible ways.
The work will start with gathering a large dataset of spoken language from a demographically diverse population. Matuszek and her team will then teach robots to understand that language through a combination of speech and inputs from sensors, such as cameras.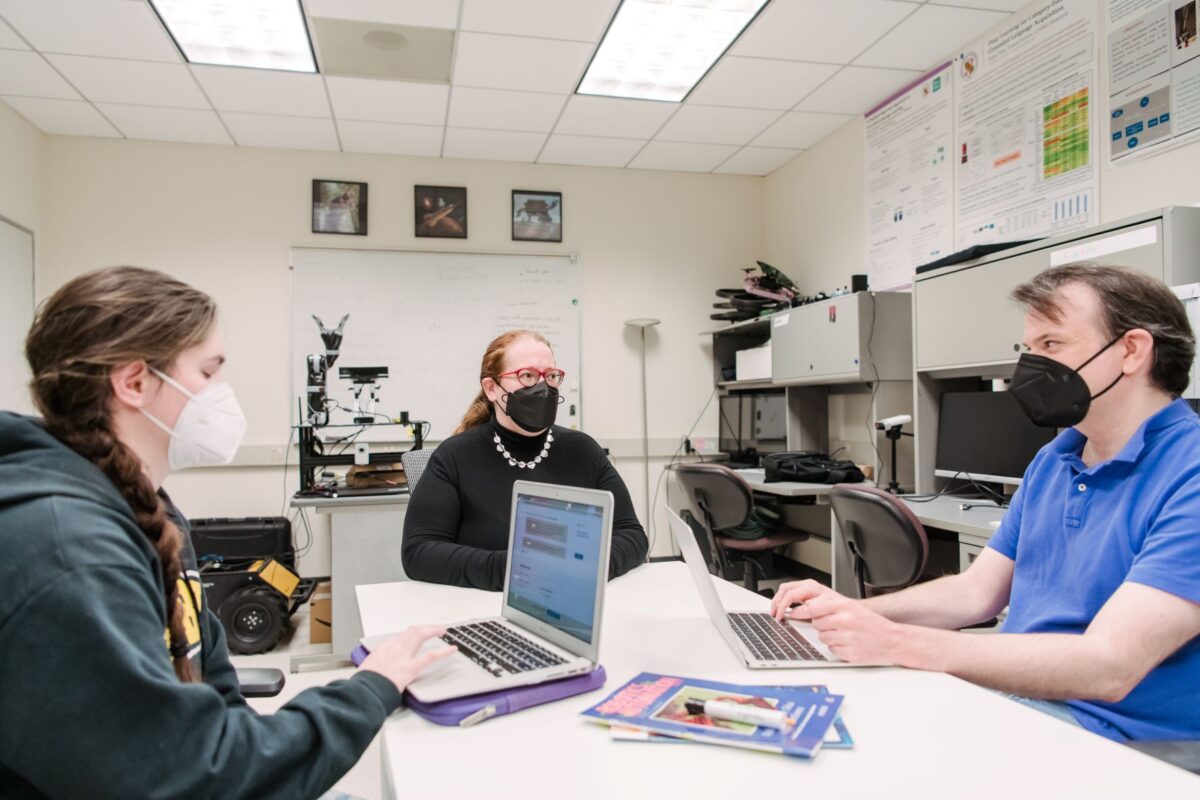 This is similar to how people learn about new things from explanations given while they interact with the world using their senses. Through this approach, robots will be trained to understand how people talk about things, while avoiding some of the representation problems present in current large learned AI models.
Matuszek says that while robots can provide value in human spaces, their usefulness is limited if they are only accessible to technology experts. Making robots that can process plain spoken language and respond appropriately will be key to their success.
"This is science that I'm excited about getting pushed forward. And having external reinforcement is a great feeling," she says.
UMBC faculty consistently recognized
Matuszek's award is the 41st CAREER award received by UMBC faculty since NSF established the program in 1995. Faculty in departments across campus, from chemical, biochemical, and environmental engineering to physics to chemistry and biochemistry, have received CAREER awards.
UMBC faculty in the College of Engineering and Information Technology (COEIT) have earned several of these grants. Last year, James Foulds, assistant professor of information systems, received a CAREER Award to support his research on improving the fairness and robustness of AI algorithms. Matuszek's award is the 15th CAREER Award for UMBC's computer science and electrical engineering faculty.
"Dr. Matuszek's focus is on ensuring successful communication in noisy, real world, and diverse contexts," says Keith J Bowman, dean of COEIT. "That includes contexts ensuring aging individuals can maintain their independence and a higher quality of life in their elder years."
"It's certainly a big honor to receive a CAREER Award," says Matuszek. "Receiving the award reinforces that the work I'm doing has value."
Banner image: Cynthia Matuszek. All photos by Marlayna Demond '11 for UMBC.
Tags: CAREER award, COEIT, CSEE, majoraward