The University System of Maryland (USM) Board of Regents has appointed Valerie Sheares Ashby as the next president of UMBC. She will become UMBC's sixth chief executive on August 1, 2022, following current UMBC President Freeman A. Hrabowski's retirement from UMBC. She will be the first woman to serve in this role.
Sheares Ashby will join UMBC from her current position as dean of Duke University's Trinity College of Arts & Sciences, where she has served since 2015. She received her B.A. and Ph.D degrees in chemistry from the University of North Carolina at Chapel Hill (UNC) and completed postdoctoral research at Universitat Mainz in Germany. She came to Duke from UNC, where she served on the faculty since 2003 and chaired the chemistry department from 2012 to 2015.
While at UNC, Sheares Ashby served on the university's Arts & Sciences Foundation Board of Directors and Research Advisory Council, and chaired the College of Arts & Sciences Faculty Diversity Task Force. She also directed UNC's National Science Foundation (NSF) Alliance for Graduate Education and the Professoriate, working to increase the number of underrepresented students completing doctoral degrees and becoming professors in STEM and social, behavioral, and economic sciences.
"It is an incredible honor to be asked to lead a university that has excelled in so many ways that are essential both nationally and to me personally—particularly in regards to foregrounding inclusive excellence," Sheares Ashby says.
Selection process
Sheares Ashby was selected as UMBC's next president through an intensive national search chaired by USM Regent Michelle Gourdine. The USM Board of Regents conducted the search, and a diverse group of UMBC faculty, staff, students, alumni, and community members served on the search committee.
"Dr. Sheares Ashby is clearly the impressive scholar and dynamic leader we need to build on the strong foundation of inclusive excellence at UMBC," says USM Board Chair Linda R. Gooden. "UMBC is a jewel—nationally and internationally recognized for its innovative teaching and pathbreaking research. All of this success is due to the dedication and hard work of President Hrabowski and his outstanding team. The Board of Regents knows this legacy will be in good hands with Dr. Sheares Ashby."
"I am grateful to the UMBC presidential search committee, chaired by Regent Michelle Gourdine, for finding such a distinguished leader among so many great candidates," says Gooden.
"I'm excited to see how Dr. Sheares Ashby's vision will shape the next chapter for UMBC," says USM Chancellor Jay A. Perman. "Without question, she has the experience and the attributes needed to grow UMBC's academic and research prominence, and she's steeped in the culture of inclusive excellence that has made the university a national exemplar of access, equity, and achievement. It's hard to imagine finding a better fit for a school whose future is as bright as UMBC's."
Legacy of momentum
President Hrabowski announced his anticipated retirement from UMBC in August 2021. The university has risen to national prominence over his three decades of leadership. In February, the Carnegie Classification of Institutions of Higher Education recognized UMBC as a doctoral university with very high research activity, popularly known as Research 1 (or R1). UMBC is now one of three R1s in Maryland, joining Johns Hopkins University and University of Maryland, College Park.
In January 2020, UMBC received Carnegie Community Engagement Classification in recognition of a deep commitment to strengthening the bonds between campus and community. UMBC also recently joined the University Innovation Alliance, a consortium of public research universities focused on student success. U.S. News consistently ranks UMBC among the nation's top leading institutions for both innovation and undergraduate teaching.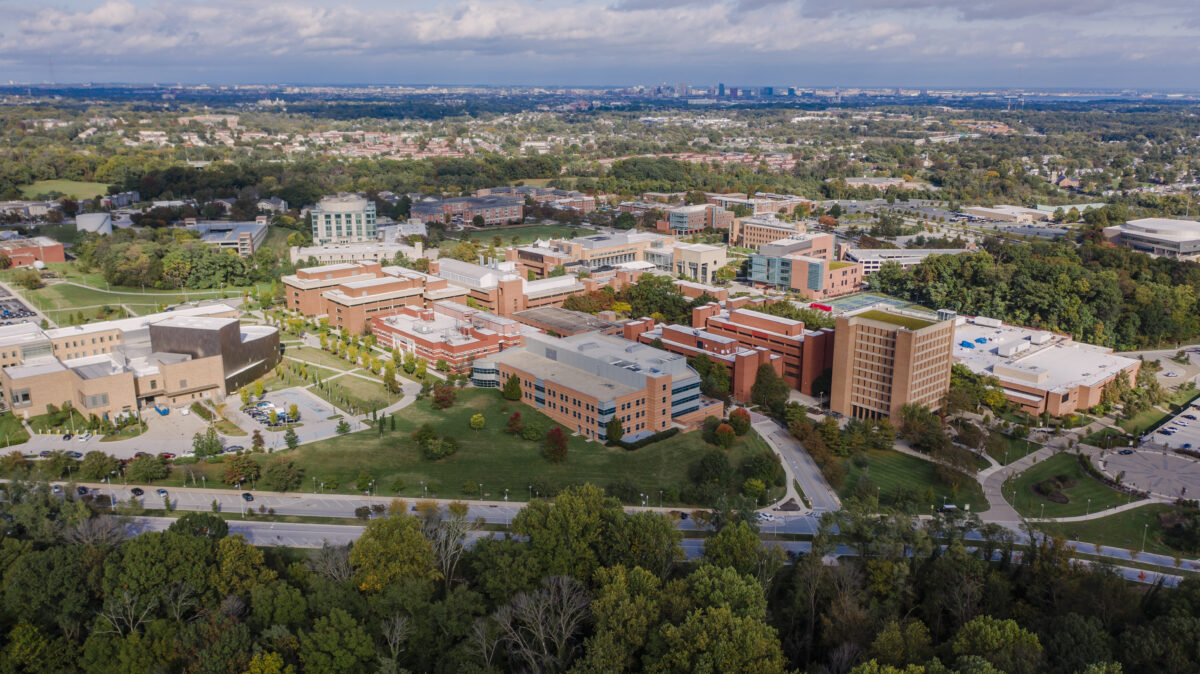 Together, these honors highlight that at UMBC top-quality education and research go hand-in-hand, and community engagement is essential to both.
"To follow President Freeman Hrabowski is a distinct privilege, as he has been a role model for so many in higher education over the last 30 years, including myself," Sheares Ashby says. "His extraordinary leadership and dedication to UMBC ensures that I am arriving at a university that is already performing at a very high level. There is no ceiling on what we can achieve from here."
Welcoming UMBC's next president
"My colleagues and I are thrilled to learn of this great news," says President Hrabowski. "Dr. Sheares Ashby is nationally known as a chemist and as a proven academic leader across the liberal arts and sciences. We are very fortunate to have attracted such a talented visionary executive. She is both brilliant and a wonderful human being."
Sheares Ashby's research in synthetic polymer chemistry emphasizes designing and synthesizing materials for biomedical uses. She is the recipient of an NSF Faculty Early Career Development Award, DuPont Young Faculty Award, 3M Young Faculty Award, and numerous other teaching and research awards.
She is also a university leader committed to elevating all disciplines. As dean at Trinity College, she increased the national and global prominence of the humanities and social sciences by investing in faculty- and student-driven strategic areas. And she completed the Duke Forward campaign, exceeding the college's $435 million fundraising goal by $45 million. This included $200 million raised for financial aid.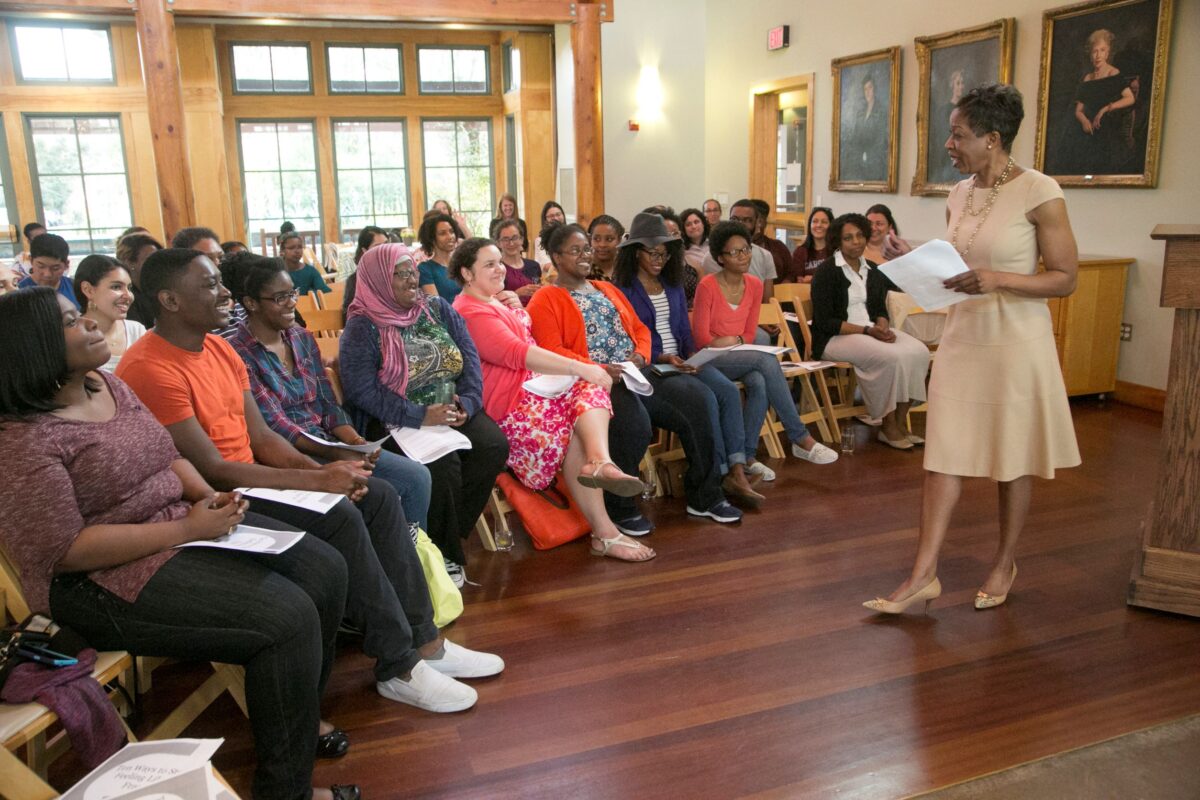 Sheares Ashby has shown a deep commitment to supporting students of all backgrounds, elevating public impact research across all fields, prioritizing effective teaching and learning, and creating a welcoming and supportive university community. In these ways, her work closely aligns with UMBC's values and strategic priorities.
"I have tremendous respect for all the members of the UMBC community," Sheares Ashby says, "and I am looking forward to working in partnership with the students, faculty, staff, alumni, and friends who are the heart of this institution."
Featured image: UMBC's presidential medallion. Photo by Marlayna Demond '11 for UMBC.
Tags: campus