The University System of Maryland (USM) will formally install Valerie Sheares Ashby as UMBC's sixth president on April 27, 2023, after UMBC warmly welcomed her to the community last August. A longstanding tradition throughout academia, a presidential inauguration (including the formal Investiture ceremony) is a historic milestone in the life of a university, one not to be missed.
At the Investiture, USM will formally endow President Sheares Ashby with the powers of the office. For several days before that ceremony, UMBC will celebrate with a series of inauguration events honoring the occasion.
These events will offer opportunities for UMBC community members to connect with the new president and each other. Each event, in its own way, will recognize the university's continued commitment to welcoming and inspiring inquisitive minds from all backgrounds as UMBC enters a new era.
Since her arrival, President Sheares Ashby has dedicated herself to getting to know UMBC and its people. She has offered weekly office hours for students since her first week on campus. Throughout March and April, she has also attended dozens of UMBC Bold conversations to hear faculty, staff, and student perspectives on topics such as shared governance, supportive community, research infrastructure, and the undergraduate experience.
"These first…months have been energizing, inspiring, and joyful. The more people I meet, and the more I start to make connections, the more I love this place," Sheares Ashby recently told UMBC Magazine. "It has been especially rewarding to engage with students, see who they already are, and imagine what they will become as a result of their experiences at UMBC."
Something for everyone
The festivities will kick off on April 18 with a special reception at the Universities of Shady Grove, recognizing the strength of the UMBC community throughout the Baltimore–Washington region. On April 21, the main UMBC campus will mark the occasion in the annual Quadmania Campus Talent Showcase. This event will include music, dance, spoken word, and more in celebration of UMBC's talented students.
A lunch on April 24 will provide an opportunity for graduate students—critical contributors to UMBC's teaching and research missions—to meet with President Sheares Ashby. The next day, a faculty and staff reception will offer a chance for camaraderie among colleagues and friends in recognition of the essential role UMBC's faculty and staff play in moving the university forward.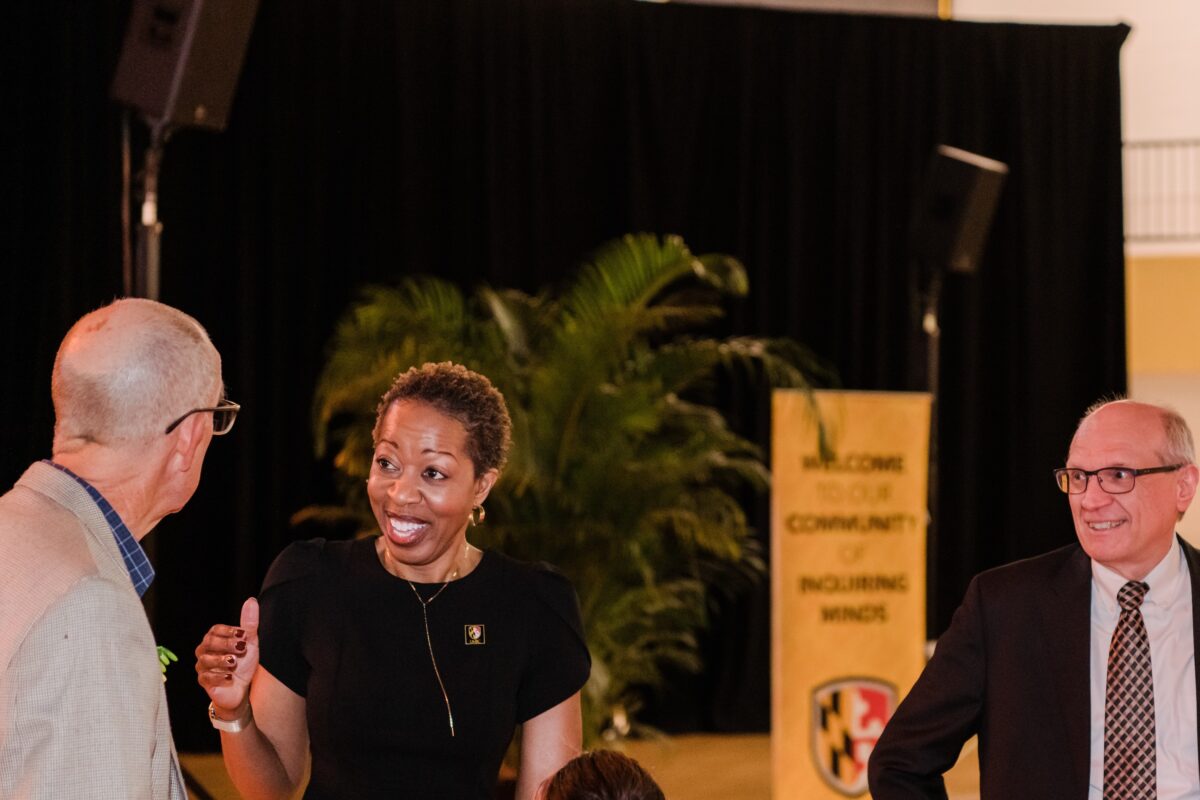 On Wednesday, April 26, the Faculty Salon: Community-Engaged Scholarship will celebrate the role of faculty as scholars, researchers, and teachers, as well as UMBC's distinction as a Carnegie-classified community-engaged institution and R1 research university. Faculty across the disciplines whose scholarship is community-based will offer brief remarks, including Kate Drabinski, principal lecturer of gender, women's, and sexuality studies; Lynn Cazabon, professor of visual arts; Felipe A. Filomeno, associate professor of political science and global studies; Belay Demoz, professor of physics; and Ian Stockwell, associate professor of information systems.
A new era
The Inauguration Week events will culminate with the formal Investiture at 1 p.m. on April 27 at the Chesapeake Employers Insurance Arena. The university welcomes students, faculty, staff, alumni, family members, and friends and community members to attend. Tickets are free, but must be reserved. The event will also stream live. 
"This is a particularly important moment for the UMBC community. The Inauguration is a chance for us to reaffirm our values as a university as we officially welcome Dr. Sheares Ashby as our president," says Greg Simmons, M.P.P. '04, vice president for institutional advancement. "It is a wonderful opportunity to celebrate the significant progress we have made together, while looking toward the future of UMBC—it is exciting in so many ways."
Guests will hear President Sheares Ashby share her thoughts on UMBC's future, which will be deeply informed by recent UMBC Bold conversations. As Sheares Ashby told UMBC Magazine, "It's becoming more clear every day what the possibilities are for what we can do together going forward."
Following the ceremony, all are welcome to a campus celebration on the Commons Quad, 2:30 – 5 p.m., with games, treats from local businesses, and joyful UMBC community spirit.
Reserve your tickets through the Inauguration website.
Tags: campus