UMBC's class of 2023 took the mantra "strength in numbers" to heart as nearly 2,000 graduates crossed the stage during this year's spring Commencement ceremonies. We can't confirm it but for those in attendance, it felt like the applause and cheers may have registered on the Richter scale. Each ceremony was unique, just like our graduates, but there were several common themes among the speakers, including the reminder that the journey is just beginning for these Retrievers.
When in doubt, turn to Rocky
Valedictorian for the College of Arts, Humanities, and Social Sciences; School of Social Work; and Erickson School of Aging Studies morning ceremony, Zinedine Partipilo Cornielles '23, financial economics and mathematics, shared that inspiration can come from the most unlikely sources…including Rocky Balboa, the fictional boxing legend. Cornielles recently rewatched the series with his roommates and reflected on the struggles Rocky faced.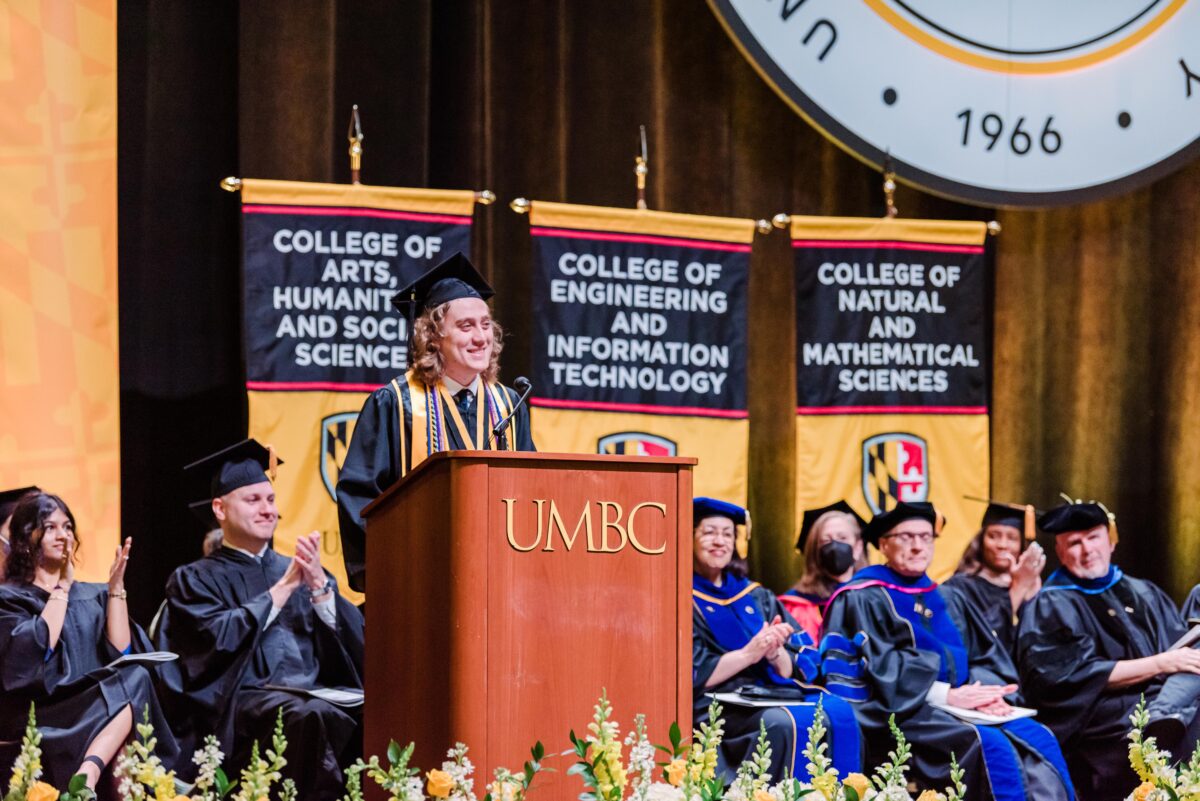 "Life is not always about winning. It's about overcoming adversity and challenges as we all have throughout our lives and throughout this journey," said Cornielles, addressing his classmates. "It's about standing up again after falling down, and I know that each and everyone of us has been able to get back on our feet—regardless of the number of times we've fallen before—because you are here."
During the afternoon ceremony for the College of Natural and Mathematical Sciences; College of Engineering and Information Technology; and Division of Undergraduate Academic Affairs, valedictorian Christopher Slaughter '23, computer engineering, revealed his inspiration comes from UMBC itself.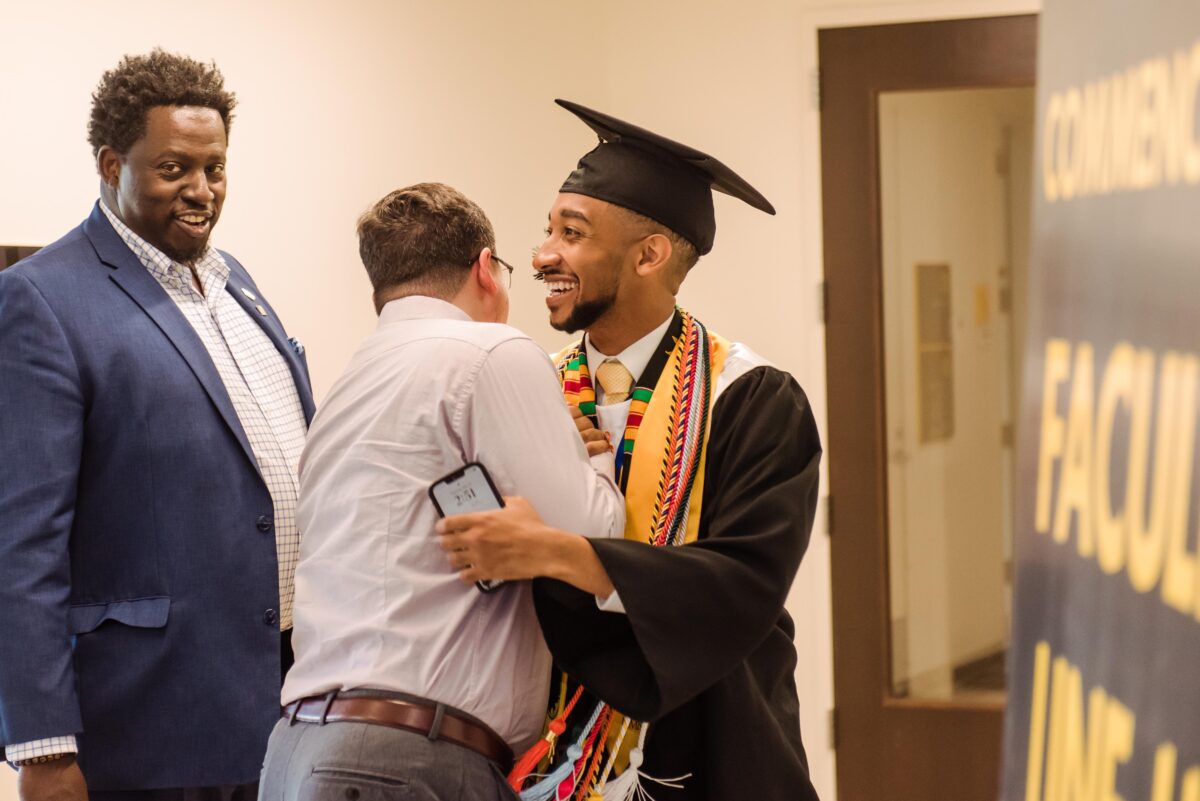 "Although our journey began here at UMBC where we were unaware of our futures, we quickly learned the magic of this place…a place where we do not defer our dreams, but where we seed them, tend them, and watch them grow," said the Meyerhoff Scholar.
Slaughter, UMBC's fifth Gates Cambridge Scholarship recipient and a 2022 Goldwater Scholarship recipient, took the opportunity to shout out his own UMBC role models like Naomi Mburu '18, chemical engineering, UMBC's first Rhodes Scholar.
Sliding into home (away from home)
UMBC baseball couldn't make it to the Chesapeake Employers Insurance Arena to celebrate commencement with their friends and classmates, but Athletics staff and coaches made sure graduating students could still celebrate with their team.
The Retrievers were on the road in Binghamton, gearing up to compete in the America East playoffs, so they traded an arena for a conference room. Thanks to help from Binghamton, the team hosted their own celebration, complete with stoles and certificates.
"We invited any and all team parents who made the trip up to use the time to talk about the graduating players and what they've meant to the program," explains Daniel Bowen, athletic academic advisor. "The ceremony took less than half an hour, but we think it's pretty timeless to get to show your appreciation for guys who have been working hard on the field and in the classroom for years."
This was just the luck the team needed, going on to defeat Binghamton Thursday afternoon and advancing to the winners bracket to take on Maine last week.
Becoming who you are
For many graduates, the road to Commencement was long and winding. But this year's speakers reminded students that the journey is what matters.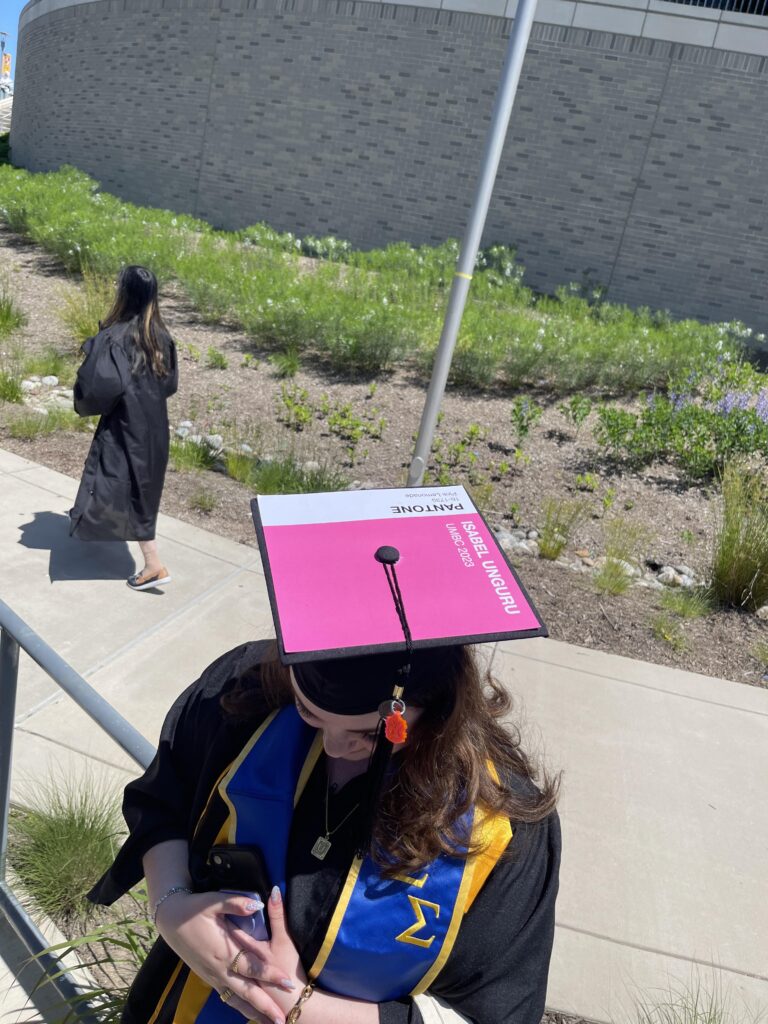 Keith T. Elder, Ph.D. '02, health policy and policy sciences, provost and executive vice president of Mississippi College, addressed the graduates saying, "Know all lived experiences are not pleasant and some are indeed painful, but those experiences helped shape you and mold you into what you are today and what you are becoming."
Elder is a 2022 UMBC Alumni Award winner for Outstanding Alumnus in Social and Behavioral Sciences.
Graduate student Grant Clifton came to UMBC to obtain his Teaching English to Speakers of Other Languages (TESOL) master's degree and credits the Shriver Peaceworker Program for helping him on his journey.
"I learned so much and grew significantly as a person, thanks to the program. I don't think I would have been as successful or would have made as much personal growth if I had not been part of the Shriver Peaceworker Program," said Clifton.
This year's honorary degree recipient was Paula T. Hammond. Hammond is an Institute Professor at the Massachusetts Institute of Technology, head of the department of chemical engineering, and a member of MIT's Koch Institute for Integrative Cancer Research.
She stressed that it doesn't matter what field you pursue, just that you bring yourself to the conversation.
"Science is a game that does not benefit from narrow solution sets, and difficult problems are best tackled when there are many minds at the table trying to solve them. Please remember that we need to hear YOUR voice," said Hammond.
And President Valerie Sheares Ashby assured students that the best is yet to come saying, "I just heard something that I believe is true of each one of you—you are going to change the world."
Congratulations to the Class of 2023! Please continue to share your messages of congratulations on social media using #UMBCgrad. Captioned versions of all three ceremonies can be found on UMBCtube. Read more about this remarkable class on the UMBC News site.
Tags: Commencement