Christopher Slaughter '23, M31 computer engineering, has won a Gates Cambridge Scholarship to pursue graduate work at the University of Cambridge in the United Kingdom next fall. Slaughter is the fifth student from UMBC to be recognized with the prestigious award, established by the University of Cambridge in 2000 with a donation from the Bill and Melinda Gates Foundation.
Gates Cambridge Scholars are selected from around the world for their academic talents and commitment to improving the lives of others. Each year around 25 of the 80 total awards are offered to students from the United States.
Slaughter will pursue a Ph.D. in electrical engineering at the University of Cambridge, which is the world's third oldest surviving university, founded in 1209. His career goals are to develop novel biomedical technologies that meet the healthcare needs of under-resourced communities.
"We are so proud of Chris," says UMBC President Valerie Sheares Ashby. "He exemplifies UMBC's values and the Gates Cambridge vision of preparing leaders who demonstrate not only academic excellence, but also a deep commitment to improving the lives of others. Congratulations to Chris, and my thanks and appreciation to those among the UMBC community who have served as influential teachers, mentors, and supporters for Chris throughout his educational journey."
Research as a way to change the world
Slaughter grew up in a "STEM family," but he didn't initially envision a future in research. His perspective changed, however, after he traveled to Germany and Ghana to visit family during his high school years.
While traveling, Slaughter noticed how different communities had inequitable access to healthcare, and he started to think about the disparities that also existed back home in the United States. New biomedical technologies, he realized, might help underserved communities get better care.
Guided by a passion for improving people's lives, Slaughter began his first of many biomedical research projects. At UMBC's Bioelectronics Laboratory, he worked on technology to help patients who are insensitive to pain avoid burns. Most recently, he has been working at UMBC's Center for Advanced Sensor Technology (CAST) in the lab of Govind Rao, professor of chemical and biochemical engineering.
Slaughter is helping develop technology that can sense glucose levels through the skin. This could lead to a device that continuously monitors glucose for people with diseases such as diabetes without painful finger pricks or repeated blood draws. He has presented the work at leading scientific conferences, including the IEEE/EMB Healthcare Innovations Point of Care Technologies conference as the sole undergraduate oral presenter.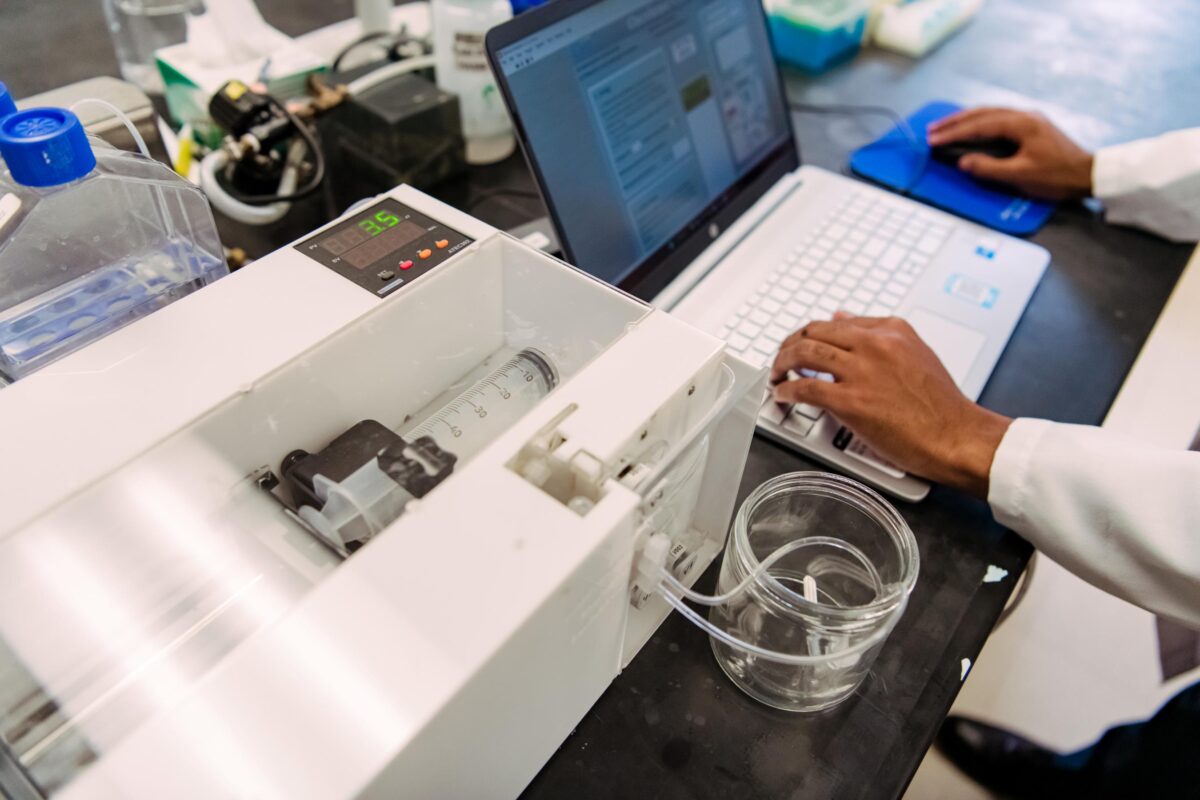 "What strikes you immediately about Chris is his sheer enthusiasm, curiosity, and positivity," Rao says. "He is always eager to be in the lab."
"Chris' intense energy and his genuine interest in the topic made him the best mentee you can ask for," says Hasib Hasan, an electrical engineering Ph.D. student in the department of computer science and electrical engineering who is mentoring Slaughter on the glucose monitor project. "I have no doubt about his ability to become a successful researcher. The Gates Cambridge Scholarship will support him as he pursues work that will improve lives."
The value of mentorship
Throughout his time at UMBC, Slaughter found mentors to help him grow and learn. He was part of the Meyerhoff Scholars Program, a nationally recognized effort to foster diversity in science, technology, engineering, and mathematics by supporting students who intend to pursue advanced degrees in these fields. He has also been inspired and supported by scholars throughout the UMBC community, such as Rao; Freeman Hrabowski, president emeritus; and Charles LaBerge, professor of the practice in computer science and electrical engineering.
"Mentorship has been so important for me," Slaughter says. "I knew that in order to succeed, I needed to be in a community that could push me to be my best, hold me accountable, and support me at the same time. To accomplish what I wanted to accomplish—getting a Ph.D. in a scientific field—there was no place better for me to start than UMBC."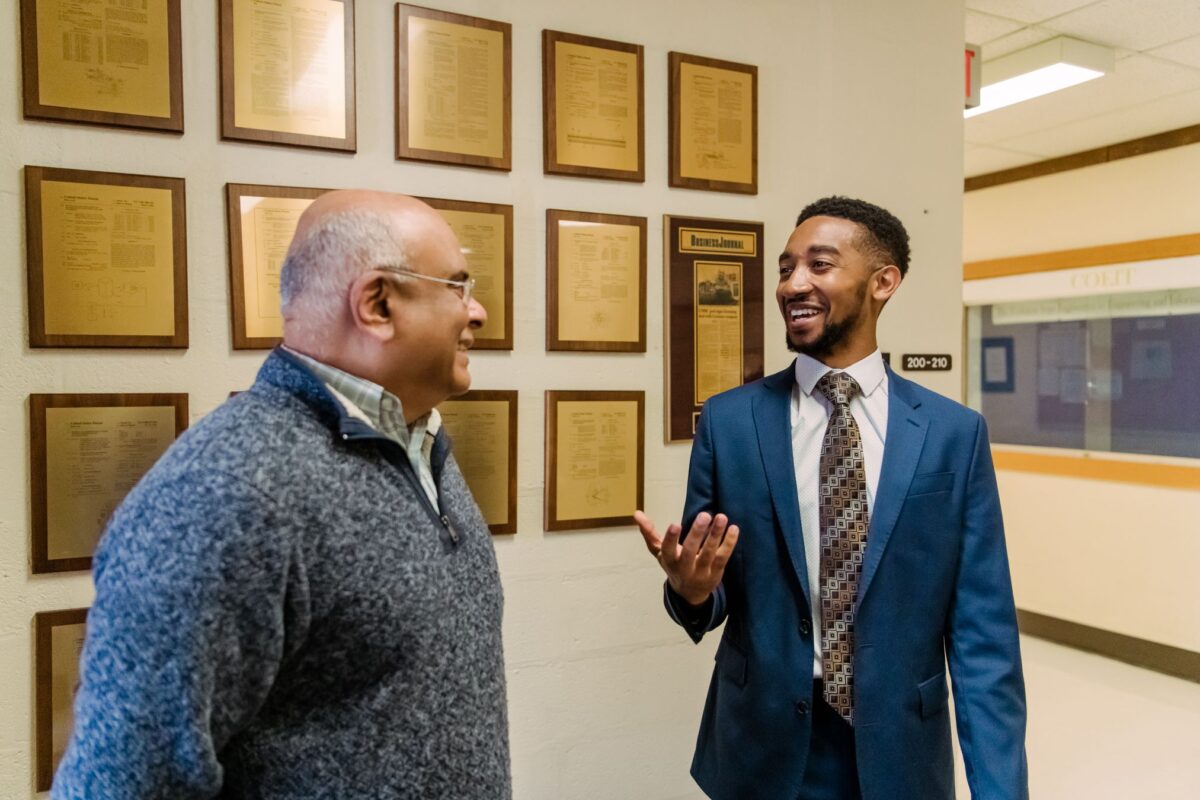 Slaughter's application for the Gates Cambridge Scholarship was supported by UMBC's Office of Prestigious Scholarships, which was established six years ago with the ambition to focus on three major international scholarships as well as others in the U.S., says April Householder, director of undergraduate research and prestigious scholarships at UMBC.
"With Chris's win, I am happy to say that we have now achieved the trifecta—UMBC alumni simultaneously supported by all three major U.K. scholarships," she says. The alumni are Rhodes Scholars Naomi Mburu and Sam Patterson at the University of Oxford, Marshall Scholar Joshua Slaughter at the University of Edinburgh, and now Gates Scholar Christopher Slaughter, heading to the University of Cambridge.
Paying it forward
Having benefited from a culture of mentoring and support at UMBC, Slaughter embraces opportunities to become a mentor and leader himself.
Slaughter was named a Goldwater Scholar in 2022, recognizing him among the top engineering students in the nation. He is president of the UMBC chapter of the National Society of Black Engineers and, through volunteering at local schools, encourages middle and high school students to develop technical skills and aspire to careers in science and technology. In addition, he serves as the vice president of the UMBC chapter of the Institute of Electrical and Electronics Engineers and the UMBC Club Taekwondo team. He also serves as the lead peer advisor in the Meyerhoff Scholars Program, responsible for organizing events and managing peer advisor relationships across the program.
"I think the way we honor the people who invest so much in us is by turning around and doing the same thing for somebody else," Slaughter says. "Regardless of what I do, I want to make sure I am giving back."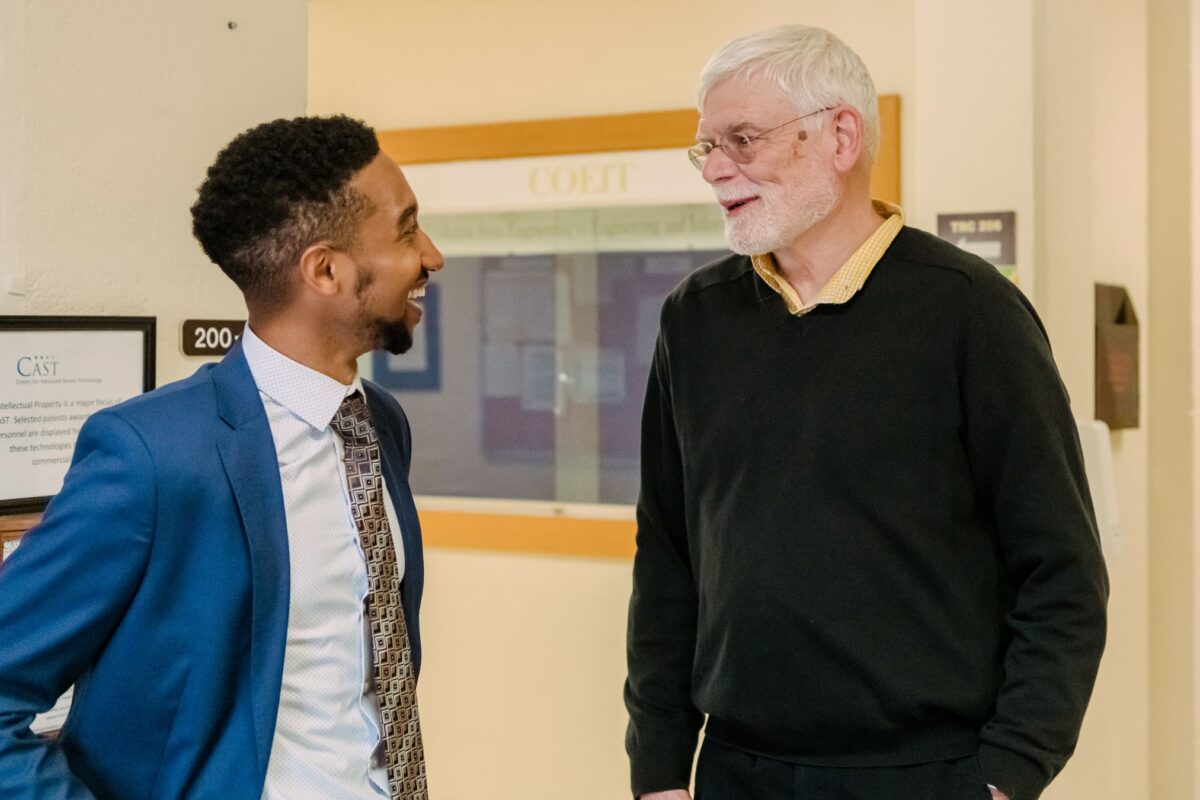 Reflecting on his time as a Retriever, Slaughter says he wants to spread the culture of support he encountered at UMBC wherever he goes next. "I think that the great thing about UMBC is we all work together," he reflects. "I hope throughout my career to make more communities like that because ultimately, I think that's how we solve the problems that we face today."
Householder echoes that sentiment. "Chris's experiences in the Meyerhoff Scholars Program, a national model for STEM student success, have prepared him to be a leader and to lift up others. UMBC has provided a culture of support and mentoring similar to what he will experience as part of a Gates cohort," she says. "I can't wait to see how being a Gates Cambridge Scholar will not only help him grow, but how he will transform Cambridge as an institution."
Tags: CAST, CBEE, COEIT, CSEE, scholarships