Imagine packing your bags and traveling 6,000 miles from home to spend four years in a country you've never visited. That's exactly what Hania Moro '19, financial economics, did when she made the decision to travel from Egypt to UMBC in 2015 to start her collegiate career, and she hasn't regretted it for a second. Ahead of graduation, Moro and fellow Retrievers Randy Deinlein and Collin David have shared their UMBC stories—unique paths and exceptional achievements thanks to a combination of personal grit and supportive community.
Jumping in feet first
Moro knew that swimming was going to be a major factor in her college decision process. At the suggestion of an a Egyptian friend at UMBC, she reached out to Chad Cradock '97, psychology, head coach of UMBC swimming and diving. Cradock immediately followed up and Moro instantly knew "that's the coach I'm gonna be with."  
UMBC News: What has been most memorable about your time at UMBC?
Moro: Swimming took up most of my time. I was the team captain last year. I went to the World Championships twice. I was an African Game Gold Medalist in four different events. I broke my national records two times. I love the team, I love swimming with the team. When I graduate, I'm going to continue training [for the Olympics] here at UMBC with Chad. I can't train with anyone else in the world. I wake up every day knowing that I need to work so hard to get to where I want to be.
UMBC News: What was your experience like arriving on campus and meeting your teammates?
Moro: I'd never been on a recruiting trip. I didn't know what the campus was like, what the team was like. I was leaving my family and everything I knew. I figured I would just do it and hope for the best. I traveled for 18 hours—18 hours of tears. Chad picked me up from the airport and he's just the nicest guy. He welcomed me and made me feel like I belong here. When I first arrived on move-in day, 70 of my teammates were waiting for me. They moved me in and made me feel like I was home. And I just felt like I have a family. Two days in America and I'm already very comfortable and I have 70 friends, not just one. This is my place now.
UMBC News: How did your UMBC experience change you?
Moro: It definitely changed me as a person. I learned a lot of leadership skills. I look at things differently. I also learned to listen a lot—to listen instead of just talking. Chad taught me that it's not about you, it's about the team and about the community and what you can give everyone around you. I would swim my races and think, "I want to win this race not for me, but for my team."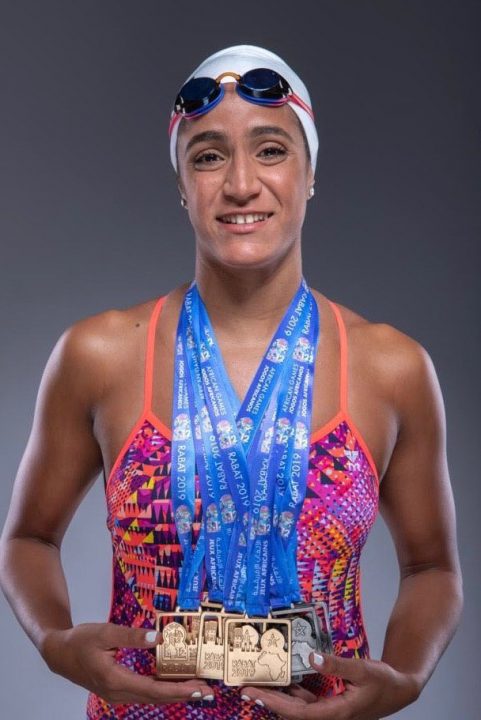 What's next for Moro? She's pursuing her Olympic dreams, and she's already well on her way to making them come true. At the recent United States Open Swimming Championships, Moro set a pair of Egyptian national records.
She also has her sights set on someday starting her own business. Inspired by an entrepreneurship class with Gib Mason, Moro has started to develop a plan to open a coffee and bagel shop in Egypt.
"The benefit comes from helping others"
Randy Deinlein is used to taking risks. He served in the United States Air Force for over four years, and has explored a range of paths in the time since then. So it may come as a surprise that Deinlein had some uncertainty about starting his UMBC journey.
While he had worries about adjusting to college as a returning student, he quickly channeled his energy and sense of mission into building connections and making a difference on campus. In his time at UMBC, he has been an S-STEM Scholar, Grand Challenge Scholar, member of Engineers Without Borders and the Honors College, and service coordinator for the Tau Beta Pi Engineering Honors Society. He also completed three internships to prepare for the next steps in his career.
UMBC News: What was the adjustment like when you arrived on campus—connecting with the UMBC community?
Deinlein: As a veteran, I don't think the transition was difficult. We're instilled with this value of having a mission, kind of like a goal. When we have a mission, it's very easy to just do those steps to get towards it. But as an adult learner, I think that was hard for me…just feeling older and out of place and like I wouldn't be able to relate to a lot of these young people. And I found I actually relate to a lot of them. I'm so impressed by all of their attitudes and their views of life because it's nowhere near where I was when I was their age. 
UMBC News: What activities have you been involved with at UMBC? 
Deinlein: I helped to start the RetrieVets and served as the president. Veterans come here and see it as a kind of mission, but we're not taught the benefits of being involved in the community. When you're involved with group organizations and the community, you're able to grow and challenge yourself in new experiences. The benefit comes from helping others. That's what I wanted for a veteran organization. 
UMBC News: How did your UMBC experience impact you?
Deinlein: It helped me move into the unknown and helped me be okay with challenging myself and doing things I don't know how to do. I learned how to fail and fail fast…fail forward, as they say. I learned how to reflect on myself and what I have and haven't done and every experience that I find important to myself, and how to grow from that. The UMBC community and the students, they are very supportive and open-minded. They're diverse and interdisciplinary and outgoing. 
Deinlein will graduate with a mechanical engineering degree and an entrepreneurship minor and has applied for a Fulbright Scholarship at the Lappeenranta University of Technology in Finland for a master's in Global Management of Innovation and Technology.
Orchestrating his future
Collin David does not believe in downtime. The Carroll County native plays cello, French horn, guitar, piano, and clarinet. And also teaches private lessons. And takes lessons himself. And teaches gymnastics. And composes musical pieces. And maybe sleeps at some point, though that has not yet been confirmed.
After transferring from Carroll Community College, David enrolled in UMBC's music composition track, a small, close-knit program that afforded him numerous opportunities to pursue his passions.
UMBC News: Why did you choose UMBC?
David: One of the reasons I chose UMBC was that I didn't have to specialize. I applied to College Park and Shenandoah to do cello performance, but then I wouldn't be able to take horn lessons or do the other stuff I wanted to do. Being a well-rounded musician is, I think, more important than being a specialist in one area. 
UMBC News: Is there a faculty member who has served as a mentor on your UMBC path?
David: Dr. [Linda] Dusman. She'll always help when needed, and it's basically like her connections are my connections. She sends emails to students when she sees opportunities that would be a good fit. She sent me one in particular about the São Paulo Contemporary Composers Festival. I got in and had a great experience. I was able to go to Brazil for a week and was lucky enough to have my orchestra piece played. Only myself and one other musician were undergraduate students.
The [music] department in general is very close-knit. Speaking about professors, they've definitely gone far and above what I would've expected. They're personable and there's not so much of a gap between the students and professors. I think that's important.
UMBC News: What is something you had an opportunity to explore at UMBC that you didn't expect to?
David: I've been looking into astronomy. It has always been a hobby of mine, so for the first time, I took a 100-level astronomy class because I needed a science. I figured, "Hey, this will be fun." But the pieces I'm writing now are influenced by that. I was also able to do frisbee and mountain biking, in addition to all of my musical things.
UMBC News: What three words or phrases would you use to describe UMBC?
David: It's definitely welcoming. I think there are many opportunities here for people, regardless of what you're doing. And is there a word for rigorous but fun at the same time? Third word…I would say exploratory. I think especially in the music department, you're encouraged to explore areas that are outside of your comfort zone. And that definitely happened for me. I think when I came here I was writing music, but not that forward-thinking. In my two years here I've drastically been able to shift styles. 
After David graduates, he will interview for master's and doctoral programs, with the goal of composing for movies, video games and other contemporary formats. Like Moro and Deinlein, he feels driven to create his own unique path forward.
December commencement ceremonies will be livestreamed through both the UMBC Commencement website and UMBC Facebook page. Share well wishes for our grads using #UMBCgrad and #UMBCproud.
Banner image: Hania Moro '19 (right) holds the America East trophy with teammates Britt Driscoll '19, biochemistry and molecular biology (left), and Natlie Davis '19, biological sciences. Photo courtesy of Greg Cooper, America East. All other photos provided by students featured in piece unless otherwise noted.