Effective mobile apps require solid visual and technical design. A new course launched in spring 2016 brought together UMBC arts and computer science students to create new apps from scratch, working on collaborative teams throughout the development process.
The professors behind "Designing and Developing Effective Mobile Applications" created the course specifically to prepare students for careers requiring interdisciplinary, team-based approaches to creative projects. Viviana Cordova, assistant professor of visual arts, and Nilanjan Banerjee, associate professor of computer science and electrical engineering, jointly developed and taught the course with support from the Hrabowski Fund for Innovation.
"Cross-disciplinary collaboration is a very important part of education," says Cordova, "because not only do students learn to collaborate, but also to compromise."
"We saw that most mobile applications either lacked good implementation or slick user interfaces," says Banerjee. "Students in fine arts were able to develop usable, aesthetically pleasing interfaces while students in computer science were able to build functional apps."
Most coders think in terms of "function first, user later," says Michael Leung '17, computer science, whose Team Huebotics represented UMBC in the final four of the Microsoft Imagine Cup last spring. This course reinforced for Leung that collaborating with a designer from the beginning actually makes coding faster and easier, in addition to improving the final product.
Computer science majors on almost every team echo Leung's sentiments. Jessica Rolfe '16 says "starting with a unified look made merging our work easy later on," and Michael Bishoff '16 summed his feelings up saying, "It's been awesome. Life with a designer is so much better."
Visual arts students valued the opportunity to see their work in an end-product that could be accessed and enjoyed by users. Cordova previously offered a more conceptual graphic design course focused on mobile apps, but, she says, "My students wished they could actually have a fully developed app at the end of the project." Collaborating with computer scientists made that possible.
Students presented their final work at a demo day on May 10, inviting guests from UMBC and the industry. Some of their games are now available in the Google Play store and, Cordova shares, "students had internship and job offers during our event from companies that came to visit the demo presentation."
Apps produced through the class:
Flee helps users find something to do in their area. It pulls in events from meetup.com and displays all events in selected categories, like arts and sports, within a specified geographic area. Then it links to the event website or Google maps for directions. (Creators: Aletena Sahlu, Amanda Pyryt, Siddharth Utgikar, Lloyd Prudente, Carmella Pombuena)
Soundless syncs with Google Calendar and turns a phone's sound off when the user has an appointment, then turns it back on after the appointment. It prevents a favorite song from blaring during a staff meeting and helps users avoid missed calls that can result when a user forgets to turn the ringer back on after a meeting ends. (Creators: Joseph Daniels, Kshipra Kode, Oladipupo Eke, Mark Pileggi, Monica William-Henein) Ringtriever is similar to Soundless, except it syncs with UMBC's PeopleSoft program, which includes a student's class schedule. (Creators: Benjamin Lelonek, Frank Zastawnik, Sophia Haire, Jenna Conn, Johnson Tien)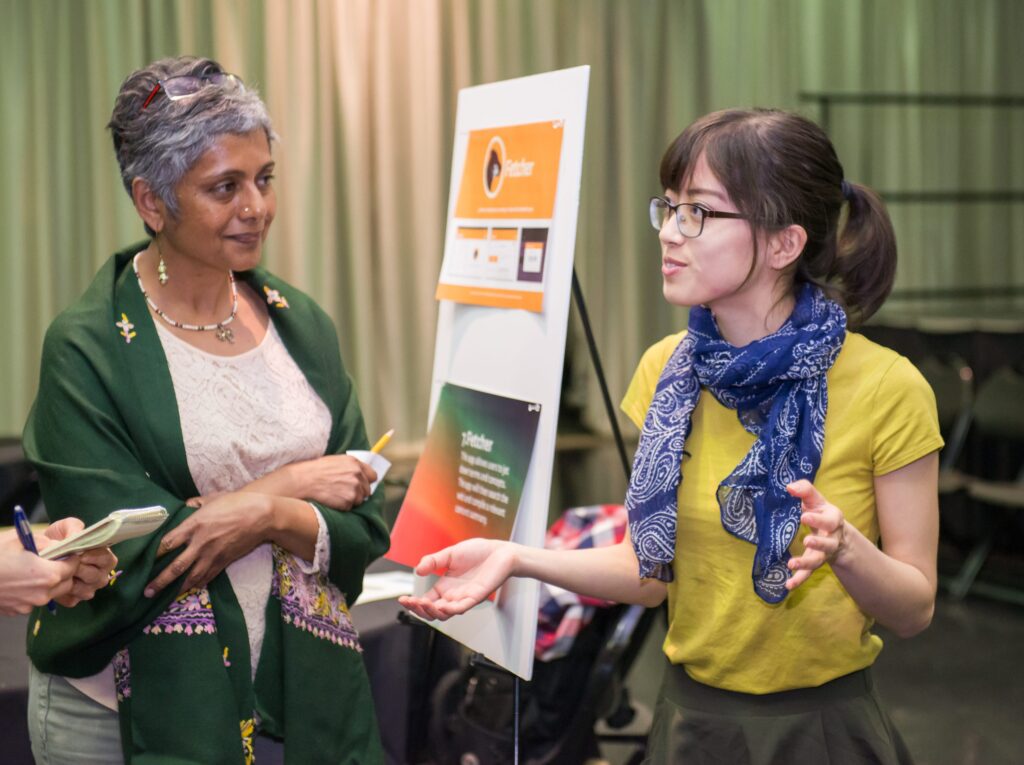 Fetcher allows users to flag terms they want to learn more about—ideas that come up in a class, book or conversation— and then emails the user a list of related search results in a bundle at a selected day and time. (Creators: Lemuel Sun, Michael Leung, Prutha Date, Rakshit Verma, Mariko Sakemi)
Intelliwake delivers everything a user needs first thing in the morning in one app: an alarm, weather forecast, traffic information and directions to your first appointment, and top news. (Creators: David Wiedel, Taylor Nycum, Nayan Sharma, Sola Awojoodu)
Doggone-It tracks the location of a pet wearing a GPS tracking device and alerts the user if the pet strays beyond a predefined perimeter. It tracks how far a pet travels during the day (indicating activity level) and can point a pet owner in the right direction if their pet strays. (Creators: Anudeep Nallamothu, Devendra Dahiphale, Sujata Devi, Dan Kostov)
UMBC Grit targets current UMBC community members and campus visitors. It allows users to pin photos and videos to the campus map. Users can scroll through tagged images within their current map view. UMBC Grit imports campus events, which users can add to their Google Calendar, and also includes floor maps for campus buildings. (Creators: Robert Ginsburg, Sazedul Alam, Leslie McAdoo, Kim Trinh, Hope Berger)
Spotswap and Photodrop are also campus-focused apps, but could potentially be implemented elsewhere. Spotswap helps students find available seating in study areas around campus, which could come in handy at peak study times. (Creators: Jessica Rolfe, Randall Brunecz, Rujuta Palande, Venkata Bujunuru, Sandy Nguyen, Nicholas Desaulniers) Photodrop allows users to take a photo and "drop" it at a location on a map to entice people to check out areas on campus where exciting activities are taking place. (Creators: Lun-Chung Yuan, Michael Bishoff, Siqi Lin, Xiaoxia Zheng, Tim Shattuck, Jimena DelCastillo)
Hex is a fun puzzle game with a beehive theme. (Creators: Brooke Washington, Tiantian Xie, John Swank, Kevin Jones)
ULock is a surveillance tool that allows users to lock and unlock their doors remotely. (Creators: Persephone Della, Sandep Narayanan, Siraj Memon, William Morgan, Andrea Cervantes-Medin)
SoWifi allows users to share wifi networks without giving out a password, and to set a time limit on access, providing more options for coffee shops and other businesses that offer their customers wifi access. (Creators: Robert Grossman, Nasif Sikder, Suraksha Shukla, Matia Wills, Matt Walker)
Header image: Michael Bishoff explains the PhotoDrop app to visitors at a demo presentation of the projects from the interdisciplinary course "Designing and Developing Effective Mobile Applications."
Other images from top to bottom: Mariko Sakemi explains Fetcher and ULock creators explain their app. 
All images by Marlayna Demond '11 for UMBC. 
Tags: CAHSS, COEIT, CSEE, VisualArts