When COVID struck, students, families, and educators nationwide worried about the impact it would have on learning experiences and career opportunities. Throughout summer 2021, UMBC students have proven that with tenacity and support they can still access meaningful internships.
"We, as a UMBC community, are committed to the career success of our students," says Christine Routzahn, director of the UMBC Career Center. "Internships provide students with opportunities to apply the skills, theories, and concepts they learn in the classroom while gaining valuable connections and career readiness. Working with our incredible employer partners and alumni, we've connected UMBC student talent with valuable, career-building experiences across industries."
Goal #1: Secure that internship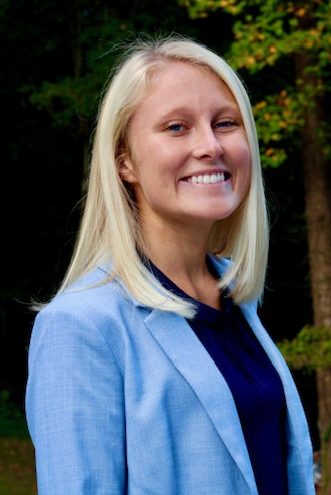 When Sandra Naylor '21, financial economics, was looking to transfer from community college to a four-year university, she had her sights set on securing an internship at a well-known company where she could gain hands-on experience in finance. She knew that UMBC had a strong Career Center that could connect her with these opportunities and she jumped at every chance to get her name in front of hiring managers.
"I came to UMBC specifically because I knew that they have really good connections," says Naylor. Her two top priorities were her grades and accessing career opportunities. She shares, "I started going to meet and greets, and coffee chats to get my face out there as much as possible."
Naylor attended a workshop at Morgan Stanley, which highlighted the company's core values, including diversity, and she knew it was a company that could be a great fit for her. With the Career Center's support, she secured an internship.
Her experience has largely been online, but that hasn't limited her chances to build skills and network. "I am constantly in meetings and connecting with people," she says. That includes regular meetings with her mentor, who is an executive director at Morgan Stanley. Senior management has also invited interns to meet at the company's Baltimore offices.
As she'd hoped, Naylor says that her internship has expanded her understanding of the finance industry. She particularly enjoyed deep dives designed to help interns understand how their work connects to the firm's larger goals and initiatives—the kinds of work she might pursue in a finance career.
Find mentors who help you shine
Monika Arumalla, M.P.S, '21, data science, has spent more than six months interning at BGE in Baltimore, and she will continue her internship through the fall. Like Naylor, Arumalla was eager to utilize the UMBC Career Center's strong connections. She uploaded her résumé to UMBCworks during her first semester.
The energy company BGE approached Arumalla, inviting her to interview for a co-op—a type of work-based opportunity popular in engineering and technical fields, that's often full-time, with hands-on projects. A committee interviewed Arumalla, asking her technical questions to assess her knowledge and approach to data science.
After hiring Arumalla, BGE onboarded her virtually, due to COVID. Still, "I've had constant interactions with my supervisor," she says. "From day one, they made sure I was getting what I needed," including helping her learn the company's systems and processes.
Arumalla has been impressed with BGE's office culture, which she describes as prioritizing safety, diversity, and inclusion. She has been able to connect with managers and leaders on her team, who have given her a sense of support and access to the tools she needs to complete her work.
That work included one particular project where she had a major impact. BGE call center agents are currently scattered across the region, primarily working remotely. Arumalla was asked to help determine how to support these agents in the event that they are affected by power outages in their home areas. The BGE team wanted fresh eyes on the project, and Arumalla came up with a solution that impressed her team.
A few weeks later, she presented her idea to senior leadership at BGE. "My supervisor gave me an opportunity to showcase the work, something I'll cherish," she says. "Even as an intern, they always help me shine."
See the impact of your work
Grace Tugado '23, chemical engineering, has spent her summer interning at SeeTrue Technology, which develops microcapillary needles for a range of biomedical needs, from IVF therapy to stem cell research. SeeTrue Technology is located on the UMBC campus, and is supporting Tugado's internship through the Maryland Technology Internship Program.
Tugado learned about the internship from a professor and was excited by the opportunity to expand her biotech skills. For the first few days at SeeTrue she shadowed her mentor through the process of making the needles, and asked questions along the way.
"There was a little bit of a learning curve," says Tugado, who will also be a McNair Scholar this fall. Thanks to her prior research through UMBC's STEM BUILD Program, she was able to make the most of each new challenge as a learning experience, without feeling discouraged.
One of the most rewarding parts of her internship at SeeTrue has been connecting with scientists, including her mentor Kinneret Rand-Yadin, founder and CEO of SeeTrue Technology. She's also had the opportunity to connect with people who are using the needles. Receiving their feedback has impacted how she sees her work.
"It's rewarding to think that labs around the world could potentially use the needles I've created," she says. Tugado plans to continue interning at SeeTrue Technology through the fall semester.
Learn from people who have been there
Leaving nothing to chance Chi-Chi Onyekonwu '22, economics, worked with the UMBC Career Center team to apply for several summer opportunities. She was thrilled to be placed in her top choice, an economics research internship through the University of Chicago's Leadership Alliance Summer Research Early Identification Program (held virtually this year).
The program helps students prepare for a Ph.D. in economics, explains Onyekonwu. It fosters interns' connections with economics Ph.D.s, supports their research, and organizes lectures and other events.
Onyekonwu has worked with a group of six other economics research interns, including Seth Thomas '22, financial economics and global studies, and Lexi Smith '23, history and economics, on a project about global economies. Onyekonwu's group studied global corporate transparency, and she also pursued an individual project focused on Italy's economy. In addition to writing a research paper, she presented her work at a national symposium in July.
One of Onyekonwu's favorite aspects of the program was connecting with 40 other economics students from around the world who were research interns at the University of Chicago this summer. Onyekowu plans to pursue a Ph.D. in economics after graduating from UMBC, and she valued the chance to grow her network.
"The first-hand accounts from people who have already gone through the process of getting their Ph.D., and hearing the mistakes they have made and what things have worked for them, has been the best part of the program," she says.
Jump on a good opportunity
Terence Lesigues '23, biological sciences, first heard about interning at the Johns Hopkins University Applied Physics Laboratory (APL) through an email from UMBC's Career Center in January. He's glad he clicked on it. Within a few months, Lesigues was accepted into the program and identified a few particularly interesting projects to work on—not just during the summer, but for the coming year as well.
As a pre-med student with an interest in neuroscience, Lesigues joined a research group focused on brain analytics using machine learning. "We're developing a deep learning algorithm to segment the brain at a micro level, including blood vessels and axons. With this, we can better understand the etiologies of neurological diseases, such as Alzheimer's and schizophrenia," he explains.
"My lab at UMBC focuses on the neurobiological aspects of chemical sensory systems in the nose," he notes. "This internship has allowed me to branch out and explore additional topics."
While his internship is primarily virtual, Lesigues goes into APL once a week to meet with his cohort in person. Working remotely has not hindered his ability to make meaningful connections with professionals and his peers. Lesigues explains that he meets with his mentors each day, including for team-building activities, and also connects regularly with other interns.
Looking back, Lesigues says that he is grateful that he responded when the APL opportunity hit his inbox, and that he took the chance on applying. He encourages other students to keep an eye on Career Center messages and reach out to as many people as they can to get their foot in the door.
Gain experience in something you care about
Jaden Burke '24, political science, and Samara Pyfrom '24, M32, environmental science and geography both interned with the Chesapeake Bay Foundation, which focuses on conserving and protecting the Chesapeake Bay.
Pyfrom is the foundation's diversity, equity, inclusion, and justice intern—a position she found on UMBCworks. Within the department of human resources, she works to provide data to the Chesapeake Bay Foundation's board to support their planning and decision-making. She has also developed events that allow her fellow interns to network and has traveled to engage with interns across the organization.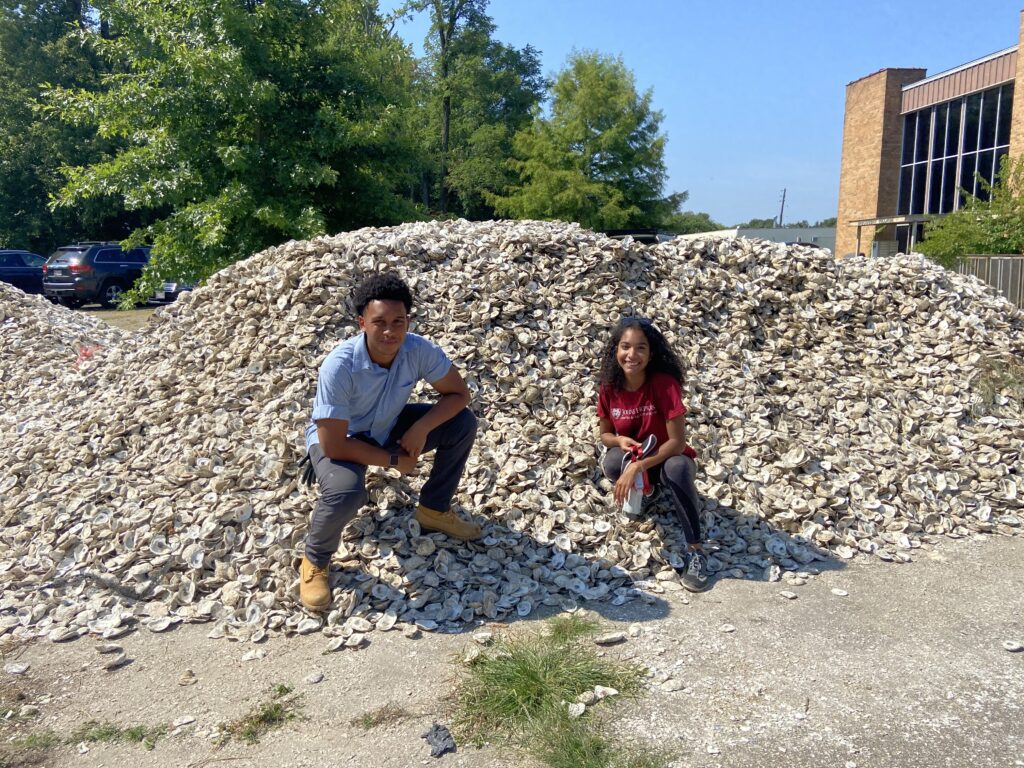 Pyfrom is interested in scientific and environmental justice. She notes that climate change disproportionately impacts communities of color in the United States.
"My mentor has really centered this internship around my passions and helping me grow," she says. "I've met with some litigation lawyers at the Chesapeake Bay Foundation and learned about how they approach environmental justice and work with corporations that misuse communities."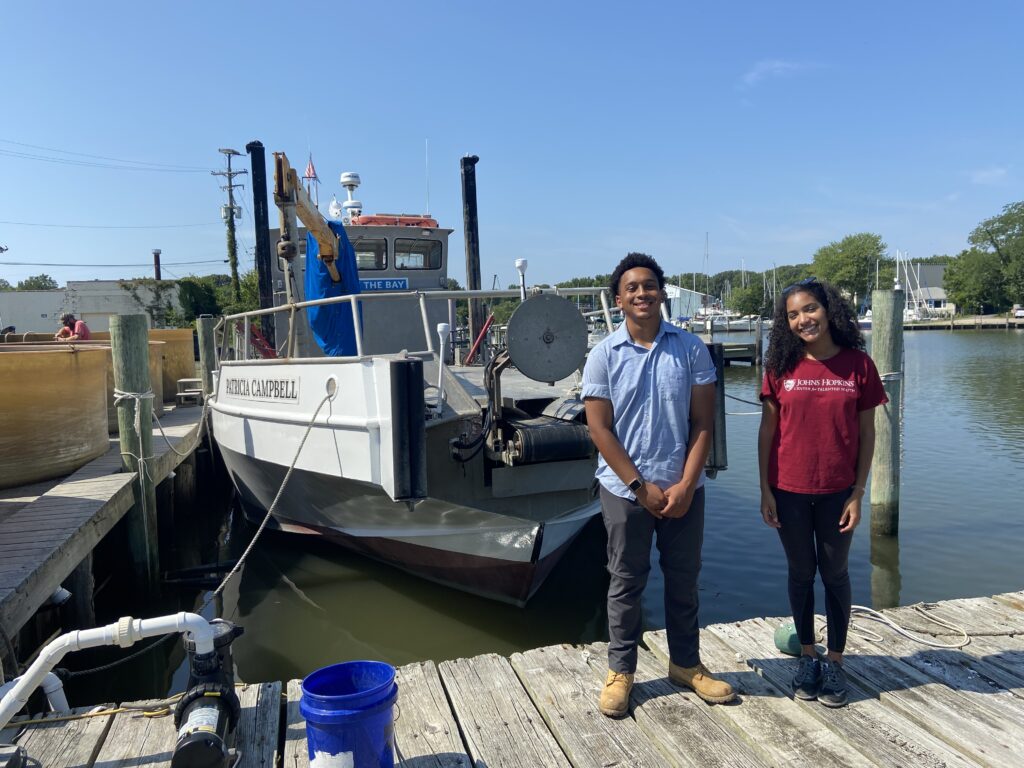 Burke has supported community environmental education programs through his internship, including facilitating a trip for high school teachers to learn about oysters. He spent one week at the foundation's Clagatt Farm, which he describes as the most physically challenging week of his internship.
Clagatt Farm has a community-supported agriculture program offering produce baskets each week of the summer. The organic farm connects community members to the local environment in meaningful ways, and Burke valued the chance to contribute to their work. Plus, he shares, "The networking opportunities have been valuable."
Dive into unique opportunities
Adam Lees '21, biological sciences, remembers the day that he received an email from Routzahn about a highly unique opportunity to intern aboard the OceanX marine research vessel while it traveled from Portugal to Norway. "This program definitely jumped to the top of my list," Lees says.
Fast forward a few months later, and Lees found out that he was one of about 15 interns selected for the research voyage. "I couldn't believe it," he says. The international group of interns—half from the U.S.—included students focused on biology as well as science communications.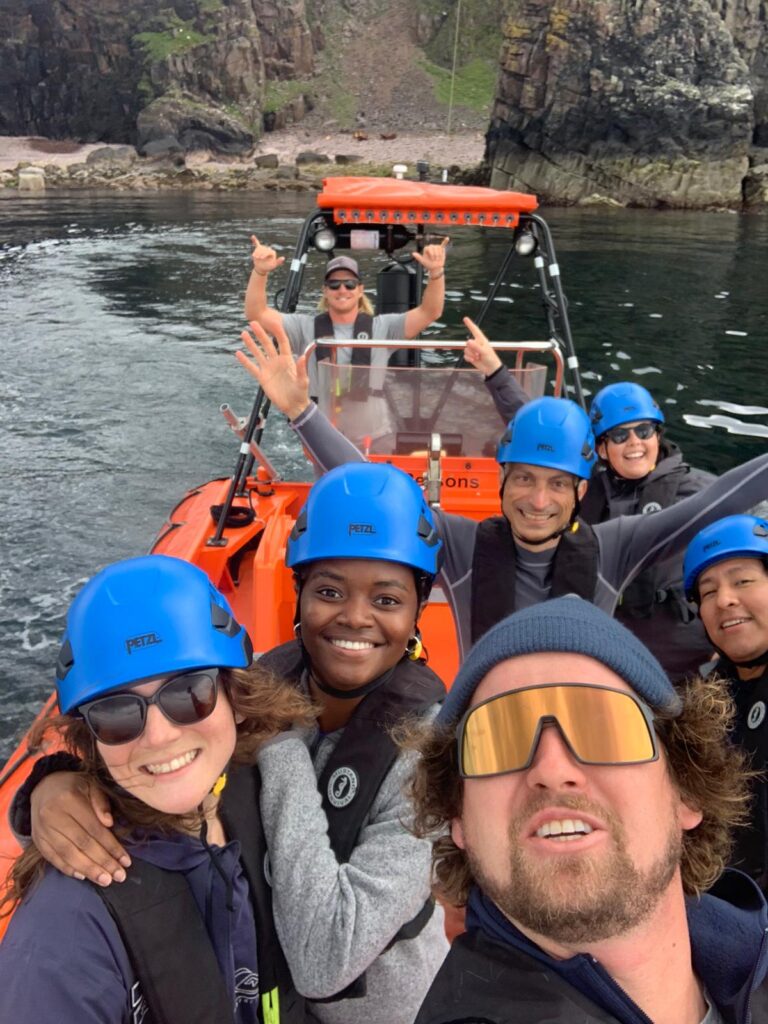 Aboard the OceanX, Lees supported marine biologists and other scientists conducting research. Each day, he would have breakfast with the other interns before heading to lectures and shadowing scientists. He particularly enjoyed hands-on opportunities to send cameras and data collection tools deep into the ocean to gather samples.
Lees found most rewarding the friendships and connections that he made with others aboard the OceanX, from institutions all around the world. "Talking to scientists on OceanX and seeing what they do, how long it took them to get here, and what they do day to day was so helpful for me," Lees explains.
The OceanX has three dry labs filled with computers and servers, and one large wet lab that scientists use to study live samples. In addition to the students and scientists, the boat included a crew of about 35, from a person in charge of the computers and servers to a chef.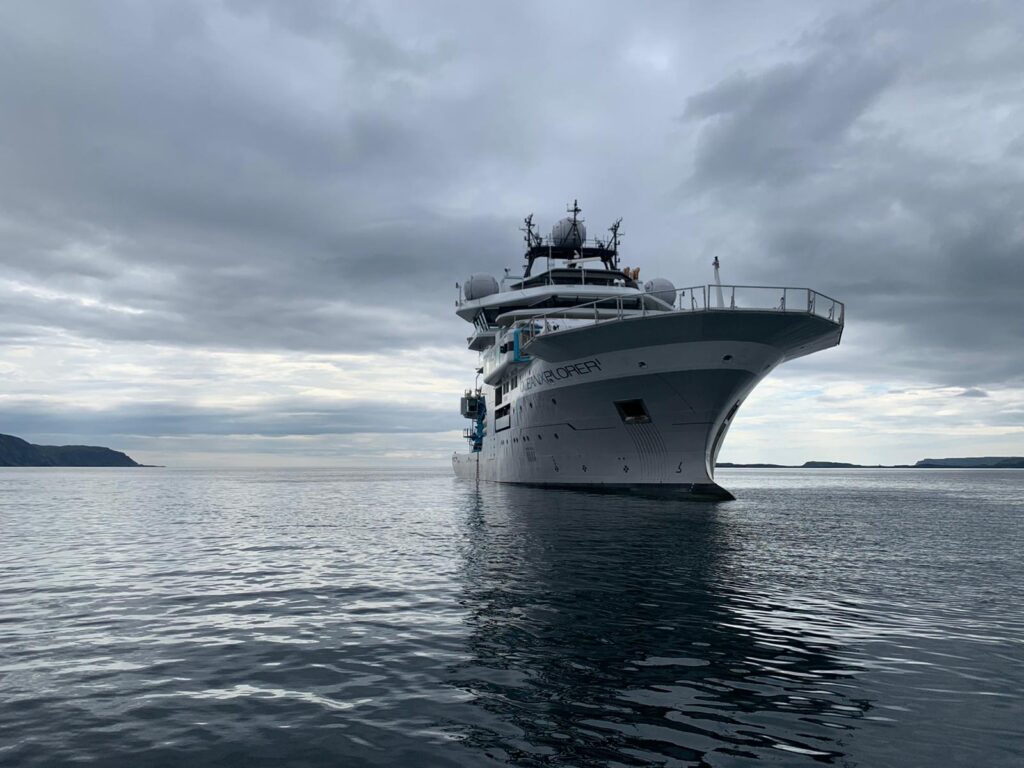 "The internship was inspiring and motivating," Lees says, particularly having a front-row seat to science being conducted for the first time. "I can't wait to be in school again now that I know what's out there and what I can continue to work toward."
Banner image: Grace Tugado, right, working in the SeeTrue Technology lab with her mentor Kinneret Rand-Yadin. Photo by Marlayna Demond '11 for UMBC.
Tags: Biology, CAHSS, CareerCenter, CBEE, CNMS, COEIT, DataScience, Economics, GES, GlobalStudies, History, mcnairscholars, PoliticalScience