Like many new UMBC students, Jana Burns '20, information systems, was interested in so many topics when she stepped on campus that choosing a major initially proved challenging. When she transferred to UMBC from Brown's Town Community College in Jamaica, she thought she wanted to study psychology and art. But she had also taken several programming courses and began to see the significant ways that technology impacts how people live. 
The connections she made on campus led her to become a Cyber Scholar, which then opened more doors. She accessed the right opportunities at the right moments, and is now graduating with an exciting position in her field and a support network to carry her forward.
This experience is one many UMBC students share—building relationships that expand possibilities, for careers and for life.
Right mentors, right internship
Burns chose UMBC after experiencing the university's welcoming and friendly environment during a campus tour. Once she became a Cyber Scholar, she connected with students and mentors on a new level through the Center for Women in Technology. "It seemed like a family," she says. 
As a first-generation college student, says Burns, her UMBC community has been essential to her success in her academics, research, and personal life. "I was put in touch with people who I would not have met otherwise," she shares, adding that she regularly texts with her industry mentor, Kijafa Saunders '02, information systems, M.S. '11, engineering management.
On campus, Burns has formed close connections with Vandana Janeja, professor and interim chair of information systems, and Cindy Greenwood, assistant director of the Cyber Scholars Program. They are always there and always supportive, says Burns. 
Her experience in the Cyber Scholars Program has also encouraged her to become a leader in other communities on campus. She is the secretary and an executive board member of the Alpha Sigma Alpha sorority. She's also a member of the UMBC Caribbean Student Council, which she calls her "cultural home on campus." 
Learning with a team
Last summer, as Burns began to take concrete steps toward her career after graduation, she completed an internship at Booz Allen Hamilton, a leading management and IT consulting firm. Burns was connected to the internship through Saunders, who had worked at Booz Allen as an associate systems engineer.
There, Burns worked alongside about 60 other interns from other institutions across the country.  She had the opportunity to collaborate with a small group of other students to create an image change detection application for surveillance drones. Together, they tested and presented their work. 
After graduation, Burns will work at Northrop Grumman as a systems engineer in the company's rotational program—a program she learned about fromGreenwood. She will have the opportunity to work in different departments to learn which areas interest her most. 
Community of support within the lab
Harper Montgomery '20, biochemistry, knew he wanted to be an entomologist since he was seven years old. He became fascinated by insects through spending time outdoors in Southern California, where he lived before moving to Howard County.
Once at UMBC, Montgomery began looking for the right research opportunity—something that would prepare him for a career studying the creatures he found so intriguing. Through another student, he heard about Mercedes Burns and her work on arachnids and daddy long legs, which is close to his interest in entomology.  He reached out to Burns, assistant professor of biological sciences, was invited for an interview to work in her lab, and the rest is history.
Montgomery shares that the lab has provided him with much more than the opportunity to do research. "I absolutely love my lab. It's my home in the sciences," he says. "The way that Burns approaches research and mentoring is one of the best that I've ever seen. She is a fantastic mentor who pushes her students." 
Not only does Montgomery get to work alongside Burns, but he says that the graduate students in the lab have been mentors to him. And everyone encourages each other to pursue unique opportunities and take their research to the next level. 
Exploring different angles
Even as an undergraduate, Montgomery had the opportunity to present a poster, with two other students, at the American Arachnological Society meeting. He's also presented his research at UMBC's Undergraduate Research and Creative Achievement Day in 2019 and 2020.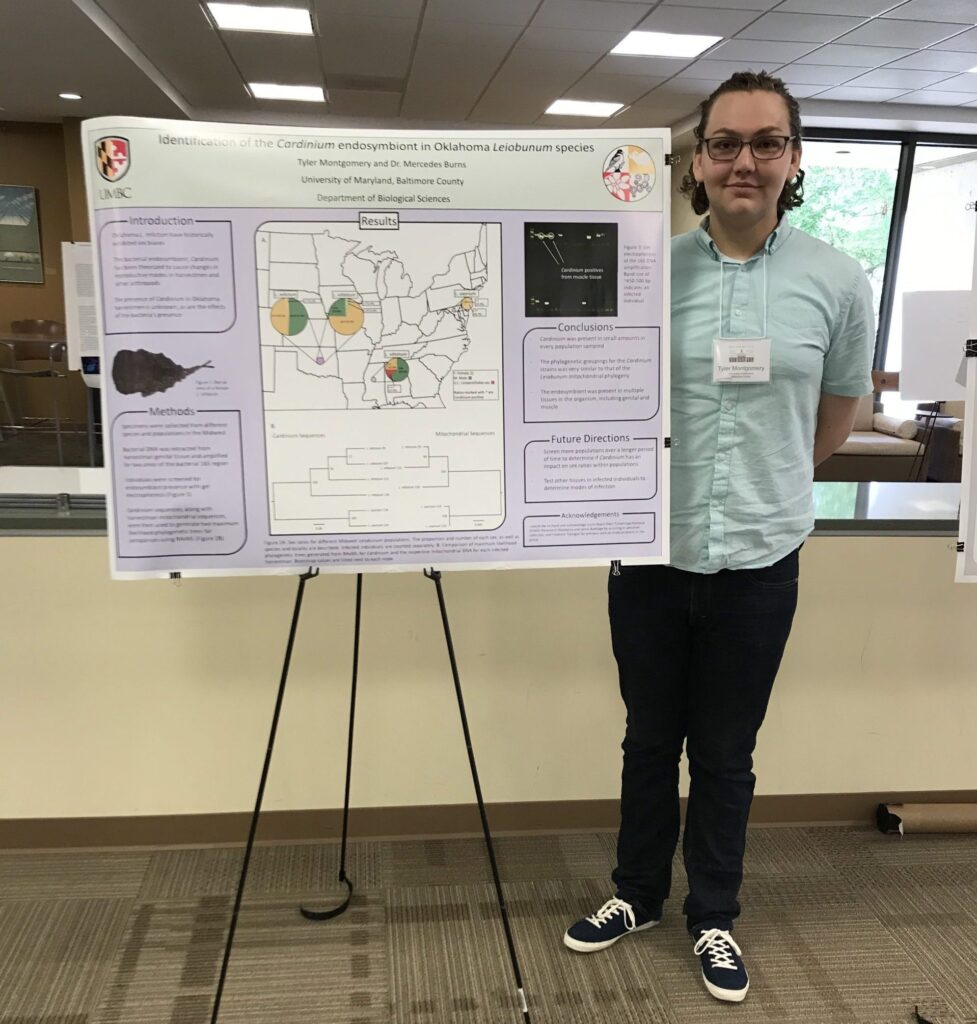 And like Jana Burns, Montgomery has accessed particular opportunities that have opened doors for his developing career. 
Through a high school classmate, Montgomery was connected with an internship with the U.S. Department of Agriculture. For two summers, he was involved with genetics research focused on the microbiology of soybeans. Looking back at the experience, Montgomery says the internship inspired him to take a microbiology course at UMBC, and also enabled him to become well-versed on a broader range of biology topics, which has proven useful in connecting with mentors and industry professionals.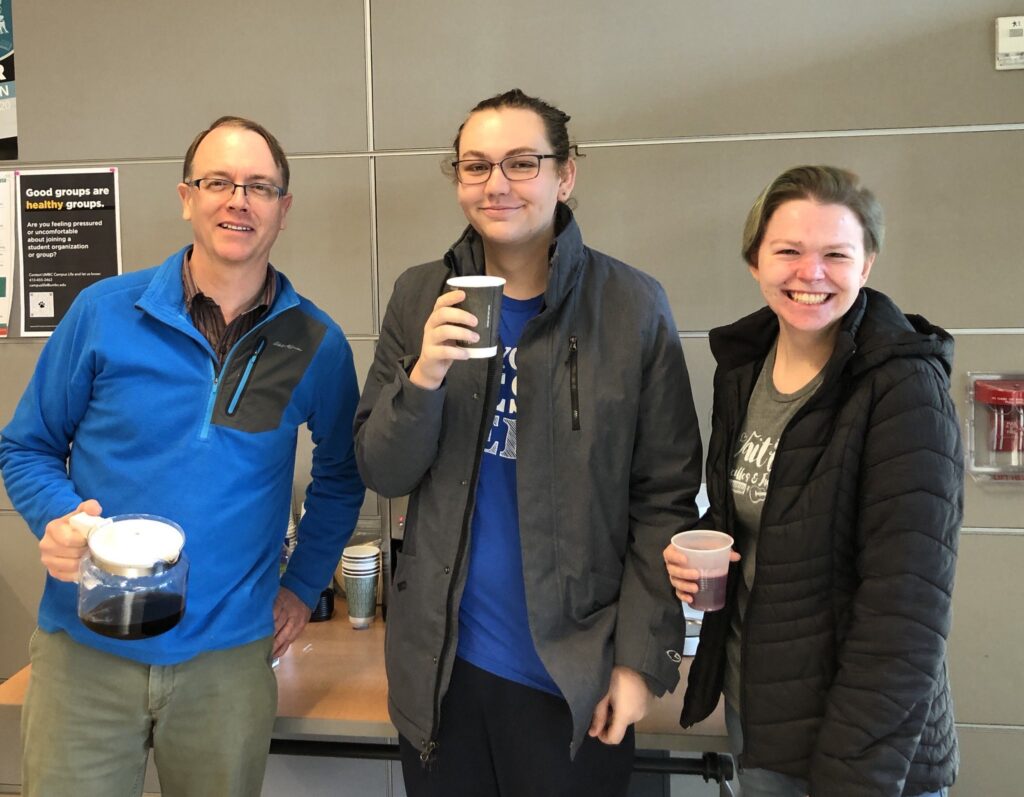 After graduation, Montgomery will pursue a Ph.D. in entomology at the University of California, Riverside, a top program. He consulted with Burns during the application and decision process, and describes her mentorship and support "invaluable." 
A nurturing network
Olusayo Adeleye '20, M28, mathematics, looks back on her experience during the summer bridge program of UMBC's Meyerhoff Scholars Program fondly. She was drawn to the program because of its emphasis on community and supporting students academically and personally. "It was one of the best decisions that I made before college," Adeleye says.
When Adeleye arrived on campus, she planned to major in mechanical engineering, but was drawn to mathematics and economics. She was eager to connect with people on topics that impact decisions they make every day. 
Mentorship has played a significant role in her UMBC experience, and will continue to be a part of her academic journey after she graduates. Her mentors include Ivanna Abreu, program coordinator of the Meyerhoff Scholars Program, Mitsue Wiggs, assistant director of the Meyerhoff Scholars Program, as well as other students, particularly Anna Gifty Opoku-Agyeman, M26, '19, mathematics.
When Adeleye changed her major to math, Opoku-Agyeman quickly began introducing her to contacts on and off campus. She also recommended internship opportunities that she should apply for. 
"Lifting others as I climb"
Eventually, Adeleye joined Opoku-Agyeman as a member of the organizing committee that launched the Sadie Collective. The group's inaugural Sadie Tanner Mossell Alexander Conference for Economics and Related Fields, in 2019, was the first conference for black women economists in the United States. 
Adeleye says that the Sadie Collective enabled her to develop important "soft skills" that she hadn't focused on much before, in leadership, teamwork, and communication. "I believe so much in the goal of the Collective," she explains. By being part of a group designed to support and increase the number of black women in economics, she says, "I am lifting others as I climb."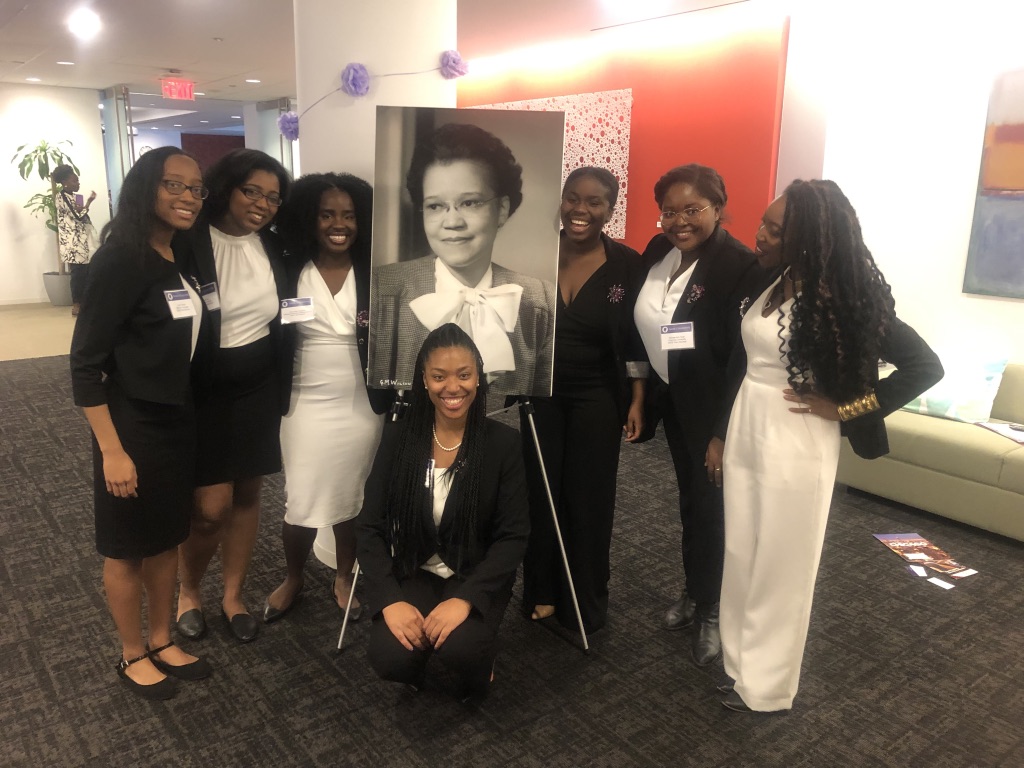 Adeleye attended the American Economic Association's annual conference in San Diego this year, where she connected with leading economics researchers.
Building on these unique, impactful experiences, Adeleye has earned a highly selective predoctoral fellowship at NYU's Stern School of Business. The fellowship is supported by the Alfred P. Sloan Foundation, which provided funding to UMBC beginning in 2017 to support underrepresented students at the highest levels of economics. 
Adeleye will be one of just two students selected for the program. She will be mentored by economist Peter Henry, who is the former dean of the NYU Stern School of Business. After her pre-doctoral fellowship, Adeleye plans to pursue her Ph.D. in business with a focus on corporate social responsibility and corporate strategy. 
Banner image: Jana Burns in the ILSB. Photo courtesy of Burns.
Tags: CAHSS, ChemBiochem, ClassOf2020, CNMS, COEIT, CyberScholars, Economics, IS, MathStat, MeyerhoffScholars, Undergraduate Research