Meet Janerra Allen, M.S. '22, electrical engineering, who is pursuing a Ph.D. in the same subject to kick off a career in brain imaging research. A first-generation college student from Brooklyn, she is also a student leader, and a Meyerhoff Graduate Fellow. We know you'll be impressed…take it away, Janerra!
Q: Tell us about yourself. What's one thing you want folks to know about you?
A: Despite being ambitious and setting clear goals, my journey to the Ph.D. has not been easy. As a first-generation Black female college student from Brooklyn, NY, I immediately experienced imposter syndrome as a materials science and engineering undergrad at the University of Wisconsin-Madison. Though there were times I counted myself out, I am proud to say that I am doing a better job at counting myself in.
Q: What brought you to UMBC in particular?
A: I came to UMBC because I've heard great things about its leadership and research and wanted to be a part of the close-knit and well-connected community. I was also aware of some of the UMBC partnerships within the Greater Baltimore and surrounding areas and thought it was the perfect place to not only attend graduate school but kick-start my professional career in brain imaging research.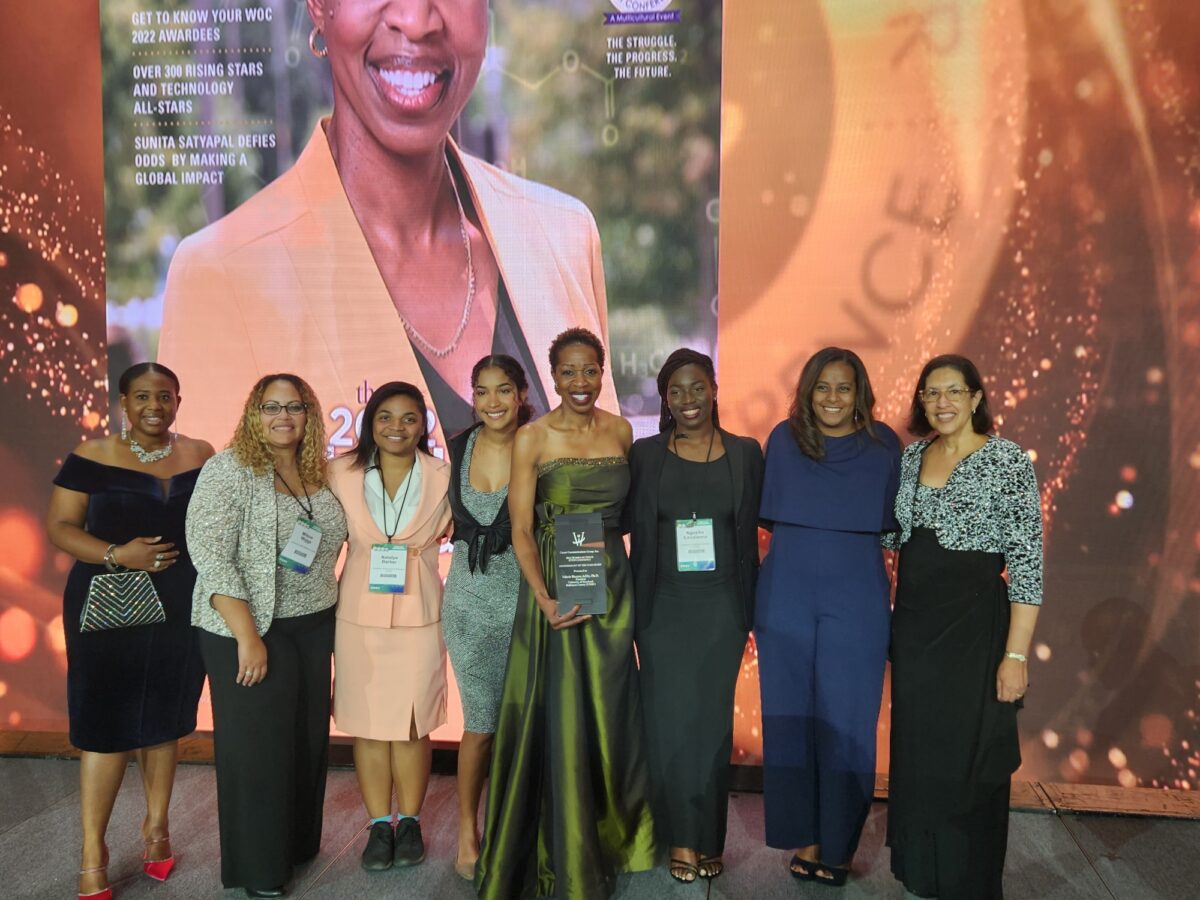 Q: What's the one thing you'd want someone who hasn't joined the UMBC community to know about the support you find here?
A: UMBC is an institution that fosters community and diversity, and students can find support anywhere. When I first arrived, I reached out to several programs, such as NSBE (National Society of Black Engineers), McNair Scholars, and LSAMP due to my undergraduate involvement. Now that I am further in my graduate career, programs such as the Meyerhoff Graduate Fellows, PROMISE, GSA (Graduate Student Association), and BGSO (Black Graduate Student Organization) have been equally supportive.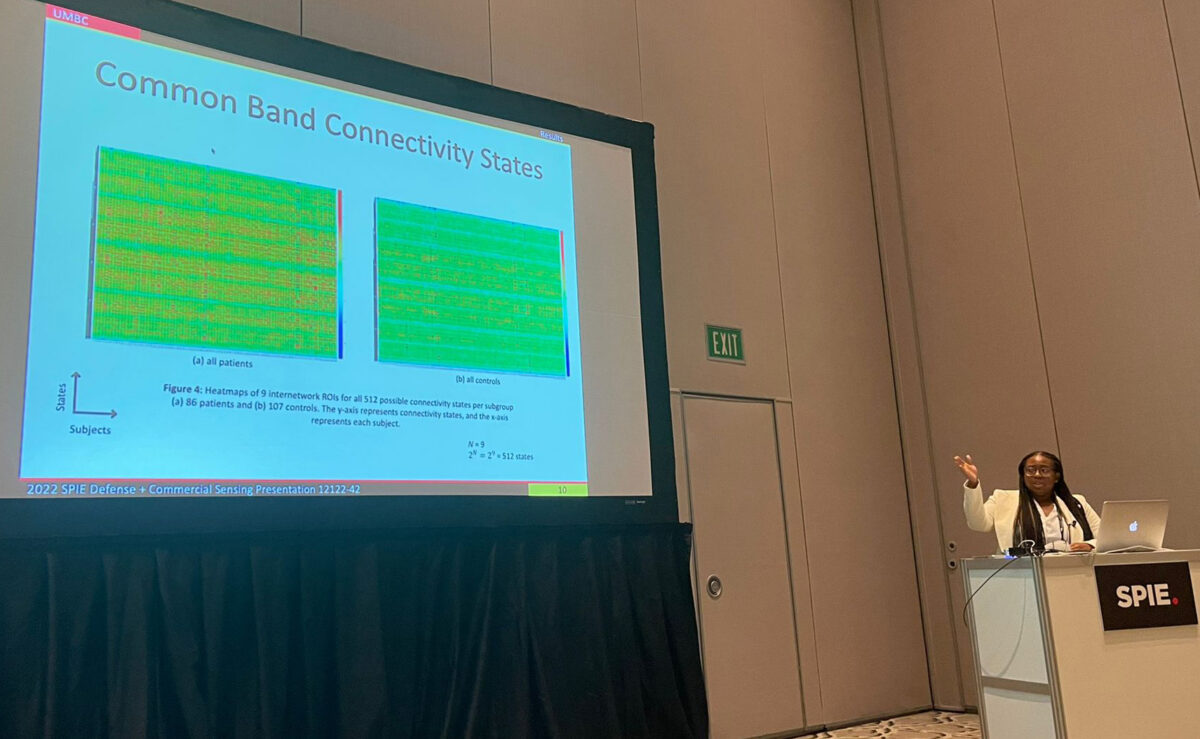 Q: Tell us about someone in the community who has inspired you or supported you, and how they did it.
A: My Ph.D. advisor is Dr. Fow-Sen Choa. I joined his lab in the summer of 2020, which was also the summer after my first year. This was a difficult time because we were experiencing a pandemic and the aftermath of George Floyd. I was still learning about my research area and struggling to connect with campus since migrating to virtual spaces. I remember this transition feeling very gradual and am glad to have joined his lab.
Q: What do you love about your academic program?
A: My program is unique because it is only offered as a graduate program. Coming in, I knew that the class sizes would be small and individualized, but I had no idea that some of my peers would be part-time students working full-time. I think this brings a wonderful perspective to the courses, especially because they share their experiences and discuss the application of the work we are learning.
I came to UMBC because I've heard great things about its leadership and research and wanted to be a part of the close-knit and well-connected community.
Q: Since you've been a part of the UMBC community, how have you found support from folks you've met?
A: There are a lot of people at UMBC committed to seeing me thrive academically and professionally. In addition to my advisor Dr. Choa who has pushed me to be a more independent researcher, I have found support from the Meyerhoff Graduate Fellowship program, namely Ms. Justine Johnson. Ms. Justine has been pivotal in helping me settle into UMBC. I also want to commend the efforts of Dr. Anupam Joshi, Dr. Robin Cresiski, Yarazeth Medina, Sunji Jangha, and Dean Janet Rutledge who have also aided me in my journey.
Q: Are you a student leader? Tell us about it!
A: Yes. I am the President of the Black Graduate Student Organization (BGSO), GSA Senator for the College of Engineering and Information Technology (COEIT), and I serve on the tenure track search committee for the Department of Computer Science and Electrical Engineering.
Q: What would you tell others who are in your shoes about UMBC?
A: Being a first-generation Black female college student and first in my family to pursue a Ph.D. continues to be a challenge. But I refuse to let this hinder me or get in the way of dreams. I encourage any student in my shoes, or in a different pair, to use these qualities to empower you on your journey to success.
* * * * *
UMBC's greatest strength is its people. When people meet Retrievers and hear about the passion they bring, the relationships they create, the ways they support each other, and the commitment they have to inclusive excellence, they truly get a sense of our community. That's what "Meet a Retriever" is all about.
Learn more about how UMBC can help you achieve your goals.
Tags: COEIT, Electrical engineering, GraduateSchool, Meet a Retriever, MeyerhoffScholars