With Andrew Vaché, laboratory specialist, department of physics
By Meredith Purvis
We are made of star stuff, as scientist Carl Sagan once wrote, so it's no wonder we are fascinated by the night sky. But stargazers who live inside the halo of light pollution thrown up by cities, the wonders of the stars can be difficult to see. Get just a few miles outside those urban landscapes, and one can be wowed by a vast expanse of constellations and solar systems. And if you want to improve the view? Try UMBC's massive telescope (operated by the Joint Center for Astrophysics), which gives UMBC students and faculty a better look deep into space. Researcher Andrew Vaché has a number of tips that will help you get better acquainted with the stars above us.
Tools of the Trade
Binoculars or starter telescope
Star charts on paper or smartphone
Dark sky
Astronomy club membership card
Weather app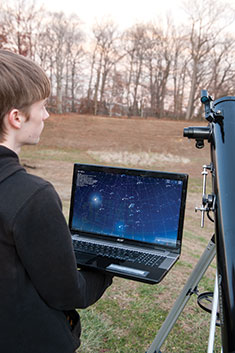 Step 1: KNOW WHAT YOU'RE LOOKING FOR
"So many people have an interest in astronomy," says Vaché, "but they don't know where to start." He advises would-be astronomers to begin with the basics, including spending some time online familiarizing yourself with star charts, or downloading a GPS-based app that maps constellations based on your location. There's also a website (calsky.org) that aggregates what you can see and when –from space stations to solar flares.
Step 2: IMPROVE YOUR VIEW
Get out of the city and past the light pollution it throws up to find a place where the skies are darker. "You don't have to go far," Vaché points out. Even a destination 20 minutes outside the city can yield a much blacker night and clearer view. And it's also a good idea to check the weather. Clouds will definitely kill the view. Vaché recommends the Clear Sky Chart  (cleardarksky.com). "It's a great resource for planning a good night, especially if travel is involved," he says.
Step 3: FIND THE BEST TOOLS
Once you know what to look for in the night sky (and have a dark place and clear night to do so), it's time to boost your stargazing power. Something as simple as binoculars can improve the view. "People are often surprised at the difference a decent set of binoculars can make," says Vaché.  In fact, you could easily spend the rest of your life stargazing with binoculars only, and many novice astronomers do. A decent telescope will certainly improve the view, however. And while you don't need one the size of UMBC's instrument to glean a lot from the night sky, you should expect to spend a couple hundred dollars on the equipment, and invest some time in how to use it. The most important job of a telescope is to gather light, so you'll want to consider the telescope's aperture, or how much light it lets in. Another helpful hint is to look for a "go-to" telescope, which, when pointed at an object in the night sky, will automatically focus in on what's there. It's a feature that helps new users skip some of the frustration and get straight to the stargazing.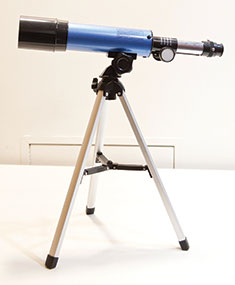 Step 4: FIND FELLOW STARGAZERS
Stargazing can be a solitary business, but it doesn't have to be. Vaché recommends that novice astronomers join an astronomy club or visit an astronomy center or planetarium. "When you're just getting started, it's helpful to see what types of set-ups other astronomers are using," says Vaché.  Many planetariums and astronomy centers – including UMBC – offer free educational opportunities like open houses or star walks. UMBC's astrophysics lab offers private tours and a monthly public viewing on first Thursdays, where you can learn about the telescope and see a selection of planets, nearby nebulae and even more distant galaxies.
Step 5: GET AMBITIOUS
Once you're feeling more confident, you may want to reward yourself with more exotic views. Vaché says there are plenty of "dream destinations" for astronomers – some of them not so far away from UMBC. The Monongahela National Forest in West Virginia affords impressive views, and Cherry Springs State Park in central Pennsylvania is the only certified dark sky location on the East Coast. The certification, given by the International Dark-Sky Association (IDA), recognizes the park's exceptional commitment to dark-sky protection and restoration on public lands, which makes it an excellent destination for Mid-Atlantic astronomers.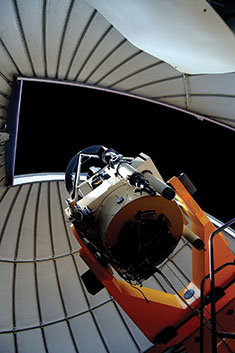 By the Numbers
UMBC's telescope has 3 cameras
UMBC's telescope offers more than 20 filters
First view of the night sky attained in August 2000
On any given night, UMBC's telescope can take images of 5-10 different objects
You can easily see 3 planets from UMBC (Jupiter, Saturn, and Mars)