With Lisa Soumphontphakdy '14, Visual Arts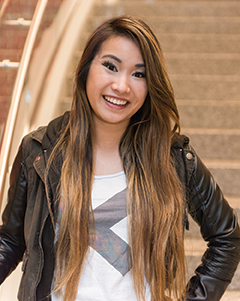 Back in 2012, Lisa Soumphontphakdy '14, visual arts, was a recent transfer student looking for a home at UMBC. She loved music, she loved to sing, and she especially loved the idea of making more female friends, so the Stilettos, UMBC's only all-female a cappella group, seemed like a natural fit.
After auditioning, she quickly bonded with the group and became as involved as possible, arranging music, designing T-shirts, acting as president, and shooting and editing the group's first video – Meghan Trainor's hit "All About That Bass," complete with sassy choreography, which she uploaded to YouTube. "I fell in love with it a lot more than I expected," she says.
"[Lisa] definitely was a maternal figure in Stilettos," says fellow Stiletto senior Valerie Pasquale, health administration and policy, who was pleased to work with Soumphontphakdy again last fall. "[She] always was pushing the envelope, trying to get us to be the best that we could be."
The video she made – a cover of "Boy," originally performed by the British girl group Little Mix, and arranged by junior Becca Nolder, social work – now has more than 11,000 views. So, what exactly does it take to make a video go viral?
STEP 1: GET A DEGREE IN… DESIGN?
While Soumphontphakdy started off at UMBC as a film major, she switched her focus to graphic design to broaden her post-graduation career options: "Every single business needs a graphic designer," she says. However, she's kept her video muscle strong in her current job at Educational Funding Company, a Bethesda-based software firm, since video has proven so effective in online marketing in recent years. It would also provide her a golden opportunity off the clock.
STEP 2: GET YOUR GIRLS TOGETHER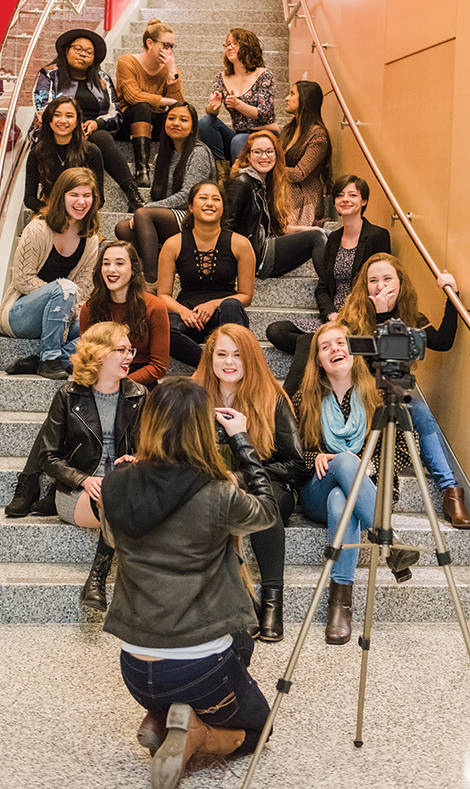 Last fall, when Pasquale asked Soumphontphakdy if she wanted to shoot a music video for "Boy," with its intricately structured harmonies and, as Nolder says, its "empowerment, Cheetah Girls kind of vibe," Soumphontphakdy jumped at the chance. A cappella was such an integral part of her college career, she says, that she wanted to maintain the connection.
"This was an organization that I loved and was passionate about… I didn't want it to be a thing where once I left school, I just forgot all about my a cappella life," she says.
The group laid down the track in the studios at UMBC's Performing Arts and Humanities Building (PAHB), assisted by fellow Stiletto Jenna Polignone, music and computer science, and Matthew Neary, computer science. After Polignone mixed and mastered the song, the group was ready to shoot. The production ended up spanning locations across the entire PAHB, from the Linehan Auditorium stairwell to the Forum sculpture outdoors.
STEP 3: GET GOOFY!
While a cappella will get you used to being on stage, performing for a camera isn't always as familiar – or comfortable – an experience. Luckily, Soumphontphakdy had a strategy there, too: during filming, "we had some of us standing behind the camera, dancing and singing, so that they didn't feel too intimidated by the camera. [We were trying] to get everyone to loosen up and be more comfortable with the video."
STEP 4: GET TO THE EDITING SUITE
Filming a cappella groups, Soumphontphakdy says, is a multi-step endeavor: with everyone lip-synching in tune with the audio track, it requires multiple takes of each voice part, the soloists, and the group as a whole. "We managed to knock this down in about two to three hours," she says, with one to two takes of each group. ("I'm a big advocate for being efficient with time," she adds.)
Lisa shot the video on DSLR and edited it in Adobe Premiere. "It probably took me four or five hours [to edit] because […] I had to watch through each [clip] individually, to make sure I'm grabbing the good bits. I put markers on the parts where I felt like they were particularly good with the energy, or [with] their expressions, or… just in their overall performance." In splicing together the video, she wanted to gather "the best of everybody."
STEP 5: GET ONLINE
The video was released on Facebook on November 28, one week ahead of the Stiletto's 2016 winter concert, and has since garnered more than 11,000 views. Comments poured in from both inside and outside the UMBC a cappella community, including from Soumphontphakdy herself:
On December 4, the Stilettos played to a full house… or, more accurately, a full lecture hall.
Says Pasquale: "We had [our concert] in the afternoon on a Sunday. Usually you wouldn't think there would be a lot of people that came, but because of the video, everyone was like 'Oh, we've got to see this group!' So the auditorium was packed. That just tells you how useful the digital marketing was, and how grateful we are for Lisa's help."
As of this writing, another Stilettos music video is in the works.
— Julia Celtnieks '13
https://www.facebook.com/umbcstilettos/videos/10154688410664882/?hc_ref=PAGES_TIMELINE
Watch "Boy" by the Stilettos at bit.ly/umbcstilettosboy.
Tags: a cappella, how to, Spring 2017, UMBC Stilettos