With Jess Presuel '23, biological sciences, an international student from Mexico
Jess Presuel's route to UMBC was not a direct flight from Mérida, Yucatán—her home state in Mexico—to UMBC. She originally arrived in Maryland in 2015 as an au pair to a family with five children. There, she immediately felt accepted and as she cared for the children, they helped her learn English. Over time, Presuel realized she was ready to pursue her dream of becoming a surgeon, starting in fall 2021 working toward a degree in biological science. At UMBC, Presuel knew that she wasn't just on campus to take classes; she wanted to bring her Mexican and Mayan heritage to her time as a Retriever. Now, as a global ambassador through the Center for Global Engagement and through other connections on campus, Presuel has found platforms to bridge her two homes and she wants to share how she's going about it.
Tools of the Trade
1. A sense of adventure
2. Backpack of study skills
3. Openness to joining clubs and volunteering
4. Grandma's recipe book
Step 1: Find your family
For Presuel, this was both easy and hard. When she arrived in the U.S., still using Google Translate to communicate with her au pair family, she found the parents and kids eager to help her learn English and navigate life in Maryland. Most importantly, she says, they supported her personally when she shared that she was gay. "Part of the rough patch of my life in Mexico," Presuel shares, "was that at the time, my mom didn't accept me as being gay. So when I first got here, the family was welcoming to me. Just for me, I began to experience how American culture, especially in Maryland, can be welcoming to the LGBTQ community. It made me feel safe."
Presuel would later meet her fiancée, Lyana Cortes, in D.C. and over time, she says, her mother has grown to accept her daughter and love her future daughter-in-law. "My mom was a single mom, so she was always working. At the time, she sustained three jobs and I raised my siblings. So when I left, she felt my absence. Now, we've patched things up and she's finally accepted me. She adores Lyana," says Presuel. In fact, the couple got engaged on their most recent trip to Mexico, building stronger family ties internationally.
Step 2: Share your favorite things from home
"For me, being a Latina means always taking the time to cook something from my hometown," says Presuel. "In addition to being Mexican, I'm Mayan too. Not many people know that the Mayan community is still alive. So I'm spreading the word, we're here."
Presuel uses any opportunity to make food for her communities on campus, including her medical fraternity Phi Delta Epsilon. For her Mayan dishes, she incorporates pumpkin seeds into many different recipes, and on Mexican Independence Day, September 16, she made pozole, a rich stew.
In addition to food, Presuel wants to share a sense of Latina empowerment. She's currently in the process of replicating Harvard's Latina Empowerment & Development (LEAD) conference at UMBC. "I am trying to get more Latinas involved in any type of workshops and educational settings," says Presuel. "I want to showcase Latina leadership."
Step 3: Get the lay of the land
Higher education in the States is a convoluted process for someone coming from outside of the system. For international students in particular, specific and important paperwork must be submitted to the right authorities. At UMBC, staff in International Student and Scholar Services (ISSS) help handle this bureaucratic burden. "I knew that when I finally picked UMBC as my university, ISSS was the first office I needed to connect with."
In addition to ISSS, Presuel says, she doesn't hesitate to ask her advisor Philip Farabaugh, professor in biological sciences, endless questions, even things she might be able to find online, because inevitably the conversation ends up being so useful to her. "He always gives me good advice. And he's so funny, that makes me feel like, 'Okay, I got this. I definitely can do this.'"
Step 4: Tell your story
After a year taking classes at UMBC, Presuel felt like she was ready to start offering advice to other international students. She's now a global ambassador through the Center for Global Engagement.
"It's such a rewarding role," says Presuel, "because I finally get to share my experience. When you first get here from another country, you likely feel lost, so having someone who can help or speak your own language, it's so relieving."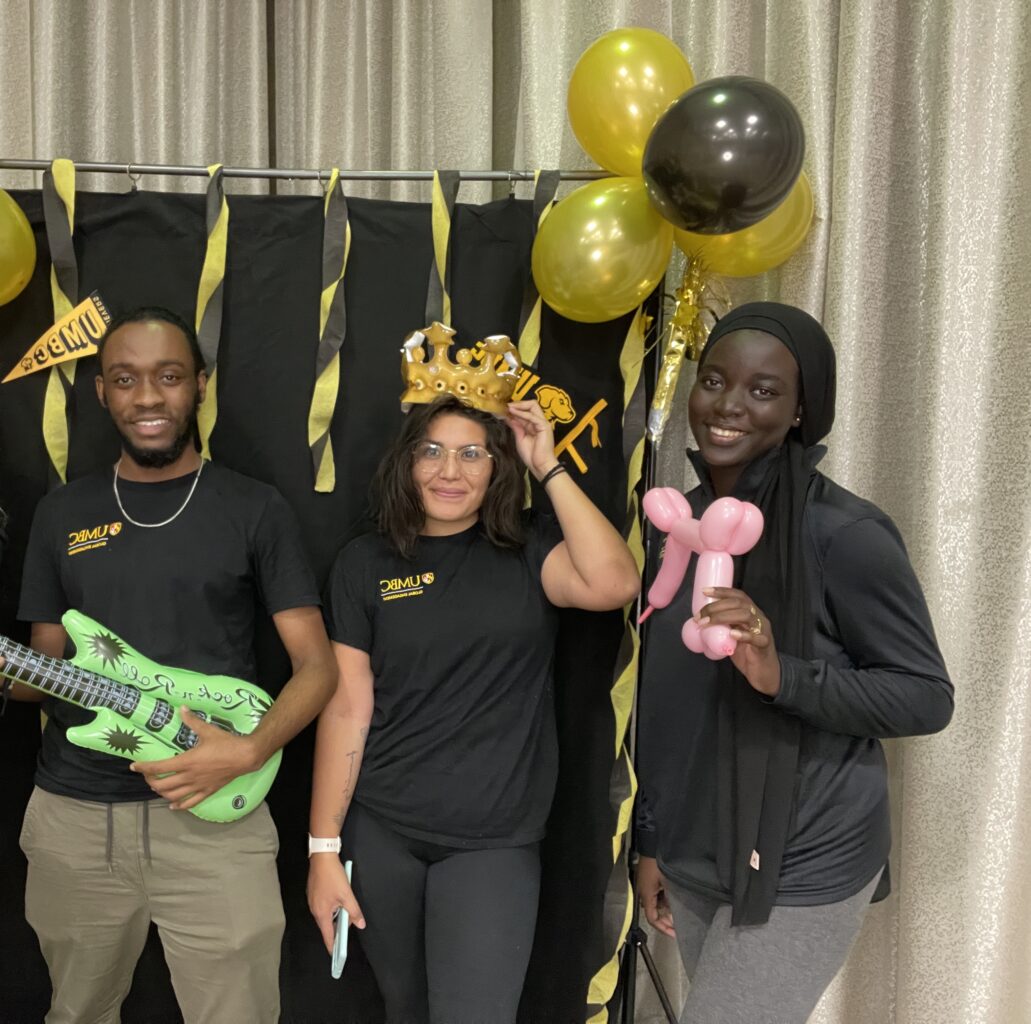 Step 5: Find ways to give back to your community
"As an international student, it's important to have a community even outside of campus," says Presuel. She wanted to find a way to give back to other Mexicans and Spanish speakers in the area and found a home at the Esperanza Center in Baltimore City. This nonprofit is a comprehensive resource center for immigrant communities. "I do absolutely anything that's possible for me to do," says Presuel, who has been volunteering there for the past year.
"I help from the front desk. I've been assisting dentists. I translate for doctors. So being part of the immigrant community in Baltimore, it has filled my heart," says Presuel. "I wouldn't call it a hole, but something was missing from Mexico. I needed to have that link between my American culture, my Mexican culture here."
Tags: Biological Sciences, CGE, CNMS, Fall 2022, how to, International Stories