Bob Pfeiff  '82, economics, was a quiet, slightly home-sick freshman from rural Southern Maryland. Patti Kattowski '81, health science and policy and sociology, was a bubbly sophomore from New Jersey. They met and fell in love at UMBC.
Both Bob and Patti lived in the same residence hall on a campus that, in the 70's, was limited to just three dormitories – which were still called Dorms One, Two, and Three.
"We traveled in the same circles. It was a really tight group of people who lived together in the dorm," Patti recalls.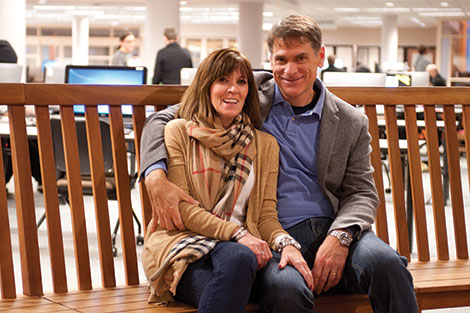 In spite of (or perhaps because of) their dramatic personality differences, the two undergraduates were drawn to each other. "Bob was so shy, and I was so out there," Patti says.
Patti and Bob began to date by the spring of his freshman year. As neither one of them had a car on campus, their social activities were limited to activities on or near campus. "Going home wasn't an option," Patti says. "You found your fun."
That they did. They swam laps together; frequented the 'party room' of Dorm Three; watched men's lacrosse games. (Patti played both field hockey and lacrosse for UMBC.) Occasionally, by bus or borrowed car, they ventured into downtown Baltimore or Georgetown.
"If there was anything happening on campus, a performance of any sort, we went," Patti says.
In 1981, not long after Bob and Patti graduated from UMBC, they got engaged. For their "honeymoon," they drove to Pensacola, where Bob reported to Navy flight training after having been commissioned by the U.S. Navy. He then spent ten years as a naval officer, managing weapons and control systems at sea.
After Bob retired from the Navy, the couple settled in Fairfax, VA and raised a son, now 19. Bob has worked for a number of technology companies; currently, he is a senior software architect at Microsoft. Patti has worked in both several industries, including restaurant and real estate. Now, she is employed at a private boys' school in Bethesda as the headmaster's executive assistant.
Bob and Patti still recall their undergraduate days as a significant part of their lives together.
"It's part of our history," Bob says.
Patti, effervescent as ever, comments: "It's been a fun ride."