On a Tuesday evening in early November, Main Street in The Commons was uncommonly crowded. Hundreds of democratically-minded students eagerly—and perhaps, anxiously—milled around watching the 2022 mid-term election returns. Dilnaz Hasim '25, economics, found the scene fitting, saying, "Election Night Extravaganza is supposed to be experienced as a community, rather than as a single person, because when you make a vote, you're making it for the whole community."
Jointly hosted by the Center for Democracy and Civic Life, the Student Government Association (SGA), and the Graduate Student Association, the campus-based election event has been around since 2004. Students from every political affiliation bonded over a breakfast buffet and made room for bipartisan conversations in multiple breakout spaces. Other rooms had craft tables set up for students to creatively distract themselves while results rolled in.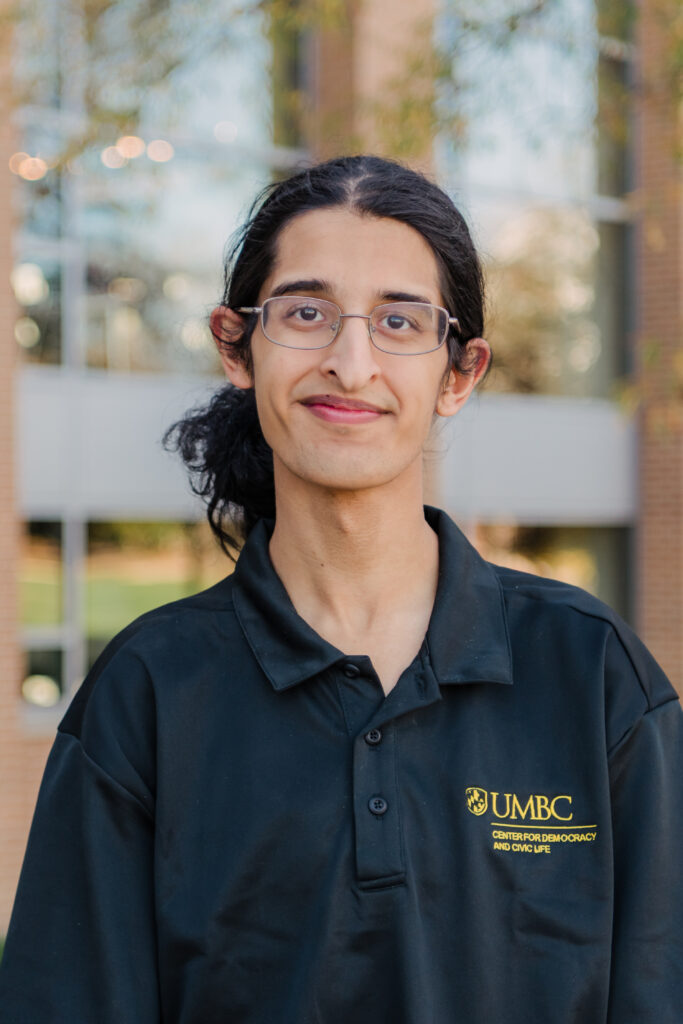 As exciting as this night is, it's only one part of efforts put forth throughout the year by the Center for Democracy and Civic Life to engage students in the day-to-day processes of democratic involvement. Leading up to elections, students are encouraged to "cast your whole vote"—an idea from Henry David Thoreau's essay on civil disobedience—to commit fully to building strong, inclusive, just communities in which everyone can thrive. Following elections, students, staff, and faculty can take part in Together Beyond November discussions to talk about the election outcomes and envision a common future.
In late November 2022, the ALL IN Campus Democracy Challenge released the results of its national student voter pledge competition. UMBC finished at #4 in the nation in the number of students pledging to vote in Election 2022, moving our campus community up from #9 in 2020.
Musa Jafri '24, political science, SGA's director of civic engagement, was heartened by the turnout. "Democracy doesn't end at the voting booth," said Jafri, who is also co-chair of the University System of Maryland Student Civic Leaders Committee. "There's so much more we can do as we watch the results and come together as a community. Even after whatever happens, we have fellow Retrievers coming together, watching the results, having food, and playing games."
Another one of the event organizers, Meghna Chandrasekaran '25, biology, hosted a social takeover during the night, interviewing her fellow students about their civic engagement. Many mentioned feeling the need to have their voices heard on issues they cared about. To wrap up the evening, Chandrasekaran said, "Election Night Extravaganza is an event to celebrate that we did come out. We had one job as citizens to come out and vote, express our concerns about certain things, and show that we are part of the process."
To read more about engaging college students in everyday democratic practices, check out an extended Q&A with Musa Jafri, Sunil Dasgupta, professor of political science, and founder and host of the podcast "I Hate Politics," and David Hoffman, Ph.D. '13, language, literacy, and culture, the director of UMBC's Center for Democracy and Civic Life.
— Levi Lewis '23 & Randianne Leyshon '09
Tags: Biology, Center for Democracy and Civic Life, Economics, Fall 2022, Impact, Political