Joan Kang Shin's approach to teaching English as a foreign language embraces children and community on a global scale.
By David Glenn
Imagine that you're an experienced high school teacher in a country like Pakistan, Serbia, or Colombia. Your specialty is English as a foreign language. Your school doesn't have many resources, but you have a good rapport with your students, and you're proud of what you do.
Then one day your government announces that English as a foreign language (EFL) classes will now be required for all students beginning in elementary school. You are yanked from your familiar high school setting into a room full of squirming 7- and 8-year-olds still learning the basics of their native tongues. You are willing to give it a try, but you have no idea how to start.
This scenario has played out in EFL classrooms around the world in the last decade, as national ministries of education introduce mandatory English classes at younger and younger ages. And a remarkable number of those displaced teachers – hundreds of teachers from more than a dozen countries – have turned to Joan Kang Shin '08, Ph.D., languages, literacy and culture, for advice and support to make the transition.
A professor of practice in the education department and the director of UMBC's TESOL professional training programs, Shin has emerged as a leading expert in teaching English to young learners. She has traveled to Brazil, Tunisia, Vietnam, Saudi Arabia and ten other countries to train EFL teachers to meet the needs of elementary-aged students. And the international online course for people teaching EFL to young learners she co-created in 2004 has helped forge a global network of teachers facing similar challenges.
"All of a sudden, every ministry of education has been lowering the mandatory English age to third grade, to first grade," Shin says. (Pakistan, for example, lowered its age of compulsory English classes from sixth grade to first grade in 2009.) "And they usually start with very few teachers who are equipped to teach kids. They may have teachers who are well-acquainted with teaching English at the secondary level. But teaching kids comes with a whole different set of knowledge and skills, because of where they are developmentally."
Shin has worked on multiple fronts to supply fledgling elementary-EFL teachers with the skills they need. She has brought dozens of alumni of her online course to UMBC for summer institutes. In collaboration with JoAnn "Jodi" Crandall, a professor emerita of education at UMBC, she wrote Teaching Young Learners English: From Theory to Practice (National Geographic Learning, 2013), a teacher-training textbook that was recently awarded the Ben Warren-International House Trust Prize, given annually to an outstanding work of scholarship on language education.
Last year, Shin and Crandall brought forth their highest-profile project by far: Our World, a six-level student textbook series for young learners of English, also published by National Geographic Learning. One of Shin's central principles is that English should be taught not as a window into the cultures of predominately English-speaking countries, but rather as a global language.
"Today, the concept of who is an English speaker potentially includes everyone," she says. "So if you're teaching kids English, you're not only teaching them about American or British culture. You're teaching them about all cultures. The message to students is: You're learning English so that you can speak with anyone around the world."
"Joan and Jodi's work really captures that transition toward understanding English as a world language," says Eugene C. Schaffer, the chair of UMBC's education department.
Vera Savic, a lecturer in education at the University of Kragujevac, in Serbia, is one of the veterans of Shin's online courses and network. In 2003, Serbia's ministry of education lowered the age of English instruction from sixth grade to first grade, and education professors like Savic had to scramble to train EFL teachers to be competent in working with 6-year-olds. Savic took Shin's online course in 2012, and she says it completely changed her approach.
"The way theory and practice were connected in the course was truly amazing and made me reflect on my teaching from a new perspective," Savic says.
Shin's global approach to English has also proved invaluable for Savic. Interacting online with students from 23 other countries, she says, gives her new insights. Two years after the course, she says, she still regularly exchanges e-mail with teachers and teacher-trainers in Poland, Tunisia, Mali, and India.
"Dr. Shin's expertise and support made the whole program really exceptional," Savic says.
HITTING HIGH NOTES
The daughter of Korean immigrants, Shin grew up outside of Baltimore in Ellicott City. After graduating from Cornell University with a degree in economics in 1993, Shin spent a year working for a fabric importer in Manhattan, and then took a job with a law firm in Washington.
She discovered her vocation almost accidentally, when she volunteered as an ESL instructor for adults through the Howard County Public School District.
"I think I was a horrible teacher," Shin says, "but I totally loved it. The connection with my students made me completely passionate about it. That was where I got
the teaching bug."
As she asked friends and colleagues about strategies to improve her teaching skills, Shin kept hearing the same message: If you want to be serious about this, get a master's degree at UMBC.
"People kept telling me about Jodi Crandall and Ron Schwartz," she says. (Schwartz, a professor emeritus who retired from full-time teaching in 2004, led UMBC's TESOL program for many years.) "And, sure enough, the two of them ended up being tremendous mentors for me here."
When she completed her master's degree in 1998, Shin moved to South Korea for five years to teach English at Sookmyong Women's University. "Before 1998, I'd only spent one summer and a few short family visits in Korea," she says. "So it really was like learning a whole new culture, which was fascinating. That was the first time I'd realized just how American I am."
Shin returned to UMBC in 2003 to begin her doctoral studies. The following year, Crandall came to her with an opportunity: In collaboration with the University of Oregon, UMBC had been invited to create an online course on behalf of the U.S. State Department. The course would focus on teaching EFL to elementary-age learners, and U.S. embassies around the world would recruit the students. Was Shin interested in helping to design the course?
She jumped at the chance. "The ties that I made with the teachers in my online course became a very important part of my research," she says. "We would have these incredible conversations on the discussion board. Say, if we were learning about using storytelling with kids – they would share examples from their countries about how they used certain approaches that we were talking about. They also discussed how their ministries of education were approaching EFL. It really opened my eyes to what was going on."
After several years teaching the course, Shin and Crandall decided to write Teaching Young Learners English, a textbook that distilled the lessons they'd learned. With students' permission, they included verbatim excerpts from the course's online discussions. (Savic, for example, is quoted explaining how she experimented with using puppets to introduce new vocabulary words.) "I think those discussions are what really made the book come alive," Shin says.
Many of those discussions moved from the digital realm to the face-to-face, as dozens of alumni from the course attended summer workshops at UMBC. Ibrahim Er, who was at the time an instructor in education at Pamakkule University in Turkey, came to campus in the summer of 2010. "What made Dr. Shin so special was not that she was so enthusiastic, but that she brought so many enthusiastic people together." (Er liked the experience so much that he decided to enroll in UMBC's language, literacy, and culture program, where he is now conducting research on libraries as sites of formal and informal language learning worldwide.)
In 2011, Shin and Crandall were approached by Cengage – a publisher now known as National Geographic Learning – to write an EFL textbook series for elementary-age students. The resulting series, Our World, was published in March 2013. (It has been nominated for the ELTon award, a prize for English-language teaching given annually by the British Council.) A companion series for pre-elementary students, Welcome to Our World, is currently in production.
Both series are accompanied by extensive video supplements, some of which are aimed directly at students and some of which are professional-training videos for teachers. Many of those videos have been produced by UMBC's New Media Studio. "I showed National Geographic the quality of what the studio has done for me in the past, and they were so impressed that they were willing to offer them a contract for these series," Shin says.
Shin has been spending many hours at the New Media Studio of late. Welcome to Our World will include videos of 20 children's songs from around the world, both in their original languages and in English adaptations prepared by Shin. This element has become a labor of love. Shin has shot classroom footage of children singing in Brazil, Tunisia and elsewhere. And to get the kind of audio she wants, Shin has recruited friends from all across campus.
"Many programs for kids use this kind of synthesized music that sounds very artificial," Shin says. "I hate it. It's just awful. So I told National Geographic that we had to have natural instruments."
To find those instruments, Shin turned first to the UMBC Friday-afternoon drum circle that has been loosely led for several years by Steven McAlpine, assistant director of interdisciplinary studies. "I approached Steven and said, 'You don't really know me, but I've got this project, and I know you're a really good drummer, so maybe you could come by the studio,'" Shin says.
McAlpine agreed, without fully registering what he was signing up for. "I got to the studio and realized that I was going to be on video, not just audio," he says. "You know, I'm an orchestra pit guy. I like to be heard but not seen. I was like wood."
Shin insisted that having the instruments on screen would help to engage young viewers. "And I realized that she was right about that," McAlpine says. "By the second round, she'd gotten me to loosen up. I wore something more colorful and decided to commit to it. I really applaud Joan's persistence in making this happen." (Read more about McAlpine's music in "How To" on Page 36.)
McAlpine was only the first of a long line of UMBC friends and family to be lured into the song project. Ibrahim Er offered his talents on the reed flute. Heidi Faust, a doctoral student in languages, literacy, and culture, played guitar, and also brought in a friend who plays banjo.
"It's been really exciting to be part of the National Geographic work," Faust says. "I think it's really great because it's authentic. I don't know of any other EFL resources that are quite like this. I think often our English-language materials sort of impose American culture on others. But this is much broader. It exposes kids to stories and songs from all over the world."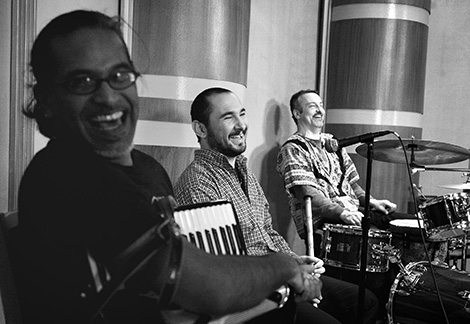 MICRO TO MACRO
Faust is also part of another of Shin's major projects this year: Creating a new online course for young alumni of the English Access Microscholarship Program, a State Department effort that has offered English-language instruction to students from disadvantaged regions.
"A woman at the U.S. Embassy in Brazil called me and said that she wanted to create a course on leadership for students who've been through the Microscholarship Program," Shin says. "I said, I think I know exactly what we need to do." She turned to her friend Joby Taylor '05, language, literacy and culture, the director of UMBC's Shriver Peaceworker Program.
Taylor, Faust, and Shin worked together to create a new course known as the Youth Community Leadership Challenge. "We adapted one of the courses that we use with returning Peace Corps volunteers here at the Shriver Center," Taylor says. "We ask the students to interview an elder in their community, and to write an imaginary TED talk or Nobel lecture about change that they hope to create."
The new course was initially piloted with 30 students in Brazil, 14 of whom visited UMBC for a workshop last summer. It is now being offered to students in Yemen, Russia and several Latin American countries. It is also being offered to refugee students attending Baltimore City's Patterson High School.
Faust is studying the new course in the context of her dissertation research. "I'm interested in learning about critical pedagogy in the teaching of English as a foreign language," Faust says. "Many of these students have ideas about community that provide counternarratives to what many Western teachers might expect."
For Shin, the youth leadership project has been another example of the culture of collaboration at UMBC. "I really appreciate how open everyone is here," she says. "You don't see people staying in their own little silos."
Shin has her eyes on several other projects: She hopes to do deeper research on the survival and transmission of traditional children's songs. And she's just started work on a Department of Defense grant to improve English-language instruction for non-native speakers who work with the department.
"Working with Joan is a joyful experience," Faust says. "It's a lot of work. She's always going. She's very, very knowledgeable, but she's also a lot of fun."
Tags: Spring 2014