HOMEFRONT HELPERS
During World War II, millions of Americans kept snapshots and letters from loved ones deployed overseas. In the last decade's wars, military families have had many more options to stay connected: email, cell phones, Skype, and (when the Pentagon says so) Facebook.
Thousands of military families also have acquired Flat Daddies: life-sized, laminated, waist-up photographs of absent fathers (and, less commonly, mothers).
Flat Daddies, which were first marketed in 2003, have come in for a certain amount of ridicule. (Esquire magazine honored them in its "Dubious Achievement" awards in 2007.) But Rebecca A. Adelman, an assistant professor of media and communication studies, believes they deserve serious attention. "These objects are actually functional and practical in their way," she says "They help ease anxiety that young children won't recognize their parents when they come home."
That is not to say that Adelman is uncritical of Flat Daddies: She views them as part of a process in which military families learn to discipline themselves to support the war effort – and perhaps even avoid certain kinds of questions about their situation.
In an essay that will be published next year in the journal Photography and Culture, Adelman analyzes hundreds of testimonials published on the Flat Daddies website. Those testimonials may not represent the experiences of all Flat families – the company presumably wouldn't publish letters from unhappy buyers – but they are appealingly raw and unvarnished.
"Our baby gets so excited when she sees him she squeals and kisses all over his face," reads one statement. "It has also helped me deal with the separation as well. He sits at the table for dinner and we go around the table to discuss our day."
Adelman says that exploring the presence of visual representations in American lives is a key element in her work. "Rather than just looking at visual representations of war," she explains, "I want to focus on how people use those visual artifacts in their own lives, how they interpret them."
Adelman earned her doctorate at Ohio State University in 2009 and arrived at UMBC that same year. Her Flat Daddies study is part of a larger project about how Americans have created and interpreted the visual culture of the War on Terror.
One of the most fascinating aspects of Flat Daddies, Adelman says, is that they upend some of our usual expectations about photography. "We usually read photographs as documents of absence and records of the past. But Flats are about presence, and their families use them in anticipation of a happy future."
The images have other meaning as well. For some families, Adelman believes, the unwieldy, outsized nature of the Flat Daddy serves as a symbol of the burdens that the family is shouldering. She also argues that the Flats serve as a totem through which military families can manage their feelings of fear, anger, and ambivalence.
"Flats expose and then repair the fractures that deployment opens," she writes, "channeling negative feelings quietly toward the Flat (rather than, for example, toward the state or war that necessitates it), whose stoic and smiling face acknowledges and then defuses them."

— David Glenn
Image: AP Photo, Bill Lackey
GRRL POWER
American theatre today is abuzz with debate about increasing opportunities for women in the footlights – both as playwrights and as actors.
The statistics – especially for playwrights – are grim. According to a 2009 study by Emily Glassberg Sands, a graduate student at Harvard University who conducted her research as an undergraduate at Princeton University, women playwrights accounted for a mere 12.6 percent of Broadway plays in 2008-09. (A hundred years ago, in Broadway's 1908-09 season, women wrote 12.8 percent of the plays.)
So the woman playwright in the United States has not come a long way, baby. Yet. But over the past seven years, Susan McCully, a senior lecturer in UMBC's theatre department, has helped move the discussion forward by creating Grrl Parts – the university's annual celebration of new plays written to highlight roles for female actors.
Like many innovations in pedagogy at UMBC, Grrl Parts got its start by improving the student experience at the university. McCully and her colleagues were having a difficult time finding plays with enough roles for women to keep all their female students active in productions.
McCully's solution was to generate new plays featuring such roles – and offer them a home at UMBC. And as Grrl Parts has grown over the past few years, it has attracted a number of award-winning playwrights, including Tina Howe, Naomi Wallace, Ellen McLaughlin and Timberlake Wertenbaker.
"I have been surprised by how much it has resonated with the larger conversation happening about the importance of telling and hearing women's stories," McCully observes. "I was used to and prepared for a culture of resistance. I thought it would involve pushing boulders uphill to convince writers to participate, to get university support and to excite the students about the possibilities. But, to paraphrase the great white male dramatist Victor Hugo: One can resist armies, but there is nothing more powerful than an idea whose time has come."
That Grrl Parts' time has arrived is clear. The 2012 edition was not only produced on campus, but was selected for a Saturday performance at Center Stage in Baltimore that attracted an even larger audience. McCully also has an anthology of the Grrl Parts plays in the works.
Grrl Parts also demonstrates that the university itself can have a significant effect on a debate that is challenging the entire U.S. theatre community.
"I think this entire movement can be traced to universities," says McCully. "The major female American playwrights of the last part of the 20th century – Paula Vogel, Marsha Norman, Maria Irene Fornes, and Tina Howe – have been at the forefront of this movement, not only as writers, but as professors and heads of preeminent university playwriting programs. When I stop to think about it, those women have trained many of the playwrights (male and female) produced in professional theatre today. They have trained a generation of smart and talented women writers who are fighting to be heard and expect to be heard. Their male peers studied in these same programs, and I think they too 'get it.' So UMBC's project is part of a culture shift in training future artists. I know our students 'get it.'"

— Richard Byrne '86
TRAVELING DRY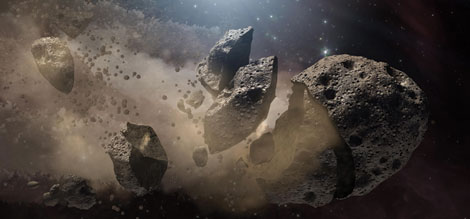 Visualize some tiny yellow crumbs on a kitchen countertop. Now, imagine some crumbs of that same size on an asteroid, hurtling through the galaxy. Suddenly, a planet looms in the asteroid's path.
There's a crash. The yellow crumbs are scattered. And if they happen to land near water, those crumbs suddenly become something much bigger – life on another planet. Life on Earth, even.
Sound like science fiction? A team led by Kevin Sowers, a professor of marine biology at UMBC, says that there's more science than fiction to the scenario. Those little yellow crumbs are real: dried-out versions of Methanosarcina barkeri, a methane-producing bacterium. In research funded by NASA, Sowers and his colleagues have found that the bacteria can remain in their dried-out state for at least 25 years and, who knows, possibly more.
"These bacteria have innate ability to survive extended periods of desiccation," says Sowers. "And when they're in that desiccated state they can survive in what would normally be lethal conditions." Sowers and his team propose that this ability is a type of survival mechanism.
To determine the bacterium's survival time in the air, which is normally toxic to such microorganisms, Sowers and his team removed the water from the bacterial cells, exposing them to conditions that simulated the driest known conditions on Earth. Researchers discovered that the bacterium could survive for 30 days in the air with negligible loss of viability.
Then, says Sowers, "I knew I had some 25-year-old desiccated cells of Methanosarcina thermophila [closely related to M. barkeri] in the lab, so once we developed the method for quantifying survival with freshly dried cells, I included the old material."
Sure enough many of these cells also came back to life when rehydrated. "That experiment," says Sowers, "enabled us to look at the long-term survival of cells." Unfortunately, he adds, "I cannot take credit for planning the experiment 25 years ago."
Sowers and his team think that the prolonged survival of these cells in a dried-out state, which could occur in environments such as drained rice paddy soils, might allow the bacteria to travel long-distances here on Earth. "Soil can be picked up by the wind," says Sowers. "We actually have these atmospheric winds that distribute microorganisms from one continent to another."
And space travel? Sowers says that such desiccated bacteria could possibly be carried on an asteroid to another water bearing planet, such as Mars, where they might survive. Researchers think there is water below the surface of Mars, and in theory, these bacteria would be able to survive the dry periods.
The next step in Sower's research is to examine which genes are important for the cells to survive being dried out. Sowers and his team already know that these bacteria undergo cellular changes that prepare them for the transition from a hydrated to desiccated state. "We want to find out what the actual mechanisms are that allow these organisms to adapt and survive in that state," says Sowers.

— Nicole Ruediger
Image: NASA/JPL-Caltech
A LOT TO LEARN
Ask Richard Blissett '11, bioinformatics, about the vacant lots that blight Baltimore and other cities, and he argues that enlisting an army of "superhero" volunteers to swoop in, clean up, and swoop out is not a sustainable way to revitalize them. The real long-term solution, he says, is for local youth to explore these sites as assets and transform them to meet community needs.
During a one-year AmeriCorps VISTA position with stepUP! Baltimore, supported by UMBC's Shriver Center, Blissett created a service-learning curriculum at South Baltimore's Ben Franklin High School to put this message into action.
First, Blissett taught his students about factors leading to vacancy and disinvestment in Baltimore and the health and environmental issues that affect neglected properties. He then asked them to imagine how they could turn vacant lots near the school into vibrant community spaces.
Blissett's path to the classroom was far from typical. On his way to earning a bioinformatics degree at UMBC, Blissett says, "I came to the slow realization that every job I've had and enjoyed—where I've taken the initiative to do things myself and felt like part of who I was as a person was going into it—was within education."
With the help of the Shriver Center, he began working in local schools. Before long, he created his own service-learning initiative: Major Inspiration. The program teaches K-12 students about the diversity of university majors and career paths.
Teaching also led Blissett to see bioinformatics as a tool to formulate best practices in education policy. "It's about how to use data efficiently, effectively, and purposefully," he says. His blending of quantitative training and classroom experience helped him earn a spot in Vanderbilt's International Education Policy and Management doctoral program for the fall.
But before he gets to Tennessee, Blissett is finishing what he started on Baltimore's vacant lots. As with any new program, there have been challenges. Translating student interest into engagement was harder than he imagined. And a change in the high school's overall schedule reduced the number of students in the program and shrank the window for accomplishing their work.
Unsure if they'd be able to finish by the end of his AmeriCorps term, Blissett encouraged students to partner with community groups that could propel the project forward – including Civic Works, United Way of Central Maryland and the Parks & People Foundation.
Blissett also brought students to speak at the Greater Baltimore Children and Nature Conference, and he calls their presentation one of his "proudest moments" in the program.
He says the audience feedback – serious questions and recommendations – was particularly valuable. "It means something when it's coming from me," he shares, "but in the end they see me as their teacher. When they are hearing it coming from other people, it really sinks in."
The seeds Blissett has planted are blossoming now. His students have begun engaging their neighbors in the project. They are even talking about adopting additional vacant lots.
"I think consistently keeping them connected to people from the outside reinforces that this is not just a small school project that they are going to do now and then forget about later," Blissett says. "It's something people are going to remember."
— Dinah Winnick