Students come to UMBC for many reasons—to find community, to explore a passion, to make change in the world. Once they figure out the "why" that truly drives their interests, the Retriever community is ready to kick in with the "how" to help make those plans a reality. Part of that looks like the traditional classroom experience with a professor, of course—but just as important are the experiential-learning moments that help many students actively connect the knowledge to careers they hope to pursue after graduation.
UMBC students pursue applied learning in huge numbers. Despite the pandemic, nearly 80 percent of our recent graduates engaged in applied learning, including internships, research, co-ops, and service learning during their time at UMBC. An impressive 91 percent of new grads head directly to a job, advanced degree, or both within six months of graduating—and of those, more than half interned or worked for their employer as a student.
"When it comes to impact, there is nothing more valuable than engaging in applied-learning opportunities to help clarify one's career direction, build professional skills, and increase one's professional network," shares Susan Hindle, the Career Center's assistant director of internships and employment.
For students pursuing experiential learning through internships, campus jobs, research, and community engagement, it's not just about learning how to do the thing they want to do. It's about connecting the work to the passions that brought them to UMBC in the first place. These students and alumni working in their chosen fields tell the whole picture—what hands-on learning looks like when it comes full circle.
Essential connections
The desire to help people comes from deep within. But knowing how to do it successfully on a large scale—and understanding the systems and politics that can make the job more or less challenging—takes more than just compassion.
On the morning of the monthly food delivery from the Maryland Food Bank, the brigade of students who keep the Retriever Essentials food pantry running see all sides of the work. Together, they unload and shelve staples like rice, pasta, and huge crates of broccoli for the more than 2,100 visits to the pantry so far this year. At the same time, they connect with community members to understand what might make life better—halal meats, for one; more campus job opportunities, another biggie—and then put their heads together to try to make those changes happen.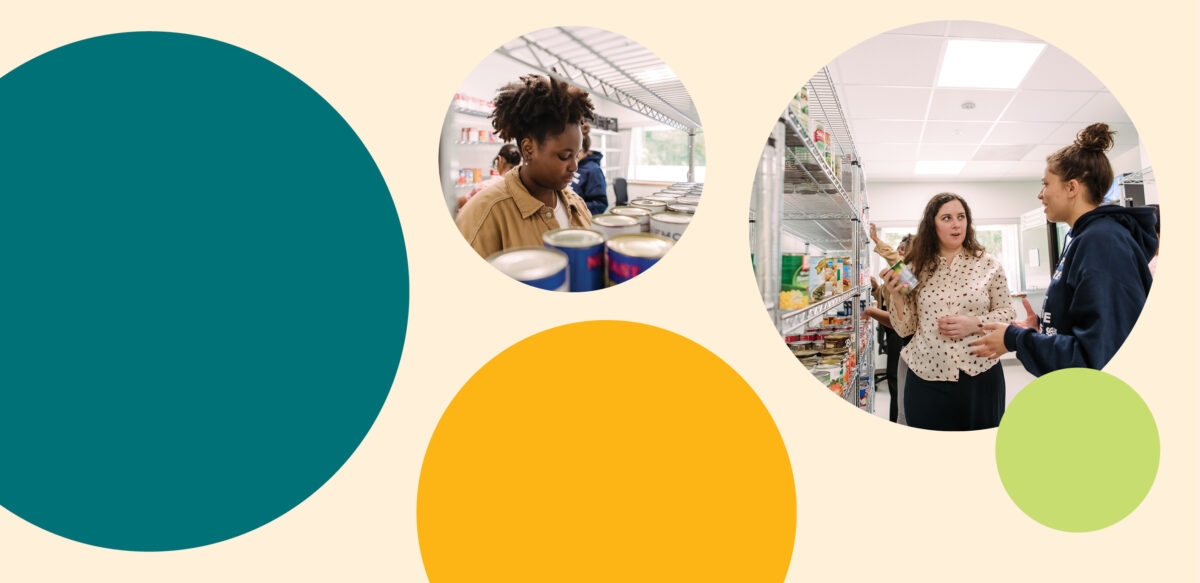 For Ariel Barbosa, a grad student in UMBC's community leadership program, working in this space is part of a journey that started with her trying to understand her Brazilian father's immigrant experience better. As she works with Retriever Essentials, she's learning about the complexities of these experiences in a way that will help her as she carves out a career in service.
"There are so many signs showing me that I'm supposed to be right here, right now. I feel like I'm preparing," she says. "Right now, I feel like I'm in a confidence-building, skill-building phase where I'm just trying to pick up as many skills as I can to be able to create what I feel I need to create at the right time."
As a student, Matthew Dolamore '08, modern languages and linguistics, caught a first glimpse of what would later become a service-based career when he tutored Spanish-speaking clients for an immigration services office in Baltimore. After graduating, he went on to serve with AmeriCorps and the Peace Corps and earned a master's degree in community planning before pulling all of those skills together into a full-circle career in Baltimore.
Today, Dolamore is program director for the Esperanza Center, a project of Catholic Charities that assists more than 3,000 individuals each year with walk-in immigration services, including healthcare, legal assistance, and education tools. Dolamore serves as a connector between people and solutions, helping people get what they need when they need it and looking for ways to help improve the system.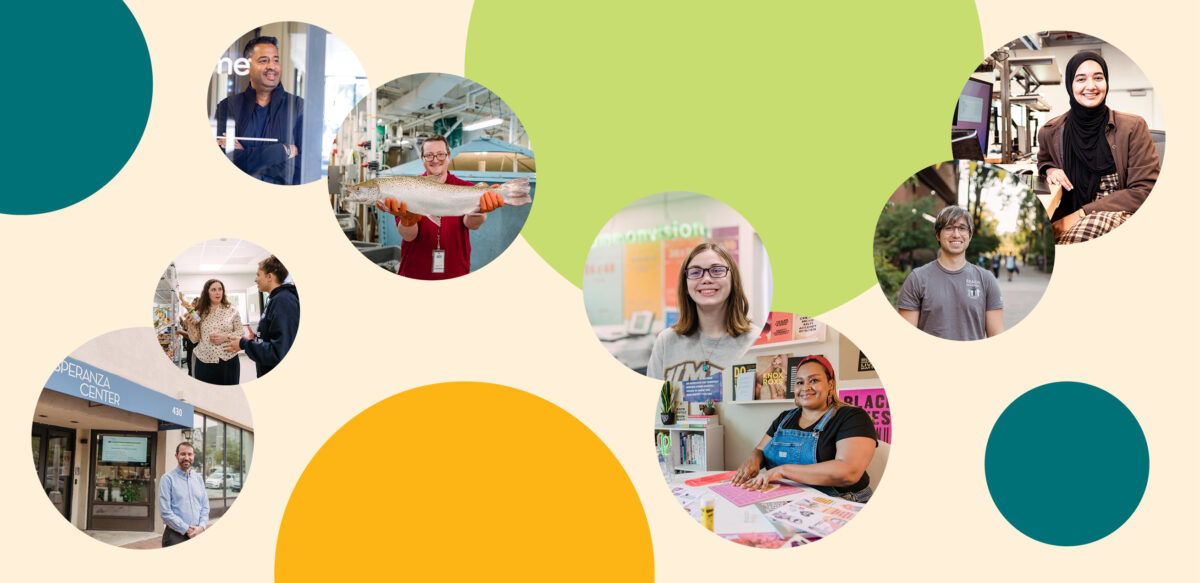 "Among our managers we have a nurse practitioner, a managing attorney, a licensed social worker, an individual who got their master's in teaching English from UMBC, and a woman who oversees our one-touch client services desk who's a former immigrant and just has a really dynamic background. And just those five people alone is symbolic of what I love about my job," says Dolamore.
"I'm not a medical professional. I'm not a legal professional. I'm not a social worker. I'm something myself of a generalist nonprofit manager at this stage in my career, but I get the opportunity every day to come in and out of these really focused professional engagements and try to help all five of them think of each other as teammates, and that's the part of my job I really enjoy."
Lydia Sannella, a Peaceworker and grad student in applied sociology at UMBC, also enjoys the organizational aspect of her job with Retriever Essentials. As she looks ahead to her post-academic career, she's already thinking about how she can continue to marry her values with her career—knowing that it won't likely be quite the same as what she's experiencing at UMBC.
"I find that, whenever we want to do something, there are supportive, knowledgeable experts who want to help," she says. "There's just hoards of students who want to be involved and engaged and do any variety of work, from physical lifting to technical projects. And it's just this canvas for creativity and possibility. It's very reciprocal. What I'm able to contribute ends up being more significant and then what I get ends up being more significant."
— Jenny O'Grady
Becoming part of the solution
Students come to higher education for a variety of reasons, and among them, many have the goal of learning to create new things—from innovative water-quality solutions to entire companies. For many students, in fact, learning while doing is an integral part of going to college.
If you ask Premal S. Shah '98, biochemistry and molecular biology, however, he'll tell you that there's a world of difference between learning while doing and learning from doing.
That's not to say that Shah, who earned a Ph.D. from the California Institute of Technology on his way to founding and leading a string of successful healthcare-related companies, doesn't believe in academics. But from his vantage point as CEO at MyOme, a genomics firm based in northern California, classroom-based learning is only a part of the puzzle.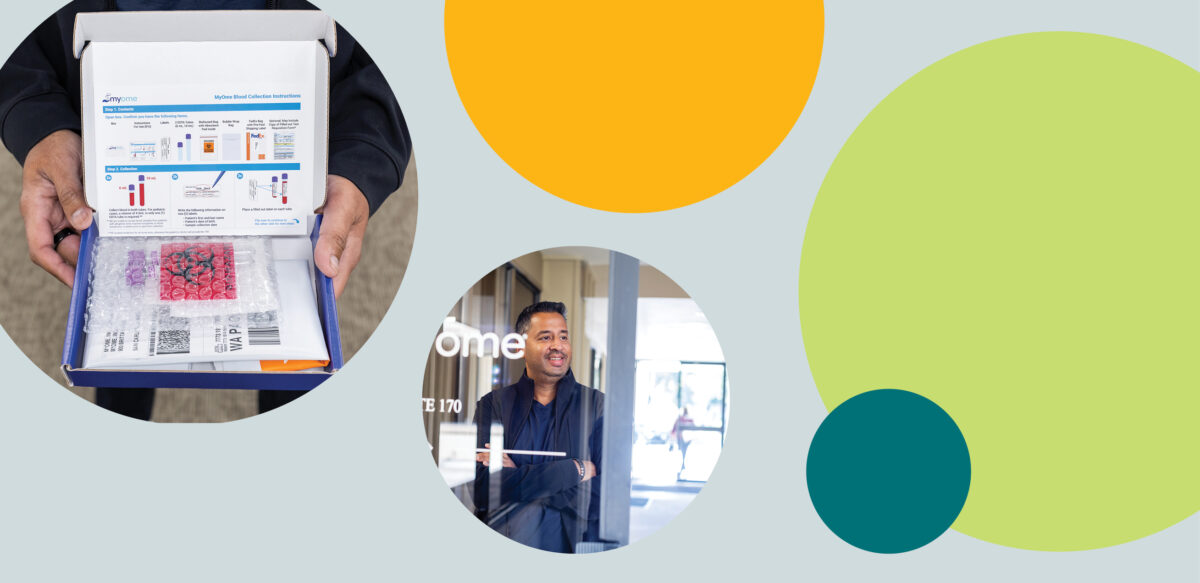 Shah said he's always had a practical streak, but he found out how much experiential learning can boost classroom learning thanks to a hands-on internship and fellowship at the National Institutes of Health, beginning while he was a student at UMBC.
"When I got to grad school, there were a lot of people who hadn't really worked in a lab or done stuff," he said. "I had a huge head start, just because I was able to pick up a pipette and actually use it. I knew what a DNA extraction protocol was. I knew how to use certain machinery."
It was a vivid object lesson—one Shah has carried forward into his career. "When you start building companies, there's always that challenge…of analysis paralysis, right?" he said. "There's a notion of, 'We could do this or that. Let's read and learn more or get additional inputs in search of the perfect answer.' Or we can actually go build something that will benefit people and iterate even faster as we learn more to make it much better."
That's the big difference between studying science and, for example, running science-based companies, Shah says: "The hypotheticals are great. The theories are great. But you've got to get [things] done."
Getting things done is Matt Stromberg's perennial modus operandi. Being a Ph.D. student studying environmental engineering means he is very much both an environmental scientist—someone who studies environmental problems—and an engineer: someone who works to solve those problems. "I always knew I was a passionate environmentalist, but I also knew I liked to build things," he said.
In fact, Stromberg, who graduated in 2019 from the University of Virginia with bachelor's degrees in both environmental engineering and environmental science, is a literal embodiment of learning while doing. Working as both a graduate research assistant and a researcher in the jointly run University System of Maryland Institute for Marine and Environmental Technology (IMET), he sometimes finds himself simultaneously running experiments and keeping the experiments running.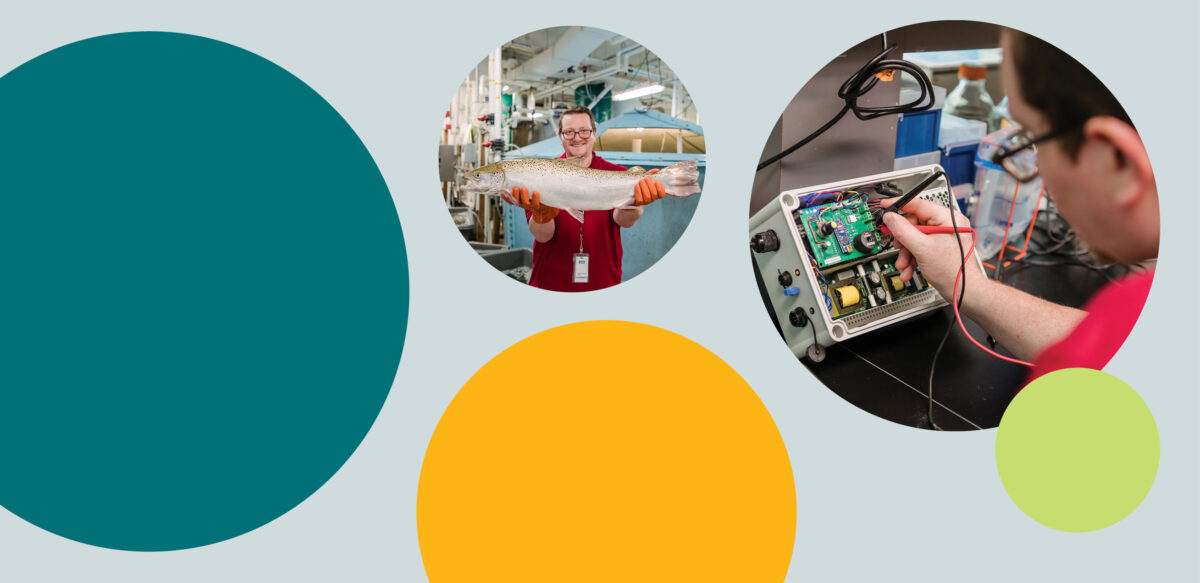 A few months ago, Stromberg said, the night before an experiment was scheduled to start, a pump failed in IMET's Aquaculture Research Center, a 1,800-square-meter facility with hundreds of fish tanks.
"It was a large pump, and it needed to be replaced—and it was eight o'clock at night," Stromberg said. "I had already worked 12 hours that day, [but] I realized that there's no way this experiment is going to run if I don't have a pump tomorrow. So…I got the wrenches and I got all the fittings I needed," and found a way to fix it.
Stromberg's ability to save that experiment is part and parcel of his approach. One of his main research projects is unclogging a major bottleneck that prevents more farm-raised fish from getting to market: purging them of an unsavory flavor that's sometimes characteristic of fish that aren't caught in the wild. As Stromberg put it, "You're not going to sell the fish if it tastes like dirt."
That's a problem not only for aquaculture companies—which have to use lots of water, time, money, and energy to purge the fish of this taste—but also for the planet. That's because the only alternative to aquaculture is fishing in the wild, which can destroy ecosystems but is still cheaper than aquaculture, due to the expensive purging process.
He's working with advanced oxidative processes and a technology of his own that would effectively create a shortcut, making it more cost-effective to farm fish and thus helping to protect wild habitat in the process. And Stromberg aims to eventually put his Ph.D. to work in a similarly practical way: His goal is to create a company that performs chemical analysis and remediation of water contaminants.
"I've learned a lot from my time here," he says. "Especially not to over-engineer things!"
— Scott Cech
Community-centered art
Visual art is all around us—in flyers, television commercials, and even clothes. And while many of us may never know the artists creating work behind the scenes, their lives and experiences certainly do shape their work.
For instance, earlier this year, Jennifer White-Johnson '08, visual arts, designed a collection for Target's national Latino Heritage Month campaign, including a tumbler with stacked text reading sonando vivamente vividly dreaming and a T-shirt proudly proclaiming piel canela pelo rizado (brown/cinnamon skin curly hair). As a disabled, neurodiverse, Afro-Latina designer from Baltimore, White-Johnson sees her inclusion as an opportunity to highlight and provide a voice to communities that often aren't heard or represented.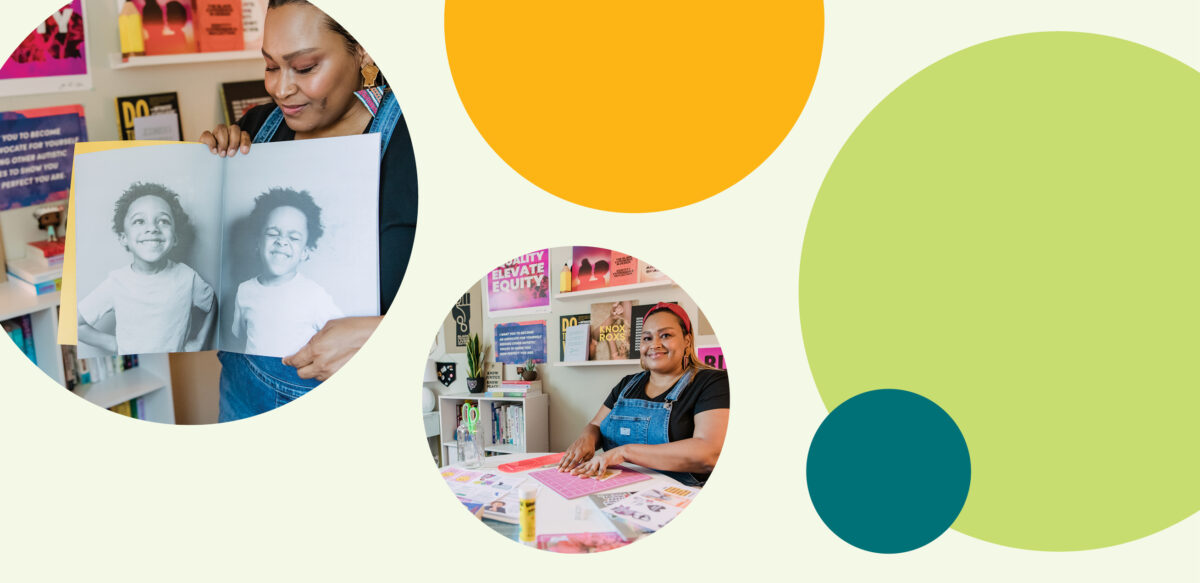 "I am really honored to have been chosen and included in this year's Target Latino Heritage Month collection and campaign," says White-Johnson. "Using art and design to celebrate and elevate my cultural stories, the strength, and legacy of my ancestors, felt like something that was meant to be!"
Living with undiagnosed ADHD as a student, White-Johnson often felt like her intensity, excitement, and point of view were unwelcome or just too much. That changed when she transferred to UMBC, where she immediately felt at home. In particular, her time as director of promotions for the Student Events Board [(seb)] gave her her first taste of how graphic design could marry with communit-ycentric work.
Working closely with the Office of Student Life, White-Johnson and other members of (seb) volunteered during an alternative spring-break trip to post-Hurricane Katrina New Orleans. White-Johnson also designed the T-shirts.
"This was in 2007, so we could help offer some sort of relief from Hurricane Katrina," says White-Johnson. "It was life-changing because I was able to surround myself with other like-minded scholars that were serious about academic life but who also understood that school is about self-discovery."
Enter Patch Hatley, a sophomore visual arts major with a concentration in animation. Fresh from a session learning how to create stop-motion animation puppets from paper, she is excited to test out some of what she's learned on the job at commonvision, the student-driven print and design center in The Commons. On any given day, one might find her working on anything from animating cute countdowns for student activities to designing stickers.
"I'm always constantly learning in an environment like commonvision," she says. "Each new skill helps transition to the next project, and each project creates new and exciting opportunities. You're always surrounded by a team who are all community-driven, so I always feel like I can ask for help or constructive criticism. commonvision supports, drives, and motivates me to keep reaching for the stars and will always be an important part of how I've grown—not just as an artist but as a team player."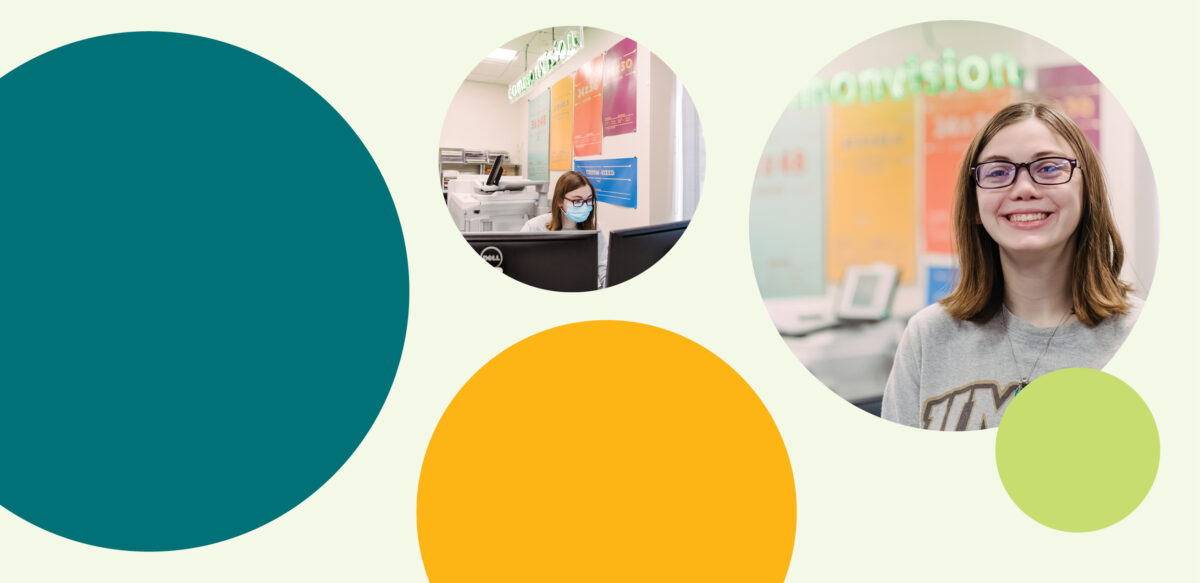 Hatley finds work at commonvision particularly helpful because it stretches her creative muscles and opens up her craft to new programs, tools, and mediums, and also because other creators surround her. After spending a decade in animation and illustration before becoming a Retriever, Hatley loves the opportunity to expand her craft in a place that has fostered the foundation for budding designers for years—and getting to bring her personal perspective into work for clients.
"At the end of the day, you're drawing for yourself and for the people around you whether you realize it implicitly or not," says Hatley. At the core of both artists' practices is community. Both White-Johnson and Hatley recognize that their art doesn't live in a vacuum but exists as a letter of inspiration, solidarity, and encouragement to their respective communities. Both artists, years apart in their practice, found similar communities to nurture and invest in them.
"Being given the space to bring visibility to themes of cultural intersectionality, specifically the parts of our natural beauty that aren't always celebrated, our caramel brown, cinnamon skin, and our natural curls," says White-Johnson. "I hope my work can culturally inspire others to center what they want to see more of."
— Sharéa Harris
Taking experiential learning to the next level
Developing high-level skills in a highly technical field like computer science is difficult enough. But the ability to both master and successfully teach those skills to others takes the challenge to a whole new level.
Fortunately, Amina Mahmood and Zach Margulies thrive at that level. With their dedication to passing along computer-science knowledge, these Retrievers amply demonstrate that doing while teaching and learning while doing are just different parts of the same equation.
As Mahmood '21, computer science, tells it, she started learning while doing quite literally. Just weeks into her first year at UMBC, Mahmood found herself working 20 hours a week as a junior malware analyst at Huntress, a cybersecurity firm that was then still in the startup phase at the bwtech@UMBC Research and Technology Park.
"I didn't really have any experience, but I was pretty ambitious, so I learned everything on the job," she said.
Mahmood, part of UMBC's Cyber Scholars Program, quickly learned how to run different types of malware on a virtual machine, dissect the particulars of each, and create mitigation reports. The nascent company's culture also helped boost her confidence. If she ran into a problem, she said, the people she worked with were glad to bring her up to speed.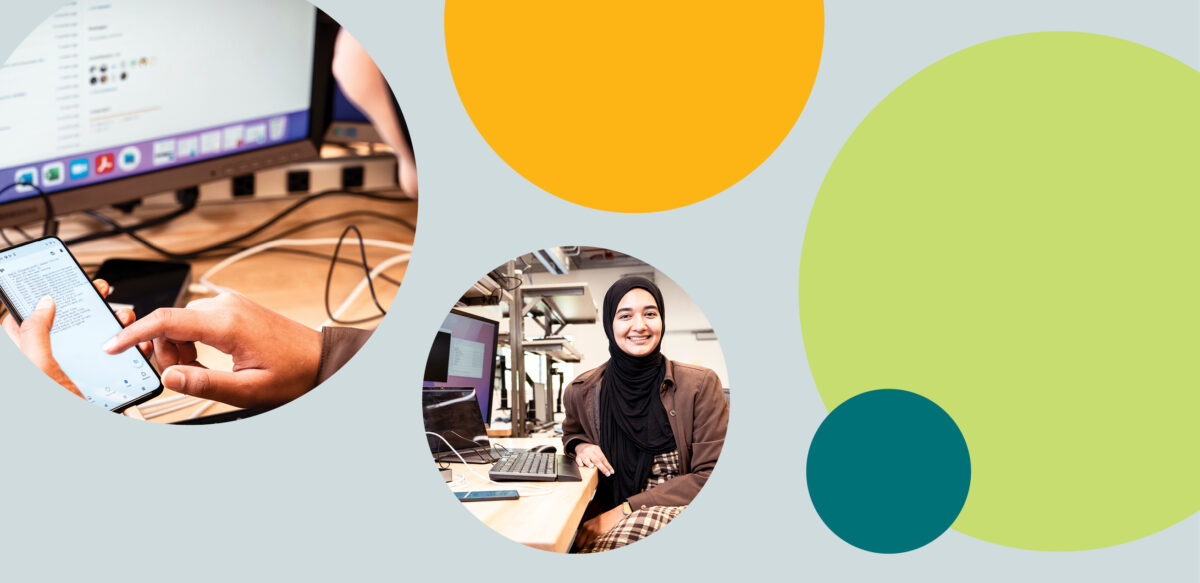 "It was just like, 'Oh, you don't know this—let me teach it to you.' And then I picked up on it and then I was like, 'OK—I can do this,'" Mahmood said. Mahmood was quick to apply such on-the-job learning to her academics, even persuading an academic advisor to allow her to add her to his overenrolled, graduate-level software reverse-engineering course at the same time she was enrolled in an undergraduate prerequisite class.
Mahmood not only aced the graduate-level class, she also started using what she had learned to complete the experiential-learning cycle at her new part-time job at Parsons Corp., a technology-focused defense, intelligence, security, and infrastructure engineering firm.
"One of my mentors at Parsons—he really supported me, and he said, 'You know a lot about reverse engineering. Why don't you just make a course and teach coworkers?'" That's exactly what Mahmood did— and now does for new summer interns as a full-time reverse engineer at the Johns Hopkins University Applied Physics Lab.
Recently she found herself completing the circle, coming back to UMBC for the same kind of career fair where she'd found her first job as a first-year student. "But [this time] I didn't go as a student," she noted. "I went as an employer."
Margulies '14, biological sciences, is completing his own trajectory: Nearly a decade after earning his first bachelor's degree, he has returned to UMBC to earn a bachelor's in computer science and a master's in education, with the goal of teaching computer science to Baltimore high school students when he graduates in 2024.
Margulies started his career pivot before diving back into academics immersing himself in on-the-job data science and programming—including a Maryland Institute for Innovative Computing internship at the Maryland Department of Health after starting in the computer science program. Because of this, he's able to pursue his studies with a greater sense of perspective.
"I feel like it inspires confidence and it builds your self-esteem, taking what you've learned in the class and not even a semester later applying it in a real-world setting," he said.
Margulies noted that, as a teacher, he'll also be able to fully address high schoolers' perennial classroom question: 'When am I ever going to use this in real life?'
"It's really important for teachers to know what the practical application of [schoolwork] is going to be and what working in a computer science job will look like," he said.
A case in point, Margulies said, was the work he did as part of a Maryland Department of Health internship last summer, reviewing and finding improvements for data collection, including the creation of a data dashboard.
"Last semester, I took Computer Science 201, and we learned the programming language Python, and I really wanted to start applying that language at the internship," he said. Because he'd had both practical experience and formal training, Margulies said, he was able to see that he'd have to adapt what he'd learned to suit the task at hand.
"[I had] to figure out a way that I could take Python and apply it to developing the database because that's not something we necessarily learned in the class," he said. "I had a lot of fun taking the thing that I learned academically and not just applying it, but also taking it to the next level."
— Scott Cech
Tags: applied sociology, Biochemistry and Molecular Biology, Biological Sciences, Career Center, commonvision, community leadership, Computer science, environmental engineering, Fall 2022, MLL, peaceworker, Retriever Essentials, visual arts