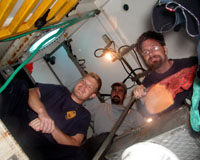 "UMBC's 'Aquamen' Return From Undersea Adventure"
UMBC's own aquamen, biological sciences professor Tom Cronin and graduate student Alex Cheroske, have returned from an undersea adventure as part of the crew of Aquarius, the nation's equivalent of an underwater space shuttle. The two represented UMBC as part of an eleven-member team studying the unique vision and behavior of marine life off the Florida Keys.

For Cronin, the director of UMBC's Marine-Estuarine and Environmental Sciences (MEES) graduate program, it was another mission in a long career of underwater exploration around the globe and the continuation of ongoing research.
Cronin led a 1999 Aquarius mission, but this time he stuck to the surface team, giving up his underwater spot to the younger Cheroske, effectively passing the torch of UMBC's small but talented MEES department to a new generation.

Cheroske and Cronin studied how the fast and powerful mantis shrimp communicate and see. Cronin's research findings on the animal's unique, tunable color vision system were recently published in the distinguished journal Nature.
At a depth of 63 feet in a sand patch off the Florida Keys, Aquarius is roughly the size of a large Winnebago and features all the comforts of home: six bunks, a shower and toilet, instant hot water, a microwave, trash compactor, a refrigerator, air conditioning and computers linked to shore by wireless telemetry.

There are more adventures ahead for UMBC's aquamen: Cronin will soon head off for 10 days of underwater research in the Red Sea off the coast of Israel, and then head to Australia. There, Cheroske will join him for further study of marine animal vision and polarization signaling in a shallow reef ecosystem.

Read more about the Aquarius project in Insights.