Maryland Historical Society to launch year-long display of quilts by Mimi Dietrich '70, American studies
When Mimi Dietrich sews, the corners of her mouth form a soft, confident smile as she pieces together scraps of the colorful fabric in her lap. On the walls of her Catonsville home hang years of quilting work made during moments like this – intricate swirls and complex geometries of color and texture – that tell her stories and the stories of her hometown, Baltimore.
On the middle finger of her right hand, she wears a tiny silver thimble in the shape of a bee – an apt companion for a woman who for more than 30 years has taught thousands of students and written 17 books about her art, garnering national audiences and acclaim. And the buzz about her quilting continues to grow just as fast as she can stitch.
This March 23, in celebration of Maryland Day, the Maryland Historical Society will launch a year-long retrospective of Dietrich's work at its Baltimore headquarters. Titled "Hometown Girl," the show dives deep into her decades-long quilting career, with an emphasis on her Baltimore album quilts, a style of appliqué quilt made popular in the 1840s and 1850s.
"To me, it's just so unbelievable," says Dietrich '70, American studies, who in 2013 was named Teacher of the Year by the International Association of Professional Quilters and in 2015 was inducted into the Quilters Hall of Fame. "I'm just so excited."
INTERPRETING HISTORY
Among Dietrich's works to be shown are an array of scenes that peek into modern and historic Baltimore life. Some of the more traditional quilts feature baskets, wreaths, and flowers popular to the album quilt style. Yet others push the limits a bit more. Her 1981 Baltimore: Through a Glass Brightly features a rainbow gradient skyline, complete with the Bromo Seltzer tower, the Constellation, the Baltimore Shot Tower, and other buildings framed by the state flower, the Black-Eyed Susan.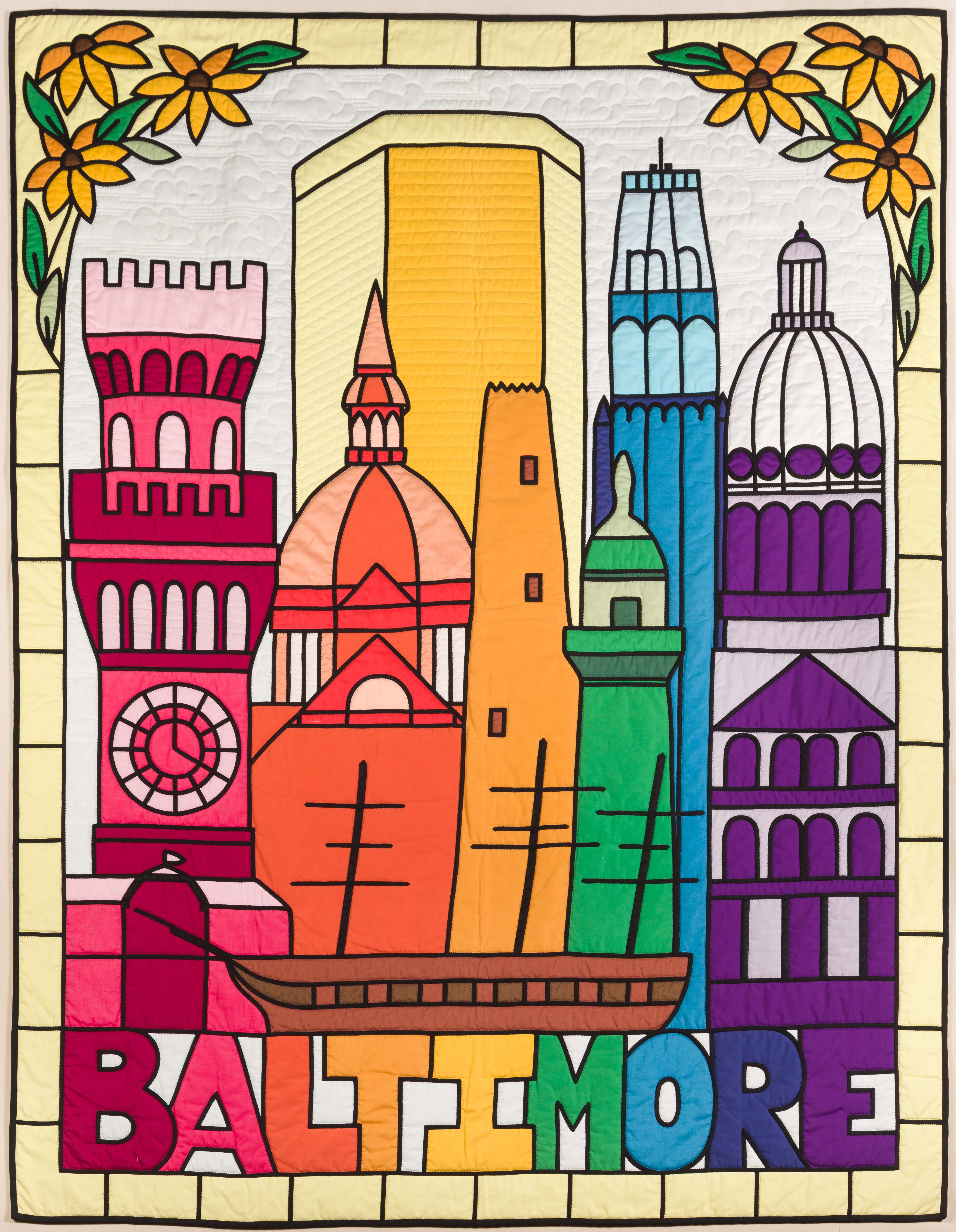 In another, Baltimore Hon, from 2012, a blonde with a beehive and cat-eye glasses peers from within a scene of flowers, crab cake – that is, a birthday cake with a freshly-steamed crab on top – and a flamingo garnished with shiny pink buttons and three-dimensional fluffy feathering. Beneath her feet, careful script declares: "There's no place like home, Hon!"
Dietrich's work was a natural fit for the Maryland Historical Society, where she has volunteered in various capacities over the years.
"Mimi is … one of the finest quilters in the state as well as the nation, and, to me, her work embodies MdHS's mission to interpret the history of Maryland. She loves Maryland, particularly Baltimore, and stitches that love metaphorically and aesthetically into the quilts she creates," says Alexandra Deutsch, vice president of Collections and Interpretation at the Maryland Historical Society.
"Her legacy as a teacher is also extraordinary. For more than 30 years, she has been sharing her knowledge, skill, and passion for appliqué with hundreds of quilters from novice to expert."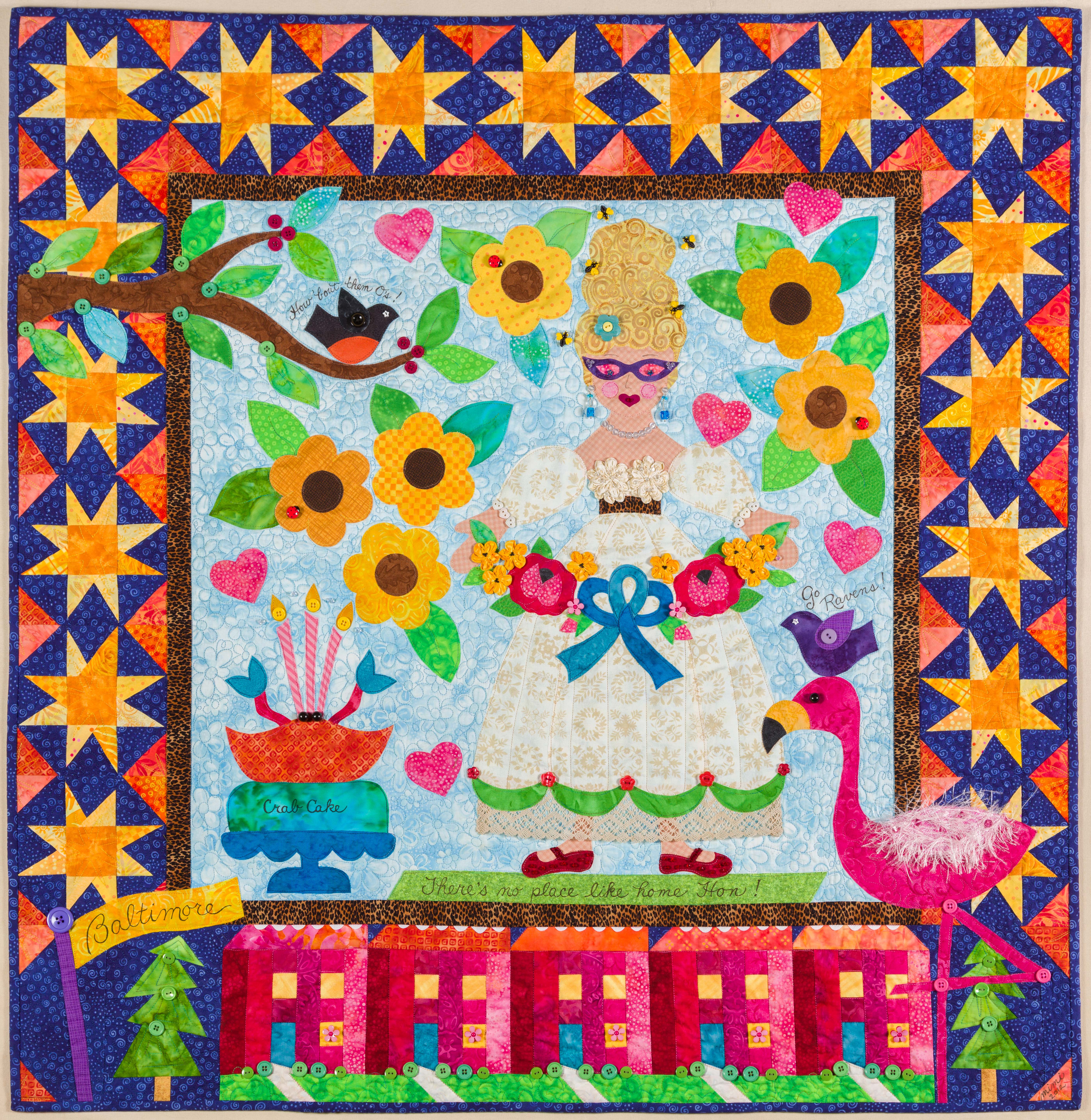 LEARNING AND TEACHING
Dietrich made her first quilt in 1974, when she and two friends were pregnant with their first children. (She wound up making a sweet quilt of blue and yellow.)
"I've always loved sewing, and I figured if I could sew, I could quilt," she said. And it was true. As the nation caught Bicentennial fever, the preponderance of flag and celebration imagery – as well as interest in national history – took root in her own work. As she learned to quilt with friends, she quickly became a local expert in the traditional (and Charm City originating) album quilt style.
In 1983, she and fellow alumna Laurie Griffith Gregg '95, visual and performing arts, formed their first guild, The Village Quilters. The group, which has grown to more than 120 members, still meets today, bringing artist speakers, antiques dealers, and fellowship to the area's quilting enthusiasts. They also volunteer their time regularly to groups like the Linus Project and Quilts of Valor, which make quilts for babies and veterans, respectively.
Dietrich has also built a professional life around her art, teaching classes regularly in Maryland and around the world while building a loyal following for her popular instructional books. As a teacher, she's known for her creative spirit and generosity.
"Mimi wants her students to have fun while learning to quilt," said Gregg, who met Dietrich in 1972 when they were both working at the former Stretch "n" Sew Fabrics in Catonsville. "She shares everything she knows with her students, while encouraging them to 'do your own thing.' … She has a large following of loyal appliqué quilters. Every student in her class, actually every person she meets, considers Mimi their friend. Mimi is as friendly and down to earth as she was at the very beginning of her quilting journey."
RETRIEVER ROOTS
Considering the tight community she has built among fellow quilters, it's no surprise that Dietrich also maintains close ties to her alma mater. She and her husband Bob Dietrich '70, biological sciences, serve as consistent volunteers, leaders, and athletic supporters. Stanyell Odom, director of UMBC's Office of Alumni Engagement, shared Dietrich's excitement about her upcoming show.
"I am so happy for her. Mimi has been a dedicated alumni leader for decades," says Odom. "From her leadership as a founding member of the Fab Four [graduates of the first four classes], to her avid volunteerism for many years with the Alumni Association Board of Directors, to her role in leading up several initiatives in celebration of UMBC's 25th and 50th anniversaries, Mimi has demonstrated her love and commitment to UMBC."
In 2018, the Alumni Association recognized Dietrich with the Distinguished Service Award at the 30th Anniversary Alumni Awards. "It was wonderful to celebrate her many contributions to the UMBC community," says Odom.
As for her successes and her upcoming show, Dietrich is excited but humble. Her friends, however, crow about her whenever they can. Gregg, for one, can't wait for the world to see Dietrich's work on display.
"It's about time!" says Gregg. "Seriously, no one deserves this more than Mimi. She is a very proud Baltimorean. Mimi's love for her hometown is expressed in her quilts… I'm thrilled that so many people will have the opportunity to see her exhibition."
* * * * *
"Hometown Girl: Contemporary Quilts of Mimi Dietrich," opens March 23, 2019, at the Maryland Historical Society, 201 West Monument St., Baltimore. A reception for Dietrich's year-long exhibit will be held Saturday, March 23, 2019, 2-5 p.m. For more information, visit the Maryland Historical Society.
Images by Marlayna Demond '11 for UMBC Magazine unless otherwise noted.