Meet Hope Weisman '14, psychology, M.A. '18, applied sociology, a Transfer Academic Advocate and member of the UMBC community for 10 years and counting. As a transfer to UMBC herself, Hope has found the perfect professional role for herself at UMBC's Academic Success Center. Thanks for sharing your story, Hope!
Q: Tell us about your primary why, and how it led you to UMBC.
A: I came to UMBC as an undergraduate student because it felt like it was the right fit for me. I was transferring from a local community college and I had never even been to UMBC. I did a campus tour with my mom and I knew from that moment that this was the environment I wanted to be in. UMBC checked all the boxes I wanted in a place of higher education. I wanted an environment that would challenge me academically and provide me with the tools and resources to be successful. As such, I took ownership of my undergraduate career and utilized the many opportunities for me on campus and continued my studies in the Graduate School. Now, as a professional staff member, I can definitely say I made the right decision applying to UMBC all those years ago. My life would be surely different without UMBC!
Q: How did you transition from transfer student to transfer advocate?
My world at UMBC is transfer related—all day, every day! As an undergraduate, I served as a Transfer Student Network Leader in Off-Campus Student Services (OCSS). I wanted to share my own experiences as a transfer to help other students with their transitions to UMBC. Now, I get to do that in a professional role as the Transfer Academic Advocate in the Academic Success Center.
Q: What part of your job do you enjoy the most and why?
A: As my title is 'Transfer Academic Advocate,' it is no surprise that my favorite part of the job is getting to work with our transfer students! I get to work with a population that is so near and dear to my heart to provide them with the resources and support so that they can achieve their goals and dreams, just like I did. I love getting to hear their stories and help them along on their UMBC journey. Getting to see them walk across the stage and have a huge smile on their face brings me so much joy.
Additionally, I enjoy the connections I have made by working with fellow campus partners together to best support our students. I also have to give a shout out to my fantastic team in the Academic Success Center who deeply care about student success AND have fun doing so!
Q: What's the one thing you'd want someone to know about the UMBC community?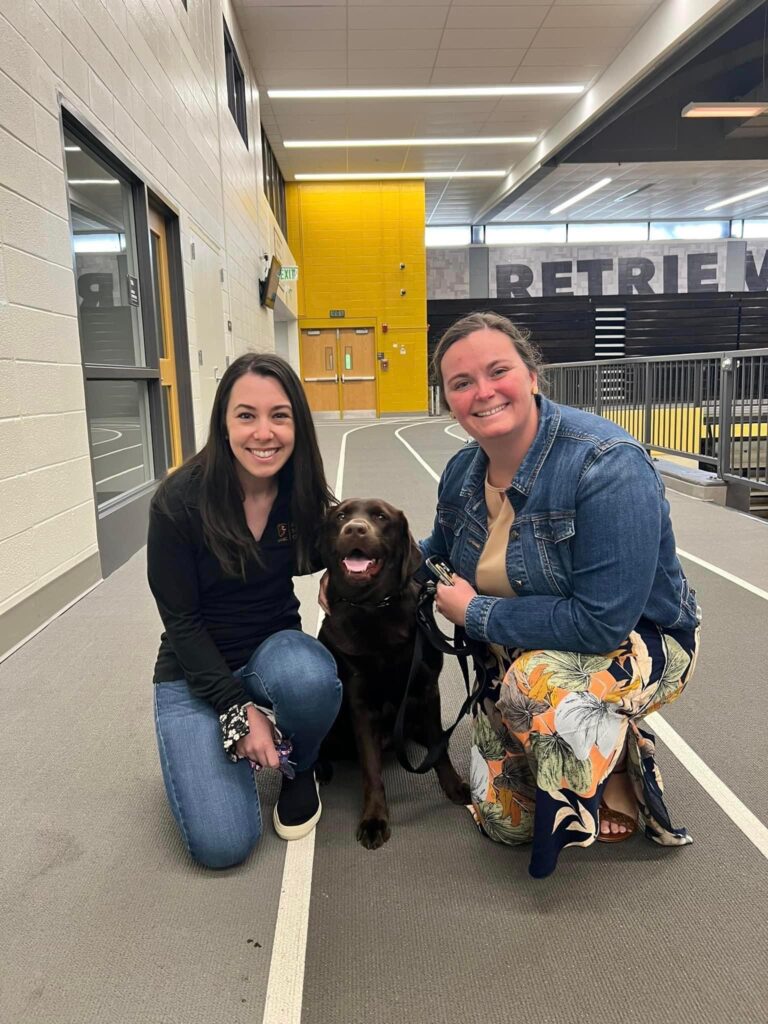 A: Relationships are everything at UMBC. From my own experience, I have gained some of the most incredible friendships (one of my bridesmaids!) and partnerships. I value relationships and partnerships that foster a supportive and collaborative community to best support our students.
Relationships are everything at UMBC.

Hope Weisman
I would also like to share that UMBC gives you the opportunity to grow. When I started as a student, I was very shy and introverted. However, I took the steps to come out of my comfort zone and try new things. For example, I signed up for a public speaking course and served as one of the Transfer Student Seminar (TRS) Peer Leaders. I wanted to become more confident and these opportunities have been helpful as I continue in my professional role.
Q: Tell us about someone in the community who has inspired you, and how they did it.
A: There are many people at UMBC who have inspired and supported me during my time here. Many of my former professors, supervisors, and colleagues have each fostered learning opportunities in order for me to grow and develop as a student and a professional staff member. I'm grateful for each person who has helped me get to where I am today.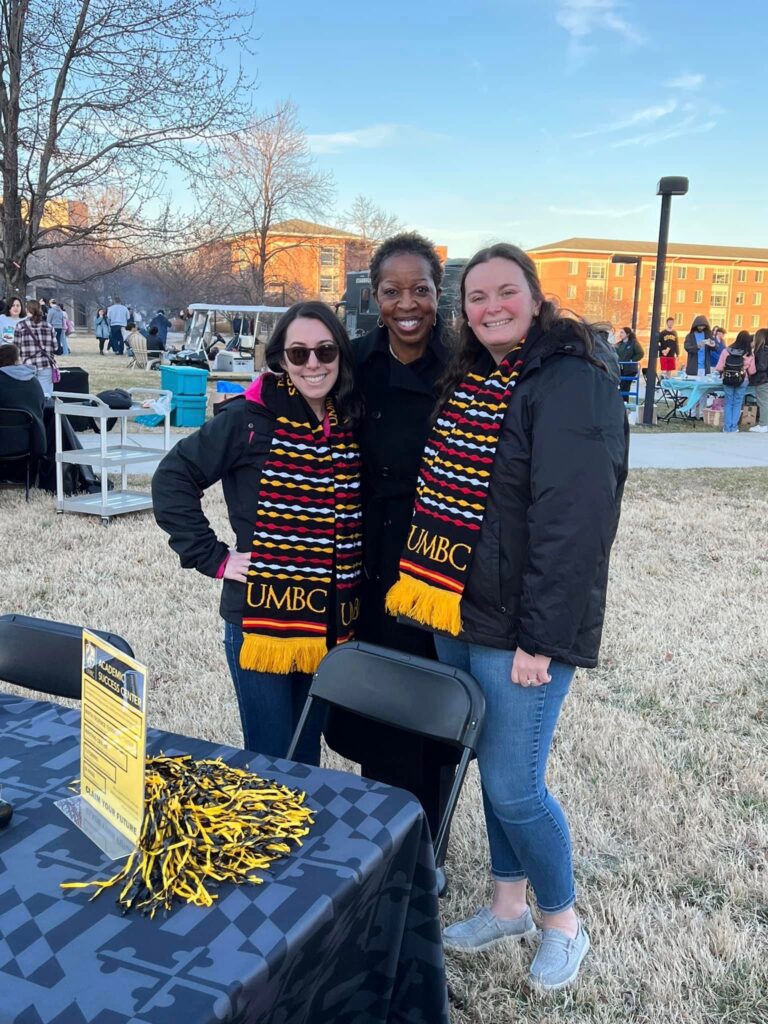 Specifically, I'd like to recognize two UMBC community members who have helped pave the way for me at UMBC. Christine Mair from the Applied Sociology Program advised me as a graduate student. Dr. Mair encouraged me to explore my own academic/educational interests, and always provided unwavering support during my master's program. Second, Amanda Knapp, associate vice provost and assistant dean, has provided endless guidance and support to me within the Academic Success Center. She has allowed me to grow professionally and has always believed in me. Most notably, Dr. Knapp always creates an environment where I feel supported and always pushes me to succeed. I am truly grateful!
Q: Are you involved in any campus organizations? Tell us about what you love about them!
A: This past year, I served as a mentee for the Professional Staff Senate. It was a wonderful experience and I enjoyed getting to have a mentor who was a fantastic support. I'm also involved in the Financial Literacy Education Committee which works to provide resources and educational tools for financial wellness—a topic that is of interest and importance to me having worked in the Office of Financial Aid and Scholarships! Additionally, I serve on many different transfer-related committees where we work together to create initiatives that will best support our transfer student population.
Q: What would you tell someone who is considering a career at UMBC?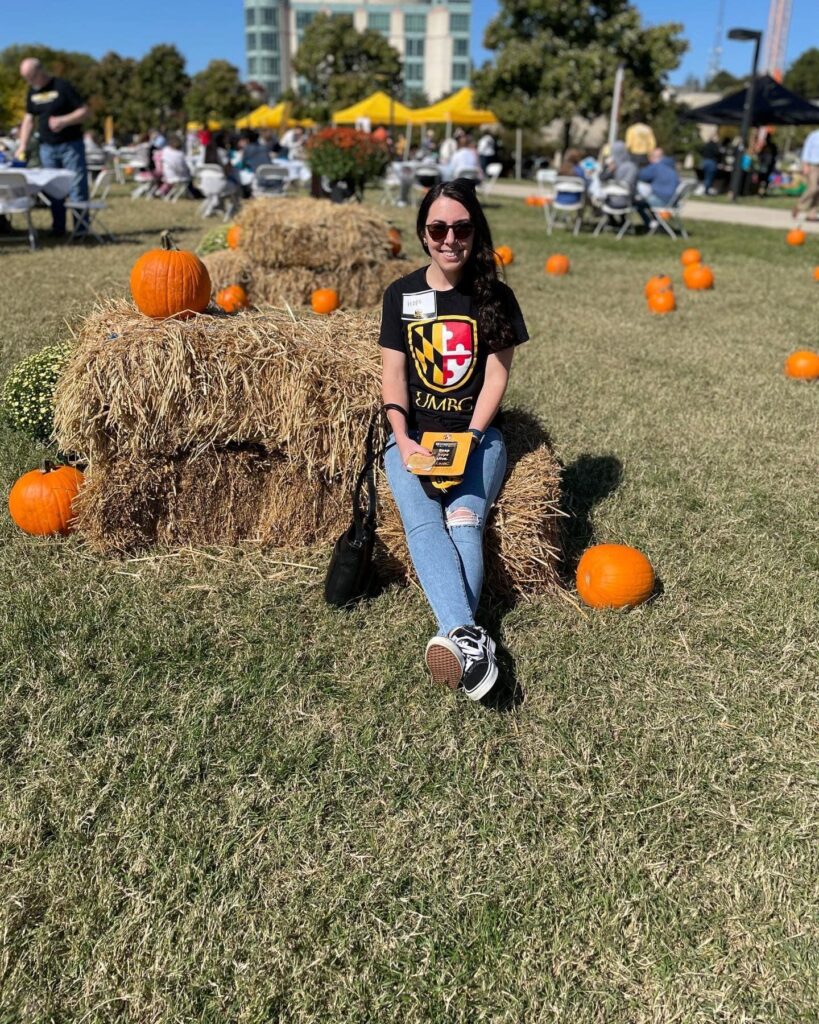 A: UMBC was a great place for me as a student and continues to be a great place to be as a staff member. I value the relationships and connections I have formed that continue beyond UMBC. I appreciate that every day is a brand new day and I have an opportunity to learn and grow within my role. I have been a part of the UMBC campus for ten years and I'm looking forward to what the future brings us!
*******
UMBC's greatest strength is its people. When people meet Retrievers and hear about the passion they bring, the relationships they create, the ways they support each other, and the commitment they have to inclusive excellence, they truly get a sense of our community. That's what "Meet a Retriever" is all about.
Learn more about how UMBC can help you achieve your goals.
Tags: applied sociology, CAHSS, Meet a Retriever, Psychology