Currently, Brian Souders is the associate director for global learning in the Center for Global Engagement at UMBC. But Brian, who came to UMBC in 2000 to be the university's inaugural study abroad coordinator, has worn a number of hats in his 20+ years as a Retriever. He's a two time alum (Ph.D. '09, language, literacy, and culture, M.A. '19, TESOL), and after years of helping faculty and students achieve their overseas learning and research goals, Brian recently took part in his own Fulbright exchange program. Take it away, Brian!
Q: What's one essential thing you'd want another Retriever to know about you?
A: I have been a global soul since my first international experience as a high-school exchange student in Finland several decades ago. That initial experience led me to a career in international exchange that has lasted more than two decades at UMBC. My UMBC path also led to doctoral work in the language, literacy, and culture program, as well as a master's degree in our TESOL program.
Q: Tell us about what you love about where you work.
A: I work in UMBC's Center for Global Engagement (CGE), and our mission is to support international opportunities for both our incoming degree-seeking students, our English-language learners, and our outbound study abroad students. Having been at the CGE for what I call a non-insignificant amount of time has allowed me to see just how much we have grown and changed to support the global learning aspirations of our UMBC community. 
Q: What brought you to UMBC in the first place? Tell us about your primary WHY, and how it led you to UMBC.
A: I came to UMBC because I was offered the opportunity to build a structure for UMBC students to study abroad. I had worked as a study abroad advisor at a Big 10 university for several years, but I wanted to take those skills and apply them elsewhere. In 2000, I saw a job advertisement to serve as the inaugural study abroad coordinator at UMBC in what was then called the International Education Services Office. I interviewed for and got the job. I moved to Maryland, and I have not looked back since!
I work with the UMBC community to put their dreams into words.
Q: Tell us about the people who are helping you grow at UMBC, and why their HOW made such a difference to you.
A: There are too many people to name! It was an honor to work with Arlene Wergin, the director of the International Education Services Office until her retirement in 2016. She was a constant source of professional and personal support during the initial years of my time at UMBC.
David Di Maria, our associate vice provost for international education, led me to dream big, when I transitioned away from education abroad administration to a role focused solely on my current work of fellowships advising with a focus on the Fulbright U.S. Student Program. Katie Heird, UMBC's inaugural director of study abroad and global learning, has been a partner in global collaboration for 15 years—and it was with her encouragement that I applied for my own Fulbright, which I received this year.
Q: What did you learn from your own Fulbright experience, and what did you bring back from that to offer to UMBC students and faculty?
A: Probably the biggest lesson I took from the seminar is that the German-American educational relation is a strong one—in spite of the differences in our educational systems. There are aspects of the higher education landscape that make for some challenges in semester-length exchanges, but there is an incredible enthusiasm among our German university colleagues and partners to host American students and scholars. I can happily tell our faculty and staff that Germany's institutions of higher education are beyond enthusiastic and welcoming to American faculty and students to come learn more about what their country has to offer.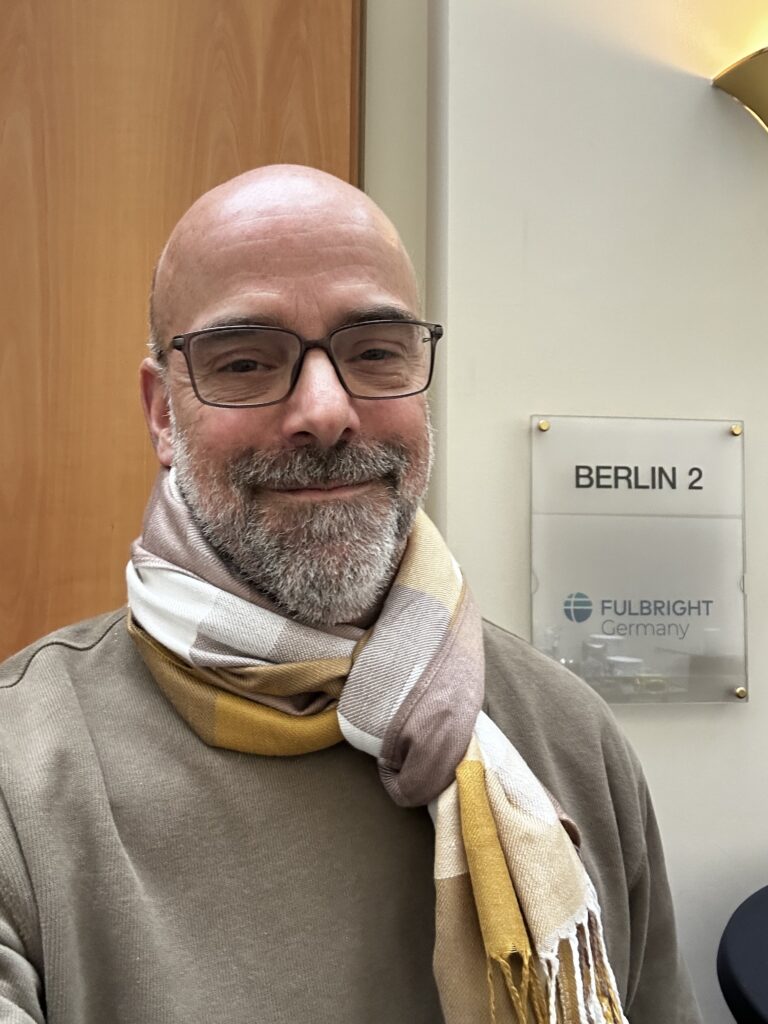 Q: What do you love most about your job?
A: I get to fulfill dreams. I work with both talented students and our amazing faculty and staff to find funding opportunities to go global. In my job, I work with the UMBC community to put their dreams into words. Working with the Fulbright Program—the largest educational exchange program sponsored by the U.S. Department of State—allows me the chance to help build future leaders in global affairs. Who wouldn't want to be a part of that?
* * * * *
UMBC's greatest strength is its people. When people meet Retrievers and hear about the passion they bring, the relationships they create, the ways they support each other, and the commitment they have to inclusive excellence, they truly get a sense of our community. That's what "Meet a Retriever" is all about.
Learn more about how UMBC can help you achieve your goals.
Tags: CGE, International, LLC, Meet a Retriever, TESOL