When La Jerne Terry Cornish first started classes at UMBC, her son was two years old, she was teaching full-time, and she had to drive 45 minutes to get to campus. 
The journey was never easy. But in the seven years it took to finish her Ph.D. in language, literacy, and culture, the discussions hit home and the supportive community around her made all the difference, she says.
"The LLC program allowed me to dream a dream I didn't dream," says Cornish, Ph.D. '05, who now serves as provost and senior vice president of Ithaca College, following a long career in teaching and administration at Goucher College. 
"I never thought I would end up where I am, but the preparation I received as a result of that program, and the support of the faculty, staff, and students prepared me for my next steps."
This week, Cornish will receive the UMBC Outstanding Alumni Award for the Humanities. Fellow LLC alumna Beverly Bickel, M.A. '94, instructional development systems, Ph.D. '05, LLC, will also be honored with the Outstanding Faculty Award for her work as clinical associate professor, UMBC, language, literacy, and culture; affiliate associate professor, gender and women's studies. (Learn more about the winners and the October 2 ceremony.)
Teaching our teachers
Like Cornish, Bickel found a community she loved dearly at UMBC. And since she has pretty much always wanted to be a teacher herself—she frequently taught her younger siblings during their playtime "school"—working as a professor within the LLC program and in other departments at UMBC just makes sense.
After starting her career in early childhood education and earning her master's at UMBC, Bickel was teaching at the Community College of Baltimore County when a new position opening at UMBC—director of the English Language Center—caught her eye.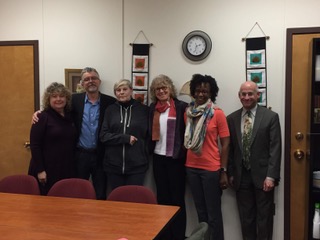 Her husband, David Truscello, Ph.D. '04, was a member of the first cohort of LLC doctoral students with Cornish, and between that connection and the gentle, but persistent, encouragement from LLC founding director and professor emerita Joann "Jodi" Crandall, Bickel soon was pulled into the program as a student herself as she took on the ELC director position. 
Now, as a professor, Bickel likes to take the time to understand where her students are in their lives. That means creating a comfortable environment where they can be honest about their needs and providing a support system for those who are figuring things out as they navigate their doctoral pathways.
"As my instructor, Bev listened carefully to my interests and ideas, affirmed some of my most adventurous instincts, and shared resources that could help me find my path," wrote David Hoffman, Ph.D. '13, LLC, and director of UMBC's Center for Democracy and Civic Life, in nominating Bickel for this award. 
"She was unfailingly patient and creative, and above all, responsive to me: truly hearing my hopes, amplifying my curiosity, and helping me to believe in myself as a researcher."
At home, Bickel and her husband, now retired, have what they call a "lifelong study group." Her ongoing desire to connect with her students on a personal basis keeps her energized with every semester, where she often starts her classes with a conversation about their days, their lives. Sometimes they listen to a song or read an essay. Many drink tea while they chat.
"We've got to connect as humans before we try to think about whatever texts we've read," she says. "I love that about teaching. It might be four- and five-year-olds, or it might be adults, but everybody is coming in with themselves first before engaging in this work we call teaching and learning."
A special community
Founded in 1998, UMBC's language, literacy, and culture Ph.D. program was the first of its kind to bring an interdisciplinary approach to a type of research that crosses the humanities, social sciences, and education. Since then, many universities have copied the model, Crandall says. But, breaking new ground at the time meant the first cohorts of students played an important role in making the program what it is today.
Because the program attracted such a variety of students—many of whom taught, had families, and were well along in their careers—it became a true experiment in balance and community. 
Cornish remembers her first class with Crandall. The discussion was so interesting, intense, and fun, she says, it went at least 15 minutes over. 
"I was so taken by that first class," said Cornish, who laughs as she recalls having to remind Crandall that "'We have to teach in the morning!' But, the material was so rich. She challenged us, she made us think. It was wonderful."
Following graduation, Cornish spent nearly 20 years helping to build the education department at Goucher, where she had previously earned her bachelor's and master's degrees. Having spent the last few months settling into her new position at Ithaca, she says she looks forward to re-connecting with LLC faculty on her return visit to campus.
Kimberly Moffitt, chair of the LLC Ph.D., said Cornish represents the best of what their alumni have to offer. "In a program designed to enhance critical thinking skills in areas of culture across disciplinary and methodological boundaries, Dr. Cornish was not only a member of the first cohort of graduates, but she also lent her educational expertise to shape and co-facilitate the curriculum," she writes.
As Crandall recalls the first years of the program, she emphasizes that Bickel and Cornish were both instrumental in building the LCC into the standard bearer it is today.
"These are two wonderful women who had all the right leadership skills and just such a strong sense of themselves…and a strong sense of social justice," she says. "I am just so thrilled for them both."