Transform a Farmers Market Food Cart into a Restaurant
—With Steve Chu '12, economics, Nikhil Yesupriya'13, biology and English and Ephrem Abebe'13, information systems
It all began during Spring Break 2010. Steve Chu, Nikhil Yesupriya, and Ephrem Abebe were building low-income houses for Habitat for Humanity. As they worked together, they discovered they had a shared passion for making, and eating, good food.
"Cook nights" followed when the three men came back to UMBC. The trio played with ingredients and dishes from every conceivable culture.
"UMBC is such an incredibly diverse community, and we had a great time with our friends cooking all the different things they ate growing up," Yesupriya recalls.
Chu adds that the nights also taught them "about the power of bringing people together over great food. And, over time, we realized: 'Hey, we want to keep going with this in the real world!'"
After graduation, Chu followed his lifelong interest in cooking and restaurants to stints in local kitchens like Petit Louis. A year later, when Abebe and Yesupriya completed their degrees, he pitched them the idea of going into the food business.
A few years of hard work, and the love of food that fueled cook nights now delights customers at Ekiben – the sleek and funky 10-seat restaurant the UMBC alums opened in March in Fells Point. How did they do it?
Step 1: Follow the Fun
Finding partners who can share the joy as well as the labor was an important first step.
"Any kind of business startup is going to be hard work," says Abebe. "But working with Nikhil and Steve was also definitely going to be fun. So I was in."
Together, they settled on a menu of pan-Asian comfort food using impeccably fresh, locally sourced ingredients. The name Ekiben – bento box-style takeaway meals popular with Japanese train travelers – also struck a chord. The food needed to be as fun as the business.
Step 2: Be Flexible
The trio dreamed of a brick-and-mortar restaurant. They also looked into buying a food truck. Not ready for an $80,000 investment, they started smaller still.
"We bought a hotdog cart off eBay," says Chu. "Something I would say is a definite 'don't do.'" (It turns out hotdog carts do not come pre-assembled). The food cart debuted in spring 2014, selling the partners' innovative take on Asian street fare at local festivals and farmers' markets.
"The cart wasn't our original vision," says Yesupriya. "But it forced us to be creative and allowed us to be responsive."
Step 3: Forge Strong Relationships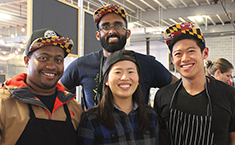 The trio bonded during their Habitat for Humanity days – and found they shared a work ethic as well as a taste for adventurous food.
The bonds they formed at UMBC also helped: "Our UMBC friends knew our food from all those cook nights, and they showed up. And told their own friends, who came out and brought more friends," says Chu. "Those relationships were a huge part of our early success."
Ekiben's enthusiastic customer service is also about relationships: "We want to feed people and make them happy, not just take their money and hand them their order," says Yesupriya. "That means getting to know who is on the other side of the counter and listening to their ideas and opinions – about the food, the space, anything."
Step 4: Go All In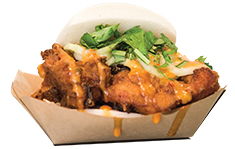 The Ekiben team says they have put family and social lives on hold to focus solely on the business. In less than two years, they built a successful mobile food business, and now have that storefront restaurant they wanted. Their reputation for offerings including righteous bao (steamed buns stuffed with delectable fillings like Thai chicken meatballs or lusciously spice-infused braised pork) now lures diners from as far as Washington, D.C., and Philadelphia.
"We are in our early twenties," says Yesupriya. "People we know are like: 'Oh, we want to travel! We want to buy a cool car.' We are putting all our resources and assets into this business."
Ebebe says the sacrifice is worth it. "This is how we have been able to go so far in such a short time," he observes.
Step 5: Don't Give Up
The Ekiben team says tenacity and focus can help solve the unexpected problems and setbacks.
"Our first farmers market, we had exactly two customers who were friends from UMBC who came out to support us," says Chu. "That was it. It was super hot. Nobody wanted steamed buns. Nobody knew who we were."
But Chu, Yesupriya, and Ebebe kept plugging away, talking to customers and offering samples. Persistence paid off. Within weeks, the Ekiben cart was in the black.
— Michelle Gienow
(Ekiben is located at 1622 Eastern Avenue. ekibenbaltimore.com)
By the Numbers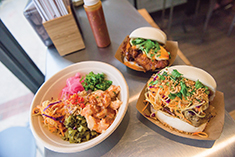 Current number of Ekiben menu items: 7 (5 entrees plus 2 side dishes)
Number of meatballs sold during Artscape 2015: 3,600
Number of hours it takes to slow-cook a batch of Ekiben's "melts in yo mouth, sticks to yo fingers" Char Siu ribs: 48
Tags: how to, Summer 2016