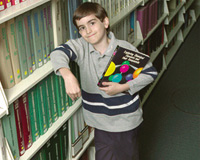 "Gifted Young Students Find a Home at UMBC"
Compared to their classmates, they're a little short, and their voices a bit high-pitched, but otherwise, they're very comfortable as UMBC students pursuing their undergraduate degrees. They are UMBC's Young Scholars–some, like David Dalrymple, are only 10 years old, others in their early teens–but all are academically gifted and ready for college-level classes. And they are drawn to UMBC as a place that makes them feel welcome.

"UMBC is developing a reputation–quietly, and by our actions–as a good place for these academically talented kids to come," explains John Martello, vice provost for community partnerships and executive director of the Shriver Center. These exceptional children have often been home-schooled and are referred to UMBC by guidance counselors or organizations like Johns Hopkins' Center for Talented Youth. "They're referred to us as an institution that has a high-quality, low-cost program, and is supportive and welcoming," says Martello, who notes that UMBC has a solid track record thanks to years of experience by Associate Director of Scholarships Bobbie Shahpazian, who has helped UMBC's "precocious youth" find their footing.

Young Scholars takes a purposefully informal approach–there are no dorms for the youngsters, as most still want to live at home–and no specially structured curriculum. "They don't really need or want special academic support, but we help them navigate through the University," says Martello.

One problem that often arises, but corrects itself: Professors who might be initially skeptical about the ability of a nine-year-old Young Scholar to keep up in a college math or physics class "become converts after the results of the first exam," says Martello.