By Roni Rosenthal
For those who grew up—or still are—spellbound by movies like Beauty and the Beast, Toy Story, and The Lion King, you are part of what some historians dub the "Disney Generation." Your childhood joins forces with a collective nostalgia that weaves Disney's enchanting tales into our very own identities. In a country with many competing cultural icons, Disney—for better or worse—remains a singular unifying brand for anyone who spent their childhood in the U.S.
Smithsonian museum specialist and curator Bethanee Bemis '09, history and anthropology, M.A. '11, history, is an expert in weaving narratives with identity and a storyteller at heart. Her work shines best when married to her earliest passion—Disney.
Where the magic all started
In her newly published book Disney Theme Parks and America's National Narratives: Mirror, Mirror for Us All, Bemis shares her journey with Disney. She was brought home from the hospital to a Disney-themed nursery, went to Disney World at age two, and around that age, watched The Little Mermaid for the first time, marking her enchantment. Bemis acknowledges her mother's infatuation with Disney World in the 1970s as the catalyst for her own passion and appreciation of the imaginary world. 
This profound connection with Disney would eventually shape Bemis' academic and then career path. During a recent installation of a Smithsonian exhibition on American democracy, Bemis recalls, "The central inquiry revolved around who holds the authority to narrate America's tales. Must our collective narrative be uniform for national unity? Can such unity even exist? That's when it hit me—Disney! Disney is the narrator of American stories."
As the curator of the exhibit "Mirror, Mirror: Reflections of America in Disney Parks" at the National Museum of American History, Bemis explores Disney's impact on American culture and reminds us of the significance of cultural artifacts like movies, dolls, and historical items. These artifacts can inspire conversations, challenge assumptions, and even drive change.
"A great way to launch"
Bemis used her time at UMBC to fuse her early fascination with storytelling and her dedication to exploring the intricate threads of history.
Reflecting on her UMBC days, she remembers the transformative role of Seth Messinger, then an associate professor of sociology and anthropology at UMBC. "Initially, I wasn't sure what I wanted to do. Dr. Messinger, my undergraduate advisor, believed in me," says Bemis. "He was convinced that I could achieve success with a little extra effort. He pushed me to go outside my comfort zone and grow, which I appreciated….Well, later on, not in the moment." 
On campus, Bemis felt that she could unfold her wings and explore her interests. "I really appreciated how the community at UMBC was a safe space to experiment and think about the person I wanted to be when I finished college," says Bemis, who met her husband Benjamin D'Alessio '10, M.S. '11, chemical engineering, when they were both grad students on campus. "It's a lifetime community if you want it to be," she smiles. "It's not just a school." Though only seven years old, her daughter already talks about being a Retriever someday.
With mentors like Messinger, Denise Meringolo, associate professor of history, and Amy Froide, professor and chair of history, Bemis found herself propelled beyond her comfort zone, guided to embrace challenges and expand her horizons. The influence of these educators was not confined to her university years; it stretched into the present day, with continued support and advice shaping her path.
Messinger, who has kept in touch with Bemis after they both moved on from UMBC, says Bemis has made him so proud. "In addition to taking my classes, she served as a research assistant for me. She's very detail oriented and organized, as well as warm and kind as a person. I've loved watching her family and career flourish."
Bemis's journey through academia led her to a pivotal connection with the Smithsonian's National Museum of American History. What began as an internship at the Smithsonian's National Museum of American History grew into a career mission to uncover stories hidden within the museum's vast collections. Over the years, she moved from intern to curator, specializing in political history and weaving narratives that resonate with the pulse of the nation.
In fact, she says, "I think that the key to finding success in my chosen field was internships and taking advantage of all the opportunities that UMBC provided as a student. Finding a job is often about who you know, and UMBC offers a safe space to grow your network. It is a great way to launch."
Keep telling stories and making space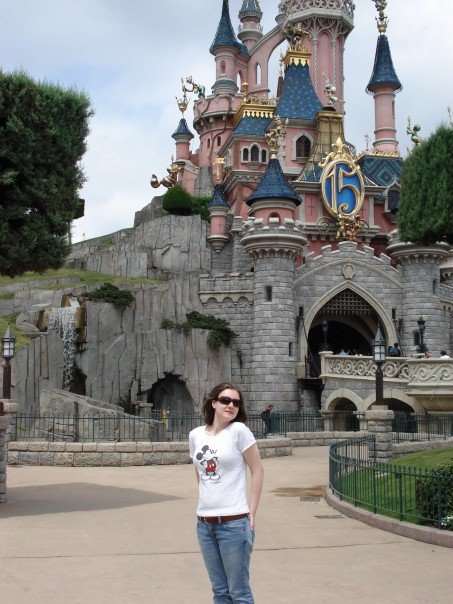 In an era when entertainment is not just about escapism but also about challenging norms, forming identities, and prompting thought-provoking conversations, the Barbie movie emerges as a recent and unifying testament to the evolving storytelling landscape.
Although Barbie isn't a Disney creation, Bemis says, "I think that our pop culture has always held the story of us. It isn't just about entertainment; it's a reflection of societal values, norms, and aspirations."
Bemis is proud of her achievements but reminds us that "there's so much more that needs to be done." She plans to continue working in the public history field and to tell untold and uninvestigated stories, especially stories that are underrepresented in the public history field.
"We must keep telling the stories and make space in the museum for people to tell their own stories," says Bemis. "I hope that whatever I do will contribute to that somehow."
Tags: alumni profile, anthropology, CAHSS, Fall 2023, History