Since 2009, as part of its Alumni Awards celebration, the UMBC Alumni Association names one "Rising Star" recipient each year who exemplifies early career and professional achievement. Prior to our October 2021 award ceremony, we're spending some time with awardees from the past decade to see where they are now—and how they've grown in their fields while maintaining ties to UMBC. In this installment, UMBC Rising Stars Alicia Wilson '04, political science, Nicole DeBlase '06, financial economics, and Lauren Mazzoli Zavala '15, computer science and mathematics, M.S. '17, computer science, discuss their leadership roles in economic development, finance, and engineering and their concerted efforts to make these career paths more available to women and other underrepresented communities.
"If a woman sets the table, everyone wants to pull up a seat," says Alicia Wilson '04, political science. "It's important for women to set the table—to be in positions of leadership—so they can build a strong team."
Indeed, the following Rising Star Alumni Award recipients have not just set the table, they've helped build it.
UMBC Magazine sat down virtually with three powerhouse women to discuss how their time as UMBC students and scholars impacted their professional trajectories, and how they're paving the way for the next generation of leaders.
Training up leaders
Economic development, finance, and engineering aren't career paths traditionally associated with women (yes, even in 2021), however with concerted efforts to recruit, train, and retain young, female graduates—especially those coming out of smaller or lesser-known schools—the tides have been turning. UMBC's constellation of programs that lift up underrepresented populations in tech or community development have well-situated Retrievers who want to make an impact on the world as well as closer to home.
It's no accident that a determining factor in who receives the Rising Star Award is someone who demonstrates ongoing involvement and support of UMBC, its students, and alumni.
Wilson, DeBlase, and Zavala are just three of the many success stories coming out of Hilltop Circle and their professional expertise, personal commitment to being viewed as leaders, and overall drive are more than evident, even over a Zoom call.
Opening doors
While their professional successes are evident, the personal successes of these Rising Stars are, in part, intertwined. Seeing firsthand the importance of strong leadership and being a part of a student body where academics are celebrated ("At UMBC, it's cool to be smart," says Wilson with a laugh), all three women have made it a point to open doors for other students who may not have taken the traditional route to careers in economics or engineering.
"I feel like I had to work a little harder to make it happen for myself on Wall Street," says Nicole DeBlase '06, financial economics, a managing director and lead analyst for Deutsche Bank, focusing specifically on U.S. multi-industry and electrical equipment. "Coming from a non-Ivy League school, I had to exercise my muscles to get my foot in the door. Because of that, I make it a point to help recruit people from state schools, knowing that talent and skill can come from anywhere. I feel like I've had a bit of an impact in that way."
The act of paying it forward is not a new concept for UMBC alumni, and each of these Retrievers emphasizes that "community" isn't just a word splashed across the university's homepage, but rather a way of life for students and alumni, and something university President Freeman Hrabowski actively nurtures.
"I had never eaten lunch with a university president before Dr. Hrabowski," remembers Wilson, who was a Sondheim Public Affairs scholar and is now the vice president of economic development at the Johns Hopkins University and Health Systems. "I thought to myself how this must be a special place, because that's far beyond what I would imagine someone in that position caring about—what some 17-year-old kid from the city thinks."
Wilson's Baltimore roots are serving her well. In her current role, she leads the development and implementation of Hopkins' institution-wide strategies and initiatives both within the United States and abroad through investments in real estate, economic and neighborhood development, healthcare, and education.
A school that invests in its students to ensure their personal successes is something worth celebrating, says Wilson, 2009 Rising Star recipient—and it's perhaps what UMBC most prides itself on.
Lauren Mazzoli Zavala agrees.
"The time I spent in UMBC's Cyber Scholars Program prepped me for the reality that teamwork and collaboration are essential in this industry," says Zavala, '15, computer science and mathematics, M.A. '17, computer science. "You can never go into a room with an ego because you can always expect to learn from other people around you. That's something I quickly picked up as a UMBC scholar and it's been critical to how I approach my work at Northrop."
Zavala, who received the Rising Star award in 2017, is now a software engineering manager at Northrop Grumman where she and her team oversee cyber missions as they relate to American troops in different parts of the world.
Showing up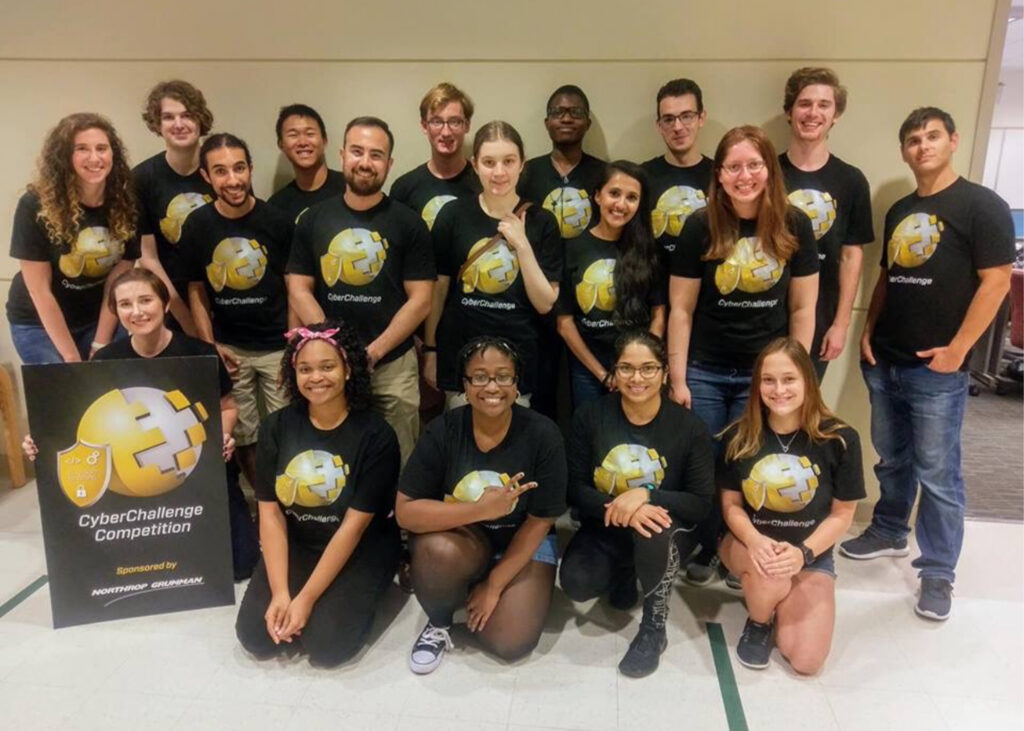 The Center for Women in Technology (CWIT) is a primary example of the investment made in UMBC's students' future, in this case, the future of women in technological careers. Established in July 1998 to catapult women's full participation in all aspects of information technology, CWIT expanded its scope in 2006 to include engineering majors as well. Zavala knows firsthand the importance a scholarship program like CWIT has on an entire student body.
"The Cyber Scholars Program was invaluable to me as a junior," she adds. "Its partnership with CWIT, as well as Northrop Grumman and other leading companies in cybersecurity, provided students with the network and resources needed to build important connections."
In a space typically dominated by white men, Zavala remembers joining a group of women to participate in a cyber competition. Though they didn't end up winning, the lasting memory of being present and bringing some much-needed diversity to the space stayed with her.
"The worst we can do is fail," she says, emphasizing the importance of showing up and trying. "In my career today, I'm constantly learning from other people, and that includes interns. We'll lean on them for their creative solutions to very real deadlines and challenges we have to meet at Northrop every day."
Talented trailblazing
Modeling good leadership results in good leadership, and ultimately, it's what drives DeBlase, Zavala, and Wilson within their respective jobs—excellence recognizing excellence.
"I run a team of four associates, and we have a 50/50 ratio of women versus men," says DeBlase, who is heavily involved with Deutsche Bank's recruitment process and is keen on creating opportunities for individuals who have taken a less traditional approach to reaching Wall Street. "Looking for the most talented person to fill a seat is critical, which is why it's important to seek out those women applicants."
Programs like Women on Wall Street—perhaps not coincidentally run by Deutsche Bank—allows DeBlase, the 2015 Rising Star awardee, to be up front and center in the recruiting process, ensuring that equal opportunity is given across the board.
In her previous position, recruitment of talented women started early. "When I was at Morgan Stanley, there was a whole initiative around recruiting women," DeBlase adds. We'd start at the sophomore level and actually do campus outreach."
Despite the personal successes each woman has experienced in the workforce, there is still larger work to be done, particularly in light of the numerous challenges women have faced during the COVID-19 pandemic.
"There needs to be an evolution with work-life balance and work flexibility to allow women to feel like a career on Wall Street is more sustainable," says DeBlase. "It's still challenging for women who enter more senior roles. In a way, COVID has helped my workplace realize that there are opportunities for employees to work from home and strike a healthier work-life balance."
In a perfect world, a trailblazer won't be categorized by their gender, but rather by their innovation, talent, and dedication to creating a more inclusive society. Until then, however, it's programs like CWIT, the Sondheim Program, and Women on Wall Street that will drive change that is both tangible and significant, as seen through the work of these three Rising Stars
With women like Zavala, Wilson, and DeBlase at the helm, change might come sooner than anticipated.
— Nikoletta Gjoni '09
Read more about other Retrievers rising together and stay tuned for more information about UMBC's 32nd annual Alumni Awards in October.
Tags: Alumni Awards, CAHSS, CNMS, COEIT, Computer science, financial economics, Mathematics, Political Science, Rising Together