In an industry that rewards ingenuity and thrives on comradery, hard working UMBC alums are making their alma mater proud — one pint at a time.
by Seth Sawyers '99
On a cold night in a converted Pigtown theater, Josey Schwartz '11, interdisciplinary studies — one of two owners, brewers, bartenders, marketing managers, painters, and drywall hangers behind Suspended Brewing Company — wasn't doing any of those jobs.
It was the end of a long day — one of many, many long days to come until they finally sold their first beer in their new home. With a low-key indie-rock mix as his only company, he was sweeping up.
"We're everything," Schwartz says, of the roles he and co-owner Yasmin Karimian '11, political science, fill at their shop. "We're the brewers, the bartenders, janitors, the taxmen. We don't stop working. I've slept in the lab, voluntarily and involuntarily."
Many of us enjoy beer; some would even say we love it. But for a remarkable group of UMBC graduates who consider beer more of a calling are devoting their professional lives to beer, and specifically to craft beer — complex, interesting, sometimes far-out beer.
They brew it, yes, but that's just the start. They also research it, and study it, and market it, and sell it, and package it, and obsess about it. All of which means that, increasingly, that next six pack you take home or pint you sip just may have been made by someone who's spent some time in, say, Patapsco Hall.
Oh, and they love it, too. These UMBC graduates love beer. They really, really love beer. "Beer is incredible," says Schwartz. "I could go on and on forever about 'why beer.'"
"You should be a professor," says Karimian, half-joking, herself by day a contracts attorney with Amazon. As if either of them needed even one more thing to do.
Not Your Dad's Beer
This writer is old enough to remember the days, not so long ago, when restaurants divided their beers into two categories: "domestic" or "imported." Domestic meant Budweiser, Bud Light, Miller Light, maybe Michelob. Imported, slightly more expensive, meant Heineken, Amstel Light, maybe a Molson.
Those days are long over. Now, as anyone who's drank a beer in the past 15 years knows, the types and brands of beer available are as head-spinningly diverse as the UMBC campus itself. There are clean, light Kolsch styles and, on the other end, dark stouts fortified with coffee or chocolate. In between are lightly bitter pale ales, medium-bitter India pale ales, very bitter double India pale ales, beers brewed with cherries or watermelon or raspberries, beer brewed with Old Bay.
And while macro beer isn't going anywhere — two huge companies, Anheuser-Busch InBev and MillerCoors, still produce 90 percent of the beer for the western market — the number of craft breweries increased by 600 percent between 2008 and 2016. Today, there are about 7,000 breweries nationwide, the vast majority of which are small operations, each run by a handful of people, putting out a keg here or a six-pack there of beer that might be called Snow Pants or Trolley Problem or Mistakes Were Made, and which are as alike to a National Bohemian as Camden Yards is to the grassy field behind your parents' house.
The Right Recipe
Some people know at freshman orientation what they want to do with their lives. UMBC's beer-brewing contingent is the other way around: young, high performers who tried this, tried that, and ultimately figured out they could throw everything they'd learned into beer.
Twenty minutes southwest of Pigtown, in a Columbia industrial park, Zachary Michel '09, spends his days figuring out how to let people know about another fledgling brewery. As Hysteria Brewing Company's marketing manager, the Harford County native finds he's able to draw upon his innate curiosity, a trait he feels was fostered by UMBC.
"I started out undeclared, then [studied] music for a bit, and I looked into journalism," Michel says from Hysteria's front room, a cozy space lined with shelves crammed with books and curated, antique gadgets. Eventually, a course called Environmental Science/Conservation with Professor Sandy Parker got him excited about geography. "He was so passionate and so knowledgeable that it just opened my eyes. UMBC totally opened my eyes to a lot of things. It allowed me to experience a little bit of everything."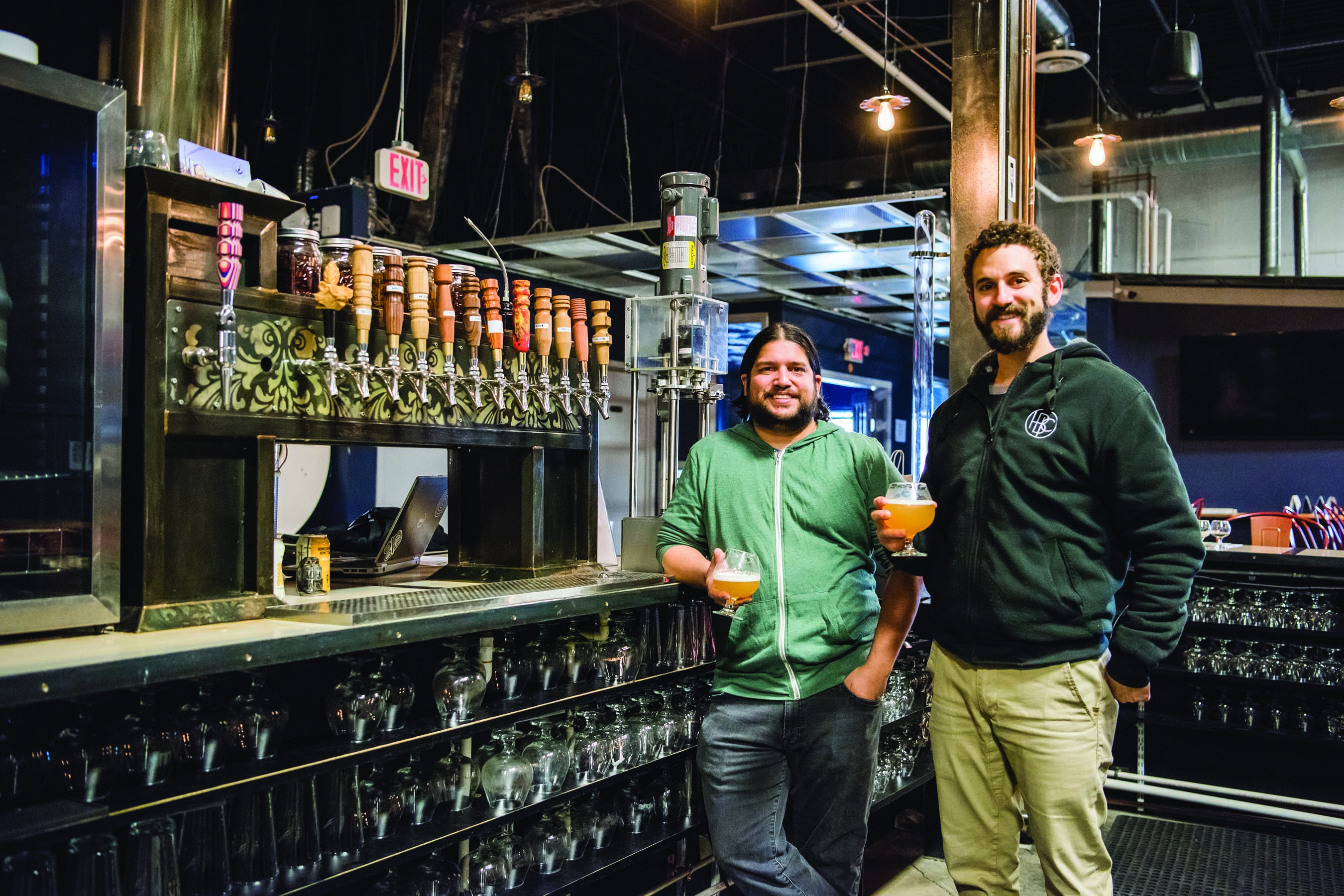 Michel, who one day might organize a cycling night, and the next work on can designs, among many other things, wound up a geography and environmental science major with an economics minor. "A direct line to brewing," he jokes.
Listening to Michel is Jordan Baney, a partner at Hysteria, who has UMBC in his blood although a call to serve in the Army cut his days as an economics major short. He grew up in part in Arbutus, within earshot of Retriever lacrosse games. As a kid, he swam in the campus's indoor pool and his uncle Tony makes and maintains glass instruments for the chemistry department to this day. Baney says that anyone getting into something like beer, which encompasses both business and culture, would benefit from a wide-ranging college experience.
"There's this idea out there that [students] should be focusing more on one thing and doing less general education," he says. "And I totally disagree. Unless we're robots meant to work in one thing for the rest of our lives, which I don't think we are. All of us benefit from knowing a little bit of history. All of us benefit from knowing a little bit of calculus."
You can't help but notice that it's a group interested in things beyond beer. Karimian, of Suspended Brewing, was an SGA President who is deeply committed to community engagement, the environment, and social justice. She helped write a history of UMBC, went to law school, became a lawyer, and now co-owns a brewpub. Schwartz, Karimian's partner in life and an Interdisciplinary Studies major, wrestled for UMBC's club team and went on to business school at Stanford before deciding he wanted to make beer. A writer and theatre buff, Michel is a founder of the Charm City Fringe Festival. Baney served in Afghanistan as a staff sergeant in charge of logistics, getting food and ammunition and gear to where it needed to be.
Still, if beer itself is part chemistry and part biology, then some UMBC alumni are nothing if not ringers. Halethorpe-based Heavy Seas Beer and Baltimore-based Union Craft Brewing are two of the region's bigger craft beer makers and it's for the latter that Lynn Pronobis '13, chemistry, has graduated from intern (she was the first hire by Union's three founders) to brewer, to head of brewing operations, which means she oversees all things involving the actual brewing of the beer.
"It's mentally and physically challenging, and you're a part of the team, and I don't have to walk into a cubicle every day," says the former outfielder for UMBC's softball team. "And we're all fighting against the big guys."
Small Batch, Small World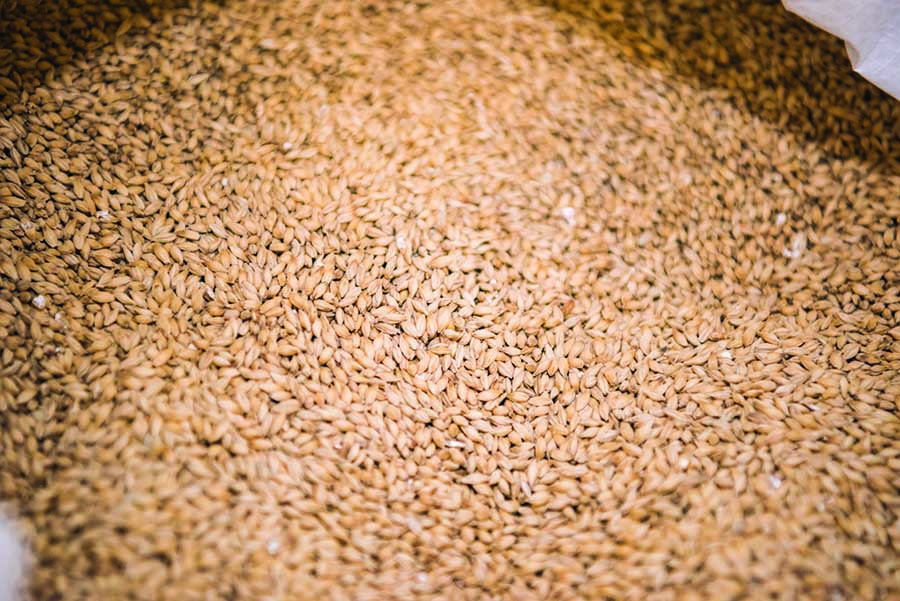 Brewing's a small world, especially in a city nicknamed "Smalltimore." Though UMBC's brewing alumni didn't all know each other while at UMBC, they certainly know each other now. That's partly due to the growing Baltimore-DC-Maryland alumni network of a school that's now 50 years old, but partly due to people like Brian Arnold '05, English.
Arnold taught high school English in Baltimore City Public Schools for several years before he realized he needed a career change. Like many who wind up in craft beer, he began by brewing at home, which led to the 2013 opening of Nepenthe Homebrew, a kind of spiritual base for the region's serious amateurs and professionals alike. Currently based in the Woodberry neighborhood of Baltimore, but set to move to a former meatpacking facility in Hampden, Nepenthe sells the raw goods of brewing: tanks, tubes, grains, hops.
"It's awesome," Arnold says of Baltimore's brewing community. "I think we know, more or less, everybody in it. Quite a few stop in when they need something. We all know each other and help each other out."
None seem concerned about having too many craft breweries — and there's little in the way of the type of competition you might find with other types of business. "What's there to fight about?" asks Schwartz. "We're all drinking each other's beer. We're asking, how'd you work with dried fruit to extract this much color? Do you do a slurry or just drop in dry hops through the port?"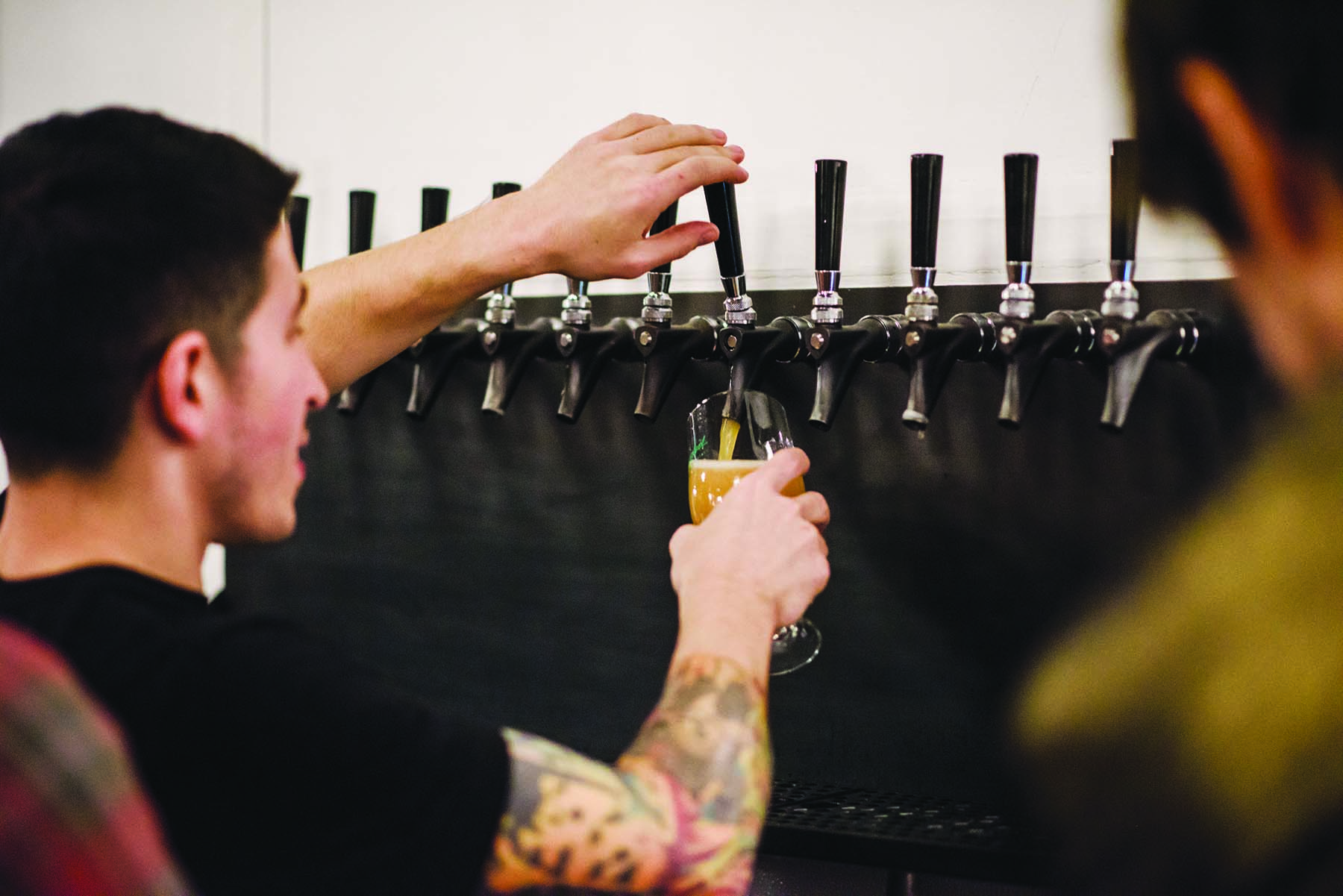 Flavor Innovators
For young people with such varied interests, such deep-seated curiosity, it's no wonder they found themselves in an industry that rewards, and demands, near constant tinkering. Consider the kinds of beers they're making, just at Hysteria alone: at least three kinds of IPAs, a barleywine that's 11 percent alcohol, a "sour cherry Belgian Tripel" called Monasterium.
"Our mission is to push the boundaries," says Hysteria's Michel. "There's no reason you can't do an IPA in a gin barrel. Or a porter in a red wine barrel."
Schwartz says he's been thinking of "an American kettle sour using the same bacteria that's in yogurt and then fruit added from Iran. Barberries. We get to talk about barberries, which are a staple of western Asia, in Iranian kitchens. We're working on one beer but made seven different ways, with seven different yeast strains. There are so many variables. It's not arithmetical, it's logarithmic."
While newer brewpubs like Hysteria and Suspended are focused on making new beers, more established breweries such as Union and DC's Atlas Brew Works are at a slightly different place, business-wise. For Atlas, Sean Palmateer '16, biochemistry and molecular biology, shows up to work at 4 a.m. and spends a lot of his time as a brewer on perfecting established, flagship beers.
Palmateer, who lives in Mount Vernon, has often helped out at Suspended, stopping by after work or on days off to help as they've worked to build their business. His enthusiasm for the nuts-andbolts of the industry, the actual brewing of beer, is sharp, as is Schwartz's. These are two people who think about beer often, and deeply.
"I think about Sixpoint Brewery, whose motto is 'Beer is culture,'" Palmateer says. "You look back at history and that's how people delineate who they are. I'm interested in a lot of beer history. It encompasses history and science and philosophy in really interesting ways. And you can kind of get into it and take it any way you want to."
And as long as the interest is there from the brewers — and their eventual customers — the sky seems to be the limit.
"I just saw there was a broker selling soy-sauce barrels," Schwartz says, before sipping one of his sours. "And some brewer's gonna figure out how to make a delicious beer out of it."
[nivoslider slug="how-to-make-beer"]