PERFECT BLEND
The UMBC Gospel Choir started in 1976 as a small, student-run organization. These days, it's a key part of the university's musical community, performing on-campus and boasting more than 40 dedicated members under the direction of Janice Jackson '79, music.
The choir's traditions give the group both continuity and a "family feel," says Comfort Oke '13, the group's official historian. Members gather every Wednesday night at 8:45 p.m. in the Fine Arts Recital Hall. Each session begins with Bible study and then an hour of practice. As rehearsals draw to a close, students link arms and share things that are happening in their lives, both good and bad.
There are no formal auditions. The choir's weekly practices are open for anyone who wants to join. Each year the group adds more songs to its repertoire, choosing songs with the potential to speak to all faiths.
"We teach the whole gamut from spiritual to contemporary gospel," Jackson explains. In addition to annual spring and winter concerts, the Gospel Choir sings at university events and in music festivals at other universities. The group has even gone on tours in places such Disney World and Italy.
Service is also a key element in the choir's songbook, says Stephanie Okpara '14, the group's treasurer. "One of my favorite moments wasn't an actual singing engagement," she recalls, "but the time we volunteered at a kitchen. It was fun to serve the community with an organization I was a part of, and that made it so much more real."
— Laura Lefavor '13
HELPING THE HUNGRY
In 2007, when Julie Rosenthal saw her daughter walk into their well-stocked kitchen and complain that there was nothing to eat, something nagged at her conscience. She decided to show her children just how fortunate they are by creating a group called Food on the 15th to help hungry low-income senior citizens in her family's community.
Five years later, Food on the 15th remains true to Rosenthal's initial impulse to demonstrate to her own kids – and the students at Pointers Run Elementary School in Clarksville, who work for the program – both the cycle of hunger and how to combat it.
"I didn't want the [donated] food to just disappear," explains Rosenthal, who works in UMBC's Asian Studies program. "I wanted the students to see the process from beginning to end."
The "15" in the program's name is important: Social Security checks start to run out halfway through the month. That's when students in fifth grade classes at Pointers Run swing into action: sorting donated food and delivering over 60 bags of groceries door-to-door to senior citizens at Morningside Park Apartments in Jessup. (Parent volunteers do the driving.)
Food on the 15th has grown to include more schools and additional donations – including toiletries and gift cards at local shops. It has delivered more than 12,000 bags of groceries.
Now Rosenthal hopes to bring the program to her own workplace. "UMBC is the perfect place for Food on the 15th because the people here care about the community," she says. "All it takes is a little creativity and energy to do something that has a huge impact."
— Laura Lefavor '13
(Learn more about Food on the 15th here.)
CRICKET LOVELY CRICKET
Cricket is one of the world's most popular sports, yet it has never been popular in the United States. But perhaps it is another indication of UMBC's diversity that its club cricket team has become so prominent on campus.
UMBC's club cricket team ("22 Yards") is one of the best in the country, and has appeared in multiple national championship tournaments. But the club team also serves as a home away from home for many students who come from countries and regions (including India, Pakistan, and the Caribbean) where cricket is their nation's most popular sport.
Indeed, the presence of cricket on UMBC's campus was part of what attracted Austin Aluvathingal '13 to the university. He came to America from India at the age of 15 and immediately missed having cricket as part of his everyday experience. "My sister mentioned UMBC had a cricket team and that interested me a lot," he says. "I wanted to come here over other schools."
Attendance at UMBC cricket practices averages between 30 and 40 people. Some don't even show up to play, but simply to share cultural connections. "It's not just a team," Aluvathingal said. "It's just like spending time with your family when you play cricket."
Aluvathingal says that the cricket team has even helped him network. "When I came in as a freshman, I didn't know much about the classes or what to expect, but most of the players gave me a lot of opinions on classes. I got an internship through cricket, too."
— Corey Johns '11
DISC DRIVE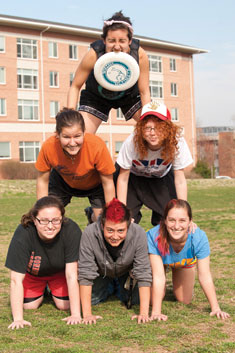 Every Friday afternoon at Erickson Field, rain or shine, UMBC's frisbee players gather for their "ultimate" experience.
Ultimate frisbee has been around for decades. But according to USA Ultimate, the national governing body for the sport, it remains one of the fastest growing sports in the world, with more than 800,000 people playing regularly each year. UMBC has fielded an ultimate team ("Booya") since the 1990s, and players wearing hoodies emblazoned with the team's trademark pink elephants are a regular sight on campus.
Until recently, UMBC's Booya ultimate frisbee team was a co-ed experience, with men and women playing together. But last autumn, the team's six female players formed their own team ("Shazam Blue") under the auspices of Without Limits Ultimate – an offcampus organization that promotes women's participation in the sport.
Dozens of women at UMBC have joined Shazam Blue, and the team now competes in a local women's league. Shazam Blue captain Kim Haines'12 says that her first experiences with ultimate led to her deep involvement with UMBC's team.
"The people who played really won my heart," Haines says. "Experience didn't matter as much as wanting to improve." Since becoming captain, she adds, cultivating that same spirit among her teammates is a top priority.
And despite the formation of a women's team, that co-ed spirit persists in ultimate at UMBC. Booya and Shazam Blue still mingle at each other's practices and participate in pre-tournament traditions involving pink hair dye and mohawks before they divide for actual competition.
— Monica Berron '13