As UMBC faculty prepare for spring, they are reflecting on lessons learned from a primarily online fall 2020 semester. In UMBC's College of Engineering and Information Technology (COEIT), this means honoring teaching fellows and teaching assistants for their role in making sure courses met student needs.
Essential perspective
"I think anybody's goal, in any sort of class, is to provide the highest quality, most optimal experience to our students," said Jamie Gurganus, COEIT's associate director of engineering education initiatives, in an interview last summer. Along with colleagues across the university, she worked through the summer and fall to help faculty provide students with "safe, thriving online environments" to learn.
The centerpiece of this work was the Planning Instructional Variety for Online Teaching (PIVOT) program. PIVOT, PIVOT+, and more specialized webinars helped faculty design truly engaging online courses. COEIT hired several rising UMBC juniors and seniors to participate in the workshops and offer feedback to faculty.
These undergraduate teaching fellows "brought an essential perspective," Gurganus shares. They continued to provide feedback throughout the fall, and many are continuing the work in spring 2021.
Creativity and community
Hana Flores '21, chemical engineering, served as a teaching fellow. She shares, "It was unlike anything we have done before, but it was special due to the creativity and strong community of COEIT."
Flores sees her experience as emblematic of a culture of community support. "I'm grateful for continuing the legacy of support from upperclassmen to underclassmen as a teaching fellow," she says. "It is what makes engineering classes exceptional."
Celebrating together
COEIT invited Flores and dozens of other teaching fellows and teaching assistants to a celebration to honor their work in late December. After a busy and intense semester, they took time to enjoy each others' company, with Flores's team, the ChemiE Cuties, winning the celebration's trivia contest.
"Watching our students celebrate allowed my mind to forget for a moment the challenges that we face," says Mariajose Castellanos, senior lecturer and undergraduate program director of chemical engineering. "It was important to me that we could come together and remind them of how much we appreciate them. They make our classes better and provide invaluable help."
A more meaningful experience
"When it comes to delivering a class, it's a collaboration effort between the instructors, teaching fellows, and teaching assistants," says Gurganus. "They go beyond the scope of grading papers and holding office hours. These students provide a unique perspective that gives our classes a richer and more meaningful experience."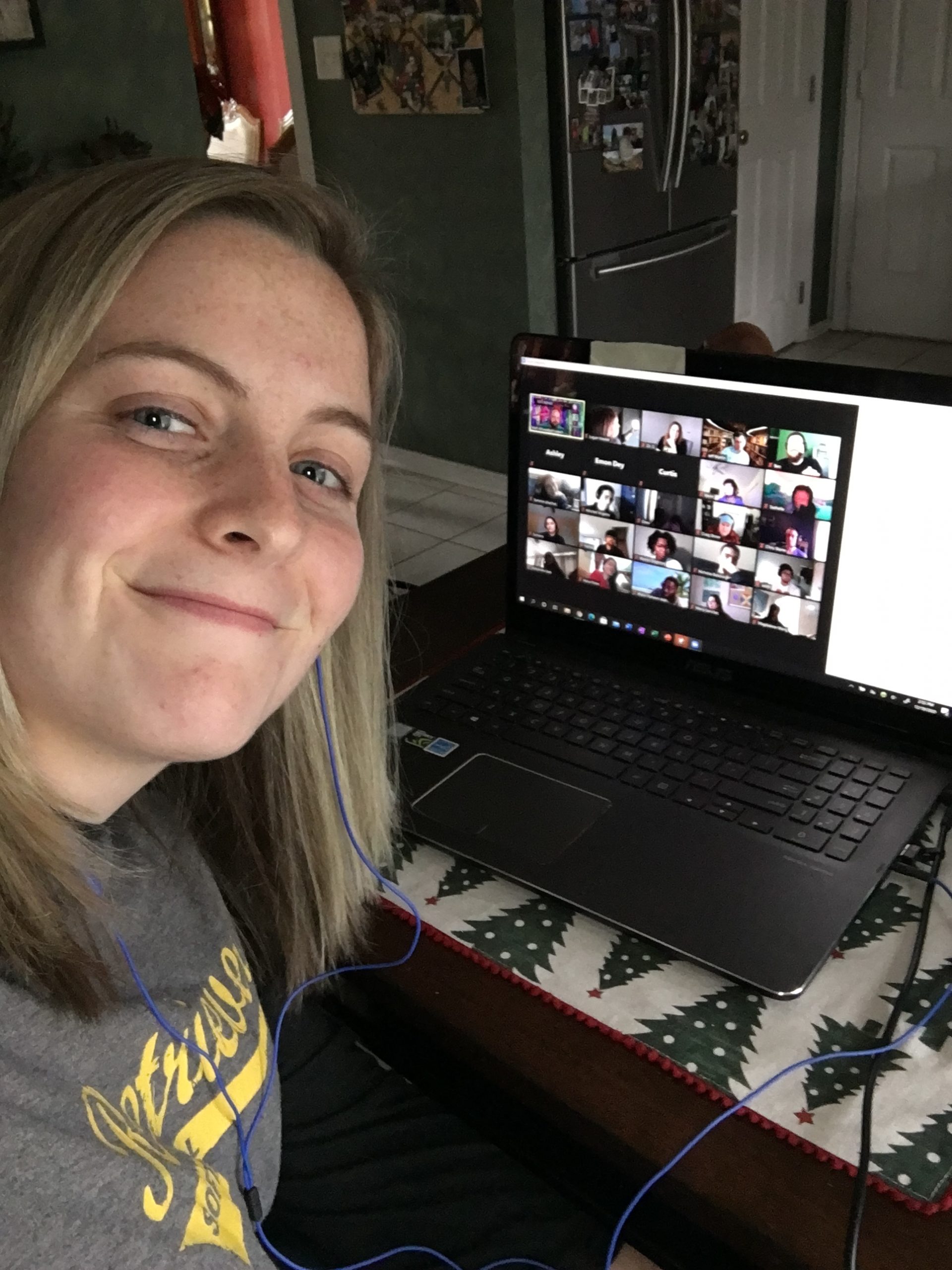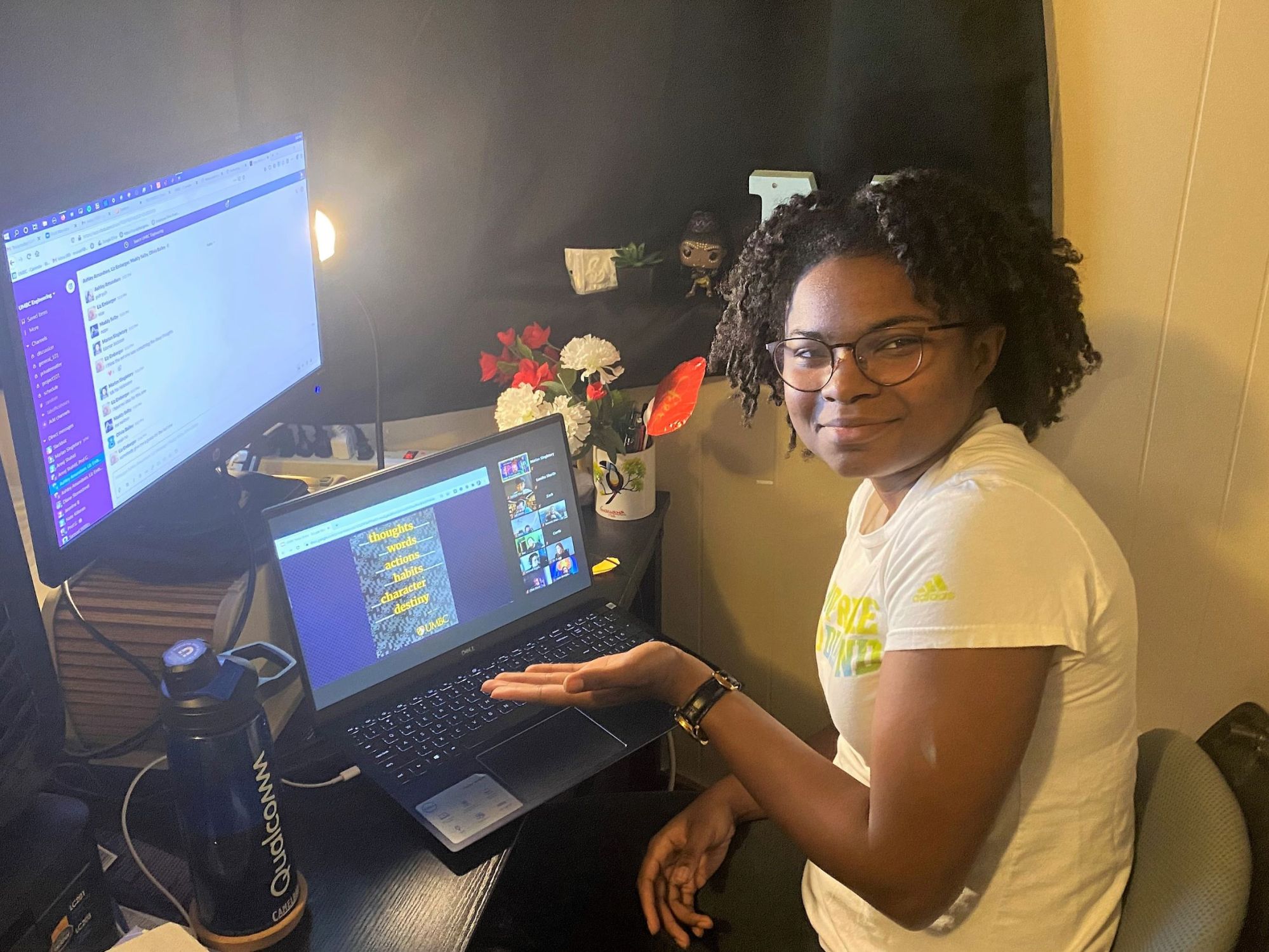 Often, these students have recently completed the class they are now supporting, so they are able to identify and relate to its challenges in a unique way.
"These students' insights enhance our courses in so many ways," Gurganus shares, "and they have such a positive impact on the learning experience we can provide."
Although some COEIT teaching fellows and teaching assistants graduated in fall 2020, Gurganus says a majority will continue their work in spring 2021, as UMBC courses remain largely online.
Tiled gallery images above: Logan Hawker '22, mechanical engineering, at left, and CWIT CyberScholar Marian Singletary '21, computer engineering, at right, compete in the trivia game. Images courtesy of Hawker and Singletary.
Featured image: Hand clicking laptop mouse. Photo by Flickr user Marco Verch, CC BY 2.0.