If there's one thing UMBC knows, it's that odds aren't everything. Months ago, UMBC softball was predicted to finish last in the America East preseason poll. Apparently nobody told them that.
For the first time ever, UMBC softball has been crowned the America East champions after sweeping the tournament. While others spent Saturday sleeping in and running errands, the Retrievers were cementing their place in the record books, cruising past Stony Brook with a 4-0 victory.
https://twitter.com/AEDigitalNet/status/1127267422879272960
This historic title win guaranteed UMBC an automatic bid to the 2019 NCAA softball tournament, the team's first since 2002. Last night's Selection Sunday announcement revealed that the Retrievers will be taking on No. 1 overall seed Oklahoma in the Norman Regional of the NCAA Tournament.

Freshman Courtney Coppersmith, chemistry, has been knocking it out of the park since she got to campus. She's the first player in America East history to be named Rookie of the Year and Pitcher of the Year in the same season.
Saturday marked Coppersmith's third shutout of the championship and earned her Most Outstanding Player honors. She is joined on the All-Championship team by teammates Julia Keffler '21, biology; Sierra Pierce '21, visual arts; and Kaly Winslow '21, sociology.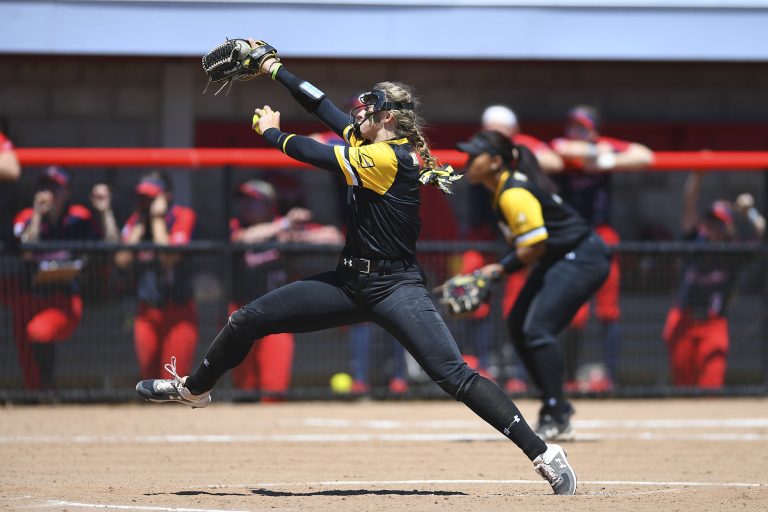 As evidenced by her remarkable work both in the classroom and on the field, Kennedy Lamb '20, English, was awarded the America East's Elite 18 award. This award is recognizes the student-athlete with the highest GPA in each America East championship game.
It's been a tremendous year for UMBC athletics, clinching four America East titles overall— men's lacrosse, men's and women's swimming/diving, and softball. The 2018-2019 season ties for the most number of championships in UMBC's 16-year America East history.
Looking at what they've accomplished this season, Coppersmith says, "It is definitely an indescribable feeling with so many different emotions, but the success we have had has all been together. As long as we stay together, no matter what happens, whether we win or lose in the NCAA tournament, we will always have each other and can be beyond proud of everything that we have done for the program in just one season."
The Retrievers take on Oklahoma on Friday, May 17 at 9:30 p.m. EST on ESPN 2. UMBC will play again on Saturday, May 18, facing either Notre Dame or Wisconsin, depending on the outcome of Friday's games.
Banner image: UMBC softball celebrates following the team's America East victory. All photos courtesy of UMBC athletics marketing unless otherwise noted.
Tags: Athletics, Biology, CAHSS, ChemBiochem, CNMS, English, SAPH, VisualArts