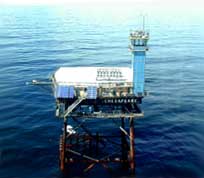 Tracking a Satellite from the Sea

14 miles offshore from Virginia Beach, UMBC Assistant Professor of Physics Wallace McMillan and a rotating crew of scientists are firing lasers into the night sky and launching weather balloons by day to make sure a new multi-billion-dollar NASA research satellite is working properly.
For two months, McMillan and his crew are taking turns living and working aboard the Chesapeake Light, a 1960's-era U.S. Coast Guard lighthouse platform with a panoramic view of the Atlantic. Chesapeake Light looks a bit like an oil-drilling rig, perched on a rusty steel frame 75 feet above 34-foot-deep waters.
"We provide product validation, says McMillan. "We're measuring air temperature, water vapor content, sea surface temperature, and so on, around the clock, and then comparing those to the same measurements taken by AIRS. AIRS is short for the Atmospheric Infrared Sounder, which was developed in part by McMillan's UMBC colleague, Larrabee Strow. It is one of several instruments about AQUA, a NASA satellite launched in May that is designed to give the best looks yet at the Earth's water cycle.
So what good does an Atlantic Ocean lighthouse do for a NASA satellite orbiting the upper atmosphere? "As it happens, the ocean makes a nice, uniform target in the infrared portion of the spectrum where AIRS sees, McMillan explains. Making comparisons over the ocean makes for the easiest, thus the first, comparisons we want to make."
The accommodations on the Chesapeake Light couldn't be described as cozy steel is the main motif. But it does have a kitchen, a bathroom, six compact bedrooms, various work rooms, two generators, plus a rec room with a pool table.
Still, the view here is a lot better than a cubicle or lab. The Chesapeake's catwalk is the favorite spot to watch some spectacular sunsets, the occasional rainbow, dolphins, sea turtles and flotillas of Virginia Beach-area fishermen chasing big schools near the platform.
When they aren't working, McMillan's protégés find ways to keep themselves entertained. A photo gallery kept on McMillan's UMBC homepage shows grad student Kurt Lightner of Ellicott City, doing a strange dance as he launched the day's weather balloon. "I was trying to appease Thor. You know, the Norse god of weather, he says with a grin.