Thousands of Retrievers came together as a community on Saturday night—alumni, faculty, staff, and students from all five decades of UMBC history—to celebrate the remarkable story of UMBC.
In UMBC's first Commencement program, Diane Juknelis Tichnell  '70, political science, wrote, "The present class of graduates is the first in a long line of innovators who are not to be considered products of UMBC, but rather constant producers of all that gives it character and quality… The campus, ever-growing and changing, will bear the indelible imprint of those who participated in its all-important first steps on a course untried."
On the night of the anniversary festival, September 17, 2016, the founding generation of Retrievers who together created and shaped UMBC over the course of its first 50 years, had an opportunity to honor that achievement, salute one another, and set the stage for the next half-century. Together they cheered for a dazzling display of fireworks at the top of UMBC's hilly campus, transforming from a flurry of twinkling stars to astounding fireballs. Center stage, before the backdrop of fireworks, was the UMBC Symphony Orchestra—a microcosm of UMBC's inclusive excellence—performing Stravinsky's gripping Firebird.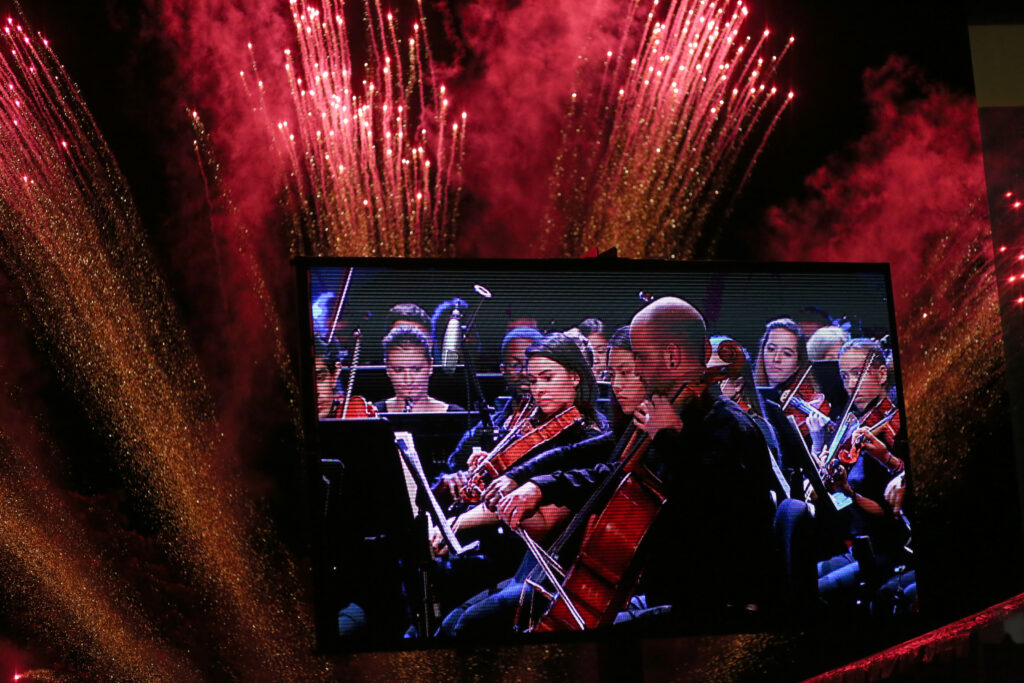 Saturday began with the Roots of Greatness Luncheon, honoring UMBC's founding faculty and staff, as well as those who have won Presidential and Regents' awards through the history of the university. Wendy Salkind, professor emerita of theatre, opened the program with a comment made by UMBC's founding chancellor, Albin O. Kuhn, in the first issue of what would become the Retriever newspaper. "We do not expect UMBC to be quite like any other campus," Kuhn wrote, continuing, "You will find many open doors to the offices of faculty and staff who are anxious to make UMBC an outstanding center for educational adventure."
"That's been true for 50 years now," said Salkind.
CAHSS Dean Emeritus John Jeffries; Professor Emeritus and Research Professor of Political Science George La Noue; Yasmin Karimian '11, political science; and David Bennett '11, political science, spoke before a full University Center Ballroom about the process of researching and writing La Noue's new book Improbable Excellence: The Saga of UMBC. "UMBC has developed a new model," said La Noue. He predicted "the quest for excellence will become a permanent part of UMBC culture." [watch video]
At GRIT-X, later that afternoon, faculty and alumni presented a series of engaging talks demonstrating UMBC's broad impact in research, scholarship, and creative achievement. Speakers covered topics from the process for creating a successful theatre company to dealing with contaminants of emerging concern in local watersheds.
"We really wanted to put a program together that…gives a glimpse at the diversity of programs and groundbreaking, impactful research and the many thought-provoking topics that many of our alumni and faculty are working on," explained Karl Steiner, vice president for research. [watch video]
The House of Grit was one of the largest attractions of the 50th anniversary celebration. Named for UMBC's character and spirit, this community festival showcased programs and communities from across the university.
A Lego model of campus, constructed by Jason Burik '00, psychology, proved particularly popular for visitors of all ages. The Dawg Pound, hosted by UMBC Athletics, also drew crowds, showcasing UMBC scholar-athletes signing autographs, a display of UMBC's NCAA trophies, games, a photobooth, and a performance space.
At the UMBC Racing team's station, guests explored two Baja racing cars alongside footage from past races that showed the challenge and excitement of steering a vehicle along treacherous courses. Students, alumni, and future Retrievers, some who couldn't yet reach the pedals, enjoyed a chance to sit in the driver's seat.
3D-printed braille rings developed by UMBC's Prototype and Design (PAD) lab and an interactive "Cranes in Motion" display, which enabled visitors to guide the motion of animated birds on a screen, were crowd favorites. Guests also had a chance to build and race their own boats from upcycled materials, and to use items like bouncy balls, playing cards, and frying pans to create unique percussion music.
Through Celebrate Science, held in UMBC's College of Natural and Mathematical Sciences facilities, kids had a chance to make slime, sort M&Ms to learn about mathematical concepts, detect sunspots, see a model of a satellite, play with magnets, and explore how a square block can roll.
Visitors later gathered for the long awaited Puppy Parade [watch live video]. Featuring dozens of dogs of all ages and breeds, UMBC's own True Grit, dancers, and musicians, the parade was a highlight in Baltimore Sun coverage of the festivities.
George Derek Musgrove '97, history, associate professor of history, moderated a lighthearted alumni panel on the UMBC student experience over the years. Steven Fedder '72, American studies; Shari Elliker '83, interdisciplinary studies; and Oliver Myers (M1) '94, M.S. '96, Ph.D. '07, mechanical engineering, shared memories of their time as students. Myers reflected on his unique experience as part of the first class of Meyerhoff Scholars, and how UMBC offered him unparalleled opportunities to connect with world leaders in science and government on their frequent visits to campus.
Immediately after the alumni panel, visitors ran to catch the start of a special UMBC edition of the popular Stoop Storytelling Series, featuring moving personal tales from UMBC's earliest days [watch video]. UMBC President Freeman A. Hrabowski shared his own memory of the UMBC community coming together to protect and advocate for humanities programs when their future was uncertain. "I am a strong believer that working class people, middle class people, should be exposed to the best," said Hrabowski, "because they are going to be leaders."
Leaving the emotional event, guests emerged from UMBC's Performing Arts and Humanities Building to find the sun had set. In the heart of the House of Grit they saw a crowd of thousands of Retrievers and their families gathered around a massive, brightly lit stage, buzzing with excitement, ready for one final performance to begin. Visitors and organizers alike had high expectations, and the finale—with its soaring music and momentous firework display—surpassed them all. [watch Baltimore Sun video]
"Hearing the fireworks right behind me and the huge crowd cheering, watching the blinking bracelets, and pulling as rich of a sound as possible from my viola was a sensory feast," shares Sarah Hansen, M.S. '15, biological sciences, a member of the orchestra and UMBC communications manager. "This is my community. That finale brought together the UMBC family in a way that has never happened before, and reminded me that I will always be a UMBC alumna, and UMBC will always be my home."
Header image: Fireworks display at UMBC's 50th anniversary celebration. Photo by Dan Bailey. Additional photos by UMBC staff and freelance photographers.