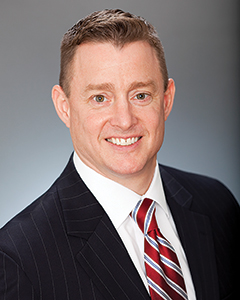 Thomas Sadowski '89, political science and public administration and policy, is all about turning opportunity into reality. A first-generation college graduate who until recently headed up the Economic Alliance of Greater Baltimore, Sadowski last year was appointed vice chancellor for economic development for the University System of Maryland. In this role, he is uniquely positioned to see and nurture the possibilities ahead for Maryland's universities – including his alma mater, UMBC.
Twenty-five years in economic development have afforded me the opportunity to work with leaders from industry, government, education, and civic organizations from all over the world. There are many leadership styles and approaches to fostering growth, investment, and economic opportunity. One of the things I have enjoyed the most is traveling to other markets to learn and share best practices in how to build an ecosystem, encourage community reinvestment, grow and retain jobs, and attract new business and investment. From Austin, Texas, to Boston, Massachusetts. Silicon Valley to Silicon Alley. Detroit to Dallas. The UK to Japan. Every experience offers things to emulate and avoid.
What were some of the big takeaways? Have a bold vision; build on your history, assets, and strengths; have a plan and commit to execution but be willing to be flexible; don't fight the market; foster deep and authentic relationships amongst industry, government, education, and civic leaders; collaboration trumps control; celebrate your rock stars and champions; tell your story; and most importantly – celebrate success.
Which of these comes first or second depends on the market, available resources, and specific circumstances. Ultimately the combination of all these, once achieved, creates a sustained sense of buy-in and pride that can make a market more resilient, dynamic, able to attract attention, and seize new economic opportunity. You have heard the term "it's better to be lucky than good." Well, in short, there are markets that have been so good at organizing themselves in such a way that they make their own luck and inspire new opportunities that were never considered possible at the start.
What I have just described can easily be applied to the evolution and growth that we have proudly witnessed at UMBC. It has, in turn, inspired new opportunities for students, faculty, alumni, and the institution that were never considered 50 years ago.
It was for this reason I was so honored when asked to contribute this piece to UMBC Magazine. There was no shortage of material to draw from, particularly after UMBC commissioned an economic impact study by Sage Policy Group entitled "The Power of 50: Tracing the Impact of UMBC and its Alumni After Five Decades". But the more I thought about the piece and studied the numbers, the more I wanted to go beyond the data. I wanted to get to the heart of what the data were saying.
Among the many findings included in the "Power of 50" study was the fact that UMBC has become "an engine of economic opportunity." It was determined that a key reason UMBC has reached the level of excellence and diversity that it has is due to its ability to foster "academic prowess among students with humble financial backgrounds". I was one of those students – a first-generation college student, paying my own way. I can't say I achieved a level of "academic prowess," but I can say the knowledge I gained and belief I developed in myself was tied to my UMBC experience. It inspired me to try and do the same for others. This same experience has been replicated many times over as the "Power of 50" data suggest to the betterment of communities, organizations, research partnerships, the state's economy, and beyond.
Best-selling author, three-time Pulitzer Prize winner, and New York Times columnist Tom Friedman (a Marylander) once said, "It is not what you know, but what you do with what you know." It is that act of "inspired doing" that differentiates UMBC and its alumni. It is part of the culture. This has in turn translated UMBC into a magnet for new students of all means, races, religions, cultures and/or ethnic backgrounds from throughout Maryland and beyond. It is a vital intangible that sustains the momentum UMBC has established and will continue to drive its future. Equally important is the fact that major employers, research laboratories, venture capital investors, government agencies, civic foundations, and others, have taken notice and want to get in on the UMBC experience.
I believe UMBC has arrived at that moment in time, like Austin or Silicon Valley, where its reputation is known and there is a buzz about the institution, its people, and the work that is done there. As members of the UMBC community, it's important we keep up the good work, continue to "make our own luck," and celebrate our collective success.