Making a Case
Just six years after its founding, the UMBC Mock Trial team is already taking the nation by storm. Having outperformed hundreds of other college and university teams since September, the team made a historic trip to the American Mock Trial Association's National Championship Tournament in Los Angeles, California, in April, competing against a select group of only 48 teams from across the United States.
UMBC received team and individual honors in L.A., including an honorable mention for the Spirit of AMTA award, for best display collegiality and fair play, and two All-American awards—the highest individual honor in collegiate mock trial. Senior Brandon James, English, won UMBC's first All-American attorney award, and sophomore Alex Ezigbo won the first All-American witness award.
The year has been a heady one for the team, spending weekends on the road to compete in – and win – invitational tournaments up and down the east coast. After finishing the Baltimore Regional Championship with a record of 5–3, both the A and B Teams advanced to the Opening Round Championship Series, held March 25–26, where the A Team secured one of only six bids to the national competition, and the B Team narrowly missed capturing a second.
Graduating seniors Dylan Rogers Elliott, history; Zuhair Riaz, political science; Kayla Smith, interdisciplinary studies; and James have earned a collective 14 individual mock trial awards, reflecting hundreds of hours spent writing and memorizing materials, in addition to the intense collaboration and team planning required to overcome more established teams.
"From my perspective, this is especially rewarding because of how this program has grown and evolved," reflects coach Ben Garmoe '13, political science. "I was on UMBC's first-ever Mock Trial team, just six years ago," he says. "It's hard to believe sometimes how quickly things have grown since then."
Reflecting on the historic trip, Elliott said, "As a senior, I can graduate happy knowing that I played a role, however small, in the team's growth."
While mock trial teams tend to attract students majoring in the humanities and social sciences, UMBC Mock Trial includes students from all three colleges, including a biochemistry major. Team members get experience honing their speaking, writing, and presentation skills, applicable to any career path. For some, like Smith, the team has also inspired future graduate school and career plans.
"Mock Trial has prepared me for a lifetime of experiences," Smith says. "After my first round in a real courtroom, I thought to myself, 'I wish I could do mock trial professionally,' and I realized that was just called being an attorney. I'm now headed to law school in New York, and I wouldn't have taken this path without Mock Trial."
She'll be following in the footsteps of UMBC Mock Trial alumni who have attended prestigious law programs at Georgetown University, UCLA, William & Mary, the University of Maryland, and the University of Baltimore.
As news of UMBC Mock Trial's win at regionals spread during the height of the basketball postseason, the campus found itself cheering yet another UMBC team's remarkable victory.
Some might be surprised at the rapid rise of such a young team, but coach Ben Garmoe isn't. "I told them at the beginning of this season that Nationals was possible," he says. "They went out and did the work to make it happen."
— Dinah Winnick
Odom Honored for Coaching
UMBC men's basketball coach Ryan Odom has been named 2017 recipient of the Joe B. Hall Award, CollegeInsider.com's honor recognizing the top first-year Division I coach in the United States. Odom led the team to a record of 21-13, and its first winning season since 2007-08, when the Retrievers went to the NCAA Tournament. UMBC finished the year as the third most-improved team nationwide, and the team's 21 wins represent the second most wins in a single year in the Division I history of UMBC men's basketball.
"I would like to thank the committee for this prestigious award," Odom said. "It is a testament to the work that our players and staff put in all year. I'm humbled by this recognition and I'm extremely blessed to coach such great young men."
Prior to this season UMBC had never a won a post-season tournament game. Odom's team posted three wins in the CIT and became the first America East team to win three games in a post-season tournament. UMBC also smashed single-season marks for points and three-point field goals.
"Ryan is an excellent coach, but a better person," said UMBC Director of Athletics Tim Hall. "He has laid the foundation this year for sustained success. This award is confirmation that he is the right leader for Retriever men's basketball."
The award is named in the honor of Joe B. Hall who was given the task of following the legendary Adolph Rupp. In his first season at the University of Kentucky, Hall finished 20-8, won the SEC and advanced to the NCAA Regional Finals.
"Ryan Odom brought a new attitude and a new style to UMBC," said CollegeInsider.com's Angela Lento. "He changed the culture and won more games this season than the program had won in the previous three seasons combined."
— Steve Levy '85
Image: Gail Burton
Read more at UMBCRetrievers.com.
Fine Dining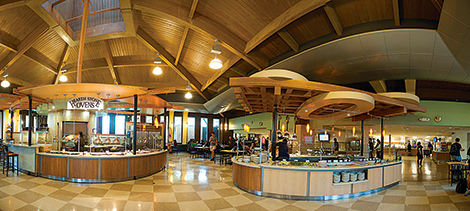 Complaining about campus dining is a time-honored college tradition, and even with options as varied as Chick-Fil-A, Indian cuisine, and kosher dining, UMBC is no exception – until recently. A new satisfaction survey by campus caterer Chartwells of more than 200 universities coast to coast lists UMBC fifth overall among students and faculty.
"I actually do find it surprising that it made it that high," says Karlo Begazo, a junior English major.
Even though the high ratings may surprise some students, the dining program takes them seriously. According to Tom DeLuca, resident district manager of Chartwells, UMBC's dining is always looking to improve. "We make changes year on year based on our surveys," he says, such as switching chicken vendors because of student concerns.
Dining options can also factor into prospective students' choice of schools.
"It is reassuring to know how highly our students think of the quality of dining services on campus," said Dale Bittinger M.P.P. '16, Assistant Vice Provost for Undergraduate Admissions, Orientation, and School Partnerships. "This is an important factor, among many others, that prospective students consider when conducting their college search."
It's a far cry from UMBC's earliest days. In the early 1970s, alumnus James Milani '73, political science, director of administrative affairs in the College of Engineering and Information Technology, recalls a sandwich vending machine containing pre-packaged subs; his favorite was the Italian, which he heated in a microwave oven. The cafeteria also sold sandwiches, pizza, burgers, fries, and more.
One of Milani's other favorites was a cinnamon bread available in the dining hall once a week. But the cinnamon bread "came to a sad conclusion when we all started to gain weight," he recalls.
UMBC's dining has indeed come a long way from vending machine lunches with a push toward better quality and health. The dining hall's food theme nights have also contributed to these positive changes. By partnering with different student groups, the dining hall hosts various theme nights each year, one of the most popular being Indian food night. The success of the Indian dinner theme sparked the idea to open Masala, which serves Indian cuisine, in The Commons.
"We have come a long way from a sandwich vending machine and commuter cafeteria to the many options that exist today," notes Milani.
— Allison Cruz '18
What do Retrievers eat? Find out here.
Retriever Round-Up
UMBC's winter sports teams all found success in different ways. Here are some highlights.
Men's Basketball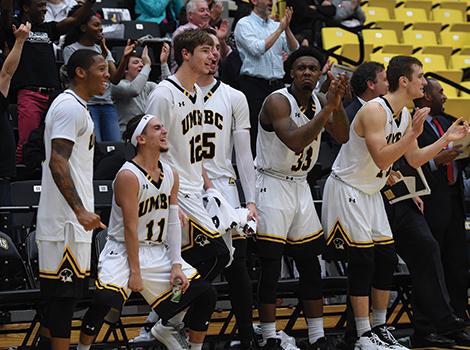 New coach Ryan Odom turned the team around in his first year, installing a fast-paced offense that took UMBC from a 7-25 team last season to a 21-13 squad that reached the College Insider Tournament semifinals and racked up the second most victories in UMBC's 30-year Division I history.
"It was an amazing year; it was a lot of fun," Odom said. "It was a great ride. I'm really proud of each and every one of them. It was truly an unselfish basketball club… and there's a lot of room for growth."
UMBC started fast, passing last year's victory total by mid-December and going on to finish fifth in the America East with a 9-7 conference record. Odom's new offensive style helped UMBC average 81.1 points per game, ranking them among the top 30 Division I schools in the nation.
The Retrievers lost to New Hampshire in the first round of the America East tournament before earning a CIT bid, where UMBC scored home victories over Fairfield, St. Francis, and Liberty before falling to Texas A&M University-Corpus Christi, 79-61, in the semifinal round.
Swimming and Diving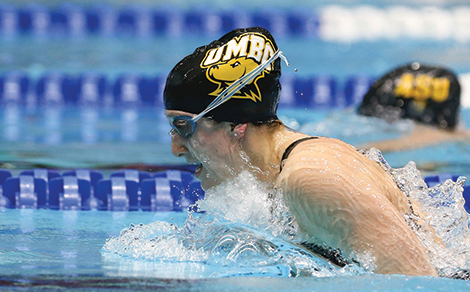 Both men's and women's teams won their third straight team championships. The men captured the Coastal Collegiate Sports Association title while the women won the America East crown.
Coach Chad Cradock '97 and his staff earned Coaching Staff of the Year honors from their conference while Lauren Day '17 won the Elite 17 Award for the top GPA at the meet.
Senior Emily Escobedo '17 truly had a memorable season, making the America East All-Academic team and winning her fourth America East Swimmer of the Year award plus the Dave Alexander Coaches Award, given to the person with most points scored in the meet. However, Escobedo's biggest moments came later, when she qualified for the NCAA Championships for the fourth time. There, she took third in the 200 breaststroke, setting a new school record and earning All-American status. She also set a new UMBC records in the 100 breaststroke and 200 Individual Medley, in which she finished ninth and twelfth, respectively.
Women's Basketball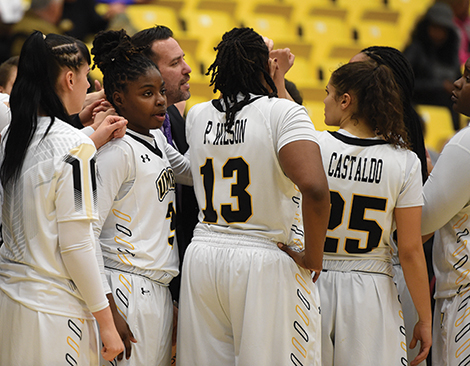 Coach Phil Stern's team battled numerous injuries but still finished with a 15-16 record, with the Retrievers earning a second consecutive postseason bid. UMBC lost to Brown in the first round of the Women's Basketball Invitational (WBI) tournament.
"This season was up and down due to the injuries suffered by 13 different players," Stern said. "Once we were healthy in mid-January, we played the way I knew we could and won 10 of 11. Earning our second straight post-season bid is something to build on for next year."
The Retrievers finished 10-6 in the America East and earned the No. 3 seed heading into the conference tournament but sixth-seeded Hartford upset UMBC in the first round. After that, the Retrievers fell to Brown (81-75) in the WBI's opening round.
Senior Taylor McCarley '17 led the team in scoring and earned first-team All-America East honors and also made the conference's All-Defensive team. She ended her career ranked fourth all-time in scoring (1,449 points). Junior guard Laura Castaldo '18 was a third-team All-America East pick while senior forward Pandora Wilson '17 made the All-Academic team.
Indoor Track and Field
The UMBC men finished fourth, and the women ended up seventh at the America East championship meet.
For the men, the 4×400 meter relay team set a new school record with its victory in the championship meet. Jamal Cody '19, Erick Soetje '17, James Oakley '18, and Darrius Oxley '17 combined to win in a time of 3 minutes, 14.88 seconds. Cody set a UMBC record in the 400 meters at that championship meet. His time of 48.69 seconds was good enough for a third-place finish in that event. Soetje broke the school mark in the 500 meters at the IC4A championships, finishing second in 1:03.10 to earn a spot on the America East All-Academic team.
For the women, Tori Johnson '20 was picked as the America East Most Outstanding Female Rookie.
— Jeff Seidel '85
Grand Master
There can be only one – national women's chess champ, that is. In April, Sabina Fiosor '12, modern languages and linguistics, bested former UMBC player (and reigning national champ) Nazi Paikidze to be crowned U.S. Women's Champion International master. Fellow alumnus Alexander Onischuk '07, MLL, came in second for the men the same day. Photo courtesy of the Chess Club and Scholastic Center of Saint Louis, Lennart Ootes.
Present to the Future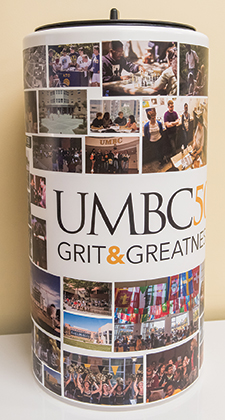 Fifty years from now, what will UMBC look like? Will students float around campus on Jetsons-esque jet packs? Will we all plug into teaching modules to download lessons straight into our brains, a la Asimov?
While we may not be able to predict the future, students in 2066 will be able to understand UMBC's past thanks to a time capsule filled with artifacts from the 50th anniversary year, including a letter written by UMBC's first graduate, Robin Mayne '69, to the students of UMBC's freshman class of 2016; an Election Night Extravaganza t-shirt; copies of the Retriever Weekly, including a copy of the April Fool's Day "Deceiver" issue, and more.
"We're hoping that in 2066, members of the UMBC community will be able to open the time capsule and learn a little about what it's like to be a Retriever in 2016," said Craig Berger, coordinator of student life for campus and civic engagement, who hopes to make the capsule's burial a part of fall's Homecoming.
Berger has been working with UMBC Special Collections to figure out the best ways of keeping items in the capsule safe while also investigating digital options to accompany the project.
While the capsule is more for fun than academic purposes, archivist Lindsey Loeper '04 agrees that it "can generate a lot of excitement and interest about the history of the university, which is a great thing."
— Jenny O'Grady
Tags: Mock Trial, odom, Spring 2017