Topping off a history-making year, the celebrations continue tonight for UMBC men's basketball with a nomination for "Best Moment" at this year's ESPY Awards. Before they jetted off for a star-studded night in Los Angeles, we caught up with some of the players hitting the red carpet to answer the hard-hitting questions #RetrieverNation needs to know.
ESPYs voting is open until the start of the show at 8 p.m. EST. Click here to vote for the Retrievers!
Q: It's a night that sports enthusiasts dream of. Is there one celebrity you're looking most forward to seeing?
"LeBron. Cleveland still loves him." – Nolan Gerrity '19, forward/center, unofficial representative of Cleveland.
"LeBron James." – Max Curran '20, forward, here to state the facts and keep his eyes on the ESPY prize.
"The GOAT (greatest of all time), Aaron Rodgers, of course. And my celebrity crush, Rachel McAdams, was there last year. I doubt she'd go two years in a row as a non-athlete, but here's hoping!" – Joe Sherburne '18, forward, still recovering from his Aaron Rodgers Twitter shout out during March Madness.
"I don't think I could pick just one, but definitely LeBron or Drake." – Jourdan Grant '18, guard, ready to represent on behalf of all #UMBCalumni.
Q: The single most important question prior to any red carpet event: What will you be wearing for the big night?
NG: "Dark gray suit and some Gucci shoes."
MC: "Black suit with white shirt and black and gold loafers."
JS: "A fine suit, tailored by ATC Dry Cleaners in Annapolis, MD. If you want your clothes tailored right, the only option is to go to ATC Dry Cleaners #ad."
JG: "Blue suit with some 'drip'." Editor's note- we Googled "drip" for you and learned it means "immense swag."
Q: You're going to have a full day ahead of you. How do you envision it going?
NG: "I think I'll be anxious but mostly excited. I imagine the day will be going very slowly."
MC: "Just endless anticipation, waiting for the show."
JS: "No clue. Maybe I'll visit the pool. I might stare at my reflection for a while to focus, like Cristiano Ronaldo does before games. And I definitely have to make sure my phone and portable charger are fully juiced, since I'll be taking lots of pictures."
JG: "Very chill and relaxing. I plan to enjoy some good food and vibing with my brothers."
Q: Inquiring minds are dying to know what's the most important thing you packed in your suitcase?
NG: "Definitely my portable charger. I'm gonna be using my phone a lot taking pictures during the show." Psst – make sure you follow @UMBClife on Instagram as Nolan takes over live from the show!
MC: "Cali clothes."
JS: "My suit!"
JG: "I would say my Comme des Garçon Converse shoes."
Don't forget to tune in at 8 p.m. on ABC or Watch ESPN on Wednesday, July 18 and show your support for #RetrieverNation!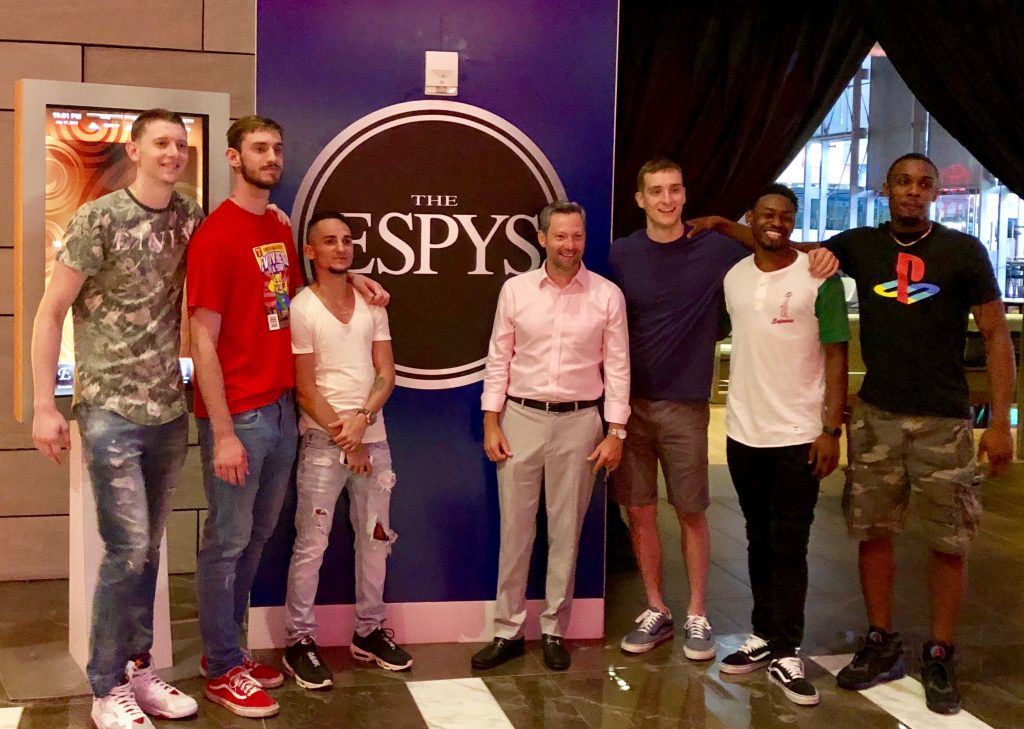 Tags: Basketball, ESPY Awards, ESPYS, Men's Basketball