The stunning first-round upset of top-ranked and top-seeded Virginia in the NCAA Tournament two years ago put the UMBC men's basketball program on the map in the United States. But the truth is, there are Retrievers who've been playing professionally around the world for years. 
In fact, three key players from the 2017 – 18 team—top scorer Jairus Lyles '17, sociology; starting point guard Jourdan Grant '18, media and communication studies; and K.J. Maura—are sharing their Retriever gifts in Germany, Latvia, and Portugal, respectively. 
For those who want to play basketball professionally beyond the boundaries of the NBA, going out of the country to make a career is a popular option. In fact, some make long careers out of it either in one place or in several. 
Cavell Johnson '09, American studies, played just one season at UMBC, transferring in for the 2007 – 08 season, when the 6-foot-8-inch forward became extremely valuable during UMBC's first-ever NCAA appearance for basketball. Though the team lost to Georgetown in the opening round, Johnson graduated into a professional career, hopscotching around the world to play for teams in Finland, Hungary, China, and Greece.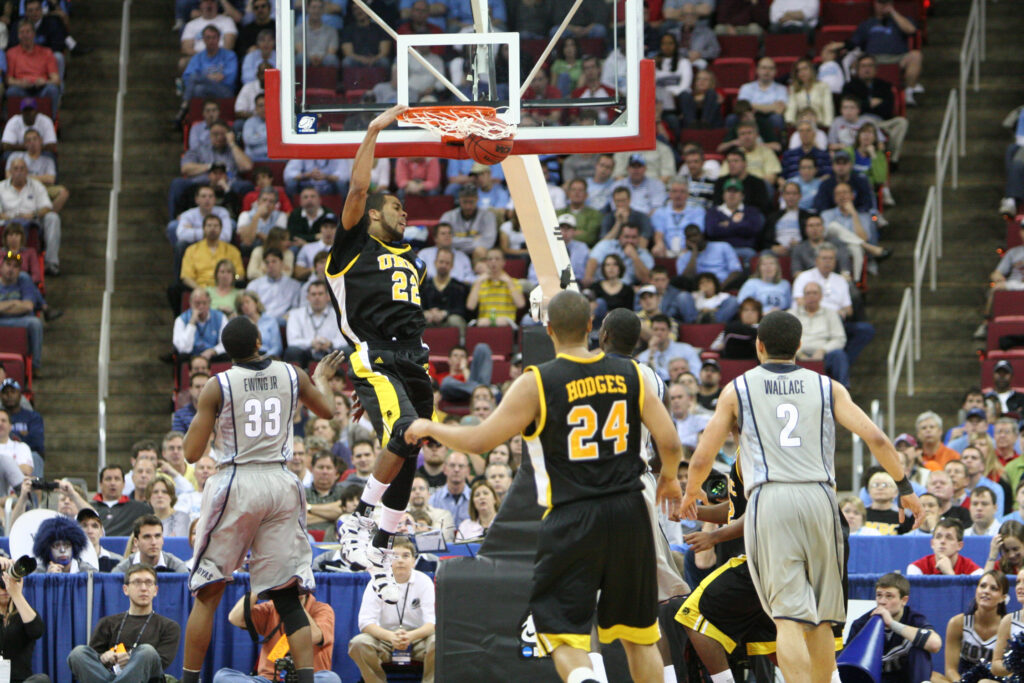 While playing for the KW (KitchenerWaterloo) Titans, located about 75 minutes outside of Toronto, during their 2017 – 18 season, Johnson took over as coach. He's now coach and general manager for the team, a part of the National Basketball League of Canada. 
"There's so much love and support here; the people, you hear it all the time…the people in Canada are so nice," Johnson says. "I get to impact lives now. That's one of my favorite things I get to do." 
Andrew Feeley '06, sociology, who played at UMBC from 2001 to 2005, left the United States in the fall of 2006 and played in Japan for three years. After that came a year in France before going to Uruguay, where he's played for the past eight years. Feeley is 6-foot-10-inches tall and loved being able to both play basketball and see the world. 
"I just did it because I had the opportunity, and I thought this is awesome," he said in a recent interview. "Someone's going to pay me to play basketball…and I'm going to travel the world on somebody else's dime. If I had to do it all again, I'd do it the exact same way." 
Feeley's world may be changing now, though. The league he plays in suspended their season in late March and was scheduled to re-evaluate at the beginning of April. Plus, the 36-year-old got married last August and after a long career playing, the Philadelphia resident says he might like to go into college coaching. 
Other former Retrievers play basketball professionally overseas, as well, such as former student Will Wise in Latvia; Ryan Cook '14, economics, in Kazakhstan; Quentin Jones '15, business technology administration, in the Bahamas; and Will Darley '19, environmental studies, in Malta, among others. 
In the end, these athletes are getting to fulfill their dreams—playing professional basketball.  
"We have been fortunate to have multiple guys go off and play professionally," UMBC coach Ryan Odom says. "Those guys gain invaluable experience and have a chance to see the world and continue to play the game they love. And once their playing careers are over, they have a degree from UMBC that means a lot when they go enter the workforce." 
— Jeff Seidel '85
*****
Header image: K.J. Maura takes a shot against Virginia in the 2018 NCAA Tournament. Photos courtesy of UMBC Athletics.
Tags: Athletics, Men's Basketball, Spring 2020