As UMBC celebrates its newest work of public art, we look back at the university's legacy of public works on campus.
By Lindsey Loeper '04 and Richard Byrne '86
One of the key elements of UMBC's history as a campus has been the institution's search for a definition of its mission and purpose. Founded in the blossoming of a baby boom generation of students in Maryland and beyond that needed more teachers, classrooms and desks to fulfill the dreams of a college education, the university was buffeted by the same cultural, economic and political forces faced by the state and the country as a whole. And UMBC faced these challenges as a young university still putting down roots.
These roots have taken hold now, and strengthened. UMBC has grown into a celebrated research university. And though the heart of UMBC's work as a successful public research university takes place in the minds and hearts of its students, alumni, faculty and staff, the outward appearance of our campus does matter – and also tells a significant story.
In a recent interview with UMBC's Alumni blog, Julie Kuhn Sanchez '10, media & communication studies and visual arts, recalled how her grandfather, UMBC's first chancellor, Albin O. Kuhn, helped define the shape of the campus's Hilltop Circle by riding around in circles on a tractor. And the architecture first built within that loop road was very much of its time. Built with a bricks that nodded to the foundations of America's oldest campuses, UMBC's planners fashioned them into shapes much more angular and modern.
As the university and its ambitions have grown, its architecture and campus aesthetics have become more ambitious. UMBC President Freeman A. Hrabowski, III has crusaded to make the campus a greener place, and not only in terms of its climate impact. The newer buildings on campus nod to UMBC's brick origins, but push that very familiar look into new vistas of glass and metal. It is an evolution one glimpses easily in UMBC's now-complete Performing Arts and Humanities Building.
That vision is also articulated in Forum – a public artwork by North Carolina-based artist Thomas Sayre that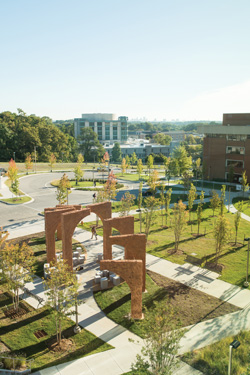 was commissioned to accompany the opening of the Performing Arts and Humanities Building. The work is a series of eight earthcast arches that converge at a meeting point where granite blocks, smoothed on top for more comfortable seating but otherwise hewn roughly, are gathered.
UMBC has a long history of distinctive public artworks on campus. Some have disappeared from view over time. Others have become icons of the university. But the process behind the concept and execution of "Forum" was different in several key aspects.
For instance, Forum was the first project completed as part of the Maryland Public Art Initiative (MPAI). Passed by the state legislature and signed into law in 2013, the MPAI requires all new state construction and renovation to integrate public art into the planning and building process. UMBC eagerly became a test case for the new initiative, and a committee of 13 members of the faculty, academic leaders and officials from the Maryland Commission on Public Art sat on the selection committee.
Timothy Nohe, a professor of visual arts and the founding director of UMBC's Center for Innovation, Research and Creativity in the Arts (CIRCA), says that the search for the right artist and the execution of Sayre's vision on an accelerated timetable required close collaboration between academic leaders, state officials, and the campus as a whole. The committee met with all of the university's shared governance bodies and created a set of questions that quickly shaped themselves by consensus into the themes which Sayre and other artists who applied for the commission found compelling.
"The campus really found its voice in the process," Nohe says.
The request for proposals circulated by the university had a galvanizing effect on Sayre, who was selected in March 2014 as the project artist. "It was the best-written one I'd ever encountered," he says. "It was willing to say something about the hopes and dreams for the art in front of the building…. It immediately captured my imagination."
Sayre says that the elements of a cloister, which are clearly articulated in his design for Forum, "hearken back to the origins of the university in ecclesiastical places, and the origins of the [academic] disciplines in those buildings." The design of the piece will allow for performances as well as reflection, yet the artist notes that Forum resists a simple relationship between spectator and performer.
"The way the seating is created, "Sayre says of the stones of varying height and distance place at the center of Forum, "it becomes a terrain."
Sayre's choice of materials – earthcast arches and granite seats – also summons up something even more ancient and essential: the relationship between humans and the space they inhabit. The physical process of earthcasting itself underscores what the artist observes are "relationships between humans and the earth. When you dig a mold into the earth, there is the establishment of a balance between human intentions and the grain of nature itself."
Forum has already hosted some gatherings and other performances, including a reading of Homer's Odyssey in December. It seems certain to become yet another key gathering point for the UMBC community as the campus grows – and a model for public art's future on campus.
Nohe says that the success of Forum will offer new chances to mark UMBC's physical growth and its deeper vision of itself. Future buildings on campus (including a planned Life Sciences building) will have a similar public art requirement, he observes. The next installations of public art at UMBC will offer "an opportunity to make a clear statement of our values, and an opportunity to point to ourselves as a mature campus."
A Brief History of Public Art at UMBC
Many of the prominent public art projects on campus are still on view. Others have disappeared. Here are some selected highlights of artistic expression in the public spaces of campus.
(A) Perhaps the most iconic piece of public art on campus, the bronze statue of UMBC's Chesapeake Bay Retriever mascot – True Grit – has been a focal point of the university community since UMBC President Michael Hooker commissioned the work in the late 1980s. The statue – created by alumna Paulette Raye '87, philosophy, will be moved later this year and rededicated as a centerpiece in the university's new gateway to campus. As UMBC President Freeman A. Hrabowski, III recalled to UMBC Magazine in 2012: "If you asked [Michael Hooker] what he did at UMBC that really mattered, he'd say that he wanted that dog out front. As a symbol."
(B) One of the earliest pieces of public art remaining on campus is Double Helix, a work in Tennessee Black Marble situated at a prominent spot in front of UMBC's Administration Building. It was created by former UMBC student Robert DuBourg, and it was purchased by the university and installed circa 1978.
(C) When does public art also become a university meme? A life-sized statue of businessman, philanthropist and pioneer in school desegregation Walter Sondheim, Jr. stands directly outside the UMBC building named for him and his wife, Janet. The statue was created by Maryland artist Antonio Tobias Mendez and was unveiled in 2005 to celebrate the endowment of the Sondheim Public Affairs Scholars Program. The statue became the subject of a light-hearted student blog later that decade called "Walter Sondheim is Smoking," in which photos of the statue were posted with cigarettes placed strategically in one of Sondheim's hands. Though that meme eventually lost steam, that statue and the benches around it – with words of wisdom from Sondheim carved into them to inspire the campus community – has become a key meeting spot at the heart of UMBC.
(D) One of the most poignant pieces of public art on campus is Mnemonic by artist Marc O'Carroll, which is situated at the rear of the campus' Fine Arts Building. According to a September 13, 1976 story in The Retriever Weekly, the piece was made in UMBC's art studio and was meant to commemorate "a huge and ancient sycamore" that once stood behind UMBC's Dining Hall and was chopped down to make way for a service driveway. "O'Carroll carried the memory of that sycamore with him until the day the school commissioned him to do a sculpture for the new Fine Arts building," wrote Bernard Penner '77, English. "Painstakingly he welded his memory into steel and now it stands on display for all to see. The tree is gone and so is Marc O'Carroll but the Mnemonic carries on."
(E) While Mnemonic depicted a UMBC in conflict with nature, one of the most prominent public art projects at the university – The Joseph Beuys Sculpture Park – is a grand effort to promote harmony between the environment and the university. Created in 2001-02, the collection of thirty rocks and tree plantings in the park was inspired by artist Joseph Beuys' transformation of the German town of Kassel by the planting of 7,000 oaks. The park provides a quiet and contemplative space at the heart of the campus, with benches and paths that invite meandering and reflection.
(F) Some of UMBC's most notable public art from its earliest days has vanished from view. Today, the courtyard tucked beside the Meyerhoff Chemistry Building is usually quiet and peaceful, but in the university first years, it was a place where students came together for various performances and protests. The courtyard was dominated in that era by two large sculptures by local artist Pat McGuire – a large, metal sculpture including animals (a kangaroo and birds), a large wheel, and a moving element that operated like a windmill called "Entropy Machine No. 7," and a green sculpture called "Micro Mantis." The latter piece, wrote Bernard Penner in the March 10, 1975 edition of The Retriever Weekly, hearkened back to a time when UMBC "was a peaceful woods through which Indians ran and praying mantises thrived."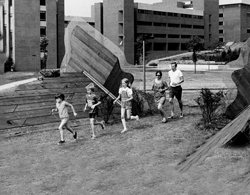 (G) Another piece of public art that has vanished from UMBC was a large installation near the library erected in the early 1970s by Maryland Institute College of Art professor Ron Grow called "Winged Earth." The work spanned 80 feet of a sloping grassy hillside near the Albin O. Kuhn Library, and was described by The Retriever Weekly as a formation of "two walls which converge to a center point, then open outward into two large wings of graded earth." The work was created as part of a series of collaborations between campus and local artists organized by visual arts professor Patrick Canavan.
Portions of this article were first featured in a post by author Lindsey Loeper on UMBC's "Breaking Ground" website.