Danielle Giese '99, political science and Africana studies, remembers her first paychecks were hot and cheesy pizza lunches. They were the reward for volunteering at the Southern Maryland Tri-County Community Action Committee where her father, Dana M. Jones, served as chief executive officer for 30 years. At 12 years old, Giese and her two brothers, Rondell and Gregory, were tasked with answering phones, doing data entry, and directing people to the corresponding service. 
Giese watched as her father advocated for and administered federal and state-funded local programs for vulnerable communities for decades. Giese quickly learned that her participation was vital to helping connect people to necessary resources, and Jones had no qualms about his children's ability to do their job well. Slacking off was not an option, Giese reminisces with a smile.
"I began working on my political science and Africana studies degrees years before coming to UMBC," says Giese who is the assistant director at the U.S. Government Accountability Office where she has dedicated over two decades. She leads performance audits of government programs at the request of congressional committees, a policy-making process to help ensure federal programs are meeting community needs.
Day-to-day work of social change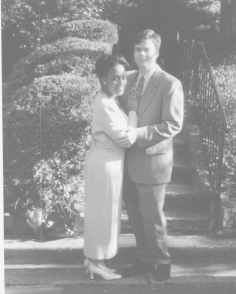 What she remembers most about volunteering for her father is getting a glimpse into the myriad needs of her community. Doing data entry for the food bank increased her awareness of the number of families whose paychecks were not enough to feed their families. "I saw people who had jobs and sometimes were also receiving other types of support," says Giese, "show up month after month after month. I learned just how difficult it was for people to make ends meet and put food on the table."
As the hub of entry for new and existing clients, Giese quickly learned community members' needs went beyond being connected with other agencies and resources. Direct services like a Head Start program and an elder care program provided the spectrum of direct support caretakers needed to seek and maintain employment. And for those who needed housing, the organization also raised funds to supplement federal and state allocations to build affordable housing. Her father would even do home visits to inform families on energy efficiency.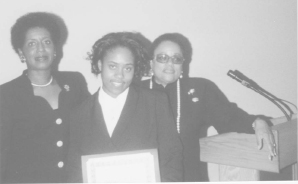 What Giese didn't know at the time was that she was an active participant in the War on Poverty, a social welfare legislation introduced in the 1960s by President Lyndon Bates Johnson intended to help end poverty in the United States. The people she welcomed were part of the about 13 percent of Americans who were living in poverty at the time. When she volunteered, it freed more employees to serve more families. In those informative years, Giese watched her father be a liaison between the federal and state government and local communities carrying out the day-to-day work of social change, and she saw a place for herself in that world.
From local to federal change
Once at UMBC, Giese, a Humanities Scholar and a McNair Scholar, chose a path that broadened the foundation her father had given her. Giese passionately describes the long-term impact her gender and women's studies courses—taught by Patrice McDermott, now vice provost for faculty affairs—have had on her work with childcare policies at the federal level.
"Learning about how the social construct of gender controls access to work and its distribution, income, and wealth inspired me to engage in conversations about how we define and value 'male' work versus 'female' work, especially in the childcare industry," says Giese. "Finally, after 20 years, policymakers are willing to discuss viable wages for childcare workers that will allow them to sustain a family."
UMBC laid the foundation for so many aspects of Giese's professional career, but also would determine the personal side of her life too. Danielle Jones met Michael Giese '97, history, at Humanities Scholars gatherings where they found they shared an agricultural background dating back to the 1860s—with her family's liberation and landownership and his family's immigration from a farm in Germany to one in Maryland. He also took McDermott's gender and women's studies class. These shared bonds deepened their understanding of the world and each other leading to their marriage and their two children: Kent, 12, and Luke, 10.
"Danielle's courses in gender, women's, and sexuality studies shaped not only her understanding of herself but also the ways she pursues her work in the world," shares McDermott. "Her story is a testament to the powerful ways our graduates draw on these lessons within their workplaces and society at large."
From theory to action
Giese recently spoke about the joy she experienced as an Africana studies major in a video celebrating the department's 50th anniversary. She shared the pivotal role Willie Lamousé-Smith, professor emeritus and former chair, had in her understanding of race and power in society and the global systems that have supported and perpetuated racism. Giese also shared about the transformative power of her class with Thomas Robinson, professor of Africana studies, on the psychology of racism and how it affects home, work, and personal relationships.
Reflecting on the on-going legacy of the department, Gloria Chuku, current chair and professor of Africana studies said, "The goal of the Africana studies department is to educate about the Africana heritage which includes the experiences, successes, challenges, and progress of people of African descent in the U.S. and across the globe."
Before graduating, Giese applied her experience from volunteering with her father that she continued to build on at UMBC to serve as an intern within an organization tackling housing issues in the Maryland Housing and Community Development Agency. Once again, she experienced the intricacies of collaborative work between state and local and state and federal programs. Even as a student, Giese could envision the impact she could have if she continued down this path at a federal level.
"The humanities, the cultural studies, provide important insights that we all need to basically influence the nation that we live in. It makes you think creatively about how you want to live your life," says Giese. "Combining Africana studies with political science has given me incredible insights into how our government systems affect people of color. Change requires daily committed engagement through tough conversations that push the dialogue incrementally. Both majors have given me a leg up in a lot of ways."
Improving the country
"My work, like my dad's, is ever-changing because it is always about improving the lives of communities across the country," says Giese. She specializes in issues related to education, income and workforce security, equitable wages, worker protections, and subsidized childcare programs.
"It's about engaging in dialogue on whether the federal programs meet the goal, the vision we have for serving people and for improving their lives." She has no qualms about her ability to do the job well. Slacking off is not an option.
Tags: Africana Studies, CAHSS, GWST, History, PoliticalScience