Very few Retrievers can say they've spent as many years on campus or enjoyed quite so many roles in doing so as Joan Costello '73, social work. From her first days as a student and student worker; to 41 years as a staff member in the library, audiovisual (AV) services, and multimedia center; to her current role as basketball season ticket holder, committee member of the Founding Four, and board member of the Wisdom Institute—UMBC's organization for retired staff and faculty—Costello shares why she's chosen to make UMBC her second home for more than 50 years.
The first days
I grew up two miles away, and when this new school opened, I thought I would give UMBC a shot. In my memory, it rained at the beginning of most semesters—a nice complement to the on-going construction. But I really enjoyed the experience of being part of a young university. It was fun seeing everything grow up with me.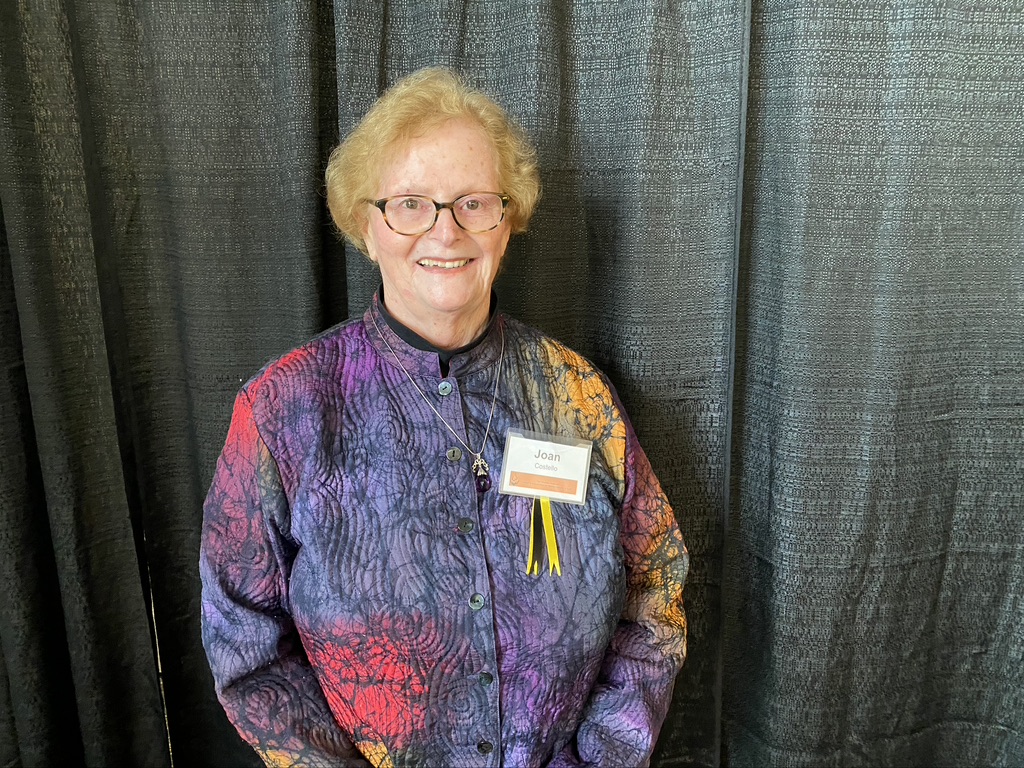 College was hard at first. It was a big change for me academically; even the language used was very different from what I was used to. Terms like mean and median and bell curve I had never heard of! I took a statistics course and I thought I was doing okay compared with everybody else. We were all on that same curve, right? But when it came to the final, I ended up getting a D in that class. I didn't know yet about repeating classes, or dropping them at the last minute, so it took me a while to bring my GPA up, but I did.
In my second semester, I got a job at the library—not yet the Albin O. Kuhn Library that Retrievers have access to now—and it gave me an outlet to learn more about the campus, faculty, staff, student workers, and patrons. The library was a great place to work. We learned each other's jobs so that we could help in a pinch, and we had the best parties—staff Olympics and talent contests like the Gong Show. We were all young, students and staff, and many of those bonds have lasted over 50 years.
Returning to work at UMBC
After I graduated, I worked at the Good Shepherd School for Girls for five months, but UMBC called me and offered me a job in the library, so I happily returned. I eventually became a supervisor of Record and Tape. Back then there was an AV department on campus that did the movies and equipment around campus, which eventually went under the wing of the library. It became two jobs: supervising Record and Tape and AV services. AV was located in the Chem/Physics building, which had to be the worst office ever because it was in the basement and you got the lovely fumes from the labs.
We later moved to a new building, Academic IV (now Sherman Hall). Victor Aulestia (director of instructional technology) made his case to put the media areas together—AV services, the International Media Center (the Language Lab), and the TV studio.
I always loved getting to know the students, staff, and faculty. And I liked to help. If somebody needed help in a pinch, I would try to arrange it. I later worked in the International Media Center in Academic IV. It was a great study area for students to hang out.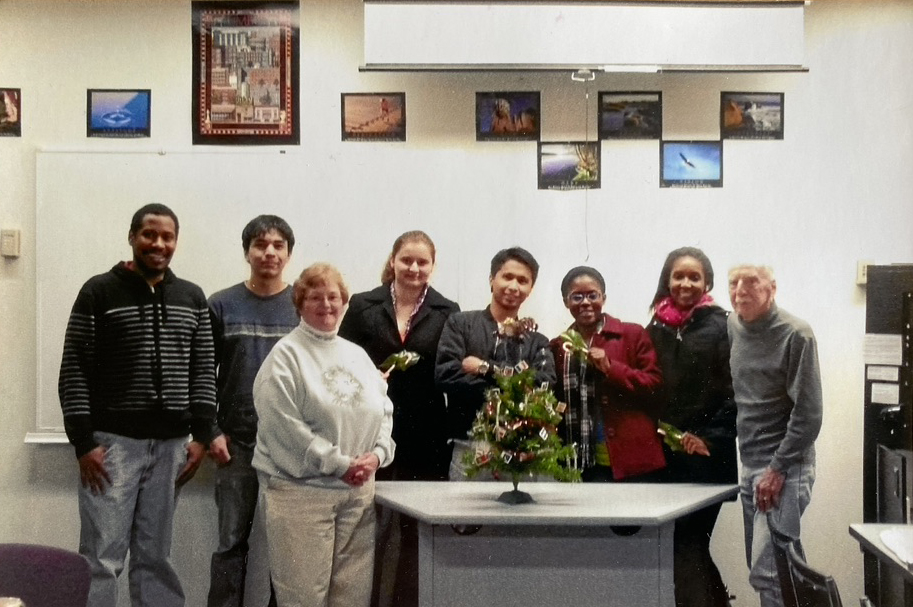 At the beginning of the school year, kids often looked lost, and so I tried to help with directions and encourage them—I really enjoyed that. I had a crew of students who worked with me—students from all over the place—and it was fun getting to know all of them. I wanted to make them feel comfortable because some of them were away from home for the first time.
Long-term Retriever
I've found ways to stay involved. I am a part of the Founding Four group (our members include the first four graduating classes of UMBC). It's been rewarding to be involved with that group and to hear other people's stories. In fact, we have just put together a book of early recollections, This Belongs to Us. I go to the UMBC theatre to see the plays as often as I can, and I'm also a basketball season ticket holder. I always see friends there.
I'm also on the board of the Wisdom Institute, a group of UMBC retirees always working to bring folks together with activities and volunteering and camaraderie. We've done luncheons, we've gone to plays and concerts at Lurman Woodland Theatre, in Catonsville. We also get people involved in service, like helping tutor or mentor students in the nearby schools, and that's a great way of giving back. Our biggest hit as an institute is our annual special talk and luncheon—we've had some great speakers, and you get to see so many people coming back to campus.
That's the best part. You get to keep your connections to people you knew at UMBC, and maybe you wouldn't think of getting together with them otherwise, but we have this venue that makes it easy and makes it so much fun.
I've stayed connected to UMBC for all this time because it's familiar, convenient, and like another family. UMBC is its own community within the loop. I enjoyed the people…and I still do!
Learn more about the Wisdom Institute, now celebrating its fifth anniversary.
Tags: CAHSS, Founding Four, social work, Spring 2023