This year's Arts and Humanities Afternoon at UMBC Homecoming on Saturday, October 15, 2011 will focus on alumni filmmakers. To whet your appetite for our afternoon discussion on the art of moving images, we'd like to introduce you to some of the filmmakers who'll be coming to the event, which will be held in the Skylight Room of the UMBC Commons from 3 p.m. until 5 p.m. We're also planning some screenings of the work of these filmmakers on campus in the week before the event. Please stay tuned!
Films by the alumni filmmakers will be shown at the Skylight Room in The Commons on the following dates:
Monday, October 10, 2011 at 7 p.m.: Saved! (Brian Dannelly '97)
Tuesday, October 11, 2011 at 7 p.m.: Films by Richard Chisolm '82, Steven Fischer '98 and Daphner Gardner '09
* * * * *
Daphne Gardner '09, acting and interdisciplinary studies, makes films that focus on the young female experience in America: loneliness, complicated friendships, getting laid, and hunting down the guy that shot your friend in the leg. She and her partner Patrick Letterii '09, acting and interdisciplinary studies, are currently directing and acting in their first feature film, Get Lost. She currently resides in Brooklyn, NY.
Getting Started: "It was a culmination of events that led me to filmmaking. I always knew I wanted to act, but it was the desire to control action that led me to realize I wanted to direct. Coming from a background in performance it seemed natural to explore the role of directing, and once I took my first production class I'd felt I'd found a way to manipulate my emotional impulses into something bigger than myself."
What It Takes: "In my mind, to be a good filmmaker, you have to be so many different things, but right now as I work on my first feature film, I think of the following attributes: patient, flexible, positive and determined. All of these qualities of course, are extremely difficult to possess at the same time on every shoot, but I'm working on it."
To see a selection of Daphne Gardner's work, check out her website:
http://www.daphnegardner.com
* * * * *
Steven Fischer '98, visual and performing arts, is a two-time Emmy-nominated writer/producer and the creator of Steve & Bluey, a modern day Abbot & Costello comedy team that has starred in two published books, on television through TCI Communications, and in a variety of radio comedies. His credits include, Carl Clark: Life at 1/125 of a Second (2000), Silence of Falling Leaves (2000), Camp Med (2005), Now & Forever Yours (2007), Freedom Dance (2007), Old School New School (2010), and Urban Paradise (2011). His latest effort, River of Stone, was commissioned by Maryland Public Television and follows noted artist Jim Sanborn (Kryptos) as he attempts to reproduce Maryland's Piedmont Plateau in a 300-foot sculpture.
Getting Started: "There was no singular event that made me want to become a storyteller. I think growing up I just instinctively knew I was one; or let's put it this way, I knew that I enjoyed the time in my imagination. I wrote and produced my first script at age 9. It was a silly radio theater-style adventure play, probably 10 minutes long. That's how it was for me growing up."
What It Takes: "I think ultimately it takes many things…. In a general sense I think it takes dedication to learning the craft, always creating, always writing, continually studying the work of the masters and of those who inspire you. It takes passion. It takes tenacity. It takes experimentation. It takes honesty. Take chances and don't be afraid of failure. There is no such thing as failure if we learn from it and apply the wisdom to our future."
Works written and directed by Steven Fischer available online include:
* Old School New School (Snag Films!): A documentary on the creative process including interviews with jazz pianist McCoy Tyner, actor Brian Cox and many others…
* Urban Paradise: The Director's Cut (MPT/PBS)
Watch Fischer talk about his work:
Steven Fischer at Raleigh Studios, Hollywood, CA.
Steven Fischer on Cinematography.tv
Steven Fischer on Cine Maryland
* * * * *
Richard Chisolm '82, interdisciplinary studies, is a national Emmy award-winning documentary filmmaker and cinematographer with over thirty years of production experience. Based in Baltimore, he has shot films and television programs on a wide variety of subjects in the U.S. and abroad working for PBS, National Geographic, BBC, Discovery Channel and HBO. He was the director of photography for both of ABC's Hopkins prime time medical documentaries (2000 and 2008). In 2011, he directed and shot Cafeteria Man, a feature documentary on school food reform. He is also the recipient of a Peabody Award, a Columbia duPont Journalism award, two Kodak Vision awards, three CINE Golden Eagles, and received a Distinguished Alumnus of the Year Award from UMBC in 2001.
Getting Started: "I was an artist as a kid, and when I hit adolescence, was given a movie camera by my brother. My creative pack of friends and I began to play with it for fun on weekends, treating it as just another tool for making art and experimentation. Eventually we edited together some footage and submitted a short film to a local film festival. It was accepted and screened publicly to a full auditorium at the Baltimore Museum of Art. Being in that audience, hearing and feeling the reaction of the viewers, was a powerful rush of inspiration."
What It Takes: "I think to be happy and successful in film and video production, a person must either have a deep desire to tell stories, or to make art with it, or to embrace the skills of the craft, or any combination of the three."
Check out video clips from Richard Chisolm's work at http://www.richardchisolm.com/video.php
* * * * *
Shawn Vanden '87, interdisciplinary studies, says he found his career passion in his junior year at UMBC, when the (then) information systems management major took a film class as an elective. He set up his own production company, and writes and produces infomercials, commercials, and corporate video. He is best known for his creative ventures including the pilot television project Red Rivers Healing; Untold War Stories from the Archives (2001). He is currently working on a new project called Grey Angel, which weaves together a contemporary dramatic narrative with an actual supernatural legend which originated 200 years ago just a dozen miles from where he resides.
Getting Started: "Upon moving to Columbia in 1969, some neighbors were making an apocalyptic monster film in which they used me as an actor. They were also kind enough to allow me to sit in on some showing of "dailies" and some initial cuts. And in 1986, at UMBC, when I took my first film class, I realized that the early doodling in grade school and high school classes, my artistic skills, and my vivid imagination were coming full circle."
What It Takes: "First, a passion to have a perspective, a point of view. Then a passion to tell that story in an original way – a way in which it has not been told before. This is where your unique perspective comes from."
Check out Shawn Vanden's work on his Vimeo site: http://vimeo.com/4109511
* * * * *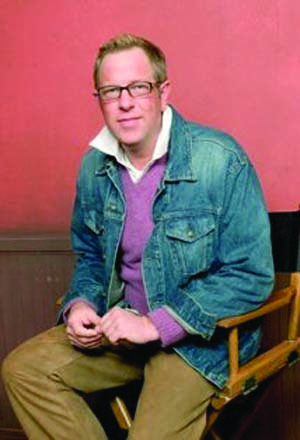 Brian Dannelly '97, visual and performing arts, was born in Wurtzburg, Germany and spent his early years in Lederhosen skiing and climbing the cheese and sausage strewn hills of Bavaria and putting on elaborate puppet shows with puppets he designed with his grandmother. After surviving Catholic elementary school, a Jewish summer camp and a Baptist high school, he attended UMBC and graduated magna cum laude. He was a directing fellow at the American Film Institute (AFI) and graduated from the prestigious directing program in 1999. His short films have played in festivals around the world. At AFI, Dannelly met his writing partner Michael Urban with whome he wrote his critically-acclaimed comedy Saved! – which premiered at the 2004 Sundance Film Festival and was distributed by MGM/UA. He has also directed episodes of two Showtime series Weeds and United States of Tara, and is finishing a new feature film called Struck by Lightning. He was a 2005 recipient of UMBC's Alumnus of the Year Award.
Getting Started: Looking back, I realized my need to tell stories started when I was a kid. I didn't have a video camera so I didn't make short films but I did make puppets and put on puppet shows….My real journey actually began when I was an International Studies major at another university and I took an "Intro to Film" class. I became so obsessed with making my first short that, during that semester, I almost got kicked out of my apartment because I spent all my money on production. I also went from being vice president of my class and an honor student to failing out of school. I loved making film so much that I lost interest in all my other classes. I also was depressed because I had no idea how to pursue this dream. Finally, after two years working a crappy job, I found UMBC. I had heard they had an amazing film department and that, back-in-the-day, John Waters had used their equipment to shoot some of his films. I crawled into the admissions office and begged them to give me a second chance. UMBC changed my life. Professors like Holly Lavenstein, Jill Johnson and Kathy O'Dell inspired me, supported me and gave me the confidence I needed to pursue my dreams. When it came to applying to grad schools, I was scared to apply to the top-tier schools so I was only pursuing the ones I thought I might accept me. Holly sat me down and scolded me- "Brian, what are you doing? You apply to the best schools. You can do this." So, I did. To my surprise, I was accepted into Cal Arts and AFI. I chose AFI (recently rated the number one film school in the country) but I was terrified I couldn't afford the program. I sold everything I owned, packed up my little Mazda, bought a tent and camped my way across the country to face my destiny. UMBC gave me all the tools I needed to be successful at AFI and for that I will always be grateful.
What It Takes: The first quality you need is a complete obsession and passion for making film. If you do not have this passion, you will never survive all the ups-and-downs of this industry. I do what I do because I love it and I can't do anything else. That means I've been scared, poor, lonely and rejected a lot of the time and I still move forward. In addition to the obsession and passion, a good filmmaker should (among a number of things): Be observant and aware of the complexities of the human experience. Be collaborative and trust the people that he has hired to tell their story (cinematographer, production designer, wardrobe, editor, etc.). Not be afraid to say what they think but they should also know when it's best not to say anything. Be loyal. Watch lots of movies
The trailer for Dannelly's critically acclaimed film Saved!